Browsing articles tagged with " artrock"
Gig Review & Photos by Erwin Van Dijk
It is a Within Temptation reunion day at the city of Haarlem tonight. Delain and Kingfisher Sky are both spin offs from Within Temptation, the biggest of all Gothic and female fronted bands in Holland. Sadly Delain has an unpredictable photo policy at their gigs. Sometimes you are allowed (or tolerated) to shoot a Delain gig but often you are not. Epica has a similar behaviour towards this. Goth knows why. Maybe their ego? That is why I try to avoid these bands but Kingfisher Sky will be a good opener today so I took the gamble. The Patronaat started in an old shabby building held together with gaffer tape but somewhere around 2005 it was replaced by the new building with much better facilities. As a consequence the venue can book now a lot of bands that used to play in Amsterdam like Dimmu Borgir or the upcoming Pagan Festival in September with Unleashed and Korpiklaani. Just a few days ago The Patronaat won the "Best Dutch Venue" award. The reason is quite easy for me: good facilities, friendly staff and more important: a well oiled organisation. The only disadvantage of the Patronaat you will find when you stand at the edge of the stage in the main hall. There is a small electric cable pit for all the equipment which has never been cleaned since the opening of the venue. After four years it is the most disgusting place in the entire city. To quote Bones from Star Trek "It's life Jim, but not as we know it!". As with the album release party at De Melkweg (Amsterdam) the two video screens did not add much to the gig because they are to small and located at the far left and right of the stage. With the Cradle of Filth & Moonspell gig last week in the city or Rotterdam there was one large stage filling video screen that functioned as a nice back drop. The mayor difference between Epica and Delain is that with Epica the visual part of the show and the special effects outweighs the musical performance live. With Delain it is still more about the music and less about how it looks on stage. I hope it will stay that way. But Delain still wanted to do something special so they had to improvise. Unlike Within Temptation or Epica the Delain crew still has no pyro license so we have a bubble machine as visual effect. WOW! The set consisted of songs from the debut album and "April Rain". Personally I like the songs from "Lucidity" more than the new work and judged how the audience reacted I am not alone in this. The "April Rain" songs lacks the varity "Lucidity" had. I know Delain wants to sound like a real band but "Lucidity" was a one time kick in the face because it was never meant to be a 'band' but a project.
With "April Rain" all the 'Youthfull Enthusiasm' is gone and replaced by solid assambly line work. Currently Delain is sponsored by Jägermeister but thank Goth there were no Jägermeister wallpapers in sight today. Or the Jägermeister promo team which consists of (very predictable) good looking girls (The Jäger Mädel in good German) who always appear to be a little lost during metal gigs – like at the Melkweg gig. Those chicks are most likely plucked from the pages of some modelling agency. And because money is money Charlotte is sponsored by an Italian fashion make – up brand called PUPA. Not that Charlotte needs to be covered in thick layers of plaster (unless she is going to be a Kiss tribute band singer or will start a black metal band!) One more thing: Delain showed some footage of a violin cello on screen while playing a sample.N ice, but I thought it was also a bit cheap because Kingfisher has a real violin cello on stage. If I was the boss of Delain I would have asked Maaike to do that part because all the cello stuff was already in place that day. Opener Kingfisher Sky only had about 30 minutes for a show and that was more than enough to convince the audience. Although I would not have minded to see them a bit longer than half an hour. Their take on this genre is much different than most other bands these days. Judith has a voice which does not sound like another 'Kate Bush on helium clone'. More rock and soul. Same goes for the music. Kingfisher Sky is closer to bands like Autumn, The Gathering and Stream of Passion than Delain and Epica. Since bands like Autumn, Cardamon and Skytah are also going this way with their music you can almost see this as the next step of the Gothic genre. In short: like their die hard fans these musicians have grown up, leaving Delain for the younger generation. Conclusion: Kingfisher Sky did a good gig but lacked the time to get the audience with them. Delain gave a solid performance but they should watch out for Stream of Passion who are also about to release their newest album.
Links
Delain : MySpace * Facebook * Twitter * Site
Kingfisher Sky : MySpace * Facebook * Twitter * Site

Interview by Si Smith
France had produced some great music over these past few years, and now has a new champion: a satisfying blend of pop, rock and general progressiveness that takes on board influences from all across the musical spectrum. Femme Metal spoke to vocalist Adeline to discuss how they found the perfect recipe for combining all those elements!
First off, a warm welcome to you from all at Femme Metal, and thank you for speaking with us today.
Thank YOU for your interest in what we do !
Before your arrival in the band in 2000, the band began way back in 1998 as many bands do, as a cover band. Do you know what kind of songs were being covered at the time?
I think they covered a few songs of Anathema, Moonspell, Yearning, Edge of Sanity… that kind of bands. As for me I had a cover band too in which I sang classic rock songs from bands such as The Cranberries, The Police, U2… That's how they found me, they attended one of our gigs and they contacted me a few days later.
Your first couple of demos with the band, "Stanzas" and "Dreamland", must have been relatively successful as you eventually landed a deal with Sacral production. Thinking back to those early demos, was the sound a lot different from what it is now? Or is it just a natural progression through the years?
Those demos sounded a little bit heavier than the music we play now and there were quite a lot of synths/electro inputs, but the "mellow" side of our music, that mix of rock, pop and metal, was already there. So were the flute and the percussions. It was more than ten years ago now, and at the time my bandmates were obviously much more influenced by the metal bands they covered a few years ago than they are now. In between they sort of abandoned things like the death metal growls and the electro inputs, and they gave the music a "progressive rock" feeling. Maybe because they managed to build through the years a common reference table in the composition process, where as ten years ago the music of Akin was more a raw mix of the very different musical influences of each member of the band.
France seems to have produced some successful progressive-edged bands in recent years, including Auspex, Qantice, Kalisia, Adagio and Spheric Universe Experience (to name but a few). Even Gojira (although much heavier) still hold on to a progressive influence. What do you think it is about the French culture that seems to launch this thirst for the progressive in music?
It maybe because the accent is put on the music rather than the lyrics. There might be a few exceptions but the lyrics are mainly in English which is not our mother tongue. What we find most interesting are the actual melodies, the rhythm, the harmony… That's probably why the French are so interested in progressive music. That's my guess anyway.
Considering these other bands, what do you feel Akin can bring to the scene that is different from the other bands of the genre, if you consider yourself "labelled" by a genre at all?
It maybe the variety of influences in our music. I personally listen to a lot of Sting and Tori Amos (and recently I found some interesting things in Lady Gaga's music, please don't hit me!), when other members of the band would be more into Dream Theater, Opeth or Anathema, for some others it would be the Beatles … It may also be the variety of instruments we use in our songs: we like to do experiments. In the end, we think that the music we play doesn't belong to a genre in particular. Whether you're fond of rock, metal or pop you might like our new album. We hope so in fact!
There was a long period between releases before the new album was birthed. What were you guys doing during this time?
We have had arguments in 2004 and the guys decided I wasn't a fit in the group anymore. They therefore had to look for a new singer, which took them quite a long time. Then I know that a combination of different factors really slowed the band's activity down : some members of the band had to move to Paris for professional reasons while the others lived in Lyon, some got married, became dads… And they also suffered several hard drive crashes where they lost a lot of data (there seem to be some kind of "Akin's curse" with computers…). They really planned to record the new album in 2008, and it took 3 years to record it because of those personal, technical and professional constraints.
This time round the album has been billed as "with a string quartet on the side". In what ways did this affect the way the album was composed and recorded?
The string quartet brings harmonic texture to the songs. It kind of has the same function as the keyboard did on the previous album. Only it gives a more organic and Beatles feel to the music. The songs were pretty much finished before the arrangements were added.The strings were recorded separately and mixed into the songs.
There is also a wealth of other instruments on there – darbuka, djembe, dilruba, daf and tablas to name a few. What is the key to co-ordinating all these instruments do you think? Did you ever sing live alongside these musicians, or was it all recorded separately?
Adding these instruments was like adding relevant touches to spice up the album. We had already used a djembe on the previous CD's and on stage and we thought it worked rather well. We had the opportunity of using other traditional instruments on this album and it felt natural to include them as long as they served a musical purpose.
You put a free 8-track version of the album up for free download at bandcamp.com (in fact all your previous releases are there for free download too). Did you receive any specific feedback from that at all from people who had downloaded it? What was the aim behind putting this sample up for free?
It's too early to say because it's very recent, but the feedback has been positive up to now. Putting this sample up for free seems like a good way to get people to listen to our music. Obviously, the album as a whole is more interesting because it takes you through one hour of music which we tried to keep as dense and exiting as possible. The Digipack is also very smart, we think.
The first two songs on the new album "The 92nd flight" and "Cassandra" also appeared on your 2003 EP "Forecast". What was the reasoning behind revamping them for the new album alongside the new material?
"Forecast" was a "forecast" of the 2nd album "The Way Things End" which we had hoped to release a lot sooner. It gave a glimpse of the 2nd album and included new versions of songs featured in "Verse" (the first album) and a song that we didn't have time to record during the "Verse" sessions ("The City in the Sea")."The 92nd Flight" and "Cassandra" don't only work as previously lost tracks, they have a real purpose because we can safely say they are much better versions that the ones recorded eight years ago.
I must say that I enjoyed the idea of the album "Verse", being based as it was around the works of Edgar Allen Poe. This album too contains its fair share of poetry (eg on tracks "Miller's End" and "Resilience"). What is the significance of these particular poetic works? Could you tell us a little about them?
It felt natural to use poetry on certain passages because the themes of the selected poems were very relevant and the quality of the speaker's voice served a real musical purpose. It also gives some kind of relief to my singing voice. I must say I'm flattered that you use the word poetry to qualify "Resilience", because it's one of the two lyrics I wrote for this album, and I never thought about it as poetry.
Listening to this album, there seems to be quite a jazz influence to many of the progressions and musical interludes (eg much of the song "Unhearted") – do any of the band have any jazz influences in particular?
Some of us enjoy listening to rock influenced jazz men (Brad Mehldau, Aaron Parks) but there's no real intention to sound jazz. If we can take in 7th, 9th, 11th or 13th chords and it fits the music, we'll put them in.
Considering you are a progressive rock/metal band, on this album you haven't opted for any 13 minute epics, keeping the songs around the 3-5 minute level. Was there any temptation to just keep on going when a song had finished and create a long track, seeing as the band are very competant musicians and it is well within your capabilities?
We kind of like the "song" format. Our music already goes in many directions, takes sudden turns. Why not go for this option in the future, but it's already quite a task to keep a certain coherence in 4 minutes and maintaining the variety of ideas which prevents the music from being boring.
You have achieved a very high standard of recording on this album, especially with all the different instruments involved. Will it be hard to try and take this album out to a live audience? Are there any live appearances planned?
Nothing in sight for the moment. We will have to rethink certain arrangements for a live performance. I'm sure the songs can stand on their own without some of the embellishments that we can hear on the album. The overall sound on this album is pretty raw, especially concerning the guitars, the drums and the strings. We don't think it will be a great problem to get the same feel on stage.
Finally, it only leaves me to ask if there are any more plans for Akin in the near future? What is the next stage for the band?
We have just completed this album and are currently putting our efforts to getting it heard because this album means a lot to us. It's a miracle that it has ever reached completion with all of the original band members. This album was supposed to close the Akin chapter in our lives, considering the personal and professional constraints I spoke about in a previous question. That's why we called it "The Way Things End", by the way. But my bandmates are so enthusiastic about it that they finally decided to continue the journey together and they intend to work on a third album in a few months. As for me, I'm not sure that I want to continue with the band. I've got a lot going on, personally (I have two very young children) and professionally (I have a very time-consuming job). Also my husband is a musician too (most of the guitars in this album were recorded in his studio), and he has an album on his own, for which I'll have to record the voices in the next few months. It's almost a miracle that I found enough time to record my parts for Akin, but I'm so glad I did, because I love singing for them. So I have a very difficult decision to make.
Thanks so much for talking to us at Femme Metal, we wish you well with the album's success.
Once again, thank YOU for this interview.
Links
Label : Anova Music
Review by Tony Cannella
The 2nd full-length album from Israel's Eatliz, "Teasing Nature", can be quite a challenge to listen to at times. I don't mean that in a bad way, their brand of prog rock/metal, mixed with various other genres really defies description and thus is as experimental as anything that I have heard in recent memory. Eatliz is fronted by the charismatic vocals of Lee Triffon. She is really underrated and helps to drive "Teasing Nature". The music contained on "Teasing Nature" is eclectic to say the least as Eatliz really has not set any boundaries for themselves, as the songs flow seamlessly from one to the next and then the next. This eclectic collection includes some interesting, complex moments like: the opener "Your House". This is one of my favorites and is pretty indicative of what to expect throughout the CD. This is certainly not an album that will make an immediate impact. Other highlights include: "Zoo", "Berlin", "O.K.", "Lose This Child" and "Mystical Lady". I will admit to not being blown away at first listen, and I still don't know if I love it – but with the level of musicianship and the uniqueness of Eatliz, I would definitely recommend this to my prog friends. This is something that definitely grows on you, and I found myself liking it more with each listen. With "Teasing Nature", Eatliz has released an adventurous, experimental prog rock creation that is as interesting as it is creative.

Rating – 70/100
Tracklist
Your House

Zoo

Berlin

O.K.

Falling Up

Got It

Lose This Child

Nine

Voice Over

Goldie

Tears

Mystical Lady
Line Up
Lee Triffon – Lead Vocals

Guy Ben Shetrit – Guitar & Vocals

Or Bahir – Guitar

Hadar Green – Bass & Vocals

Omri Hanegbi – Drums
Links
MySpace * ReverbNation * BandCamp * Facebook * Twitter * Site
Label : Black Sand Records
Review by Stina & Mark Hateley
In their more than fifteen years of existence, Mostly Autumn have gained a reputation as one of the most influential British prog bands of the new era – partly because of their spellbinding soundscapes, and partly because of the figure of frontwoman Heather Findlay, who parted ways with the band in 2011. "The Phoenix Suite", the debut solo recording of Heather, is the first 5 track EP in a series of 4, and, alongside Heather herself and guitarist Chris Johnson, it features performances from Dave Kilminster on guitars, Steve Vantsis on bass and Alex Cromarty on drums. Much as the title seems to imply, it marks a new beginning in her career – which means that, of course, those expecting something reminiscent of what Mostly Autumn became known for, would be disappointed. As it's normal for an artist deciding to embark on a solo career, Heather is clearly striving for colouring outside the lines required by her work in Mostly Autumn, and trying to sail through uncharted seas – or better still, fly towards new horizons. Much of the EP sheds her prog roots in favor of a more up-to-date and probably more mundane palette described as 'dark', 'quirky', 'rocky' and 'bohemienne': what Heather is doing at this time of her career on "The Phoenix Suite" is laying down an elegant, but accessible brand of Rock that is sure to please fans of her as a singer but will probably leave fans of Mostly Autumn quite perplexed. That's not to say that she doesn't have potential as a solo performer – but it's rarely realized here, rendering this small collection of songs, for the most part, inert if easily listenable. "The Phoenix Suite" seems to find Heather pursuing a personal vernacular she'd yet to define: here's hope the next episodes in the EP serie will see her closer to her musical personality.
Rating – 65/100

Interview by Si Smith
Oh, finally after so much time we're able to unveil this little musical jewel. Here we present you a special interview with Farrah West, the singer of this melodic rock supergroup/project that features members of Within Temptation, Fates Warning and Threshold. People we're not talking about some random débutants, you got me?
First of all, thank you for this interview and welcome to the Femme Metal webzine.
Thanks, it's lovely to meet you!
At first glance League of Lights is quite an eclectic mix of characters, featuring as it does members and ex members of Threshold, Fates Warning and Within Temptation. How on earth did this remarkable cast of characters come together?
We just picked the people who felt right for the project! Rich already knew Ruud Jolie from Within Temptation through his work with Threshold and they got on really well so it was an easy choice, and we knew of Mark Zonder from his drumming on Fates Warning and Chroma Key records and loved his unique sound.
When you set out to record this debut record, what specific sound did you have in mind for the band? Are there any direct influences you would quote?
We intended to make a melodic rock album, combining the best of both of us. We're both really into bands like Shinedown, Nickelback, Evanescence and Lacuna Coil but also love mellower artists like Chroma Key and Lene Marlin, so we wanted to find some middle ground between those artists where we'd belong.
The lyrics of the album all seem to be very positive in their outlook. Are you all positive people in general or is there a darker side to the band? What kind of things get you down, for example?
We are pretty positive people and we like to look at things in their best light. What gets me down? I'd say bad manners and bad weather are a bit of a downer. I'm a big fan of sunshine and happy people!
Your first official review back in April said "This ought to do well". How much do you consider reviews of your album by the press? What kind of fan feedback do you get for the band?
We are always really interested to hear press and fan feedback. We've been so pleased at the response to our debut, it would've been awful if nobody liked it! A lot of fans of the bands that Rich, Ruud and Mark are in have enjoyed hearing a different side to their playing, and a lot of people have appreciated the positive lyrics. We've had some lovely comments about those.
Ruud also released his debut solo album at the same time as yours. How has he found it splitting his time between all of his musical ventures?
I think he manages amazingly. Within Temptation are still touring, they tour in bursts though so it gives him time to work on other projects in between.
As a band it sounds like you have really got your sound together for the recording. Is the line-up a permanent one, or is this a more fluid and dynamic band based around you and Richard?
We're hoping to keep on working with the amazing musicians that featured on our debut, but we've also started including more artists for the second album. We're not ready to announce who yet, but the recordings are sounding great.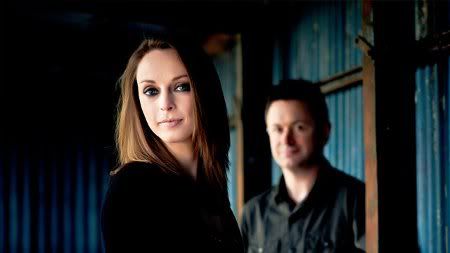 Given that the other musicians have their own commitments will we see any live performances of this material?
We hope so, we did have a support tour lined up for the end of last year but unfortunately it didn't work out. We're hoping that this year we'll get out on the road & start to play the songs live.
The album begins in upbeat fashion with your longest song "I'm Alive". The initial impact is that your voice is very clear in its prononciations and intonations. How did your own singing career begin?
I started singing when I was really tiny – my parents have an embarrassing picture of me singing my heart out while sitting on the potty! When I was in my teens I started singing in church and after I met Rich began singing in the studio.
The ideas such as "eternity" and "my spirit will carry on" imply a spiritual worldview, especially the quote from a hymn "my chains fell off, my heart was free". How deep are the spiritual beliefs of the band influencing the music?
Our spiritual beliefs are deep held & I imagine will always influence what we write and sing about. I think you write best when you express what is most dear to you and I love to sing songs that are positive and life giving.
Many of the songs rely heavily on keyboard melodies and textures. How easy was it to decide how "heavy" you wanted the band to be, and did you all agree?
It wasn't easy at all! We actually were aiming for a heavier sounding album, but for some reason it took us a while before we found our sound. The tracks for our new album are already a lot heavier than before and we're really excited about them!
"Last Sunset" sings out "I don't want to go without fulfilling my purpose here". What would you say is the "purpose" of League of Lights? What are your plans for the future of the band?
I'd say our purpose for League of Lights is to make powerful and beautiful music with a message of faith, hope and love. I hope we've managed to achieve that! Our plans for the rest of this year are to record our second album and to get a record deal. We self-released the first album which was a good experience, but now we're talking to some labels to take everything to a much greater level. We're hoping to get out on the road and start doing some live shows, hopefully some summer festivals.
"Ambertown" doesn't seem to represent a real town in the song. Could you explain the concept to us?
"Ambertown"'s a song about being in a place where you have to make a choice about which way to go, how the direction you choose can define your whole destiny and who you are.
"Heaven Sent a Star" is definitely my favourite song on the album. It speaks to those who have been crushed, captive and broken. Your emotional performance suggests there may be some personal experience here?
LOL, you sing about what you know right! We wanted to convey that whatever the circumstances look like you are loved.
Finally, may I thank you for making such an uplifting album! Have you a final message for any potential fans out there?
We hope you love the album, we've put the opening track up on our website. We hope to bring you more music soon and see you on the road. We're look forward to sharing our exciting news about upcoming collaborations and announcing about the new album soon too. Thanks again for the interview!
Links
MySpace * Facebook * Twitter * Site
6 color styles available:

Style switcher only on this demo version. Theme styles can be changed from Options page.