Browsing articles tagged with " atlantis"
Label : Napalm Records
Review by Tony Cannella
It's been a long road for the Austrian Symphonic power metal band Visions of Atlantis. They are true survivors of the genre. They've survived numerous line-up changes and yet still they remain as strong as ever. As a testament to VoA's lasting endurance and strength the band have just released their 5th full-length album "Ethera".
"The Ark" starts things off with male vocalist Mario Plank beginning the song before Maxi Nil joins in. This is pure Visions of Atlantis and an excellent way to begin things. This is now the second album to feature Maxi Nil (not including the EP "Maria Magdalena") and she continues to be a great fit for this band. Continue reading »
Interview by Miriam C.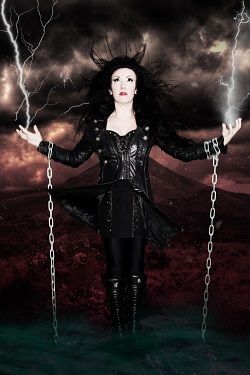 After having released a great album as "Delta" and an EP called "Maria Magdalena", Visions of Atlantis comes back in this 2013 with a new album, "Ethera", that marks a new "era" of this Austrian band, which recently ended up a good tour with Serenity and Souldrinker. We had the pleasure to have a nice chat with the lead vocalist, Maxi Nil, who told us some great things…
Hi Maxi and welcome to FM. How are you doing?
I'm doing great thank you. Just got back from our European tour and I'm relaxing at home with my loved ones.
Let's immediately talk about your latest album, "Ethera". The album title is quite interesting and in a very first moment, a lot of people have thought that the album would have been called "Etherea". Would you like to explain us the meaning of the album title and what has pushed you as a band to choose this word for the record?
Etherea?? Why? Haha… Well Ether (Etheras in Greek) is the 5th element of nature and since we have begun this game with album titles having to do with which album it is for example the 3rd was "Trinity" the fourth was "Delta" (the 4th letter in Greek alphabet) we wanted to find a title that has to do with the number 5 and the new era for VoA with a standard line up that work together as one. So Ether+Era=Ethera. Continue reading »
The new album of the Symphonic Metal masters SERENITY will be released on March 22! Right on time for the release of "War of Ages", the band will embark on a tour with their label mates VISIONS OF ATLANTIS.  Get ready for a sweeping and bombastic new album! Continue reading »
Austrian symphonic metallers VISIONS OF ATLANTIS have issued the following update:
"The year 2012 slowly draws to a close and we are very happy that our upcoming album, "Ethera", is finally also very very close to be finished! Almost one year of writing and another year of recording, improving, re-recording and more will soon turn into our most ambitious album to date! So keep an eye on our Facebook page as the release dates, artwork, brand new band pictures and more are on their way! The next three months promise a lot to be found here at first hand!!"
VISIONS OF ATLANTIS' fifth album, "Ethera", is scheduled for an early 2013 release via Napalm Records.
Independent Release
Review by Davide Torresan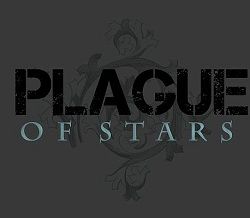 Let me start by saying that behind this project there is one of the most talentuous female singer in the metal scene: Melissa Ferlaak. I think that she is very well-known in the female fronted scene, but it is always good to do a little recap for the others. Melissa is a U.S. soprano singer, and she joined several famous bands in the gothic and symphonic metal world. She has been the lead singer of important bands like Aesma Daeva, Visions of Atlantis and Echoterra. Plus she can boast to have worked with many other bands. In the beginning of 2012 with some other renowned musicians, she decided to give birth to a new project: Plague of Stars. I have to admit that this news surprised me a lot, and also the ones that are used to listen to gothic and symphonic metal. The sound is a perfect union of death with doom metal and some small gothic hints. It's curious the description that this new group gives of itself. Indeed the members introduce themselves as some scientists that are engineering a new virus. This biochemical weapon will be released on Earth, if all is ok, on June of the next year. I can't deny that the first thing that came to my mind is a sort of correspondence with the story of the videogame Final Fantasy VII. In this one, there is Jenova, a sort of infection, virus, and it's described like a calamity from the sky, ready to destroy the world. Plague of Stars is the opposite, intended to be the cure. After this little nerd digression, let's talk about the two songs of this promo. The first is "When Morning Came", where Melissa shows us a completely different style from what we've always heard. There are some small hints of her operatic voice, but here she demonstrates her true skills with a rock voice. The guitar riffs are really heavy and there is also a solo in the middle of the song. Instead "In the Pines" has a completely different mood. If the first song can be included in death metal, this one embraces doom metal, so considerable space is given to slow and decadent rhythms. The thing that astonished me the most is that at a certain point Melissa's voice assumes a blues connotation. I am sure that I never heard her singing in this way, and at this point I'm curious to know what else she can do. Musicians that accompany her are really capable and skilled since they come from some famous bands like Aesma Daeva and We Are Legion. However, it must be said that the proposed cure by this project is not immediate. The band plans to release an album entitled "When Morning Came" in 2013, and it will be released if they will achieve a certain sum of money. Individual donors can bid to make sure that the album will see the light. What can I say? These two songs are really good and I can't wait to listen to a full lenght album. They're all good musicians, and they deserve a lot. What are you waiting to give them a hand?
Rating – 88/100
Tracklist
When Morning Came

In the Pines
Line Up
Melissa Ferlaak – Vocals

Will Maravelas – Guitar

Christopher Quinn – Bass

Aaron Lanik – Drums
Links
6 color styles available:

Style switcher only on this demo version. Theme styles can be changed from Options page.