Browsing articles tagged with " atrocity"
Label: Napalm Records
Review by Tony Cannella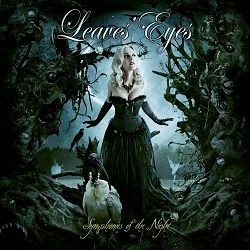 "Symphonies of the Night" is the title of the 4th full-length album from the German/Norwegian metal band Leaves' Eyes. The band – which is led by the duel vocals of Liv Kristine and her husband, Atrocity main man Alex Krull – has forged a pretty consistent and solid career for themselves based on an excellent body of work and "Symphonies of the Night" certainly rates right up there with their previous efforts.
The opening number "Hell to the Heavens" is simply awesome and my favorite track. What a great way to start things. Liv Kristine and Alexander Krull continue to be one of the most unique vocal tandems who use the "beauty and the beast" technique. Continue reading »
LEAVES' EYES — the German/Norwegian band formed by ex-THEATRE OF TRAGEDY singer Liv Kristine Espenaes Krull and members of ATROCITY — has set "Symphonies Of The Night" as the title of its new album, due later in the year via Napalm Records.
A new LEAVES' EYES video, for the song "Melusine", featuring footage from live shows, tours and festivals like Wacken Open Air in 2012, can be seen below.

Interview by Erwin van Dijk
An interview with Liv Kristine from Leaves' Eyes. This interview is all dedicated to the forthcoming album "Njord".
"Njord" is the third full length Leaves' Eyes album. (the other two were "Lovelorn" and "Vinland Saga").
I am absolutely happy and satisfied with the album. We've never worked this hard before with a production, but we've reached our goal. I would even say, we even went further than we thought was possible, technically seen. It has always been important to me that our sound and art is authentic, i.e. that you can hear from the very first tunes that this is Leaves' Eyes! We also want that our audience really get the feeling of being on a wonderful journey. I feel that our music needs a special well-written and interesting concept which is just as important as the sound, and "Njord" gives you all this.
"Vinland Saga" introduced the Viking elements in Leaves'Eyes. But "Njord" also seems to have some Irish themes, like the songs "Emerald Island" and "Irish Rain" . With "Njord" comes the EP "My Destiny", which contains besides the song "My Destiny" in two versons also an acoustic version of "Scarborough Fair" and two non album tracks.
"My Destiny" is a song you can easily "tune into". It's a good way to introduce the album (out 28.08.), although you will of course have less commercial songs on the record, too. On "My Destiny" is actually an EP, for the price of a single, with four non-album tracks, and one extra album song.

"Vinland Saga" was a concept album. Is "Njord" written with the idea to tell a story or are it twelve individual songs?
The lyrics mainly deal with characters from northern mythology (e.g. "Njord", "Fröya's Theme", "Nine Wave Maidens", "Ragnarok"), or with places and historical happenings (e.g. "Scarborough Fair", "The Battle of Maldon", "Emerald Island","Irish Rain", "Les Champs de Lavande"). This is why I found it necessary to deal with all these different languages. "Vinland Saga" is based on Leif Eirikssons discovery of America, even the EP, "Legend Land", which followed soon thereafter. "Njord" has a much broader concept, travelling through history, and into Nordic mythology. It has always been important to me that our sound and art is authentic, and that our audience really get the feeling of being on a wonderful journey.The lyrics are written in 8 languages (english, middle-high german, old-english, gaelic, norwegian, icelandic, french and one "self-made" linguistic fictional phonetic sequence)… I even sat down to study a bit French to be able to write one French lyric. I did study Old-English and Middle-high German, so it was really nice to be able to use this knowledge. Gaelic is completely new to me, though, but fortunately I found a wonderful person who helped me. "Njord" is an album that demands an expansion in linguistic terms.
This is your third album. What are the differences between "Njord" and "Lovelorn" and "Vinland Saga"?
Our debut "Lovelorn" was very refreshing and a wonderful start for the band, also the press and the audience were surprised. However, you shouldn't forget that we all have a huge experience and knowledge as musicians of Atrocity and former ToT (Theatre of Tragedy) to rely on. This brings Leaves' Eyes a wide step forward, so we were really no newcomers in our genre. Moreover, I really have to say that Atrocity + Liv Kristine is a magic formula! I took my experience from my favourite ToT releases "Velvet Darkness They Fear" and "Aegis" as a basis for Leaves' Eyes music. Our second album "Vinland Saga" was a manifistation of the music of Leaves' Eyes – we had "settled" in the genre gothic metal with female vocals. "Njord" is the perfection of both our 2 former albums. Since the first demo recordings for "Njord" we have been able to achieve goals that we thought back in 2007 after the "Vinland Saga" release would be quite impossible. I am so proud of my band members – "Njord" is a dream coming true, and all the hundreds of sleepless nights were worth it. We all have developed as musicians and technicians and this is experience that is unpayable. "Njord" (producer: my husband Alexander Krull) has a power to it that even is more intense than any previous production I've been part of. Technically, we constantly have new ideas and aims. We have our own studio and therefore we have the opurtunity to specialize in technical tasks concerning album and DVD productions. "Njord" has even a more bombastic but delicate sound that "Vinland Saga", because techniques allows it. We recorded the classical parts in Minsk (Lingua Mortis, supervised by Victor Smolski), we had a complete local choir (Al Dente) singing the choir parts, moreover, a special artist playing solos on special instruments like the uillian pipe and the whistle. All this makes this album a multilayered and highly interesting experience for our listeners, for your ears, hearts and minds. If I should describe "Njord" in four words I would say bombastic, emotional, contrastive, and pure.
Where do you get the inspiration for the songs. Some sources are clear, like Ireland and the Norse mythology but what really inspires you to write a song?
It's first of all my love for my homecountry, the Norwegian Nature, history, my family, the culture – everything I grew up with! I feel that our music needs a special well-written and interesting concept, and I want to travel through time and space. For me history has always been extremely interesting, and even when I left my homecountry Norway and moved to Germany 12 years ago, I had more books about the Vikings with me than clothes and shoes. I have travelled a lot and been able to see a lot of the world. History, languages, and geography has always interested me. Thorsten is the main composer of Leaves' Eyes, he works out his ideas on his guitar. "Irish Rain", however, was an idea I had one early morning. I hurried to the studio and worked out the tunes with him. Sometimes, ideas just appear to my mind, like a complete "song".

And can you tell us something about the songs on "Njord" and "My Destiny"?
We recorded 18 (eighteen!) songs, and all of them are placed on the single "My Destiny" (out now) or the album "Njord" (out late August). Our listeners will get a lot for the money. That's a way for us saying "thankyou" to our fans and friends all over the world. To mention a few examples, "Fröya's Theme" is one of my favourites on the album, too, next to "Irish Rain". "Fröya's Theme" is about eight minutes long, it includes five languages, inclusive two "speaking" parts done by Alex and myself respectively. It tells the story about Fröya, the Goddess of sex with her extreme power of beauty. However, her lover Od leaves her as he has "wandering eyes" for other beautiful women. Fröya travels around and through the worlds in Northern Mythology to find him. Her tears are made of gold and they heavily strike the earth. This song is an epic masterpiece composed by Tosso, our guitarist.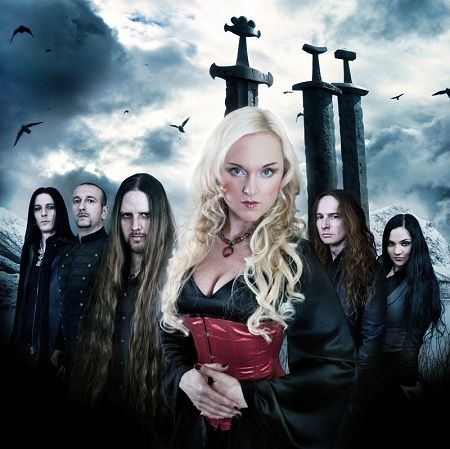 Is "Scarborough Fair" a Simon and Garfunkel cover and if it is, why did you choose this song?
I was an exchange student in the English town Scarborough, and I got very interested in their culture. This song is a folk song sung in the middle ages, also by the Vikings, on a trading market, in Scarborough. I wanted to rewrite the tune into a more heavy version and I am very happy with the result!

"Les Champs de Lavande" is a French title. Lavande means Lavender and the South of France (the Provance) is famous for its wide fields (champs) of lavender.
Can you tell us something about this song and why is it a bonus track?
As we had composed the instruments for this song, I thought about France immediately! I immediately sensed the smell of my favourite flower and scent, lavender! The Provance Lavender was famous already in the Middle Ages. I sat down and tried to put together a Franch lyric, and a friend of mine in France corrected it. This song just had to be about Lavender, and it sounds more authentic and special when it is sung in French.
While recording "Njord" you were supported by The Lingua Mortis Orchestra under the aegis of Victor Smolski and a classical choir. Most people will know Victor Smolski from his work with Rage. And this band does not exactly belongs to the same genre as Leaves'Eyes.
How did you find him and what was his influence on "Njord"?
We met Victor during a Rage/Leaves' Eyes' show in Greece in 2007. We are so happy that he liked the idea of working with us. It adds the important depth and bombastic character in our music.
The Special Edition will have a Drakkar (viking ship). What can we expect?
This is a way for us saying thank you to our fans and friends. Remember, many of them are collectors. I used to collect Madonna and Black Sabbath/Ozzy special merchendise objects.

One of the things that would make a lot of fans happy is a duet between the Espenæs sisters. (think of Beyonce and Solange Knowless doing a duet). Have you ever considered this for "Njord"?
It's not that easy since my sister moved back to Norway a couple of years ago, however, I am planning a duet on our fourth album, which will be a folk-oriented album, planned to be released in summer/fall 2010.

Do you already have some details about an upcoming tour?
Europe in November 2009, USA/Canada December 2009, then Europe and Russia in the beginning of 2010, and another long tour in the Autumn of 2010. Moreover, we have planned an acoustic tour between 28.08.-02.09 (please check the news!). We will play a capella in some of the Media Markets, for free for our fans, and we will have a lot of time to make photos with everybody, have a chat with our fans and friends and write some autographs. I enjoy acoustic tours. It's a nice way to keep up our close relationship with our audience, moreover, we are able to show that we are good musicians and can play live without a huge stage with a huge technical plan behind everything.
And which songs can we expect live?
A set-list still has to be decided on.
Although I think you will be very busy with the promotion of "Njord" this year and 2010 I would like to ask when we can expect a new Atrocity album and a new Liv Kristine solo album?
It's been 3 years since "Enter My Religion", and it's always good to gain a different aspect of your own art after some time has passed by. Right now, I am just about to finish the final recordings of my third solo album, and I see things in a new perspective now. "Enter My Religion" was an expensive production on a major label, however I made the decision in 2008 to release my third solo album on a another label, with a smaller budget, but having more freedom about the whole process, from the very first demo track, until the final master. I am very proud of "Enter My Religion", however I have developed as an artist and technician and my third album will be a huge step forward. I have put my focus on sounding just like myself, recording songs in one take, so you "get" me with everything I am, my character, my emotional level, my breathing, sometimes perhaps perfect, sometimes maybe not. I just want the audience to hear ME, not some singing lady with a pretty nice voice. I want to creep up inside your hearts and senses. I wrote all the songs together with Torsten (guit. Leaves' Eyes), all the lyrics myself, and my husband Alex is the producer of the album. Atrocity are already finishing their next Atrocity feat. Yasmin "Calling the Rain", which will be out end of 2009/beginning of 2010.
Links
MySpace * Facebook * Twitter * Site
Latest Multimedia
Interview by Marc "Peston" Sels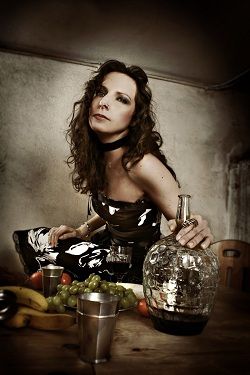 Elis is a band from Liechtenstein and was formed in 2003 after the split from Erben Der Schöpfung. In 2006, on July 8, their vocalist Sabine Dünser died of a celebral hemorrhage. She was replaced by Sandra Scheleret, well known as guest-singer on some Samael-cd's and ex-vocalist of Dreams of Sanity. It is with this Austrian musician that I had this interview.
How is the Beauty and the Beast tour going?
The tour was really nice! I think it is very rarely that you have so many nice people together without any exception. We enjoyed it a lot. I even had the chance to join Atrocity for the tour as a guest vocalist. This came very surprising as it was a spontaneous idea, but I had lots of fun.
Can you tell us something about the new album "Catharsis"? Some favourite numbers?
"Catharsis" is very important for me, the reason is that it is like a new chapter, a new beginning for me. About a year and a half before I joined Elis I got the diagnosis Morbus Hodgkin which is a kind of lymph node cancer. In the months that followed I had to go through chemo- and radiotherapy, and it was a very hard and harrowing time for me. I completely changed my way of living, and since then I see things totally different. When I started working on the vocals for "Catharsis" all these feelings broke their way to the surface, and so most of the lyrics are very closely connected to what I experienced at that time. All songs are very dear to me but I guess my favourite numbers are "Firefly", "Mothre's Fire" and "Das kleine Ungeheuer".
Was it hard to replace Sabine, emotionally and musically talking?
Yes it was hard, I think for all of us. When somebody passes away so young and so unexpected it is hard to continue. Although we really liked eachother a lot from the beginning on, for me it was difficult to find my own place in the band, and for the guys it was hard to start a new chapter. We took some time to find together. Musically wise it was not that difficult because Sabine's lines are nice to sing and her lyrics touched me a lot, so I feld connection to the songs very quickly.
Is it easy to produce the same sound on stage as on the albums?
No, I wouldn't say so. In the end it is very difficult to get a good live-sound. Mainly it depends on the sound engineer, and we are not often able to bring our own one.
"Griefshire" was a concept CD. Isn't it difficult to play some songs live, or don't you use these songs on stage?
We are playing the "Griefshire" songs life, but never in the context of the concept. It is not so difficult because we see each of them as an indipendent individual, with it's own message. For example "Show Me the Way" has a great statement.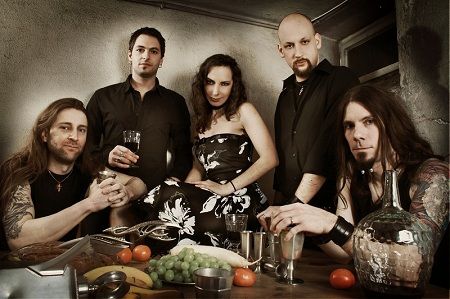 With the digipack edition of "Catharsis" comes a DVD from the gig at the MFVF 2007. What memories you have of that festival?
It was very touching because the audience welcomed us so well. The were happy with us that Elis is back on stage again, and we felt very comfortable that evening. I'm happy that this was the concert that was recorded for the live-DVD!
The band keeps the tradition of putting a few German songs on the album? Do you think non-German fans can enjoy this?
We hope so! Just see how people can enjoy Rammstein…hehe In the end the German language simply has a very different sound than English and it is tempting to use it as a stylistic device.
You also sing in Siegfried. How do you keep both bands apart?
As Siegfried was not so active in the last years there was never any problem for me. It is just coincidence that both albums were released at the same time. I do not do the lyrics for Siegfried and just contribute some vocal lines, so there is no "creative problem";). It is very nice to have the chance to show also another side of my voice, and the guys from Siegfried are really cool people, we have lots of fun when we are working together!
Is Elis, like a red somewhere, from the Greek Elis, land of Helia, or is there another explanation?
The name comes from the poem from an Austrian poet (Georg Trakl) "An den Knaben Elis" (to the boy Elis). Sabine made a successful song about this when she and the guys still were calling their band Erben der Schöpfung. They then decided to rename the band after this song.
What are the plans for 2010? Touring? A new cd? Etc…
So far nothing concrete but we are working on this! Touring would be very nice and of course we have to work on new material.
Links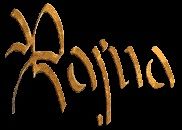 Interview by NocturnalConcerto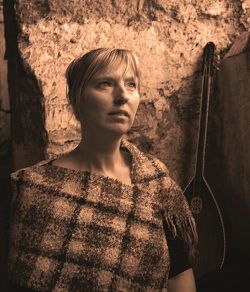 Are you ready to join the world of Rajna? They will brought yuo to unknows and mystical worlds, made of new feelings. I'm really proud to unveiled one of the interviews (I hope a long series!) where I'll present new particular acts of the ambient scene. Franch Ambient duo Rajna are publishing albums since 1998 and their peculiarity is playing and collecting instruments for all the parts of the world. But let's give the word to Jeanne, the singer of the duo.
First of all welcome Jeanne, how are you and thanks for accept my interview! For all the people out there that loves ambient/ethereal music can you summarize Rajna's history band?
Rajna was born in 1998, after an encounter with another musician playing the yang T'chin called Gérard Chambellant. Our passion for music and for collecting various ethnic instruments was a common point and this was the beginning of our history. We began the project in 1998 and our first album, "Ishati", was released on the label Prikosnovenie. Then, we changed label and worked with Holy Records. Our second album, "Yahili" and third album "The Heady Wine of Praise" were made also with Gérard Chambellant. They were mostly based on Indian and Tibetan music. We released "The Door of Serenity", a very appreciated album among our fans. And then, we released "Hidden Temple", after a journey we had made in Egypt. Then, we released "Black Tears" :an anthology dedicated to our first 4 albums + unreleased tracks. Our our royalties went for building a school in Tibet. Then, we released "Otherwise" which was rather different from all we had ever done before. It was essentially based on guitars and the mood was more occidental. Then,we released "Duality", a transition album between "Otherwise" and the ancient albums of Rajna. Then, we released "Offering": it was our last album on Equilibrium Music. It is our most acclaimed album and includes very strong and emotive songs.
Well, after this introduction we can start to ask you some questions about "Offering", your latest album out on Equilibrium Music. How's born and when you written the first lyric for this album?
The only tracks with texts are "Neverland" and "Quiet Hour".The second text has been written by C.J. Dennis and arranged by Aret Madilian from Deleyaman. For the other tracks, I do not sing "real" words, just an imaginative language, as does Lisa Gerrard from Dead Can Dance.
If we compare "Duality" to "Offering" what are the main differences that come into your mind?
"Duality" was much more inde-pop with an electronic touch but with "Offering" we have abandonned electronics to give place to much more organic, acoustic instruments. Concerning the voice, there were moree texts and "real" lyrics on "Duality" that on "Offering".
The previous album was published by Holy Records, why you have changed label?
We wanted a new start and after so many albums on Holy Records, we needed to see something new. "Offering" is like a renewal.
Rajna is well-known for use Ethic instruments in their albums, doing some research I've found that particularly you use two instruments called Santoor and Yang T'chin, can you give some infos or curiosity about these instruments and what is the emotion that Fabrice feel when he plays them?
Fabrice plays the santour and the Yang T'Chin from the beginning of Rajna. We bought our santour in Istambul and it comes from Iran. It's a very nice instrument made of 95 strings. We bought our Yang'T'Chin in China. The sound is different from the santour. We also have an Indian santour and another one that comes from Switzeland. They all sound different. Fabrice loves playing the Iranian santour for its particular sound.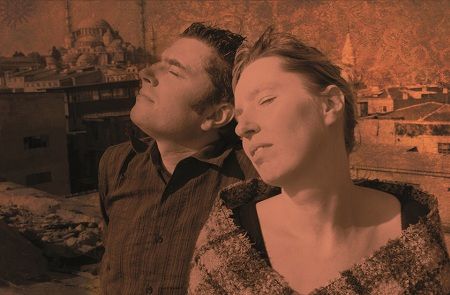 Listening to the album, I notice an important fact: you sing something that is close to a vocalize. Are lyrics written in an unknown language or are totally invented by you? In the ambient scene we aren't aware of this since someone called Lisa Gerrard use this "method" in the Dead Can Dance albums..
As I told you in a previous question,I do not use a real language. It's something as Lisa does: it's the same method Lisa uses. You are totally right!

We already know that your primary influences are Dead Can Dance and [quoting from Equilibrium Press Release] "the mysteries of the Orient and a true passion for travelling and collecting instruments from all parts of the World". Now I ask you what is the Middle East mystery that fascinates you and your favourite Ethnic instrument?
Our favourite Ethnic instrument is definitely the Santour, especially the Iranian one. We are fascinated by the culture and music of these Middle Eastern countries. We travelled a lot in thses countries and brought back many Ethnic instruments from these countries, especially when we were in Istanbul which is a fantastic and incredible city, full of mysteries and history.
Who's Cléomene that you sing on the song "The Dance of Cléomene"? And what are the meaning of this titles : "Eleusis", "Illa Saldé", "Epidauros"?
Some of the titles are pure invention. They sound nice to me and I like the sound that they have and they make me travel when I think of them. Cléomene was the king of Sparta, Eleusis was an antique Greek city, Epidauros was an antique theater in Greece, Illa Saldé is pure invention.
If I'm not wrong Rajna's music was featured into a French TV documentary called "A la recherche du tombeau de Jésus", what was talking about this documentary and how happened that the TV used your music?
Yes, you are right. One of our fans has contacted us and told us that he had heard a few minutes from "Hidden Temple" into the French documentary "A la recherche du tombeau de Jésus". So we contacted the TV broadcast and they told us it was right. They had decided to use a few minutes of our music because one of the person working for this programm knew us already and loved our work, so we have been chosen for this documentary. It was very good for us !!

Now talking about live gigs, in your idea what would be the ideal place for playing a Rajna gig? And you have any gigs going on?
The best place for a Rajna gig is in a church.The sound and the atmosphere that comes from the place is perfect for us. We have played lastly in Nijmegen church, in Holland in May 2010. We have no live shows in preparation for the moment.
So now I ask you this question, mainly my webzine promote metal bands, so really distant from your music genre but in some ways close in matter of ideas. If you should advice 5 ambient album to a beginner, in your opinion what they are?
My top 5 would be :
Alio Die – "Aura Seminalis" – The best minimal music

David Sylvian – "Camphor" – Rather experimental album

TUU – "All our ancestors" – Very good ethnic ambient music

Brian Eno & Peter Schwaum – "Drawn from life" – Very good ambient trip hop music

Stephan Micus – "To the evening child" – Very good peaceful music with an ethnic touch



Well, Jeanne thatnks so really much for replying at my questions hope you like them!
I hope you'll enjoy my interview. Thank you for promoting our music. All the best, Jeanne
Links
6 color styles available:

Style switcher only on this demo version. Theme styles can be changed from Options page.