Browsing articles tagged with " auspex"
Label : Savage Prod/Season of Mist
Review by Tony Cannella
This compilation is put out by the French web zine Des Filles et des Riffs and issued by the label Season of Mist. Featuring 34-songs and bands and over 2-hours worth of music spread out over 2-discs "Des et des Riffs" is packed to capacity and this is only volume 1. If you love female fronted metal, than this comprehensive compilation is well worth exploring. The main style that is put on display throughout this very thorough compilation is Symphonic and Epic type of metal bands. There is so much quality music to sift through on this comp and it would be a monumental task to go through each track song-by-song. The opener is one of the more familiar numbers, "Resign to Surrender" by Dutch metal legends Epica gets the ball rolling. Kells is next with very strong "Avant Que Tu". Mixed in amongst the Symphonic metal bands are Pin-Up Went Down, Adrana and Diablo Swing Orchestra who provides a change of pace with their unique quirkiness. November 7 is a band that I have not been familiar with and their track "Parasite" turned out to be one of my favorites. Soulmaker ("A Vide") and To-Mera ("Mesmerized") are two excellent bands that are represented. Some other lesser known bands like Dharma, Pythia, E-Nora, The Veil and Ozge Ozkan are quite impressive as well. Some of the highlights that can be found on disc 2 are: Dama, "Rainy Roads", Wildpath "Dark Mass", The Birthday Massacre "Looking Glass", Ellyose "Theogyne" and Factory of Dreams check in with "Slow Motion World". In short, "Des Filles et des Riffs, Vol. 1″ is nirvana for any female fronted metal fan. With so much great music made available to us it is quite difficult to stay on top of everything, so it is compilations such as these that provide a great service to metal fans. Mixed in with bands that you might be familiar with are other promising bands which you may not have heard before that also might be worth exploring. In that respect, "Des Filles et des Riffs, Vol. 1″ is a resounding success.
Rating – 90/100
Tracklist
CD 1
"Resign to Surrender" – Epica

"Avant Que Tu" – Kells

"Essence of I" – Pin-Up Went Down

"Nouvelle Ere" – Interria

"Closest To" – Dharma

"Try" – The Outburst

"A Vide" – Soulmaker

"Bulimiarexia" – Eths

"Crystal Eyes" – L'endevi

"Tristan" – Pythia

"Midnight Falls" – E-Nora

"Mesmerized" – To-Mera

"Labyrinth" – The Veil

"Parasite" – November 7

"Jerusalem" – Atmosfairy

"So Alone" – Iridyum

"My Cold One" – Ozge Ozkan
CD 2
"Flesh Drug" – Lezwieliza

"A Love Like Mine" – Ardor

"Rainy Roads" – Dama

"Dark Mass" – Wildpath

"Theater of Pain" – Auspex

"Secret Gathering" – Adrana

"A Tap Dancer's Dilemma" – Diablo Swing Orchestra

"What a Waste" – Fluxious

"Save Me" – Process

"Disarmed" – Alight

"Looking Glass" – The Birthday Massacre

"Theogyne" – Ellyose

"Slow Motion World" – Factory of Dreams

"Gimme Your Gun" – Akentra

"Blowin' rhe Wind" – Bel O Kan

"Elderberry and Lavender" – Lyriel

"Theatre of Life" – Weeping Silence
Links
Label : Pervade Productions/Thundering Records
Review by Tony Cannella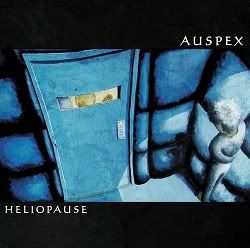 France's Auspex is not a conventional band. On their second album "Heliopause", this Progressive Metal band offers a unique sound that takes the listener on a musical tour de force featuring many unexpected moments along the way. I was drawn in from the very beginning of the opening tune, "Electric Sheep"; this track segues into the fast paced, frenzied energy of "Silence". This is one of the strongest tracks that "Heliopause" has to offer, it is a pretty good indicator of what makes Auspex such a potent musical force.It's all here, strong musicianship, tempo changes, some cool orchestration and Elodie's soaring vocal delivery. "I Walked Awoken on Titan" is next and has a majestic vibe to it. This is one of the unique tracks offered up here with Elodie alternating between spoken word and singing the lyrics. Once again, there are many tempo changes – and an interesting, almost jazzy breakdown at the very end. The 8-minute "In Through the Looking Glass" also became a huge favorite, with its big orchestral feel. The galloping "The Pulse of Emptiness" is another strong track. Other highlights include: "Setsunaki Tabi" (this song is sung in Japanese) and the 11-minute epic "Resolutio" which brings this excellent release to a close. Talk about an endurance test. One has to admire the sheer skill and courage it takes to do something this adventurous in a metal framework. Personally, I loved this band! I'm guessing that the songs and music on "Heliopause" won't be for everyone, given its daring style, but for those who want to take the plunge into a band whose style can't be defined, than Auspex is truly a band worth investigating.
Rating – 88/100
Tracklist
Electric Sheep
Silence
I Walked Awoken on Titan
In Through the Looking Glass
The Pulse of Emptiness
Setsunaki Tabi
0-1-0-1 (And So On…)
Ad Astra per Aspera
Resolutio
Line Up
Elodie Buchonnet – Vocals
Arthur Raulin – Guitar
Lionel Patroix – Guitar
Pierre-Yves Brun – Keyboards
Alexis Poitié – Bass
Frédéric Hugenell – Drums
Links
MySpace * ReverbNation * BandCamp * Facebook * Twitter * Site
Label : Thundering Records
Review by Lithium
It has been said that sometimes less is more. While this may be true in some areas of human endeavor, metal most definitely is not one of them. In metal less usually is less and more almost always means more. Such certainly is the case with Resolutio, the full-length debut from Auspex. Whatever else you might want to say about it, this is an album that has plenty of everything. "Resolutio" is symphonic progressive power metal of the highest order. During its 54-plus minutes of playing time we are taken on a winding journey with surprises around every turn, as its nine tracks weave for us a complex sonic tapestry that reveals new details upon every listen. Yet, despite everything that is going on, nothing seems the least bit forced or out of place. Each instrument, each voice, and in fact every sound has an uncanny way of somehow falling neatly into position within the overall soundscape. It is this tightness, maturity and relentless sense of purpose that set "Resolutio" apart from lesser works emanating from within the progressive ranks of the femme-metal scene. At its most basic, the music is built upon Germanic speedy-melodic power metal in the vein of Helloween, Blind Guardian and Gamma Ray. So, it should come as no surprise that we find the first-rate production and top-notch musicianship that are mainstays of the genre. The songs zip merrily along propelled by crisp power drumming and bass lines, as energetic keyboards and neo-classical guitar licks come at us from every angle and in just about every possible combination. But Resolutio offers much more than just typical power-metal fare. Most conspicuous is the strong symphonic presence, with sweeping orchestrations that at times evoke the epic feel of film-score metal. Bells, choirs, church organs and an assortment of other sounds are layered in to impart a rich texture and depth to the compositions but without the cheesiness or ostentation that symphonic metal often has come to typify. A moderate progressive influence manifests itself in a variety of ways, not the least of which is a persistent variation of tempo. Even when a piece seems to be moving along at a decent clip, occasionally things will suddenly kick into a much higher gear and only then begin to fully reveal the band's considerable speed-metal prowess. There is also a discernable avant-goth element, though tasteful and not overbearing, and without the out-of-place excursions into jazz-based weirdness. All in all, the band does a good job of staying comfortably within the parameters they have staked out for themselves, while still managing to fully explore its rich terrain. Vocalist Elodie Buchonnet brings new meaning to the word 'versatile.' On "Time to Make a Stand" her voice reflects a clarity and richness befitting the laid-back, confident style of Sharon den Adel, while closing track "Rise" features Elodie in sweet soprano mode. Even during the lightning-fast segments Elodie does not miss a beat and always seems comfortable and entirely in command. Although she sings with no detectable accent, it nevertheless was difficult to figure out what she was saying. Still, even though I barely understood a word the entire album, her voice was so good that this did not matter. When the CD ended I felt like I had just dined upon a rich smorgasbord of metal's finer delicacies. Though I wasn't quite sure exactly what I had eaten, or at any rate could not remember, at least I knew that I had liked it. In fact, "Resolutio" brings so much to the table that it undoubtedly will appeal to symphonic-metal enthusiasts as well as to fans of Euro-melodic power metal. Progressive-metal aficionados also may find a lot to like within its metaphorical grooves. About the only thing missing here are the over-the-top soprano histrionics and growled male vocals that unfortunately have become all too much of a femme-metal cliché. And in that respect, at least, less really is more. Male Vocals: Clean and limited mostly to a few spoken parts and choirs. No growled male vocals.
Rating – 85/100
Tracklist
Subjective Architecture

Time to Make a Stand

Theatre of Pain


Lost Academy

Mysteries of Stars


Phantoms

Celestia

All That's In Me


A King's crown for a Wealthy Weak

Rise
Line Up
Elodie Buchonnet – Vocals

Pierre-Yves Brun – Keyboards

Guillaume – Guitars


Jaroslaw "Jaro" Baran – Guitars

Alex Potié – Bass


Frédéric Hugenell – Drums
Links
6 color styles available:

Style switcher only on this demo version. Theme styles can be changed from Options page.