Browsing articles tagged with " avantasia"
Interview by Ary R, Massimo M. & Alessandra M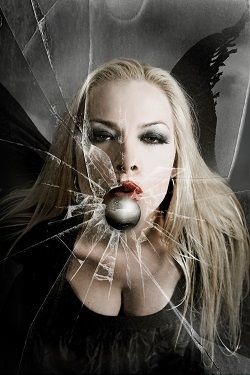 Despite her longest music career, Amanda Somerville has become a guarantee in the metal panorama. On the occasion of the new Avantasia European tour, we had the chance to talk about the recent and latest news with this amazing American singer. A special thanks goes to Serena M, who helped us in the transcript of the article! Thanks Serena

Today we're here with the amazing Mrs Amanda Somerville. How are you doing?
I'm doing quite well, thank you very much, still doing well, still busy since the last time we spoke.
You're back on tour with Avantasia a few days ago. In 2011 Tobias Sammet said "No more Avantasia shows", but this sentence of his has been denied since he's back on the road. What was your reaction about Tobias in changing his mind?
No, I was not completely surprised that Toby changed his mind because he changes his mind a lot about a lot of different things which is his good right to do, so no… but I was, you know pleasantly surprised that I was asked to be a part of it again and of course the time frame and everything and how expensive this tour was, so it's really, really a big tour and a lot of places, lots of countries that I've never been to before so…that was really cool. Continue reading »
Label : Nuclear Blast Records
Review by Alessandra Mazzarella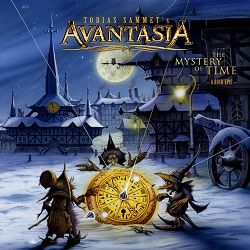 Like it or nope, Tobias Sammet was born to surprise, and he did surprise the audience once again with his Avantasia brand new album "The Mystery of Time". Thanks to an outstanding combo of brand new special guests – Eric Martin (Mr Big), Ronnie Atkins (Pretty Maids), Arjen Lucassen (Ayreon), Joey Lynn Turner (ex-Rainbow, ex-Yngwie Malmsteen, ex-Deep Purple), Biff Byford (Saxon) – and the ever-present ones – Michael Kiske (ex-Helloween, Place Vendome, Unisonic), Bob Catley (Magnum), Cloudy Yang – plus the participation of the Film Orchestra Babelsberg (which already featured Edguy in the "Hellfire Club" album), Avantasia's sound seem to have shapeshifted again without altogether abandoning his origins. In fact, in "The Mystery of Time" you can find the dark atmosphere of "The Wicked Symphony", the dynamic choirs of "Angel Of Babylon" and the multi-level vocals of "The Metal Opera Pt. 1 & 2". The absence of Jorn Lande seems to have forced Tobias Sammet to look for some new vocal mixes. Continue reading »
AYREON mastermind Arjen Lucassen (also ex-BODINE, VENGEANCE) has been confirmed as one of the guest musicians who will appear on "The Mystery Of Time", the new album from EDGUY frontman Tobias Sammet's AVANTASIA project. Also scheduled to make appearances on the CD are Michael Kiske (UNISONIC, HELLOWEEN), SAXON frontman Biff Byford, former KISS guitarist Bruce Kulick and drummer Russell Gilbrook of URIAH HEEP.
Commented Sammet: "To me, he used to be what John D. Rockerduck is to Scrooge McDuck: an adamant longtime rival; in our case, when it comes to producing rock operas. Well, if you can't beat your enemy, make him your ally! And so I opened the door and literally invited pestilence into my world, ha!
"Seriously, the truth is that the 'pestilence' I'm talking about is really one of the nicest, coolest and loveliest plagues I've ever come to know, an ambitious artist through and through and a real great guitar player. So, having just come back from a shopping tour in 2912 — where apparently he found himself a brand new pair of bad-ass pants and boots — he went into the studio to record some additional lead guitar for the forthcoming AVANTASIA album, 'The Mystery Of Time': AYREON mastermind Arjen Anthony Lucassen!"
16 Aprile, Milano
AVANTASIA, ovvero la band fondata da Tobias Sammet di Edguy, pubblicheranno il nuovo album "The Mystery Of Time" il prossimo marzo che vedrà come ospiti anche Bruce Kulick (ex-chitarrista di Kiss) e Russell Gilbrook (batterista di Uriah Heep): le premesse quindi sono ottime! La formazione tedesca ha già programmato il tour promozionale di "The Mystery Of Time" che passerà anche dall'Italia per un'unica data che si terrà all'Alcatraz di Milano il 16 aprile.
ATTENZIONE: lo show avrà molti special guests e durerà fra le due e le tre ore…si tratterà un vero e proprio spettacolo. Rimanete sintonizzati perché a breve annunceremo tutta la line up che salirà sul palco di AVANTASIA…
Apertura porte: ore 18.30
Inizio concerto: ore 20.45
Prezzo del biglietto in prevendita: €30,00 + diritti di prevendita
Prezzo del biglietto in cassa la sera dello show: €35,00 euro
Biglietti in vendita su www.ticketone.it e www.livenation.it a partire dalle ore 10.00 di lunedì 17 dicembre.
Label : Frontiers Records
Review by Tony Cannella
Until recently, Amanda Somerville has been most notable for her work with Epica and Avantasia, but in the last few years she has released a solo album ("Windows"), an album with ex-Helloween singer Michael Kiske, and now her new melodic metal project Trillium. The debut from Trillium is called "Alloy", and is another great showcase for Amanda's beautiful vocals, but she also shows different sides to her vocals and music that she has not shown on previous albums. First thing is that Trillium is a melodic metal masterpiece, lyrically and vocally Amanda displays anger and an attitude, but also vulnerability throughout "Alloy". Some of the lyrics have an edge to them and the vocals follow suit. "Alloy" opens with the aggressive "Machine Gun" which is about as subtle as a machine gun. "Coward" follows and is rightfully the first video from "Alloy". "Purge" is next and opens with rapid fire guitar riffs and I would love to see this be the next video – my favorite song, without a doubt. Amanda is joined by a wide array of musicians. Sascha Paeth handled the production duties as well as guitar, bass, keyboards and he also co-wrote many of the songs with Amanda. Another big name is guest is Jorn Lande who adds his distinctive vocals to "Scream It" on a duet with Amanda. This song lulls you into a false sense of serenity before the song picks up the tempo and Jorn and Amanda work well together. Other highlights include: the moody, tempo changing "Utter Descension", "Bow to the Ego" and "Path of Least Resistance", but I could mention every song, I don't think there is a weak moment on "Alloy". It is one of those rare albums that starts off strong, finishes strong and everything in between is just as strong. With 2011 coming to a close, I suspect that "Alloy" will be at the top of many yearend lists. In a word – and I don't mean to oversimplify things - "Alloy" is awesome and one of the best albums I have heard all year. Amanda Somerville is fast becoming one of my favorite singers and I can't wait to hear what she does next.
Rating – 100/100
Tracklist
Machine Gun

Coward

Purge

Utter Descension

Bow to the Ego

Mistaken

Scream It

Justifiable Casualty

Path of Least Resistance

Into The Dissonance

Slow It Down

Love Is An Illusion
Line Up
Amanda Somerville – Lead Vocals

Sascha Paeth – Guitar, Keyboards & Drums

Olaf Reitmeier – Acoustic Guitars

Sander Gommans – Guitars

Michael Rodenberg – Arrangements and Keyboards

Simon Oberender – Keyboards

Robert Hunecke – Drums
Links
MySpace * ReverbNation * Facebook * Twitter * Site
6 color styles available:

Style switcher only on this demo version. Theme styles can be changed from Options page.