Browsing articles tagged with " barcelona"
"My Own Angel", the brand new video from Barcelona, Spanish melodic metallers ANKOR, can be seen below. The clip was filmed with renowned director Patric Ullaeus of the Revolver Film Company AB, who has previously worked with IN FLAMES, DIMMU BORGIR, EUROPE and LACUNA COIL, among many others. The song is the title track of ANKOR's second full-length album, which was released in October 2011 via STF Records. The CD was produced by the band and Radish Records in Barcelona. ANKOR is Rosa de la Cruz on vocals, David Romeu and Fito Martinez on guitars, Julio A. Lopez on bass, Javier Casanova on keyboards and Jordi Vidal on drums. More infos @ Facebook.
Independent Release
Review by Tony Cannella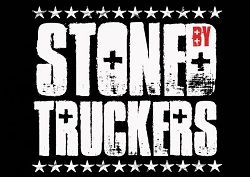 From Barcelona, Spain, Stoned by Truckers brings rock n' roll back to basics on their debut 2-song single. Make no mistake about it, this is not epic, dramatic metal, this is just straight-forward, to-the-gut rock n' roll. Stoned By Truckers, lists as some of their influences, Guns N' Roses, AC/DC, The Ramones among others, so that should day a lot about where they are coming from musically. The first of the two songs provided here is the track "Pussy N Gasoline". The song has an AC/DC vibe to it led by a strong Angus Young style, simplistic riff. The second track "The Color and the Shape" is the band going all out, playing with reckless punk-like abandon and energy. Sure the single only clocks in at about 9-minutes, but still it gives you an idea of what Stoned By Truckers is all about.
Rating – 75/100
Tracklist
Pussy N Gasoline

The Color and the Shape
Line Up
Elisa – Vocals

Germán – Lead Guitar

Jahdry – Rhythm Guitar

Judith – Bass Guitar

Toni – Drums
Links
Independent Release
Review by Tony Cannella
Silent Memories are a Gothic Metal band from Barcelona, Spain. Their independently release debut is called, "Memories of the Lost Souls" and is available now. "Memories of the Lost Souls" features only 7-songs and a playing time of about 35-minutes long. The opening track, "Soul Pain" features a pretty solid opening riff and includes the semi-operatic vocals provided by Mary Carmen Romero. Guitarist Miki Luzón is also on hand to lend some extreme male vocals to the song. "Too Late" is next and this song really picks up the tempo, with a biting fast paced guitar riff. Once again you have the extreme male vocals working in conjunction with the pretty female vocals put forth by Mary. Overall, this was my favorite track, and the best vocal performance (in my opinion) by Mary Romero. "Thoughts Lost" keeps the tempo at a faster level, and that song is followed by the excellent, "Underskinned". The next track "Sleep" offers a brief respite from the heavy riffs and provides the CD with a surprisingly tender moment, before getting heavier but still maintaining a mid-tempo pace. "Let Me Be" and "Heaven's Waiting" are two more solid tracks that brings "Memories of the Lost Souls" to an end. Even though Silent Memories have only been in existence since 2007, the band has certainly honed their craft, a fact that is evidenced on "Memories of the Lost Souls".
Rating – 82/100
Tracklist
Soul Pain

Too Late

Thoughts Lost

Underskinned

Sleep

Let Me Be

Heaven's Waiting
Line Up
Mary Carmen Romero – Vocals

Miki Luzón – Guitar & Chorus

Diego Torres – Guitar

Xavi Marturet – Keyboards

Alvaro Joaquin – Bass

Jerry da Silva – Drums
Links
Independent Release
Review by Tony Cannella
From Barcelona, Spain come Leaves. The band has quite an extensive history. Leaves first came on to the scene in 2001 with the 5-song mini-EP, "XTC" and followed that up with two live releases in 2006 and 2007, now finally they have released their full-length studio debut, "While The Light Continues Spinning". The album features a clash of styles ranging from Metal, Gothic, Rock and Power Pop, giving Leaves a certain ambiance that makes them difficult to classify into any one genre. The first thing that came to mind while listening to "While the Light Continues Spinning" are the similarities between vocalist Rachel and ex-Gathering vocalist Anneke van Giersbergen. I am sure that there are comparisons between the two forth-coming. The band as a whole, reminds me of "Mandylion" and "Nighttime Birds" era The Gathering, which is never a bad thing, in my opinion. The CD begins with ambient sounds and starts off kind of slow – stylistically speaking – before the title song picks up steam and heaviness and alternates between slower and heavy tempos. The album really starts to take shape with the second track, "Zero". Here is when you start to realize what an impressive vocalist Rachel is and how good the songwriting and musicianship are, as well. "My Own Way", "Observed" and "Yellow" are three more rock solid and steady tracks that keep things moving along nicely. "My Own Way", in particular became a big favorite of mine, thanks – in large part – to the heartfelt and emotional vocal delivery of Rachel. Other highlights included: "Yellow", "Anchor", "Logan", "Cover Me", "Words" and the final track, the melodic and emotionally charged "Rose in Heaven". So, if you are missing the style of The Gathering circa 1995-97 than Leaves should be right up your alley but there is enough good material present here that should make "While the Light Continues Spinning" a viable metal release in 2010. Leaves are an impressive rock/metal band that should have no trouble in forging their own identity and path in the future.
Rating – 80/100
Tracklist
While the Light Continues Spinning
Zero
My Own Way
Observed
Yellow
Anchor
Logan
Cover Me
So I Am
Words
Lost
Rose in Heaven
Line Up
Rachel – Lead Vocals
Manjon – Guitars
Frank – Guitar, Vocals

Mireia – Keyboards

Francis – Bass
Jordy – Drums
Links
MySpace * ReverbNation * Facebook * Twitter
Label: Nuclear Blast Records
Review by Jenna K. Barry
Fans of earlier Sirenia offerings will find a satisfying fusion of both style and performance with "The 13th Floor". This band, founded by the ambitious Morten Veland (formerly of Tristania), has thrived despite the fact that Sirenia has gone through three female singers already. This release is the first to feature the Spanish X-Factor contestant, Ailyn. Several of her covers on YouTube left me dubious, but I have just listened to "The 13th Floor" in its entirety. Though not, in my opinion, a masterpiece, it is clearly a step in the right direction for a band whose last release floundered in the sea of femme metal albums. "The Path to Decay" at first sounds like a continuation of "Nine Destinies and a Downfall". Then a strangely alluring female voice begins to cast a distinctive spell and it becomes clear that, although the music is still accessible as on the previous release, Morten has managed to find a singer who combines the qualities of all her predecessors. The song is very catchy and a great one if you like songs that are easy to belt out until the neighbors complain! The lyrics lack the evocative feel of the first two albums, and Ailyn can be hard to understand. "Lost in Life" is pretty straightforward, with a jaunty tune. A real highlight is the compelling song, The Mind Maelstrom. It could be the choirs, which feature strongly. I think it is arguably the most superior song on the album, with some of the complexity I had come to miss from Sirenia. The Seventh Summer features a beautiful intro with a flourish! The orchestral beginning is reminescent of earlier releases. The addition of growls is a welcome surprise after the scarcity on the last album. On Beyond Life's Scenery, pretty tinkling keys add depth and contrast. Growls and choirs are seamlessly interspersed. The intro flares up with blazing guitars on The Lucid Door. Next, Led Astray is fast but not that heavy if you are comparing it with At Sixes And Sevens and An Elixir For Existence.Winterborn 77 has an intro which calls to mind early Nightwish. Ailyn hits some strong notes in her upper register throughout the piece. Enchanting choirs and musical craftsmanship make this an excellent offering.Sirens Of The Seven Seas was one that I had high hopes for. Unfortunately, the chemistry between the male and female just seems awkward to me on this track. This is not the song I would have chosen as a closing number.My biggest gripe is that I cannot always understand the femme vox. I would like to see more variety in the songs offered, but I think Morten fulfilled his promise of giving us an album with elements from all past releases!
Rating – 70/100
Tracklist
The Path to Decay

Lost in Life

The Mind Maelstrom

The Seventh Summer

Beyond Life's Scenery

The Lucid Door

Led Astray

Winterborn 77

Sirens of the Seven Seas
Line Up
Ailyn – Vocals

Morten Veland – Vocals, Guitar & Composer

Jonathan A. Perez – Drums

Michael Krumins – Guitar
Links
6 color styles available:

Style switcher only on this demo version. Theme styles can be changed from Options page.