Browsing articles tagged with " bass"
Label : Svart Records
Review by Matteo Bussotti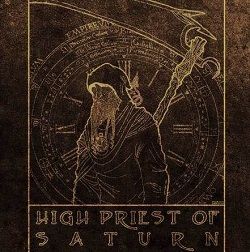 Coming from Trondheim, Norway, High Priest of Saturn take inspiration from stoner and 60s-70s psychedelic rock. All this is made by only 3 musicians, Merethe Heggset (Bass Guitar and Voice), Martin Sivertsen (Guitar), Andreas Hagen (Guitar and Drums), and the result is quite pleasing, even if it's not perfect. The first resemblance which popped up in my head was with The Flaming Lips' latest album, "The Terror": atmospheric music and eerie, low (in volume) vocals. And this is pretty much the whole album.
Each one of the songs (or should I define them "Musical experiences") is based on this simple formula…but, sincerely, they kinda sound the same to me. Continue reading »
Label : Relapse Records
Review by Matteo Bussotti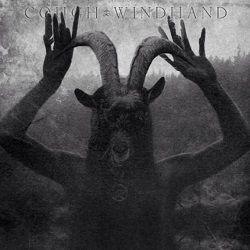 This split album divides into two 18-minute-long parts. Cough deliver a single, long song, which is more of an immersive experience rather than a simple song. Windhand give us two songs, for a most fast-paced experience, even if the second one, "Shepherd's Crook", is more slow-paced and "doomy". If you're looking for a proper doom album, you found it. This one is made by two excellent bands, too! I don't think, if you're into the genre, you'll be disappointed for one second by "Reflection of the Negative". Its slow, heavy rhythms, gloomy lyrics, heavily distorted guitars deliver sensations only well-made doom metal can.
In particular, Cough's song, "Athame", is a lot more atmospheric than Windhand's ones; you'll get trapped into it for its slow beat which makes you almost feel uncomfortable, but in a beautiful way. The guitars, with their heavy chords, deliver such power you'll feel overwhelmed by them…and I couldn't ask for more from a song like this. Continue reading »
Label : Illusive Records
Review by Tony Cannella
From Canada, Embracing Soul was formed in 2009 and released their debut album "Shadow" only a year later. Their style is Gothic metal meets alternative metal, and you can hear this on their new 5-song EP "Luna".
From the opening track "The Raven" the songs are very hard hitting and unrelenting. Vocalist and bassist Chelsea Pisano reminded me a lot of Amy Lee from Evanescence at times. There is no doubt she is an influence and it shows in her style. Guitarist Brandon Iajecznyk is also there to add death grunts to some of the songs. The songs have a raw quality to them, songs like "Luna", "Immortal" keep things heavy and straight-forward. Continue reading »
Interview by Vard Aman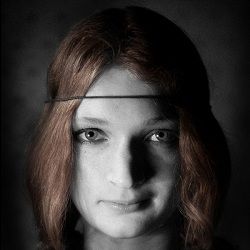 Near Manaus in Brazil the dark clear Rio Negro joins the muddy Amazon and the water from two rivers flow beside one another without mixing, distinctly separate for a distance of about 6 km in the same river bed. It is known as the "Meeting of Water", and such an unusual natural phenomenon has made it one of the main tourist attractions in Manaus. In Moscow, Russia, the beautiful melodic vocals of Slavic Folk joins the heavy, powerful guitars; pounding drums; and electronic elements of Industrial / Industrial Metal without mixing, distinctly separate from each other in the same band, and throughout an entire album and 3 track maxi-single. They are known as Risha, and such an unusual and unique blend has made them one of the hottest new prospects around. I spoke to two of those responsible: vocalist and bassist, Rishafox (also known as Risha, and sometimes, on the odd occasion, as Irina Lvova), and guitarist and programmer, Andrey Ostrav.
Hi, welcome to FMW. Nice to be able to talk to you!
Risha & Ostrav:  Zdravstvujte!
So, how did the three of you meet and when did you decide to start Risha?
Risha: We met a long ago. I was 17 then and it was probably my first time on stage, exactly with the musicians who play in Risha now. After that we were scattered about different music projects but 2 years ago we met again. I and Ostrav have created the idea of Risha and Alex, the drummer, joined us thereafter.
Tell us a little about your musical background, previous bands, and your session work.
Risha: Oh… During my not-that-long rock'n'roll life I played with about 20 bands, went on a European tour with Arkona, performed at big venues in Moscow, St. Petersburg and other cities, as well as in small underground clubs all over Russia. I always played in bands that differed a lot by style.
Оstrav: For about 8 years with the drummer Sasha we made part of one of the cult Russian industrial gothic bands of the 00′s – Deform. We toured over our endless country from side to side, shared stage with famous Russian and foreign bands like Korn, Papa Roach, Marilyn Manson, Eisbrecher, Deathstars, etc. This was fantastic! Continue reading »
Interview by Connie Bach
Translated by Disgraced
Released on Wormholedeath, Mechanical God Creation's album "Cell XIII" is all finely-tuned fury. There is nothing but steelyaggression in MGC's brand of well-crafted death metal.
Hello, Lucy.
HI!!!
How did you come up with the dark topics "Cell XIII" discusses?
The album was born from the wish to express our inner, undeclared and huge anger. We have thought about how our society denies us the possibility to free and vent our inner rage, if not only in determinated occasions, as a matter of fact we're all chained to this concrete armchair, as was Prometheus to the mountain. From this analysis we've decided that it was time to let our voice be heard and represent this huge and inner force.
Would you say, that the combination of powerful lyrics and powerful instruments creates a kind of chemistry? Is it something that feeds itself, and you, on a deeper level?
 We tried to make music and lyrics fit together in order that no one of them abandoned each other. It was like we have tried to weave a well-stichted and tight texture that oozed all this aggressivness: the more the music was getting violent, the more my voice and my vocal lines were becoming aggressive and violent!
How did "Cell XIII" build on the foundations the band already had? How does it reflect where Mechanical God Creation wants to go?
"Cell XIII" helped us to find the perfect way to develop a composing process, a musical alchemy that sadly has been lost later on, since some members left the band. Of course the work done didn't lose its value: it's been the ground for a great, personal growth that will surely be useful for the nex record and that will help me going on on my musical road. Neither me nor the other MGC will stop, on the opposite we'll get better and better with the new line-up!
Specifically, what does the name "Cell XIII" refer to?
As I told you before, we started exploring the world of repressed anger where the body acts like a cage: the word "cell" comes from here and also the artwork leads to that concept, actually there's a person chained up in a cell. "XIII" has an esoteric and symbolic meaning, according to a worldwide tradition: it's an ambiguous number open to a myriad of interpratations and it represents the human duality, our inner and outer self.
Lucy, from your personal point of view, how does Mechanical God Creation differ from earlier projects you have worked on? Is there one thing you would bring from the past experience? If so, what?
MCG is a more personal project, I feel it mine more than the others because I created them out of nothing; I founded this band to try and create something new, something that was only mine in the world of extreme music. This is my band and not a band that I simply joined! The past lives on as a legacy in terms of songwriting and live experiences, professionality and a huge care for those details both musical and non-musical that gravitate around the band. Moreover, past experiences obviously help you to deal more easily with some situations and people and so they allow you to better understand what's going on. What nowadays is often denied is basic, without any doubt, to build an important project!
This question is for each member of MGC to offer input on. If each of you had one artist who influenced you the most, who would he/she be? Why would you choose them? Each of you probably has a different, individual answer.
Lucy: The first artist who inspired me the most was Cadaveria: I liked her vocal style a lot, very aggressive but with a feminine touch nevertheless.
Veon: There are surely three artists who had a big influence on me, which are Jaco Pastorius, Steve Di Giorgio and Jeroen Paul Thesseling. They have been in bands that I always loved. Another aspect that influenced me a lot stylistically and melodically has been the one of bringing bass-playing to a new level: not only a rythmic one but something inbetween rythmic melody and soloist parts.
If you all agreed upon a dream venue (even if it is one that does not exist yet), could you describe that ideal show, line-up, concert venue, etc.? This is sort of meant for those interested to get a sense of how you all can put this image together, by working with each other, the same way you do with a song.
Well, playing Wacken is always a dream. I've been there as a fan and I can say it's a very cool festival, so many people and interesting bands. But there are of course a lot of other places where we'd like to play. Our biggest love, so to say, are big open air festivals. Now I won't list here all the bands we'd like to share the stage with… way too many!
Another one for all of you to contribute to. What goes through your head the moment you finish a gig?
When the concert is over and you go downstage many emotions always linger on: in front of you there was someone who was there to listen to you, who was searching for something in you, who wanted to find a strong emotion in your music and therefore you hope you managed to communicate all that. You hope you played a great show, something unique because after all every gig is unique and unrepeatable and so wonderful! I take the chance to thank everyone who follows us and all those who support us in what we do!
What kind of people seem to connect with MGC's music the most? Why do you think it happens?
I think that MGC's music can appeal to several kinds of listeners: of course lovers of classic extreme metal as well as modern one and in general to whoever craves for a surge of adrenalin and wants to hear something fresh and new for some aspects. Last but not least, why not?, I think we might be appreciated also by those who want to rediscover the Italian death metal that in these last years gave us lots of nice surprises!
I have one final question, for each of you to answer, or work together on; its up to you. What is the fundamental purpose of music with darker themes?
It's surely a stylistical and harmonic research that at first is aimed to create confusion in the listener but then wants to give a sensation of rage, safety and personality to the songs, both lyrics-, musical- and vocal-wise. Nowadays being out of trends using darker themes isn't easy but there are some unxplored points of view that grant a new personality to his kind of music. It's impossible to say how through words, you have to communicate and feel it with music's own language.
Thanks to you, Lucy, and to everyone from Mechanical God Creation. I deeply appreciate everyone's contribution.
Thanks to you for this chance and for the nice and challenging questions! Hope to hear you again soon!
Links
6 color styles available:

Style switcher only on this demo version. Theme styles can be changed from Options page.