Browsing articles tagged with " bassist"
Interview by Miriam C.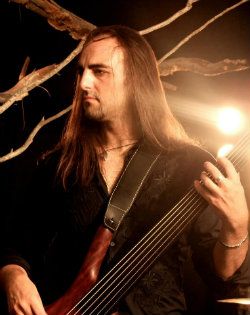 Soon I've have heard that Maltese Gothic Doom Metal Weeping Silence band have had a major line up change I've contacted the band and write down like hell this interview. I'm proud to offer the first exclusive interview the new singer Diane Camenzuli but beside this I've haven't forgotten to investigate more about the third album "For the Unsung" that sees the guest starring of Draconian singer Anders Jacobsson. To know more simply scroll down. Enjoy!
Hi Sean, first of all welcome to Femme Metal Webzine, how are you?
Thank you for the interview Miriam. I'm fine, hope the same for you and the reader of Femme Metal webzine.
Sean, would you mind giving me some biography infos for the users that don't know Weeping Silence?
Weeping Silence was formed in the late 90s and developed from a slow tempo doom female fronted band with the release of "End of an Era" (2008), then symphonic/gothic metal with the release of "Theatre of Life" to a present gothic/doom metal band with the latest full length album "For the Unsung".  As is expected with a band that has been around for some time, we have gone through some line-up changes, the latest being a vocal replacement. Weeping Silence is currently signed to Ravenheart Music Records and operates with Limelight Productions for non-exclusive concert booking in Europe.
So, your third album is out on Ravenheart Music and is called "For the Unsung". Can you tell us more its genesis?
The album is a reflection of the members' thirst to play gothic/doom with an aggressive edge. The insertion of male growling is an obvious indicator, but the riffs just sound heavier and more powerful, with several slow tempo passages. We wanted to do something that hits the core of the music we like and at the same time sounds modern.
"For the Unsung", it gives me an impression like something obscure and unfinished. What does the title mean for you, what did the band want to express?
The album is dedicated to all contemporary heroes that go unnoticed in the world. They do not have monuments erected in their honour or wear medals. They are the everyday people who comes to a cross roads and chooses the path they feel is right with courage. This idea can be transposed to many life situations, and the idea is for everyone to see it from their own perspective.
Also what infos can you reveal about the album cover? It's enigmatic…..
The artwork captures the theme of "For the Unsung" in the form of the Greek myth of the Coronides who in self-sacrifice saved the people from their doom. The Coronides are the two comets on the artwork, who are the daughters of the god Orion. They offered their lives in sacrifice to save their people from the plague. The gods were so touched with their humanity that they transformed them into comets to shed their eternal light. It is not a very popular myth when compared to others but it is a good representation of 'the unsung'. This artwork was done by Jan of Darkgrove, and we feel it looks very nice, especially on the digi-pack edition.
On "Love Lies Bleeding" Draconian's Anders Jacobsson participates as a guest star, when was the first contact with him and how's working with him?
Anders appears as guest singer on "Love Lies Bleeding" and "The Search Within". Joe knew him through Facebook, then I got to know him over the internet. He's a great guy really. To be honest, he could have easily said no to our request for him to feature, but he chose to do it even though we are not as famous as Draconian. This shows he loves the metal scene and is not a big-headed person. We respect him a lot. He did his vocal parts at Dead Dog Farm Studio in Sweden.
Also for "Love Lies Bleeding" you have shot your first videoclip, can you tell us more about it? How's was this experience?
This was a great experience. We did not have a great budget, and between us and the label we thought of shooting this video because we know how powerful YouTube has become. The experience was a blast! It was shot in summer, so you can imagine the heat. As a band, it really brought us together, and individually we realised how far we want to go in this scene. It was an eye-opener as well as a good experience.
Between "Theatre of Life" and "For the Unsung" passed only 1 year from the publication, do you notice (or better) are you able to notice any differences?
The difference is noticeable to anyone who has both albums. It is true that the release dates are close, but "Theatre of Life" was recorded in 2006 and released in 2011. So the music is much older than the release date. "For the Unsung" was composed between 2007 and 2011, and released in 2012. So the difference in composition time is more obvious to us!
Joseph and Rachel have recently left the band. And on Facebook you have already announced t
hat you have found a new female singer, mind you give the honours and present her?
We wish Rachel and Joe all the best with their future projects. The new female vocalist is Diane Camenzuli. She is 24 years old and ready for your questions!
Diane, welcome, I assume that this is your first interview that you ever made, how do you feel? Excited? Do you have any curiosity to share about yourself rather you prefer doing a detailed presentation of yourself?
Hi Miriam, thank you for the interview. Actually, I had some interviews about my music career in general, but this is my first interview regarding Weeping Silence. Yes, I am very excited about this new phase in my life. I have been into rock and metal for many years but never managed to settle down, the main reason being the difficulty to find musicians who are truly into the genre. Joining Weeping Silence is a challenge that has energized me like never before. All the band mates are on the same wavelength as I am, and I can feel a lot of positive energy between us – something I haven't felt for a very long time since my involvements in bands. The teamwork is fantastic and I can already sense the need & the will to create music & performing on stage with such great people.
How do you feel replacing Rachel after so many years that she was in the band? Do you feel any pressure?
I know how much Rachel is loved and have only respect for her achievements.  At first it was overwhelming and I cannot deny that it took me sometime to absorb what just happened to me. I had to make several adjustments to my new life such as cutting down on working hours. Having said all this, I can finally say that now, I have summoned the strength and courage to deliver at this new level of me.
A little bird told me that you have musical training, can you tell us more about your musical background?
To become a band member of a gothic metal band was a plan that had been in my mind for many years. Whilst awaiting the right opportunity to come my way, I used the time I had to learn more about music in general, to take piano and voice lessons, find my natural voice timbre and write a lot of lyrics. This was crucial and it is how I got to know myself better musically. It was the many rehearsals, auditions, live showcases, music courses and music lessons I attended, that helped me develop my voice & that thought me how to take care of it as much as possible.
How did you come across Weeping Silence? Did you know before someone from the band or did you simply apply for the position?
Being a fan of Weeping Silence myself, I saw their post on facebook and thus applied for the position.
For what the little bird  told me you're really enthusiastic and you are already doing rehearsals with the band: how hard is it to get started in a band that already has an "internal" equilibrium?
I am getting along extremely well with them. I had never experienced such teamwork. They are all committed, hard-working and open-minded. Their support has also been very encouraging.  I feel that my life is finally falling into place.
Instead let's talk about your personal tastes, what are your private passions?
I have always been interested in make-up and costumes. I love dark photography and gothic culture. Having said this, my greatest passion still remains that of being a singer-songwriter. It is a great way of expressing my feelings to the extent I want to, without harming anyone or anything.
Sean, what are the future project for Weeping Silence?
The future projects are definately composing a new album, that we hope will see the light of day in 2014. Between then and now, we will also be playing as many concerts and festivals as we can! All this should keep us busy!
So, Sean & Diane, we're at the end of the interview, please greet freely our user on Femme Metal Webzine and speak you soon!
We would like to thank the fans, Femme Metal Webzine and its readers who have always been behind the band giving us much support. We will be hitting the stage in 2013 and maybe we'll get the opportunity to meet some of you. Until then, visit our FB page, see what's brewing, and hit the like button: www.facebook.com/weepingsilence
The new album and earlier releases are available from the band's e-store on the website www.weepingsilence.com . Thank you for the support!Thank you very much Femme Metal readers, fans of female-fronted metal and metalheads in general all over the world! Keep it metal and hope to see you around someday! Thanks Miriam for this interview – Cheers to all!! Sean & Diane
Latest Multimedia
Links
Interview by Vard Aman
In my opinion, well played Doom Metal is one of the ultimate and most extreme forms of music, second to none when it comes to creating and unleashing powerful, dark and stirring soundscapes of emptiness, despair and (yet), total awe. Some people may disagree with me, depending on their personal tastes; but if you agree with me, you might want to do yourself a huge favour and check out an Australian band called Lycanthia. Lycanthia have recently released their second full-length album, entitled "Oligarchy", and on it Lycanthia produces all the soundscapes to which my above description applies. Founded in 1996, they have provided one of the sturdiest pillars of Australian Doom Metal, and have since become a household name – OK, maybe a name in one of the less frequented corners of the Doom Metal household (where you might find a Funnel-Web Spider perhaps), but they're rightfully and deservedly there none the less. Lycanthia is fronted by three vocalists, one male (Lee Tassaker, also the bassist) and two female (Vanessa Black, also on violin; and Megan Tassaker, also on keyboards). I chatted to Megan recently.
Hi! Welcome to Femme Metal Webzine.
Thanks for having me.
Let's start off with a bit of history: Tell us a bit about Lycanthia's formation and early years.
In the early days, Lycanthia started out as just a recording band made up of a group of friends. The main inspiration at the time -without naming names- was that many of their favourite parts of certain songs would be orchestral sections, or parts with female vocals but when you would see the bands live, those elements wouldn't exist. Lycanthia wanted to make a band that would be able to zone in on these elements AND reproduce them live. Once a demo was made, the next step was making it a live act.
What inspired the name?
The name was taken from the book Lycanthia, by Tanith Lee.
There have been quite a lot of line up changes over the years. How much of a hampering effect has this had on Lycanthia? (I'm assuming it has).
It has had an effect, as far as holding back recordings goes. Although we do try to take our time with recordings and make sure they are right, the last album "Oligarchy", would have been recorded much earlier if it weren't for those kind of hiccups. It's a shame that people hold it against you or try to judge your band when that happens as well, for the most part we have remained friends with ex-members. There have been many reasons people have left, from wanting to go in different creative directions, to having family or work commitments that have restricted their time. Having said that though, we are all very happy with our current line-up, it has definitely helped us step up and refine our sound further into what we want it to be. So as much as these things can hold thing's back, they can also push you further.
What other projects have you been/are you involved in?
I (Megan) am also in Avrigus, Lee is currently playing Bass for Cruciform and plays session bass for Avrigus. Mat is in Bleakwood and Blatherskite.
Tell us a bit more about Avrigus.
Avrigus is a recording band featuring myself and Simon Gruer. I would describe the music as atmospheric doom/gothic metal. The band was founded by Simon and the previous vocalist/keyboardist/composer Judy Chiara. I met Simon at a Lycanthia gig (before I was in the band), at the time I hadn't heard any Avrigus. He mentioned that he was wanting to keep Avrigus going but Judy was not longer wanting to be a part of it and he was searching for a new vocalist. He had tried to get it going with a few other people but it hadn't really worked out. So I checked out the music the next day and expressed my interest, he had heard demo tracks that I had sung on and was very enthusiastic. We met up and I dropped down some demo vocals for "Banquet of Souls", Simon was very happy with how it sounded. I think he wasn't 100% sure until he heard me play an original song though. I played "Beauty and Pain" on keyboard and sung it for him, he loved it immediately and we set out creating a bunch of songs that became the "Beauty and Pain" EP, available for digital download only at the moment on our website: www.avrigus.com. At the moment we are recording an album that was mainly written by Simon before I joined the band, most of the songs were written in the time between "The Secret Kingdom" – the last album with Judy, and the time that I joined the band. One original written by me will also appear on the album. At this time we don't have a sure release date as we are still in the process of finishing writing vocal lines and perfecting the orchestrations.
How would you describe Lycanthia's sound to those who haven't heard it?
A blend of old-school Death/Doom riffs, complimented by counter melodies on violin, harsh grim vocals and dual Female harmonies.
What is the significance of Doom Metal and the attraction to it, both as a musician and as a fan?
Doom is about creating an atmosphere and a mood, many other genres are just about technicality. For me music is art and a creation of expression, not that there isn't merit to being technically proficient, just that I prefer song writing to move me and hopefully move others.
Tell us a bit about your previous releases, "Myriad" and "Within the Walls".
"Myriad" was a first attempt at writing songs as a group for Lycanthia. A fairly collaborative effort, the majority of members were teenagers when this album was made and the sound was not as clearly defined as it is today. At the heart of it though, it was just made for fun. In between "Myriad" and "Within the Walls", we put out a single called "Inferno" which we recorded specifically for a compilation CD. By the time we came to "Within the Walls", Lycanthia had many other songs written – including some that ended up on "Oligarchy" (which obviously weren't in their current state then) – the songs that were chosen were the ones the band felt were ready for putting out into the world, that had been worked on and reworked until they were to the bands liking.
How has your sound changed over the years leading up to "Oligarchy"?
Some of the songs were written – in a much basic form – before "Within the Walls" and we were still working on them. As a band, having new members join allowed Lycanthia to be more diverse and imaginative, a lot of parts of songs we weren't so happy with were able to be brought to life in ways we had only imagined before.
Is there a possibility of re-working/re-recording and re-releasing some older Lycanthia material in the future? (Such as "Hope Lingers Yet" – it was a snippet of that song that introduced me to Lycanthia and left a lasting impression).
No, we have no plans to re-record "Myriad".
What has the response been to the new album so far?
The response has been fantastic. A lot of people have told us that we have brought the band into a new place with this release, and obviously it helped get us attention from Hypnotic Dirge Records who signed with us. It has also helped us score several endorsements.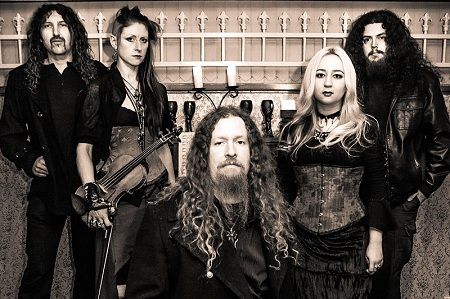 What inspires your lyrics and what are your general lyrical topics? I'm particularly curious about the stories behind "The Essential Components of Misery" and "Forgone".
"The Essential Components of Misery" is lyrically about the way we see the world around us. Although we are lead to believe we have freedom, we do not. We are lead to believe that we have choices, but the choices are really just to conform or be left behind. So in a way, it's a bleak reaction to the harsh reality of the world as we see it. "Forgone", this song is like a part 2, part 1 being "Eternity". So in the title of the two songs there is a hint to what the song is about… "Eternity… Forgone". It is probably our only song that is lyrically a fictional story rather than a story that comes from personal experiences or feelings. It is about a deity that falls in love with a mortal, and has to be stripped of eternity to embrace their lover. Although it is fictional, I think it is something that everyone can relate to, forbidden love.
Would it be true to say that "Forgone" is written as a poem first and foremost and that the song's lyrics are based on it? If so, does that apply as a general rule to most of the lyric writing process?
Sometimes that happens and other times if a lyric idea comes to mind, we will just write them down and set them aside until a song comes along that it suits. With all our songs, it's not so much lyrics to a song, as it is a poem to accompany the music. Once the poem is written, we arrange it melodically to suit.
How regularly do you play live and what is the response like at your shows?
When we aren't recording, we play live probably once every couple of months. The response is always great. We heavily advertise our shows to build up hype and we always enjoy playing live because that's when we get to experience crowd reaction to the music.
Have you done any international tours?
As of yet, we have not. We do plan to in the future though; it's something we all really wanting to do.
How healthy is the Doom Metal scene in Australia currently?
There has been increased enthusiasm for the genre lately. We have Mournful Congregation from South Australia, they play Funeral Doom. Okera from Melbourne, and Futility from Canberra are just some of the amazing doom bands that are also playing in Australia at the moment.
I've noticed a few ex-Lycanthia members around in Doom Metal bands, like Rise of Avernus (Andrew Craig), Rituals of the Oak (Sabine Hamad-Linfoot), and Murkrat and The Slow Death (Mandy Andresen). Can you tell us anything about them?
Firstly we'd like to mention that we are great friends with all these people. We are big supporters of all of these bands and love their music. In the case of Mandy, she begun Murkrat after leaving Lycanthia, it was a direction of music she had been heading towards for a while and we love it, but it isn't the sound for Lycanthia. The same can be said for Sabine, she found her tastes leaning towards a different direction, and you have to follow what you want to do musically, otherwise there's no fun to it. Andrew Craig is one of those guys who is always filling his time up with heaps of projects, we loved our time with Andy but in the end, he didn't have the time to put towards us along with all of his other commitments.
What do you all do when not playing music?
Steve is a car fanatic, always going to old car shows etc, he is also a heavily into ninjitsu. Mat is an armature photographer. Lee likes to do a lot of painting, he actually painted the cover of "Oligarchy", though it had editing and arrangement done to it, music and literature are big interests of his too. I go in and out of phases but always creating things, whether its poetry/lyrics, drawings or clothing, I also love to read. Vanessa takes part in many arts projects, creating and designing spaces.
Australia has always been one of my favourite countries. I like the people (well, more than I like most people at least) and the idea of clean first world cities in a country with so much open space and nature – the best of both worlds. But that's just my opinion. What is it like living in Australia for you? What do you like and what don't like about it? And is +40C really just "a tad on the warm side today, mate"? And have you ever seen one of those famous Sydney Funnel-web Spiders?
I am very much an Autumn person. In Australia, summer is a humid hell of heat, sweat and flies. In winter, I freeze, although I do enjoy the scenery of winter, the cold feels like pain to me and my sinuses suffer. The same sinus suffering happens to me in Spring-time, Autumn is perfect in-between weather to me. I do love that we have nature and cities in Australia, one of the thing's I dislike is probably that in general, the music industry in Australia is not very big at all. To be honest with you, I probably have seen a Funnel-web but if I have I didn't recognise it. I don't even think I know what they look like, which is probably really bad hahaha. Living in the city, I don't really see that many spiders and have to travel to see the wilderness.
Back on topic again, one final question: What is next for Lycanthia?
Next, I'm not sure I'm able to announce the very next thing that will happen, but it's coming in November. We should be able to announce soon. I'll keep you posted.
Thanks for chatting with us, good luck, we'll be watching and listening closely!
Thank you.
Links
MySpace * ReverbNation * Facebook * Twitter * Site
NERVOSA has been confirmed to support one of the greatest legends of German Thrash Metal, DESTRUCTION, in São Paulo, Brazil. The show, which is a part of DESTRUCTION's "Spiritual Genocide – 30 Years of Destruction" tour, will take place on February 3rd at Via Marquês. "It's a great honor and a dream come true for us, because DESTRUCTION stands among our main influences! There couldn't be any better way to start the year of 2013!", celebrates Fernanda Lira, bassist and singer for NERVOSA.

Tairrie B Murphy of the Los Angeles based hard rock band MY RUIN featuring husband/guitarist Mick Murphy and bassist Luciano Ferrea has posted the following message on the bands website:
———-
Dear Friends,
Today is the one year anniversary of our 7th album 'A Southern Revelation' which we released as a FREE (digital only) DOWNLOAD and gift to fans on December 7th, 2011. To celebrate our special day we would like to thank all those who have taken the time to download a copy and donate to our band this past year continuing to keep the spirit of independence alive through our music and art, by releasing this new version of the song 'Seventh Sacrament' which was recorded live at the Scala in London, England on our Southern Revelation Tour 2012.
SEVENTH † SACRAMENT
http://myruin.bandcamp.com/track/seventh-sacrament-live
Mick, Luciano and I have recently finished mastering our new album which we will be revealing the name, cover art & details for in January 2013. We recorded album #8 a few months back at Soundtrack Black Studio in Knoxville, Tennessee with our good friend and co producer Joel Stooksbury who worked with us on 'A Southern Revelation'. To check out behind the scenes photos from our time in the studio, click the following link:
STUDIO † PHOTOS
http://www.facebook.com/media/set/?set=a.10151175791021416.496160.247462796415&type=3
Thanks to everyone once again for your continued rock love and support of our band and music. Enjoy the live track and share it with your friends. We're looking forward to the New Year and unveiling something sacred.
♥
Mrs M
Interview by Connie Bach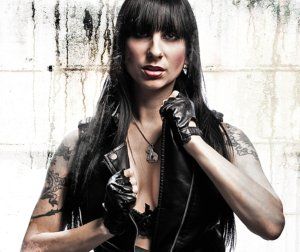 Rock with attitude. This is Sister Sin's personality. The "attitude" aspect is loud, edgy, and melodic. If you are furious with someone this is a great album for the situation. And if you are not in a rage, there is energy for entertainment, and plenty to spare.
Hi, Liv. What's going on with the band right now?
Hi! Right now we are playing lots of shows in Scandinavia and doin' some tours in Europe, we hope to be back in US early next year! The album is just released in Japan too so hopefully we will get the opportunity to do a tour over there next year too. This one's for the whole band. How did each of you get involved in rock music? What's your background?
Liv : Well, I started to get into rock in my early teens when I found Nirvana and Hole, and a Swedish metal band called Drain. Drain had Pantera as their favorite band and that got me into Pantera and the heavier stuff. I so wanted to become a rock star that I forced my to best girlfriends to start a band with me. After a while they got into it too ha, ha… We were called Sisters of Kali and we´re very, very dark and angry on everything. Jimmy : I got into rock music seriously when I was around eleven years old. I loved Metallica and Pantera at that time which friends introduced me with. Then I discovered more extreme music such as Slayer, Sodom, Entombed and later on bands like Morbid Angel, Deicide, Suffocation, Gorefest and also a lot black metal. I played in many bands in those days, mostly death and black metal bands. Then I had a break from playing and one day I heard from a friend that Sister Sin was looking for a new guitarist, knew nothing about who they were. But I gave it a shot since I always had a soft spot for classic hard rock and heavy metal. It turned out to be perfect! Dave : I stole all my brother's heavy metal vinyls after discovering Vanessa Warvick hosting "Headbangers Ball" in the early nineties. After that I got in to a lot of punk, hardcore and eventually black metal as well. Started playing guitar back then but moved on to drums for the usual reason that there weren't any drummers around. And here I am today, piss poor but happy with a Metal Heart, ha ha. It's been a few months since Benton, Sister Sin's bassist, unfortunately had to part ways with the three of you. Liv, how is the search for a new bassist going? What challenges does a change in line-up present, even with the qualifications you have in mind?
It's always very hard to find replacement for someone that you liked and that suited the band so well and we have been thru this before so we are pretty tired of this whole bassplayer thing. That's why this time we really need to find someone that has the passion for music and touring that we do and that could dedicate their life to this band. Even if you do find someone who is technically qualified the most important thing is always the social aspect. When spending so much time as we do in a van you can't have one guy you wanna choke to death every half hour. I think we´ve actually found the right man for job but he´s gonna do at least one tour before we make it official, for both parties sake.
Why does Sister Sin require that the new bassist have studio experience?
Do we? Ha ha… I didn't know that. No, but I guess it´s more of sorting out the serious ones, like we get so many e-mails from people who think that anyone can play bass and let me tell you; just because you can play guitar and get by doesn't mean you can play bass. What are you expecting with the tour with Grave Digger and Grand Magus?
I think that will be a blast! We haven't toured so much in Europe with all the focus that's been on U.S last two years so it´s gonna be cool for sure and we are hitting some very interesting countries as well, so I'm really looking forward to that.
What determines where a tour takes Sister Sin, or any other band? Why?
Since we haven't really sold shitloads of albums around the world we can't exactly pick and choose where and when we wanna tour and whom with. Many people ask why we go on tour with bands like Arch Enemy or OTEP and the reason is just that we got offered those tours and we need to be on the road all the time. Got nothing against any of the bands we´ve toured but yeah, if we could choose we would definitely tour with headliners that are more close to our genre and fan base. We´ve been over totimes and the reason for that is that our label has spent more promotion over there and we need to back that up.

Liv, you are featured as "Miss November" in Revolver's "Hottest Chicks in Metal" calendar. How do you feel about the award? Nice job. The reason I ask is that for some it is a source of pride, whereas some feel it mocks women in metal.
For me it's a pride!! I'm very, very glad to be one of the girls in that calendar, it's an honor. I truly can't believe it really, I'm just a working girl from Sweden and a big American rock magazine wants me in a calendar ? That's so cool! And I don't understand these people that think it's mocking women, if you are a beautiful woman with a talent, show it! Both your talent and your beauty, that calendar is a way to celebrate both in my opinion! "True Sound Of The Underground" did quite well on the charts. What does that mean for the band?
Of course it means a lot to know that people enjoy our work and that we hopefully can inspire others with our music. Not that you have to sell a lot of copies these days to end up on a chart but it´s a nice motivator for us that there is a growing market for the kind of music we play. Do each of you have a personal goal that you are fulfilling through being in Sister Sin?
Jimmy : Yes absolutely. I get to play guitar just they way I dreamed of when I first picked up a guitar and all the countless hours of practice finally pays off with releasing albums and touring, it certainly is a privilege and a dream come true.
Dave : Ever since first got in to heavy metal I always wanted to tour and see the world. And now I get to travel, see new places, new people and be on stage every night doing what I love to do. I've never dreamed of making lots of money (although it would be nice! ) and playing big arenas, I'm just glad that 3 nobodies like ourselves who have been stuck in a rehearsal studio for 5 years never gave up and it´s paying off the way I always wanted it to do. Liv : This is my personal goal, to be able to be in a great band and play live all over the world! One thing that would make it even better would to be able to live from the music one day, that's very much a goal for me. To just live 100% for the band, now I have to share my time with my job as a personal trainer.

Liv, Sweden (especially Gothenburg) has a huge metal scene, with many famous acts. Why does this scene influence Sister Sin?
I really don't think there are any Swedish bands that influences us really. There´s a lot of extreme metal coming out of here which obviously is what Sweden is mostly famous for in metal. A lot of those bands, like In Flames for example definitely inspire in another way though that you can make it if you just hang there, never quit and be true to what you love. Liv, Dave, and Jimmy, thanks a lot for your time. Your musical energy and commitment to Sister Sin is impressive. Hopefully we'll see you in the States again soon.
We will be back 4 sure!
Links
MySpace * Facebook * Twitter * Site
Latest Multimedia
6 color styles available:

Style switcher only on this demo version. Theme styles can be changed from Options page.