Browsing articles tagged with " beach"
Interview by Ed MacLaren
Since blasting out of the Great White North in 1999, Canada's Kittie has pushed and evolved from its nu-metal roots into a tight thrash-oriented unit of massive metal mayhem. With the twin guitar attack of vocalist Morgan Lander and Tara McLeod backed by the bludgeoning rhythm section of bassist Ivy Vujic and drummer Mercedes Lander, Kittie's new album, "I've Failed You", is anything but one, reaching new levels in the band's songwriting and sound. Femme Metal got a chance to talk with Morgan about the new album, the changes in her writing, and her dedication to Canada's national beverage.
"I've Failed You"
is a failure in title only. Massive riffs, great vocals. Straight to the point, no filler. A pretty successful combination. Do you agree?
I do, of course! I think this album came out much better than we ever could imagined and as it started to take shape, we knew that it was going to be a monster!
The album features some heavy thrash guitar. It must have been a blast for you and Tara McLeod to throw down on this album.

Tara and I always have a blast when we are writing and playing together. We still have wildly different styles but I think that's what makes this band so interesting and allows for us to continue to evolve. We're always pushing ourselves to be better, play faster and challenge the expected for us.
"I've Failed You"
is a testament to the turbulence in your own life for the last few years. Did writing the album work as a type of catharsis for you?


I certainly didn't set out for it to be like that but going into it I knew that it was going to be tough. I had no idea where to begin. As it turns out, this really was the most difficult and cathartic experience I've been involved in. I promised myself that I would be honest and real with the things I wanted to express, and it certainly helped me to see the situation for what it was and allowed me to grow from it and move on.
Did opening up through music let you push your songwriting to another level?
I think so. We certainly wanted to out do ourselves. At the same time, I think a lot of the songs have a downtrodden, slow feel to them because of the emotions involved. The defeat, the guilt, the sadness. I was physically affected by it and it contributed to the end product.

You, your sister Mercedes and Tara all write for the band – it seems like a very integrated creative core. Has the writing process gotten easier for you or are there challenges with every album?
It wouldn't be a band if there weren't challenges. If things came easy, there would really be no reward. The writing process between the three of us has become easier in that we all know how each other writes and works, so we know the others next move and usually we can anticipate where the song will go. There are always challenges in writing though, whether it be getting stuck on a part or finding the right riff, or scrapping a song all together.
You slow it down to an effectively sludgy pace on tracks like "What Have I Done" and "Time Never Heals". What's the key to a good metal "ballad"?
I think for us, its all about the emotion. It's important to connect with the feeling of the song and the reason behind it, and really bring that forward. Ballads can be huge and heavy too.
Your screams and your clean vocals have never sounded better. On
"I've Failed You"
it feels like they've each become a distinct personality. How do you know which voice is going to show up on a given track?

I've always prided myself on my ability to have a voice for every emotion on a song, if needed, and have worked hard over the years to make that distinction glaringly apparent. Usually when a song is in its beginning stages, is when I start the process of figuring out what will go where. Some songs are written with the specific intent of becoming a "singing only" song but for the most part, it's not until the song fully takes shape do I have a set idea of the patterns and vocal styles. It takes time and practice and hearing the song over and over again, as well as channeling the emotion I feel that is put into the riffs of the song.
It looks like Kittie has finally hit upon a stable lineup and it shows in the ease and confidence of the album's performances. Is there some kind of relief now that you've nailed down a solid lineup and you can get on with the business at hand?
It's a relief, yes but I feel that everything happens for a reason and that we would not have been able to appreciate the stability we have now if it weren't for the instability of the past. I feel like each line-up change was a learning experience for us and shaped Mercedes and I into easy-going chameleons.
How important was it to have Siggy Meier return to the helm on this album? He was a big part of helping you level up your sound on "In the Black".

I think it was of huge importance to have him return to produce "I've Failed You". He is responsible for helping the band to re-define our sound with "In the Black", so it was a no-brainer to have him return. He really knows what we are looking for, sonically, and really helps to get the best performances out of us possible. On top of all of that, he is a great friend and Beach Road Studios is a really laid back place with a great environment. We feel welcome and comfortable there, which makes for a better output I think.
You recorded
"I've Failed You"
at Beach Road Studios in the picture postcard town of Goderich, Ontario on the shores of Lake Huron. It's almost surprising you could record such a heavy and aggressive album in such an idyllic setting. Does the recording location ever have an impact on your writing and recording?
In terms of writing, no, as we always come fully prepared with songs and structures for the session but the environment itself is rather relaxing and no-pressure, making for a pleasant experience. It's creative, it's fun and we work at a good pace. Nothing is ever set in stone and with Sig we're always able to try new things and experiment.

You've dealt with your share of negative press in the past. Do you think that with
"I've Failed You"
you've successfully bludgeoned critics long enough with better and better albums that they have to finally give you some props?


This is the music business and if I have learned anything over these past 15 years, it's that you cannot please everyone. We just continue to do our own thing, improve at our own pace and make the music that we identify with and love. I think with time and effort, that people are beginning to take notice, at the professionalism, the musical improvement and the changes. They're noticing that we aren't giving up and are getting better with every album, so that says something to them and they're giving us props for that. I can't complain.
Kittie has hit the 15 year mark. You've essentially been leading this band for half your life. Do you feel any kind of accomplishment having this kind of longevity?

Absolutely. This industry is so fleeting, especially now and it really say something to me, that we've been able to do this for as long as we have. I'm still humble, still amazed, however, that on the eve of my 30th birthday, that I am still in this band, touring and making music. If asked 15 years ago, I would have laughed in your face. It's a good feeling.
What's it been like for you and your sister Mercedes to essentially grow up in a band? Is listening to your early material like looking back at your high school yearbook where you?? Are cringing at a certain chord progression instead the hair style you wore back then?

It can be like that at times. There were a lot of things going on behind the scenes that made it unbearable sometimes, but overall it was a good experience. The memories are fond and I would never want to go back and re-live them but I wouldn't change anything about those days, either. I am the person that I am today because of it. We all grow, evolve and change, as people. We just so happened to do all of our growing pains in public.

When you look at the teenage Morgan do you still recognize her in you? Despite all the struggles and roadblocks in the bands history do you still have any of the wide-eyed amazement and optimism of that kid from London, Ontario?
I see some of her in me, now, but for the most part she has turned in to a jaded, angry, cynical beast! (Laughs) I'm still enthusiastic about my music and the band, however and am still amazed at times that this is still my life.
I'm sure after all these years you're sick of the women in metal angle of too many articles and interviews. But with that said there's no question that there's been more than a few young woman who've looked at Kittie and said, "They're women and they rock! I want to do that too!" and then they run out and start their own band. A great compliment as a musician and as a woman in metal.

And I applaud them for that! There is nothing wrong with inspiring ANYONE, be them male or female, young or old. I can't say I see myself as a role model but it is always nice to know that what you do makes people want to better themselves.

When you think of specific countries, certain styles of metal will come to mind. Canada? Not so much. Is that an advantage from a creative standpoint not to have one type of music being constantly funneled around you?
Canada, as I'm sure you're well aware, is quite the melting pot of diversity, and I think that funnels down into other aspects of our society and culture. Food, clothing, art. So in a way, I wouldn't expect that diversity to leave music untouched, too. We have all kinds of different things going on and it makes for a really wonderful, vibrant scene, and creatively it doesn't pigeonhole anyone. We just do what feels right and aren't expected to follow any particular rules.


What's the most Canadian thing about you and the band?

Our devotion to the glory that is Tim Hortons!

In addition to Kittie, you also run your Poisoned Black clothing line and the X of Infamy management company and all of this before your 30th birthday. Are you intent on becoming the metal equivalent of Jay-Z?

I'm quite certain that I have more than 99 problems! (Laughs)
Do you ever see yourself putting down the guitar and focusing more on your other interests?


I think I will always gravitate towards music in some capacity and perhaps one day this band may not exist but that doesn't mean that I will stop being creative or being an artist.


(Famous) Last words?

"My works cast down and trampled to dust is no defeat. The soul that built them cannot die. My home burned, I dress in ashes and bend my arm to the harp and sing a while. My love is dead, I mourn and live. My revenge is to live."
Latest Multimedia
Links
Interview by Robin Stryker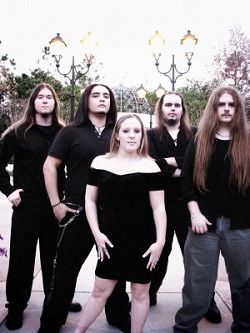 Femme Metal is here with Seven Kingdoms, a power metal band from Florida that ROCKED the stage last night at the Mid-Week Mayhem show at ProgPower.
Hi guys! We were obviously blown away by your announcement last night that Seven Kingdoms will be opening for Blind Guardian on their North American tour. Please tell us about that.
Camden: You start, Keith. What do you feel, man?
Keith: It feels good!
Sabrina: It's an opportunity that we used to dream about and say, "Yeah, one day we'll do that!". But we never believed it.
Camden: It's funny, I used to joke with Kevin that our first tour was gonna be with Blind Guardian because that was the most RIDICULOUS scenario I could ever possibly think of. And then, it's just funny that "Hey Kevin, we're going on tour with Blind Guardian!"
Keith: Blind Guardian has been one of our biggest influences and has been Kevin's favourite band since he was like 16. And it's always been one of my favourite bands, so it's an honour.
Is this going to be Seven Kingdom's first big, nationwide tour?
Camden: We did a stint in Florida that was just playing as a glorified local band for seven days. It was tough, with barely any people coming and still paying for it.
Sabrina: We had a bunch of good bands with us. It was pretty much like a week-long party, is what it really was.
Keith: It was fun.
Camden: It was fun. I had actually booked a tour package of locals and it was Seven Kingdoms, From the Throne (a melodic metalcore band) and Demise of All Reason which is just a ridiculous death metal band. I booked them because they were probably all the best bands in the genre in their own rights from Florida and they work hard. Sadly, neither of those bands exists anymore. I mean, I actually fed and got gas for three local bands through Florida … basically through three shows with the guarantees. Yuengling went to the bars and put drink specials up and got T-shirts printed for us that we still sell. (laughs)
Sabrina: Yeah, we're still trying to get rid of them.
Camden: But yes, this will be our first legitimate tour.
Let's rewind a bit, since we jumped into the interview without everyone first introducing themselves. Please introduce yourself and tell us what equipment you rock on stage.
Keith: My name is Keith Byrd and I'm the drummer. I play on a new Yamaha sparkling oak drumset.
Camden: I always say that I live vicariously through Keith because I always wanted to be a drummer.
Kevin: My name is Kevin Byrd, I'm a guitarist. I play an ESP guitar with Engl Powerball amp heads.
Sabrina: I am Sabrina Valentine and I sing on a Sennheiser microphone with a Shure in-ear. I like to stick gems and glitter over everything I have. J
Camden: My name is Camden Cruz. I play Bernie Rico Jr. guitars and Krank amp heads.
Prior to Sabrina becoming the vocalist and Seven Kingdoms recording "Seven Kingdoms", the band had recorded a full-length album called "Brothers of the Night" with Bryan Edwards on vocals. Other than the obvious difference of now having a female vocalist, has there been a change in style?
Kevin: Yes, "Seven Kingdoms" is much more power metal, as opposed to "Brothers of the Night" which was death metal influenced and more thrash. Of course, there is thrash and some death metal on the new album, but it is more melodic power metal.
Keith: Before "Brothers of the Night", me and Kevin had just joined, and we didn't write any of the songs except for "Blackwater Rush". Camden and Bryan had them all written. We just came in, learned them, played live and went to the studio. On the next album, was when we all collaborated.
Camden: "Seven Kingdoms" is what happens when you actually try. I mean "Brothers of the Night" was literally me and in our off time trying to write … the drums were fake, the guitars were recorded at my home with a computer mike that was the size of my thumb. We took it to Morrisound Studios because Jim can fix anything, just because he is JIM MORRIS.
Sabrina: A very awesome guy!
Camden: We tell him that he is a living musical deity in every interview that we ever do.
Sabrina: You want to know how much Camden likes Jim? He made a shirt that says "Jim Fuckin' Morris" and wore it to the studio.
Camden: And on the back it says, "You're out of tune". Jim can be listening to a full mix and say, "The bass is out of tune". You drop all the tracks and sure enough, the bass is a quarter-step flat. He has got ears like a dog. It was just a fun project. No one in Florida does that kind of music or even attempts to do it. We could start seeing the reaction in people live, sort of like "Oh this is pretty cool!" So, I wanted to get a little bit more serious with it, especially after seeing what Kevin and Keith could do. I sort of thought to myself, "I just wasted some money at Morrisound on that first album". Nevertheless, we got serious. At that time, Bryan really didn't want to be serious, so he left. It was funny, I actually started dating Sabrina three or four months beforehand and had no clue that she could sing … not even one slight clue that she could sing.
How, then, did Sabrina wind up as your vocalist? Sabrina, it seems from your MySpace that, when you first stepped behind the microphone, you felt very nervous and uncertain about becoming a singer.
Sabrina: It's a totally different style. I have grown up as a bluegrass and country girl and with Christian-oriented music, and had never heard any of this type of music. Right now, everything is still brand-new to me. It's like, I've never even known that this music was out there because I was in a little bubble. The Christmas of 2008, Bryan quit seven days before we had a show at either the Dungeon or Pegasus Lounge. (I don't remember exactly which venue it was). Then Camden said, "We need a singer". He had been messing around on the computer one time when I was over there … I think it was the part for "Open the Gates".
Camden: No, it was the part in "Somewhere Far Away" before the solos. The ooooooooo parts. I was like, "Okay, it doesn't take lyrics. You've got ten minutes, I wanna try this".
Sabrina: Camden was like, "Let's see what you can do!". And I just did something.
Camden: And it sounded exactly like it does on the record.
Sabrina: Camden's mom walked in, and she was like, "Camden, I think it's obvious, what are you doing?!?". I just ooooo'd, that is all I did.
Camden: It was just timing. Bryan didn't want to do it because he had other things going on. Bryan did most of my Florida Power Fest stuff while I was here in Atlanta for ProgPower, so I'm still really good friends with him. It was perfect timing … it just lined up. We went to karaoke and Sabrina goes up and sings Journey. You know when you see something and it just clicks? You're rubbing your hair back, like "Oh my God, why didn't I already know about this little unpolished gem?!?".
Sabrina: I had never done anything like that before. Karaoke bars were the only places I ever sang, besides in church. That was it.
Camden: I thought I had a crash course in doing this because I've only been doing this kind of music since the beginning of Seven Kingdoms in 2007. I was in a breakdown band before that. I just didn't really want to do it anymore. This girl right here, she has gotten the crash course of all time.
I will say that one of the interesting things in reading the reviews of "Seven Kingdoms" is that your music is compared to Iron Maiden, Iced Earth, Blind Guardian, Hammerfall and Amon Amarth, as well as Sabrina's layered vocals being compared to Paul Stanley of KISS. Normally, with female-fronted groups, there is a predictable group of bands — Within Temptation, Nightwish, Epica and Lacuna Coil – that everyone is compared to.
Camden: Yeah, I read that review comparing Sabrina to Paul Stanley. That's what happens when you put Sabrina and Jim in a room for ten minutes and we don't have time to do backing vocals over it (laughs). So we've got to make it sound good as we are running out of time. I guess Paul Stanley did that at one point on a KISS record.
Do have any thoughts on why it is that Seven Kingdom is compared to the core power metal bands, with gender being taken out of it? People obviously comment on the fact that Sabrina is a woman. But when they are talking about the music, the comparisons are to male-fronted bands.
Keith: It's like we play male-fronted music but we have a female singer.
Sabrina: That and because my background is something else. I seriously would be one of those singers who could go to a karaoke bar and imitate ANYBODY in that karaoke book. And I could sing just like them. It was to the point that I didn't even know what I sounded like. All of the influences through my entire life are in my voice … it's like everybody in one. That's why everybody has a hard time saying what I sound like.
Camden: Keith and Kevin are power metal elitists. They don't listen to anything but that. So, we live, breathe, eat, and defecate power metal. Seriously!
Keith: We started out with Metallica and Slayer. Me and Kevin were into thrash metal bands, then went onto Iced Earth and Blind Guardian with the epic-ness. We just mashed it all together.
Sabrina: It's everything we like, combined in one album.
Let's talk some about the writing of the album because I understand that "Seven Kingdoms" was more of a collaborative effort that "Brothers of the Night". So, who did what?
Sabrina: It was sort of a family event.
Camden: Me and Kevin babied the guitar stuff … he had an idea, I had an idea, make it work. He'd say, "I think we should change this" … it always works. I would say, "I think we should change this" … it sometimes works.
Kevin: We would come up with an idea and present it to the rest of the band. We would all then work on it. There was certain stuff that we wrote individually.
Keith: Kevin did most of "Into the Darkness"; Miles did most of "Eyes to the North" and Camden did most of "Wolf in Sheep's Clothes", "Seven Kingdoms" and "Somewhere Far Away".
Sabrina: Then Keith and I worked together on "A Murder Never Dead". He did the piano, and I did the lyrics.
Camden: I'm trying to figure out what is the most collaborative song on that record.
Sabrina: It's got to be "Open the Gates". We all sat down and were in the practice room for I think five hours writing lyrics.
Camden: We had written that song with Bryan, but we had to re-do lyrics. That was our first time and we were like "Oh my God, we have got to do lyrics. None of us know how to do lyrics".
Keith: That was the first time we really ever wrote lyrics because Bryan usually wrote all of them.
Camden: He is a great lyricist, a fantastic lyricist.
So who did most of the lyrics on "Seven Kingdoms"?
Camden: I wrote a lot of them. Kevin did some, Sabrina did some. And everybody had their part in changing little things here and there. Especially now, where we've started brainstorming ideas for the next record … when Kevin presents an idea, it is damn close to perfect. Seriously, we'll just put, "Keith: cymbal grab here and put hits with it" or some ridiculous thing.
Keith: Anything to make it bombastic.
Camden: We're lucky because I click with these guys good and I'm pretty sure that they click with me.
Sabrina: They are to the point that they don't even have to talk.
Camden: We are to the point now that it just happens. "Oh, try this one tiny little thing.." and that's it.
"Brothers of the Night" was inspired by George R.R. Martin, the writer of the fantasy series "A Song of Ice and Fire" …
Camden: I will totally take credit that we did that before Blind Guardian did! I will milk that until the edge of time.
Hear that, Blind Guardian?!? The "Seven Kingdoms" album also has strong fantasy themes like the Norse myth about the revenge of Rangnar's sons. Is this a concept album?
Keith: Bryan wrote the last album, which was a concept album.
Camden: It was the album to the first book of that fantasy series.
Keith: The "Seven Kingdoms" songs that we wrote, we tried to make up our own kind of story. We didn't want to stick with the same concept (with our name being Seven Kingdoms), so we used a different story.
Camden: We had to stick with the same name because we had been a year-and-a-half into it already. I don't want to say that it is generic fantasy, but it is very open. I like doing lyrics that people can take a lot of different interpretations on. Because then it makes people think.
Sabrina: When we started this album, we wanted a new beginning. We feel like "don't every let anybody hold you down". So there are a lot of songs on there that are us sticking up for ourselves.
Camden: It's power metal. You've got to have the fairy dust, swords and castles. You got to have some of that stuff. It's not cool if you don't have that.
In your own minds, do you have a over-arching story for "Seven Kingdoms" as a whole, or is each song its own story?
Camden: It was cool for me because I've never written lyrics before. My mom is a fantastic writer, so there has got to be something in my blood. (Or not, someone tell me please). It was a challenge and I like challenges. I did "Seven Kingdoms" and that took me a full year. We did the whole album and then the song "Seven Kingdoms" I worked on the entire time before presenting it as a whole to these guys. "The One Who Breathes the Flame" actually happens before "Seven Kingdoms" takes place.
Keith: There are a few songs on the album that are a concept and tell a story. But we put songs in the middle, talking about whatever makes you happy. Enpowering songs.
Camden: Yeah, nothing negative. You can get what you want from it, pretty much. I take from it: Do what you can do. Don't ever let anyone tell you that you can't do it, because you can. Work hard to do it. Just because we live in America, don't tell us we can't make it in power metal. Plain and simple.
Keith: Two years ago, Camden was always saying, "We're going to play with Blind Guardian". And I was like, "You're so fucked, Camden!" (everyone laughs). And two years later, here we are.
Sabrina: When Kevin got the phone call, I think he hung up on Camden.
Did he think Camden was just yanking his chain?
Camden: Of course! I have ridiculous scenarios that I work hard at to make happen and if it doesn't happen, the worst they could say is "no". If they say no, then I'll work on something else. I remember calling Kevin, and he said "I'm not believing it until I see the paperwork" and then he changed the subject. Alright, I can't argue with that.
Keith: I won't believe it until I am on stage with them.
Camden: We still don't believe it and are dishing out money to something that hasn't happened yet. I've got contracts for it and I've got itineraries for it. But it hasn't happened yet. I'm sure the first day we show up, it's going to be like "WHOA!!!!"
Blind Guardian is playing some BIG venues.
Camden: I think the biggest one on the road is a place in Canada that holds 2100 people.
Sabrina: Apparently, one of them looks like an opera house. It's BEAUTIFUL.
Camden: Yeah, it's gorgeous. There are some of these built in the early 1800s places … just massive.
Sabrina: If you go online and see the venue …
Keith: Perfect for power metal!
Camden: Perfect for Blind Guardian.They can't just play in a normal venue because they are BLIND GUARDIAN. If Hansi is listening, I heard they turned down the Lord of the Rings soundtrack. That would have made everything in this band a lot easier, because power metal would have been famous in the United States. And then we wouldn't have had to bust our necks to get there. Why did you do that, why?!?
Sabrina: They didn't have enough time.
Keith: But then, I wouldn't have it any other way.
We really appreciate Seven Kingdoms donating a song to the "Beauty and Brutality" charity compilation released by Femme Metal Records. Why did you pick "Somewhere Far Away" as your track?
Keith: That song, whenever we played it – at least from what I've seen – that seems to be everyone's favourite song. Everyone I've showed it to, it seemed to be their favourite.
Sabrina: It was between "Somewhere Far Away" and "Into the Darkness". Those are the two that everyone seems to respond to.
Camden: It's the opening track! It's heavy, fast, catchy, and power metal. Probably what you are going to hear on the next record is more stuff like "Somewhere Far Away" and more epic stuff like "The Bloody Meadow" from the first album or "Seven Kingdoms" from this one. Just basically take all the good parts from this record, add some spice of new stuff, and basically just improve over all. We have some new stuff we're already working on. Our goal is to completely blow the doors off of anyone that listens to it. We are going to try to make it ridiculous. Actually, "Into the Darkness" is on the ProgPower compilation that people will get at the show. I'm curious to hear the remaster because apparently they remastered it.
Keith: You learn something new every day.
You are starting with your first tour being with Blind Guardian. What is the next milestone for Seven Kingdoms?
Camden: Avantasia!
Keith: Edguy, Manowar!
Camden: Manowar? Yeah right, Joey DeMaio would probably charge us $100,000 to play one show with them.
Sabrina: Oh my gosh, if we could Edguy or Avantasia, I think we all would just faint on the floor.
Camden: I want to play Wacken in the next three years. That's my goal, to get us on Wacken in the next three years. Somehow, someway, I will figure it out. Maybe if we impress Hansi enough he will hook it up? I will buy Hansi as many Star Wars dolls for his Christmas tree as he wants, if that happens!
Sabrina, how about you … what is your ultimate, when you can just dream big?
Sabrina: Since I was three years old, the only thing I wanted to do was sing. And pretty much, if we can sing successfully and play successfully and be happy in what we do, that is all I care about. If people like our music and we go far, that is amazing to me. But as long as we love what we are doing, that's what I want for us. I have no idea how to comprehend what is going to happen. I'm not used to this at all … I'm used to being in karaoke bars, and that's it. People cheer at karaoke bars, but they're all drunk. So, it's like I go to a show and people are still drunk, but they actually LIKE the music. I just want people to like it, and I want us to go far. That's all I can ask for.
Kevin, in your wildest dreams, what would be your biggest goal?
Kevin: I guess the Blind Guardian tour. A huge European tour would be amazing. That would definitely be a dream come true. For a dream line-up? Blind Guardian, Avantasia, those are some of my favourite bands.
Sabrina: We kind of surpassed everything. That's what you do, you reach for the stars. And I guess we caught one with Blind Guardian.
Last, but certainly not least, Keith?
Keith: I've had these goals set since I started with the band. My first goal was to record an entire album at Morrisound, and it happens. Next, I wanted to go on tour with Blind Guardian, and it happens. So I'm trying to think of what I want next.
Have you ever thought that you might be the good luck charm for the band? Would you like to wish that I win the lottery? That would be REALLY nice, actually.
Sabrina: I wish we could get somewhere by somebody actually helping us. I got in a car accident and have no money and Camden got a pay cut.
Camden: We're strapped for cash. I don't even know what I would do, if one day we got a label to pay for our record or we were able to sell enough CDs to just go to Morrison and do what we like … for free.
Sabrina: We were so excited last night because we had a dressing room and it was like 3 metres square. But we were so excited because we had a DRESSING ROOM.
Camden: Oh my God, someone gave us a CASE OF WATER.
Keith: We got a Post-It Note on the door with our name on it too.
Sabrina: And then they brought in free beer. We were even more excited.
We are coming to the end of our time together. Do you have any final words for your fans at Femme Metal Webzine?
All: Thank you!
Sabrina: Please come support us.
Camden: Please buy a CD on the road because otherwise we're not going to get from point A to B.
Links
MySpace * ReverbNation * Facebook * Twitter * Site

Interview by Miriam NocturnalConcerto
Transcription by Robin Stryker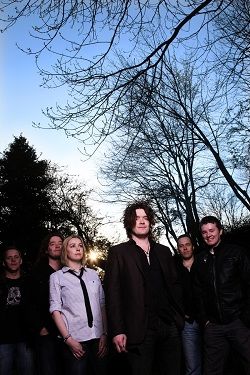 I cannot tell you how excited I was to doing this interview with Danny Cavanagh, Anathema singer and guitarist, for a lot of causes, take it because was my first phoner interview, take it because I was worried that something gone wrong. The interview has started with a delay of 30 minutes preview by the slot I was very nervous but in the end I'm happy to share with you this interview, hope like it!
Since are passed 7 years from your last album "A Natural Disaster", why it passed so much time?
Well, mainly it is because we didn't have a manager. We didn't have a record company, and one or two of our band members had family commitments they had to attend to. Different things were happening in their lives. You know, at the time, you don't realise… one month becomes another month, becomes another month. It was just one of those things. Without a record company, it was just something that happened, and it will never happen again.
And also we must add that is your first album under KScope Music (excluding the semi acoustic album "Hindsights"), why have you chosen this label?
Why did we choose KScope Records? Well, they are very good and they believe in us very much and they wanted it more than anybody else did. They were really keen to have our record, and they wanted it for many years. We saw that, with the work they did on "Hindsight", they are actually quite good. They do things properly and they don't spend a fortune. They don't spend quite a lot of money wastefully. Our manager — we have a manager now — he recommends we take this and we did. We were not the kind of band at that time that could attract a much bigger label, so we went with that one. We are happy and I am happy that we did.
I make a question about the title of the new album – it sound like a statement, who came up with title and why?
Well it's not very very important and it's not very meaningful. It is the title that we all liked. It's the only title that everybody in the band liked. We couldn't find another one where six people agreed. That's the only one that six people agreed on. For me personally, it doesn't have the greatest meaning for the songs. It does though, however, suggest the bond that we have as a band together… the family, the friendships, the caring that we have for each other. It is suggested in that title because we are here for each other, so I like it for that reason. I like it because it suggests "being there for each other" to me. It's not a great statement, it's not a spiritual statement or an anti-religious statement, or anything. It is just the fact that we all like it. Also, the fact is, it comes from a very moving story from the First World War in Europe when many, many millions of men and women died for no real reason. That was one of the most extreme situations that humanity has ever seen. And, during that war, young men in England used to sing this song, "We're Here Because We're Here". You can actually hear a very small selection of that song… as the song "Hindsight" is tuning into the radio, you can hear it there. They used to sing that song in defiance of the situation that they were in. They were in an impossible situation, and there was no reason for them to be there, so they used to sing that song, "We're Here Because We're Here". We like that story. And we like the meaning behind it and the memory of those men, so we chose it.
A question about the cover – How's your interpretation and in some manner, is it related to the lyrics of the album?
Yes and no, really. The front cover and all of the artwork is related to Anathema, to the people and to our childhood, our story, and to our personalities. They are childhood memories of everyone… an old school, an old playing field, an old street that we lived in. The beach with the man in the distance is actually Liverpool Beach in the north of Liverpool. The mountains in the distance are the Welsh Mountains, the mountains of Wales where we spent many, many years on holiday as kids. So, what I love about the artwork and title is not that it relates very, very, very closely to the meaning of the songs. It relates to the meaning of the band and to the people in the band and the personalities and the family and the heritage and the love and the memories that we have together. And that's why I like it.
I've listened to album like I said before and my favourite album song is "Everything" with the duet of Lee. What your favourite track?
My favourite track is "Dreaming Light" because it is probably the most personal one to me, and it is the one I am most proud of it. That's my favourite one, but I love them all really. I think it's the first record that … okay, well maybe not … I would say that it's a consistently good album. All the songs are very good, and (for me) one or two are truly great. Those two would probably be "Dreaming Light" and "Universal". What I like about "Dreaming Light" is the optimism in the melody and the emotion in the melody. I remember the day it was written, I remember how it came through me and I remember how I felt after it was written. It was just a special time. It was a special feeling to have that feeling come through. To feel that tune and feel those words. I do think it's a gift. That song is a gift.
So now I have three curiosity to satisfy: How's born the collaboration with HIM singer Ville Valo, how's working with Steven Wilson and who sang the spoken words on "Presence"?
Ville Valo is a lovely guy. He is a very nice person, and I like him very much. He is a good friend. And that is the only reason, really, that we asked him to do it. He's been very kind to Anathema and he's been a loyal fan, if you like, of the band. He likes the band very much and he's been supportive of Anathema very much. I wanted in a way to say "thanks" to Ville Valo because he's been such a gentleman and a kind person to us that it felt appropriate for me to ask him. And he said yes. It was simple and he has added something very good to the song. It's a background, but it works for me. He adds something to the song "Angels" and doesn't take anything away. I like it very much. And that was really just a matter of friendship, he's a good friend. Second question, Steve Wilson. Well, that was much more involved because we worked together for two weeks to mix the record, or maybe longer. It was a great pleasure working with him because he is very very very good at what he does. So I would go to his house, sit on the couch and drink tea and listen to his work and comment and work on the collaboration and he would suggest some things. He would try to make us think carefully about all the choices that we're making, and he would try to encourage more simplicity in the record. I had a clear vision, almost, of how it should sound. What I appreciated about Steve was his willingness to allow us to follow that vision and to only speak up when he really felt that something was a little bit wrong. We worked well together. There was no real difficulty and I like him very much. So that was a great pleasure and I am delighted we did that collaboration with him. I think it makes a difference in the impact of the record also, because people are talking about this record because of it. The final question was the spoken word on "Presence". That is an interview I made with a gentleman in Liverpool , England where I was living at the time. A gentleman called Stan Ambrose. He is a very beautiful person, he's a musician and a radio presenter. He was involved in counselling for a long time and he is a local activist. Just a gentleman who many people like… many people like this man. He is very humble, very kind and we became friends. We started to talk about spiritual things and the essence of life and these things. He's always been interested in those things, interested in mediation and all that stuff. So I interviewed him actually in the Cathedral — in Liverpool Cathedral I interviewed him – and he began talking about a book by Eckhart Tolle, who is a spiritual writer, a very successful spiritual writer whose message of stillness is making an impact around the world. Stan is a person who is very much interested in these things and very sincere. When he spoke to me about this, he almost had a tear in his eye. I made the interview with him, and it just seemed to fit with the song, "Presence". Also, the fact is that he is talking a little bit about the possibility of life beyond death and I know that he was thinking about that. And that relates directly to "Angels Walk Among Us", which is also asking that question. Just the same as "Are You There?" was asking that question: "Is there something beyond?"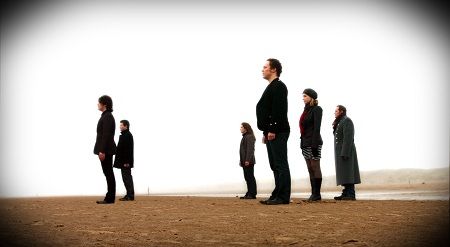 With this album you have confirmed Lee Douglas like a full member in Anathema. Can you give more infos about her and say something about the decision to confirm her in the line up.
Lee is family, and a very good friend, and a very very good singer. She was always there… she sang on all the records since "Judgement". Ever since "A Natural Disaster", she became more involved because she sang the lead vocal on that song. It just, you know, developed. When she came to the studio to record, she did say that she would like to be more present at the live concerts because she has to balance it with work and stuff. She has always been there, really. If I'm honest, she's always been there, so it's okay. We are very glad about it because she is one of us. She does fit very well — a very good singer, easy-going and easy to be around, fun. So, no problem there, really. We're happy about it.
So, now some advices for the new fans, what Anathema album to advise to start from?
I would advise to begin with the new album, "We're Here Because We're Here". That's what I would advise. And the reason is because that is the best one, and also it's the picture of who Anathema really is right now. I would start with this record. I would suggest that it is just open-minded music. A powerful rock band, it's emotional and it's honest and it's real … from the heart.
I would say that you have similitaries with The Gathering, you know, you first started like a doom metal band after you came through with an alternative rock band.
I understand what you're saying. They really developed and changed and grew into much more of an alternative rock band. And I suppose we did the same. But, I'm looking at the interview schedule and it's still Metal webzine, it's in Metal Maniac, it's in Metal Hammer (Germany). Those are our roots. The band is much more than metal and has not been a metal band for many years. Real musicians — like Radiohead or The Beatles, Pink Floyd, Led Zeppelin, Black Sabbath, U2, band like this – the real musicians, they do evolve. We are of that stock. I love Iron Maiden and their music has evolved a little bit. Our heritage is much more in the Radiohead, the Pink Floyd, the Led Zeppelin and the Sabbath and that area of evolution, which is much more expansive and open-minded. That's just our style. And if they don't like it, that's tough shit.
What are the next band planes (talking about tours ecc.)?
We are in between playing Turkey and Russia right now. In three days we're going to Russia, and then there is a show in London. Then I'm touring with Anneke van Giersbergen in South America. It's just one or two festivals over the summer and a time over the summer to collect ourselves, to relax, to gather our strength and to do some new writing. Then, in the autumn, a natural machine will start, and a long tour will happen. I look forward to that, actually.
We know that you do acoustic tours with Anneke van Giersbergen and now I make you a question, do you think that in the future there will be a project or a collaboration with Anathema? I mean not only with your solo project…
We have talked about that, and she would be welcome because she is such a great person and such a great singer. So, she would be welcome. But, the fact is, we have a female vocalist in the band. You know what I mean? Lee has the voice for our style, so she's in the band. I did have ideas for Anneke to sing on the new record and she would have sounded beautiful. But Lee Douglas is there and she's committed and it wouldn't really be appropriate. But we certainly love Anneke very much. She has sung live with Anathema. We love her very much. I think she is a wonderful person and a really wonderful singer and a really good professional. Of course, it's a possibility.
So we're at end greet as you want our readers.
Thank you, my dear. Ciao and grazie.
Links
MySpace * Facebook * Twitter * Site
Label : Nightmare Records
Review by Tony Cannella
One of the latest signings to the Nightmare label are a power metal band out of Florida called Seven Kingdoms. On their first album – released in 2007 the band had a male vocalist. Now on their second album – and Nightmare debut – the band is joined by female vocalist Sabrina Valentine who replaces the previous singer Bryan Edwards. Their self-titled second release is a brilliant slice of powerful, slightly epic metal, with catchy melodies and out-of-this-world musicianship. After a brief 1-minute intro the band blast away with "Somewhere Far Away". Immediately Seven Kingdoms show off their ability at being heavy, guitar driven power metal, while still maintaining a strong sense of melody."The Ones Who Breathe the Flame" is next and features a majestic sounding chorus and some male extreme vocals are also present here. "Wolf in Sheep's Clothing" is a bit more commercial sounding and sounds a bit out of place when compared to the rest of the material here, yet oddly, it became one of my favorites. Next up, is one the best ballads I have heard in quite some time. On "A Murder Never Dead" vocalist Sabrina is accompanied by only a piano and really sings her heart out. Seven Kingdoms follow that up with one of their heavier tracks, "Into the Darkness". The album maintains its heaviness the rest of the way and closes with the 9-minute track "Seven Kingdoms", featuring vocal contributions from Crimson Glory front man Wade Black. The band does venture off into Manowar territory from time to time in the lyrical department, but who cares. All I have to say is, wow! The addition of Sabrina Valentine appears to be a good move by the band. Admittedly, I am not very familiar with their first album, but on their self-titled new release Sabrina Valentine really helps to pump the 11-songs and 56-minutes contained on this CD with a diverse and powerful vocal style. I really loved this CD!
Rating – 95/100
Tracklist
Prelude

Somewhere Far Away

The Ones Who Breathe the Flame

Open the Gates

Vengeance by the Sons of a King

Wolf in Sheep's Clothing

A Murder Never Dead

Into the Darkness

Eyes to the North

Thunder of the Hammer

Seven Kingdoms
Line Up
Sabrina Valentine – Vocals

Camden Cruz – Guitar

Kevin Byrd – Guitar

Miles Neff – Bass

Keith Byrd – Drums
Links
MySpace * ReverbNation * Facebook * Twitter * Site
6 color styles available:

Style switcher only on this demo version. Theme styles can be changed from Options page.