Browsing articles tagged with " beast"
Label: Napalm Records
Review by Tony Cannella
Ever since the California based melodic metal band Huntress released their debut album, "Spell Eater" the band has made quite a name for themselves, in large part due to their debut, but they have also been gaining a reputation for being a great live band. The band returns with their second album entitled "Starbound Beast" and while it may not be a radical departure from their debut, it is still packed with 10-songs and 48-minutes worth of ferocious material and follows the basic template set by their debut.
Opening with the intro "Enter the Exosphere" the band launches into the raucous "Blood Sisters". Throughout the course of the album the band knows only one direction and that is straight ahead metal. Lead vocalist Jill Janus is still the main focal point and her throaty vocals pack a huge presence. Continue reading »

Interview by Tony Cannella
To put it quite simply, Huntress killed at this year's Mayhem festival. I'm sure it wasn't an easy proposition to take the stage so early in the day (around 1pm) in the blazing summer heat and even though they had a set time of only about 30 minutes the band made the most of it and I'm sure came away with many new fans. Not long after the band left the stage, I had the pleasure to sit down with lead vocalist Jill Janus to discuss their excellent new album "Starbound Beast", the mayhem fest and a variety of other topics.
You are currently out on the Rockstar Energy Drink Mayhem Festival. How has it been going so far?
Well man, it's just been a dream come true to be part of Mayhem fest. It's like a family, a great learning experience, like a circus that travels by night, I feel like a gypsy. It's a really, really interesting time for Huntress, especially being the second band to go on every day and just seeing the fan base growing and growing. It's pretty cool. Continue reading »
Label : Nuclear Blast
Review by Tony Cannella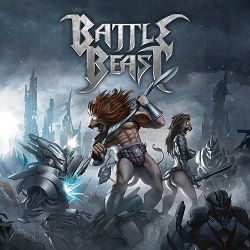 Oh my god! I just simply can't get enough of Battle Beast. Their debut album "Steel" which was released last year came as a huge surprise. On their self-titled sophomore release the Finnish band returns with a new singer (Noora Louhimo) and over all are just a meaner, leaner and hungrier sounding animal. As big a fan as I was of their debut, this one I think eclipses it.
"Let It Roar" is a great opener and it really sets the table for what is to follow. I can't think of a better calling card than "Let It Roar". The song starts off with a slower tempo before rapidly picking up speed and becoming a power metal powerhouse of a song that recalls classic Accept. Continue reading »
Interview by Roberta Ilaria Rossi
What a great year for Battle Beast! After a great tour that has seen them supporting Nightwish and a huge change in the lineup, where the singer Nitte Valo decided in parting ways, this band from Helsinki comes back with a super news. Having announced the new vocalist Noora Louhimo, these guys embarked on a new European tour, supporting Sonata Arctica, and they focused themselves on the second (and of the same name of the band) record, already acclaimed by the press as a new masterpiece, so we've got the chance to exchange some words with the beautiful Noora, for a very simple chat.
Hi Noora and welcome to Femme Metal. Let's start our chat with the very first question: would you mind to introduce yourself to our readers?
Hello dear readers, I'm Noora Louhimo. I'm a singer from Finland and been singing since I was 4 years old. My passion has always been music and different ways of expressing myself as an artist. I do many things in music including heavy metal, soul, rock and blues and everything between heaven and hell. Different influences keeps me in balance and inspires as a singer. Continue reading »
Independent Release
Review by Tony Cannella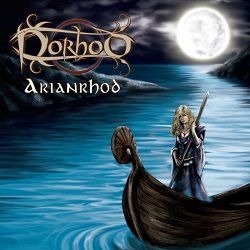 From Italy (a metal band from Italy? What a surprise) comes the conceptual symphonic death metal band Norhod. The band was born in the summer of 2009 with original members: Michele Tolomei (keyboards), Giacomo Casa (growls), Giacomo Vanucci (guitars) and Andrea Stefani (guitars). After solidifying their line-up with a few new members including female vocalist Clara Ceccarelli, Norhod has released their independently released EP "Arianrhod". "Arianrhod" is a concept EP based on the Homonymous Celtic goddess, but at its core the story is about the age old struggle between good and evil. Norhod utilizes beauty and the beast style vocals with Clara's clean, soaring vocals contrasting with Giacoma Casa's growls. The music performed by Norhod does lend itself very well for storytelling – as it does create a special atmosphere throughout the 22-minutes worth of playing time. The intro "Caer Arianrhod" sets the stage for the bombastic opener "Doomed to Ashes". The two vocal styles are split pretty evenly. For the most part, "Arianrhod" combines melancholic metal with folk metal influences and tempo changes; "Last Sundown" is a pretty solid indicator of what is good about the album. The album is completed with the pounding title song "Arianrhod". I can already tell that the vocals will be an acquired taste for many – they will either be loved or hated – especially Clara's high-pitched vocal delivery. The growler Giacoma Casa will definitely appeal to the death metal side of the metal spectrum. Norhod are far from being a mainstream band. The songs on "Arianrhod" are definitely going to appeal to a select audience, but fans who like a little bit of melancholy with their metal, should like what they find from this Italian band.
Rating – 73/100
Tracklist
Caer Arianrhod

Doomed to Oblivion

Lily's Ashes

Last Sundown

Arianrhod
Line Up
Clara Ceccarelli – Vocals

Giacomo Casa – Growls

Giacomo Vanucci – Guitars

Andrea Stefani – Guitars

Michele Tolomei – Keyboards

Matteo Giusti – Bass

Francesco Aytano – Drums
Links
MySpace * BandCamp * Facebook * Twitter
6 color styles available:

Style switcher only on this demo version. Theme styles can be changed from Options page.