Browsing articles tagged with " beast"
Independent Release
Review by Tony Cannella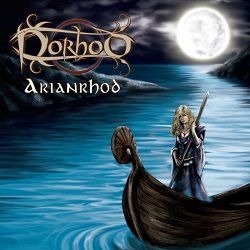 From Italy (a metal band from Italy? What a surprise) comes the conceptual symphonic death metal band Norhod. The band was born in the summer of 2009 with original members: Michele Tolomei (keyboards), Giacomo Casa (growls), Giacomo Vanucci (guitars) and Andrea Stefani (guitars). After solidifying their line-up with a few new members including female vocalist Clara Ceccarelli, Norhod has released their independently released EP "Arianrhod". "Arianrhod" is a concept EP based on the Homonymous Celtic goddess, but at its core the story is about the age old struggle between good and evil. Norhod utilizes beauty and the beast style vocals with Clara's clean, soaring vocals contrasting with Giacoma Casa's growls. The music performed by Norhod does lend itself very well for storytelling – as it does create a special atmosphere throughout the 22-minutes worth of playing time. The intro "Caer Arianrhod" sets the stage for the bombastic opener "Doomed to Ashes". The two vocal styles are split pretty evenly. For the most part, "Arianrhod" combines melancholic metal with folk metal influences and tempo changes; "Last Sundown" is a pretty solid indicator of what is good about the album. The album is completed with the pounding title song "Arianrhod". I can already tell that the vocals will be an acquired taste for many – they will either be loved or hated – especially Clara's high-pitched vocal delivery. The growler Giacoma Casa will definitely appeal to the death metal side of the metal spectrum. Norhod are far from being a mainstream band. The songs on "Arianrhod" are definitely going to appeal to a select audience, but fans who like a little bit of melancholy with their metal, should like what they find from this Italian band.
Rating – 73/100
Tracklist
Caer Arianrhod

Doomed to Oblivion

Lily's Ashes

Last Sundown

Arianrhod
Line Up
Clara Ceccarelli – Vocals

Giacomo Casa – Growls

Giacomo Vanucci – Guitars

Andrea Stefani – Guitars

Michele Tolomei – Keyboards

Matteo Giusti – Bass

Francesco Aytano – Drums
Links
MySpace * BandCamp * Facebook * Twitter
Label : Gothoom Productions
Review by Tony Cannella
From Slovakia, the melodic dark metal band Galadriel was formed way back in 1995. They released their first album, "Empire of Emptiness" in 1996. Now they have released their seventh album, "The 7th Queen Enthroned". Throughout the 36-minute, "The 7th Queen Enthroned", Galadriel utilizes beauty and the beast vocals performed by female vocalist Sona Witch Kozakova and her male counterpart, bassist Dodo Datel. The opening track, "Evilution" sets the tone nicely. Sona's vocals handle the more melodic parts whilst Dodo's can be heard on the heavier parts of the song. The vocals are split pretty evenly on this one and musically the songs have a classic metal vibe to them as "Evilution" segues into "Crucifixion Deluxe". The pacing of this song is deliberate as Dodo spits out his lyrics in rapid fire succession – as he takes the lead on this song with a little help from Sona near the end. Overall Dodo does a large portion of the vocal work, but Sona does an excellent job when called upon and she really adds something to the recording. I was also impressed with Dodo's vocals as well, technically he may not be a virtuoso by any means, but his vocals are quite ferocious and clear. "Still Not Dead Enough" continues in the general direction set by the previous two songs and includes a wicked guitar solo. There is no shortage of energy and enthusiasm as songs like, "The World is War", "The Last Time" and "Mother Is Dying" will attest to. It is rare for such a veteran band to fly under the radar the way Galadriel has. If nothing else, they have proven to be survivors and hopefully with their new album, "The 7th Queen Enthroned" their hard work and dedication will start to pay off.
Rating – 76/100
Tracklist
Evilution

Crucifixion Deluxe

Still Not Dead Enough

The World is War

The Last Time

Labyrinth

Mother Is Dying

Eosphorus
Line Up
Sona Witch Kozakova – Vocals

Dodo Datel – Vocals & Bass

Tomax Gabris – Guitars

Jan Ivan – Drums (session)
Links
Interview by Ed MacLaren
Finland's Katra made a big impact in 2007 with its debut album, the folk/symphonic metal hybrid "Beast Within". Originally conceived as a solo effort by the band's namesake, Katra Solopuro, she carved out a fine niche for herself in the metal world. But instead of continuing down that same path on her next album, she expanded Katra to include the band full-time to augment her own considerable songwriting skills. Together they retooled an already unique sound and returned with an even stronger sophomore effort – the aptly titled "Out of the Ashes". Femme Metal got the chance to chat with the lovely Katra on the key changes, musically and personally, that combined to create "Out of the Ashes".
"Out of the Ashes" hits the ground running with the pounding track "Delerium". It's heavy riffing sets the stage for the rest of the album. Were you trying to make a statement right away that you were going a different direction with this album?
Yes. We felt that "Delirium" was one of the best songs to represent this album.
On "Beast Within", you called the shots and now with "Out of the Ashes" you're working as part of a group. Why did you make the decision to change Katra from essentially a solo project to a full band?
Well, during that time we've kind of sealed together as a band. We've been a full band on stage and on tour for a long time now and every one of us wanted to change the settings to be a full band on paper too.
How did you go about selecting each band member? What musical qualities and personality traits were you looking for?
I wanted to gather good guys and musicians that I already knew before Katra. It was important for me that we get along well on the stage and also behind the scenes. Musically, I wanted the guys to have their own sparkle and visions about music overall and, of course, good skills technically.
How would you describe the chemistry between you and the rest of the band?
We co-operate really well, we all know how to have some fun and we enjoy a similar style of humor, which can be quite black sometimes. (Wink)
Did you have any problems getting used to the new dynamic? Was it difficult to relinquish an element of control over the music? Did you run into any problems at first?
I think everything worked out without problems.We've found a good way to co-operate and everyone has their own important role in a band. Democracy rules.
How did your creative process change with the input of the band?
Now the whole band composes and arranges; there's at least one song from everyone on the album. Usually the basic structure and idea of song is made by one of us and then everybody arranges their own parts. I write the vocal melodies and lyrics. Riffs, chord progressions and song ideas are usually done before and then we build it up together.
You can hear new energy in the harder-edged sound of "Out of the Ashes". You toned down the symphonic and folk elements and cranked up the guitars. How has Katra's sound evolved between albums? How would you describe your new musical direction?
"Out of the Ashes" is a more mature and powerful album if you compare it to "Beast Within". We wanted to take our sound in a bit more straightforward direction with less orchestration, but with a more intimate feeling.
Was the change in musical direction a natural outgrowth of the new "collaborative" environment or was it a conscious decision?
I'd say both. Of course, the fact that everyone's taking part in the composing process has a straight effect on our sound, but we also wanted to consciously develop our sound in a more rough and rockish way.
"Beast Within" was an excellent album but after the experience recording of "Out of the Ashes" in a band environment would you have recorded your debut any differently?
Hmm… maybe not. I think it's only natural that things develop and change. Of course, there's always something that we could change, but it's better to keep your eyes on the road and head towards the future.
On "Beast Within" , you favored more operatic vocals drawing out the length of notes. You've expanded your already impressive singing style to include a quicker delivery to match the speed of the music. Was there a lot of experimentation on "Out of the Ashes" working out the vocal parts or did you just go with the flow of the music?
Thank you! For me, the most important thing that influenced my style of singing was when I got in to study theatre music and music drama at the University of Applied Sciences. The main point of singing is now in jazz/rock technique more than classical. So, on this album I made the vocal lines to support more of the technique that I'm studying now.
Tracks like "Vendetta" and "Anthem" are great tracks and add new elements to the Katra sound. What differences do you hear when you listen to "Beast Within" and "Out of the Ashes"?
I hear a lot differences. It's definitely more guitar driven now. We have less piano parts and orchestrations. My voice is different and closer. Lyrics are dealing with heavy issues rather than fairytales. Overall, I feel that the sound is more intimate and represents us more.
You've said that "Out of the Ashes" feels like your first album. Why is that?
Maybe because it's the result of our co-operation and I've put so much feeling and experience into it. I was having a really hard time a few years ago and I kind of feel that making this album was like free therapy for me.
Does the title of "Out of the Ashes" have a personal meaning to you and the band?
Yes, it does. As I said I've experienced really difficult things during last few years.I feel that nothing is easy.You have to always bang your head against the wall until it breaks… or you give up. Almost every song on the album is about the end of something, "After the fire there are only ashes, then it's one's decision, whether to stay or rise out of the ashes and start again". The album title is a statement: refuse to give up.
You had a memorable show opening for Theatre of Tragedy in Mexico City this summer. How would you describe the concert?
I have no words for it… It was absolutely amazing! The atmosphere was unbelievable. There were lots of people sharing the moment with us, singing with us and having fun with us.
Did you take away anything from the experience to use in future shows?
Yes, I did. I always take some pieces and fond memories from the shows and the next time I will try to give something extra from myself to the audience.I love the fact that music is so universal and goes over boundaries. That's something I noticed literally during our gig in Mexico.
Did you road test any of the new songs? How did they come across live?
Yes, we did. We played "Out of the Ashes", "Delirium" and "Hide and Seek" at gigs long before we started composing material for this album. We felt that they worked really well – especially "Delirium".
What are your tour plans for the fall and the new year? Where can we see Katra live?
The booking management is not in our hands, but I hope we can do a tour in Europe at some point.
(Famous) Last words?
You can't experience being alive without realizing that you have to die. But it's just as impossible to realize you have to die without thinking how incredibly amazing it is to be alive.
Latest Multimedia
Photo Credit
All the photos by Peero Lakanen
Links
Katra : MySpace
Katra Solopuro : Facebook

Interview by Erwin Van Dijk
An interview with Bitchie, the guitarist from Hysterica. "There are not so any girls who are willing to practise or sacrifice as much as necessary." Hysterica is a heavy metal band from Sweden. This interview is with Bitchie, the guitarist and founder of the band. Besides the fact that Hysterica is good heavy metal band it is also a all women band and they are not afraid to show this.
The first question: with Heavy Metal I think of denim jackets full of patches. Do you have a patches jacket?
No, I don't have that kind of jacket.
Did you always wanted to become a guitarist?
When I heard Jimmy Page play guitar on the Zeppelin album years ago I decided to learn guitar. My dream was to sound and play like he did. Years after that I have discovered a lot more guitarists. The guitar is the ultimate instrument. The most beautiful, the toughest, the most heavy. So you can really express yourself on a guitar. I develop all the time and love to pick up my guitar at home and play.
What kind of guitars and amplifiers do you use?
I have a: Fender Stratocaster 1962. Beautiful and sounds really blues. Gibson firebird 1964. Jackson V-guitar.And a custom made guitar for metal. I play Marshall but I am still searching for the ultimate guitar sound.
And how did you end up in the music business?
I have been playing since I was 17 years old. How could you not?
Is it easy to combine Hysterica with your personal life?
Yes. At the moment we just live on our dream. (We are not living our dream yet). And the dream is to earn your living on your music and we all are prepared to do so.
And do you have other passions besides metal?
I have a lot of passions. I love to paint and anything creative in art. My family and friends are really important, including the band.
Did you have any other bands before Hysterica and/or are you active in any other bands now besides Hysterica?
I have played in a couple of bands before Hysterica. The last project was a heavy bluesband – A lot of Steve Ray Vaughan covers. This was really enjoying for a guitarist like me.
What is the idea behind the name of the band? It sounds a bit like Metallica but somewhere in the eighties Def Leppard had an album with the same name.
The idea was to create a female band that plays hysterical heavy metal. Couldn't think of a better name. And a band called Hysterica could, of course, only contain girls.
And how would you describe your music?
The music is hard, melodic and heavy. We hope the music gets right into your body and heart.
And what makes Hysterica different compared to all the other female fronted bands in the world?
We were hoping not to be compared just to women in metal. Think we leave this question open for the readers.
Speaking of women in bands, Hysterica is one of the few all women metal bands. We still have Girlschool or The Donnas (who are more into punk rock) but bands like Hysterica are scarce. Do you have any idea why and was it difficult to get Hysterica together?
Of course, there are not so many women out there who would fit in Hysterica. It is difficult to find good musicians but it is even harder to find good female musicians. There are not so any girls who are willing to practise or sacrifice as much as necessary.
What is your favourite Hysterica song and why?
There are a few favourites. It also depends in what mode you are. If you ask me I prefer the songs "Metalwar", "Undertaker" and "Girls Made of Heavy Metal".They are the best songs to listen to. I think "Bless the Beast" is the best song to play.
Your latest album is "Metalwar" released early this year. Are you already working on a new album?
Yes, we have a few songs finished. We played one ballad on our tour. This is coming on our second album. It's always good to play songs in front of an audience before you record it.
And how did the press and the fans receive "Metalwar"?
Mixed I would say. We are really grateful for 9/10 in Classic Rock Magazine in UK. A lot of reviews can you find at our website. We are getting great response from people that have bought the album.
You are the founder of Hysterica but is song writing teamwork in Hysterica or is there one mastermind behind the music?
We are all writing songs. Sometimes we come up with a finished idea but we are testing and producing it all together.
True Heavy Metal lyrics are usually full of the typical true heavy metal clichés. Were do you get the inspiration for the music and lyrics?
There are a lot of heavy metal bands that are writing like this. No specific. Our first album is very cliché and has this subject as a theme. We will deliver something new on the next album.
Hysterica has done quite a lot of gigs in Holland. What is your opinion of the metal scene in Holland?
They have great audience and we have a lot of fans there. The clubs are getting contribution from the government so bands always get paid well. You never have to take a risk.
Could you introduce us to the other members of Hysterica?
All girls are great personalities and musicians. We always have a great time and we all working hard to make the best out of Hysterica.
An all women heavy metal band is one thing but why did you choose to use these stage outfits?
Because we love it. We love our curves and the crowd does not seem to suffer.
Traditional heavy metal bands from the eighties used to boast about wild parties back stage and in the tour bus. Do you have any party stories you want to share with us?
Can't remember and I can't remember why!!
Do you see yourself as a role model for other women?
All women should have confidence to do whatever they want to. (And men). Follow your dream. It would be fantastic if Hysterica can inspire other young girls to start playing in a rock band.
Many female fronted metal bands are from the gothic or symphonic genres. Think of Epica or Nightwish that attract lot's of fans. What do you think of these bands?
Great bands.
Can you tell us something about the songs on the album "Metalwar"?
Our songs are about celebrations to metal, death and female power. The songs reflects what we wanted to say with our first album; to inspire girls to listen to/play metal and make people get into a "party mood" while listening to our album.
And why did you want Peter Tägtgren from Hypocrisy as producer for "Metalwar" and what was his influence on the album?
He is becoming a legend about his mixing. This was our dream and we contacted him in an early stage. He accepted and we are really happy that he did such great job.
There are many bands from Sweden but is this country an easy place for metal fans?
Unfortunately there are not many metal places for live gigs. But it's always crowded when good bands playing.
Why did you choose the name Bitchie as artist name? And what is your real name?
I am a Bitch. And that is my name.
To what kind of music do you listen yourself and what are your favourite songs and musicians?
I discover new bands all the time. All thanks to Spotify. That has to be the most ultimate at the moment. And bands get paid. Well a little anyway. This week I listen to Slipnot, Slayer, Opeth and Ella Fitzgerald.
Despite the fact this is the year 2009 there are still a lot of men who do not accept women on stage in metal bands. And did you have any negative experiences with the band?
We have no experience about this.
What more can we expect from Hysterica in 2010 and beyond?
We have been questioned to come to Brazil after next summer. There is more interest in Hysterica from the world than in Sweden so far. We are planning our second album and will record it next year.
What are your highlights with Hysterica so far?
When you come to a town you have never been to before and people know the lyrics. That is awesome. It happened a lot on our European tour. Two of our fans have got Hysterica-tattoos, that says a lot. But the best thing I have experienced with Hysterica so far is definitely our European tour. We had such a good time the whole tour. We had no fights and funny things happened all the time. We couldn't even sleep in the night because we couldn't stop thinking about all the crazy things that had happened. For example we got caught by the police in the middle of the night on the Dutch border. We were sitting in our tour bus looking like whores with our managers sitting in the front of the bus. When the police looked in the back they found our swords, which are illegal in Holland. And three of us didn't bring our passports and I cried; "I thought Europe was one country". I had to eat that up later… Thanks for your time. Hope to see you in the future.
Links
Latest Multimedia
Review & Photos by Erwin Van Dijk
Mario's Metal Meeting is a festival organized by the Mario's Metal Mania webzine. This edition is the third festival and the first I've attended. The reason why? Holy Moses of course! Holy Moses does not need an introduction. You thought Arch Enemy was brutal? Think again! Holy Moses started in the Eighties as the first female fronted thrash metal band. And, more important, in an era where women were supposed to be Eye Candy in glam rock video's or groupies back stage Sabina Classen sounded more brutal than a lot of other thrash bands from the eighties. With Girlschool and Warlock (Doro´s first band) Holy Moses was one of the very few bands with women in the line up that sounded like the boy bands and not as a gimmick or boy fantasy. Because Mario's Metal Mania is oriented at the brutal underground stuff this Sunday evening is all about Thrash. Yep, it is Thrash time! Many things from the eighties have become popular again the last few years, including the Next wave of Eighties Thrash Metal. The first two are the girl less younglings from this decennium while Acrostichon and Holy Moses are veterans from the last millennium. Hyades is a band apart with more experience than Hatchery and Sanity's Rage. Acrostichon is a female fronted thrash band from Tilburg (Killburg). They broke up a long time ago and this is a reunion gig. You can compare Corinne a bit with Marloes from Izegrim who is also responsible for the grunts and bass. Another thing: patches are mandatory! This was the second largest concentration of Denim jackets with lots of heavy metal patches I've seen this year (although I think the Heavy Metal Maniacs Festival will break the record) Sabina is the queen of denim with patches by the way but she left hers home today. (like me – the cats had used it as a mattress) I missed first band due to hangover the size of the Andromeda galaxy. The second band was rather boring and I did not like the style of the singer. I did not waste space on my memory cards either for this band. Hyades did a lot better. The name Hyades is derived from the Greek Mythology (Ὑάδες) and means "The rainy ones". They are a sisterhood of nymphs that bring rain in the autumn. Well, we did not see any chicks on stage nor it was raining outside. What we got was a band from Italy who clearly had much more experience than Sanity's Rage. The music itself is maybe not that special but like bands such as Municipal Waste it works live. To satisfy al the wearers of denim with patches Hyades did a nice version of the Beastie Boys "(You Gotta) Fight for Your Right (to Party!)" The Beastie Boys haven't done this song live since 1987 so this it the closest you can get! (and Holy Moses has covered this song ages ago).
Acrostichon – Singer Corinne Van Den Brand here on the left- was founded some twenty years ago and disbanded 10 years ago. I've never seen them live during the nineties. Back in those days Acrostichon was the first female fronted death metal band from the Netherlands. Today Acrostichon has returned for a single reunion gig (although I suspect the lady and gentlemen of Acrostichon simply have missed being onstage). Suddenly the floor was filled with family, fans in faded Acrostichon shirts and small kids. One of them was very good in crushing plastic beer cups like the way my hero Dirk Jan crushes gnomes in the Dirk Jan Comic. Compared to the thrash of Hyades Acrostichon's death metal was slow and sluggish. No music for a moshpit but a vast wall of sound. Like many death metal bands the musicians were doing their thing without much show. Singer Corinne was clearly enjoying herself. A good gig but maybe a bit outdated qua music and presentation. This is the second Holy Moses – Singer Sabine Classen pictured here on right – gig at the 013 in two years. Last year (2008) this band was the opener for Obituary at the main hall of this venue and now they are the headliner in the small hall. Is this bad? Not really. It is better to rule in hell than to serve in heaven. Take Lacuna Coil. In 2006 this band was the headliner on the main stage of this venue and last year they were the opener for some crappy band named Bullet for my Valentine. How low can you go? And Sabina still has a large ring binder for all the song texts. And it took (traditionally a while) to build the drum kit. The current gigs are still based upon the album "Agony of Death" from 2008, which is one of my favourites of that year. And what can I say about the gig? For starters, my hangover did not bother me the moment the band started. As usual Holy Moses did a great gig. Sabina also gave some young kids at the front row some extra attention (must be her mother instinct I suppose) Unlike many other musicians on stage you always get the feeling that Sabina is one with the fans instead of a performer at work. I like that.
Links
Holy Moses : MySpace * Facebook * Site
6 color styles available:

Style switcher only on this demo version. Theme styles can be changed from Options page.