Browsing articles tagged with " belgium"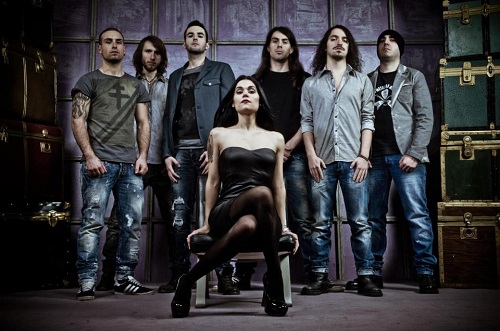 Italian symphonic metal band PURSUING THE END has been confirmed for ROMMELROCK 2013. The festival will take place in Maasmechelen (Belgium) on August 16-17 and they will have the pleasure to share the stage with THERION (special 25th anniversary tour), TOKYO BLADE and many others cool bands!  Continue reading »
Label : Alfa Matrix
Review by Davide Torresan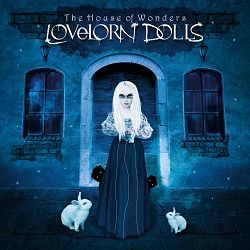 "The House of Wonders" is the debut album of Belgian Lovelorn Dolls, or rather the follow-up of the well received EP  "An Intense Feeling of Affection". Their music is the main result of the work of Ladyhell on vocals and Corpus Christi with music and the instruments. Their musical style can be described as a mix of alternative, rock and electronics and with this release they hope to make themselves known to the fans of this particular musical genre.
As the band stated, the listening of " The House of Wonders" will carry you within an old manor where, between dark and fairy atmospheres, sweet and sick melodies, the listener will ride on a sort of rollercoaster. It's a pity that I couldn't get my hands on the graphic work done for this CD by Gogo Melone, singer and graphic designer for To-Mera and Plague of Stars. It was like to do a half-assed job, but it's better than nothing, right? So here we go. I watched the artwork of theCD thinking that this could give me some clues about the general sound. I immediately assumed that there were some gothic influences and so it was. I heard also some other influences from other bands like Depeche Mode, Oomph and The Birthday Massacre. The first song that I appreciated was "After Dark" with its catchy chorus and heavy guitar riffs. Continue reading »
Interview by Robert Brady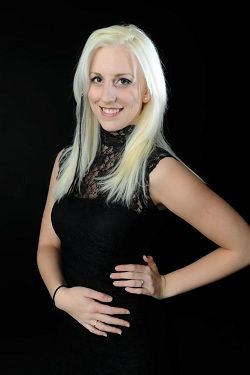 When most women are little girls they dream of the Knight and Shining Armour and the dress they will adorn themselves with. Some women find earlier than others. It certainly seems music found Jamie Lee-Smit the founder of the 'Belgian' metal band Azylya.
Azylya is a musical concept conceived from the mind and heart of Jamie Lee-Smit. Every time I listen to Azylya I feel like I am going to see a film at a film festival. Jamie Lee-Smit certainly has unleashed her cinematic influences in her music. I love the fact is that she never allows one moment for her listeners to get bored or think it all sounds the same like some bands have a tendency of doing on their albums. There is always something different with every track and composition in Azylya's music and at the same time they remain on point with their objective overall as not to alienate the listener from getting the main concept.
Azylya has something for every metal pallet. If you like female fronted metal it certainly has that to the forefront, there are black metal elements with the male vocal along with progressive, gothic, power metal elements. The running theme that seems heavily present with in Azylya is the cinematic film score style of metal that only a few bands as Rhapsody of Fire and Epica have dared venture towards.
As female fronted metal has really flourished in the past 15 years with bands like Theater of Tragedy, After Forever, Tristania, Epica, Leaves Eyes, Within Temptation and Nightwish, I believe Jamie Lee-Smit and Azylya are at the forefront of the preservation of the road and trail the previous bands have built. As a 40 something who grew up as a metal child of the 1980′s where our choices in women in metal were limited honestly to 4 bands in Girlschool, Rock Goddess, Warlock/Doro, and Lita Ford it is encouraging to see women now on the frontline of the battle and to see young women like Jamie Lee-Smit take her dream and vision and enlist in the business, I definitely see women in metal thrive in the next few decades and bands like Azylya carrying that banner for years to come.
Continue reading »
Label : Alfa Matrix
Review by Luisa Mercier
The Belgian act Psy'aviah releases its fourth record and they once more deliver us their eclectic style, blending laid-back moody piano songs, upbeat techno-rave, dark elektro and female fronted EBM-pop.  As you might have thought, the album is quite varied.  The highlight is definetely "Ok", a moody piano-based song which has been also chosen to shot an emotional video. You may find it on YouTube. The following "Nouveau Quiche" features two guests, MC Dééjoohcéé and Thomas C Beerten, who lend to the song an electro-rap feeling.
The other collaborations are found on "Deep Dark Desire" (feat. The Swedish singer Kari Berg) who graces the track with dark, melodic vocals and on the closing song "Home", featuring Lis van De Akker. You can also find more up-beat moments as in "Human Garbage" or the virulent "Virtual Gods" which offer some techno moments. Continue reading »
Label: WormHoleDeath
Review by Tony Cannella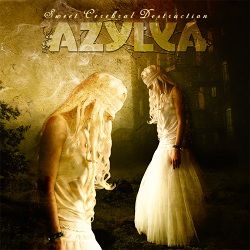 From Belgium, the band Azylya formed in 2009 and released their debut EP "Thanatos' Insanity" in 2011. After solidifying their line-up, the band signed on to the up-and-coming label WormHoleDeath for the release of their debut full-length, "Sweet Cerebral Destruction". Azylya don't strictly adhere to one specific genre, instead they incorporate elements of symphonic metal, death metal, doom metal and even cinematic metal. It is quite an eclectic mix, but the one constant running through "Sweet Cerebral Destruction" is the fact that this music is very heavy and quite dark.
The basic story of Azylya was written by female singer Jamie-Lee Smit in 2007 when she was fourteen years old. The story follows the (mis)adventures of a young girl who is abused by her father who – in order to avoid a scandal – abandons her in an insane asylum, where she must do what she can to survive, and that is the story of Azylya's "Sweet Cerebral Destruction". Sure, it's an interesting enough story, but will the material live up to the concept? After the eerie piano intro "At the Beginning" the song "Incest" continues with some more ominous sounding piano as the song progressively picks up in heaviness. Female vocalist Jamie-Lee Smit starts off with her angelic vocalist and is soon joined by the guttural death metal style of Yohann (he also doubles on guitar). More piano adds atmosphere to the opening of the next song "Woodscape", before the rumbling guitars comes crashing in and the song picks up in heaviness. "Woodscape" also has a strong cinematic vibe and a relentless rhythm. Other highlights include: "Sweet Cerebral Destruction", "Within My Cell" and "Electroconvulsive". The material definitely goes hand-in-hand with the concept and even though it is not anything new, the duel vocals were definitely the highlight for me. Jamie is excellent on vocals and Yohann's death metal growls are the perfect complement to her style and the material contained within.
In the end, I couldn't help but be impressed with Azylya and their debut "Sweet Cerebral Destruction". The album works both lyrically and musically and most importantly the material strong and unrelenting. I loved this album. Continue reading »
6 color styles available:

Style switcher only on this demo version. Theme styles can be changed from Options page.