Browsing articles tagged with " berlin"
Interview by Erwin Van Dijk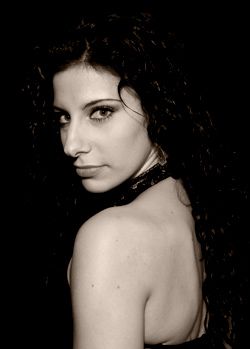 An interview with Carie from AnsoticcA. AnsoticcA is a new female fronted band from Germany and The Netherlands. You can describe their music as a cross between gothic and progressive metal. This interview is with Carie van Heden who joined the band at the beginning of 2009.
Did you always want to become a singer?
I can't remember a time before I wanted to become a singer. One of the first things I can remember is that one day my parents bought a cd player. I don't know why exactly, but my father also got one of those real cheap microphones, which made it possible to sing along with the music. Quite fast I found out how to plug this thing in, so that I could listen to myself via headphones. Whenever I was alone at home and no one could hear me, I sang all of my favourite songs – guess I really got addicted to it. That's how everything started.
And how did you end up in the music business?
Music was always my passion. After I finished my economic apprenticeship I felt that it was time to live my dream and study music with all the consequences. By means giving up a well-paid job and moving to a new city. I thought if I'd fail I still could go back to work in my old business, but if I wouldn't try to make my dream come true I would probably regret it for the rest of my life.
Who are your favourite singers and musicians?
It's not easy just to name a few cause there are so many… Singers: P!nk, Skin, Sharon den Adel, Melissa Etheridge, Adam Levine, Anouk, Nelly Furtado, Beth Hart, Eric Martin, Christina Aguliera, Stefanie Kloss, Sandra Nasic, Marta Jandova and more! Songwriters: Alanis Morissette, Michael McDonald, Elton John, Bruce Hornsby, Ingrid Michaelson, Jack Johnson and more!
And to what kind of music do you listen yourself?
Bearing my last answer in mind you will notice that I don't have a classical background as many singers of the gothic genre have. When I got in touch with music I listened to pop and rock music. Since I started studying at the Rockacadmie I found it interesting to learn more about music of other genres and I also started to listen to various musical genres as soul, gothic, hard rock & metal, funk, RnB or blues. On my iPod playlists you can find a lot of female fronted bands but in the end I like music that touches me – the genre or whether it is sung by a man or a woman doesn't really matter to me.
You study at the "Rockacademie" in the city of Tilburg. For the people who do not live in The Netherlands, what is the "Rockacademie"?
Unlike universities or musical high schools where you can study Jazz or classical music, at the Rockacademie it is possible to perform in several musical genres such as Rock, Funk, Pop, Metal, Punk, Soul or Hiphop. When you successfully absolve the Rockacademie you get the Bachelor degree of Arts (Music). In the first year you gain some basic skills which you need if you want to go on with the study. After that you have to choose a specialization such as sound engineering, session musician, management or education. Even a combination of several specialization is possible – as long as it is realizable. Usually the study takes 4 years. Probably I will finish my study in February after 3,5 years.
AnsoticcA is not the only band you sing in. You are also quite busy with Jigger Skin? Is it difficult to combine your study and singing for bands with your personal life?
If you'd take a look at my time schedule you could get the idea that this girl is quite busy. Yes, it is difficult to have a personal life beside "all that music". I tour around South Germany with Jigger Skin and travel back to the Netherlands every weekend. Whenever there's a time slot I join Maarten and Adrian in the studio in the near of Berlin. Still I write my own music and I am busy with finishing my songwriting study at the Rockacademie. There is not much time left for spending evenings with my friends, playing handball or visiting my family. But for me music belongs to my personal life. I found a way to make everything work and wouldn't want it any other way. If I should give someone an advice how to handle such a life I would say: buy an organizer and schedule all the things you have to do, but also all the things you love to do. Enjoy life. That's what gives you energy even for the things you have no choice but to do.
And do you have any other bands or projects besides AnsoticcA and Jigger Skin?
My main band is AnsoticcA but as long as it's possible I'm still involved with some other bands and projects. I'm the female singer of Jigger Skin, I have my own project which I sometimes play gigs unplugged with and I'm a member of the Popchor TF a pop choir in Germany.
And since Jigger Skin is more pop and rock oriented, do you use your voice in a different way than with the gothic AnsoticcA songs?
When you sing in a cover band as Jigger Skin you have to sing songs from various genres. That requires the use of different vocal techniques. Imagine I would sing "Open Your Eyes" of Guano Apes in the same way Nena sings her "99 Luftballons". It wouldn't work… But what makes the Gothic songs in comparison to the pop/rock repertoire of Jigger Skin so special is that you have to use a lot of vocal techniques in one song. In the studio Maarten really tries to get the best out of me. That challenges and pushes me.
How did you get in contact with the boys from AnsoticcA?
I've know Maarten from the popchoir I sing in. I heard that he was starting a new project and that he was looking for a female singer but I didn't expect that to affect me one day. After auditioning some singers, Adrian and Maarten called me asking, if I wanted to join the band. They looked for someone with a more powerful voice who at the same time would also be able to sing the softer parts of their songs. First I thought they were joking. My voice couldn't fit that kind of music. But I was completely wrong!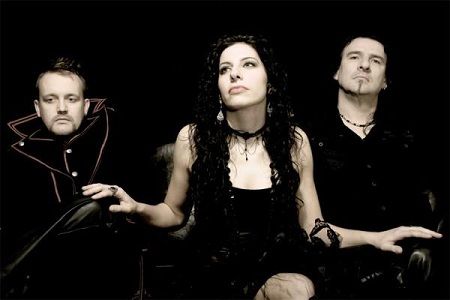 What is the idea behind the band name?
Actually the name came from a friend of ours – while listening to some of our first recordings he said "this sounds like Ansotica" – and so the name was born – with one more "c". It is the name of a goddess that has been worshipped around the area of Croatia. It is comparable to the Latin "Venus".
How would you describe AnsoticcA's music? Because Gothic & Progressive covers about everything with a guitar, bass and drums and female vocals these days.
Our music is very epically arranged with a truly guitar oriented approach – extremely powerful and rough but at the same time deeply melodic and emotional. The songs are catchy and our sound is unique. You will easily recognize it any time.
And what makes AnsoticcA different compared to all the other female fronted bands in the world (especially in Holland)?
Sure! I definitely belong on stage and I can't wait till we get ready to bring our music to the people. We are planning to start the tour in spring 2010 after the release of our album. Our management is already in contact with a booking agency for the Benelux, but we also want to tour in Germany and the rest of Europe.
And, if so, are you looking for additional members to complete the line up?
We are currently looking for a drummer and a bass player – so feel free to write us if you are interested in doing live performances with AnsoticcA…
Is song writing teamwork in AnsoticcA or is there a mastermind behind the music?
Adrian and Maarten are the two minds behind the songs – but you can truly say they function as one mastermind. Their creative potential is tremendous and they both claim that they have never had so much fun writing music also thanks to Rockfeld Records, the studio that makes everything possible for this project.
Can you tell us something about the songs AnsoticcA has posted on Myspace?
"Our Time" – A very epic and also slightly progressive piece, the lyrics can also be seen as a metaphor for what we expect from the future
"I'm Alive" - A song about staying strong when everything around you seems to fall apart
"Silent Tears" – A song that turned out to have a quite noticeable pop influence but hell we like it
"Rise" – A ballad but also not a ballad; listen to it – crank the volume up and listen to the whole song … you will know why
And what is your favourite song?
Hard to tell because every song is like our own child. But if our life would depend on that decision – it would be "Rise" – the song embodies nearly everything that makes the sound of AnsoticcA – but all the other songs do that too.
You are also working on an album. What can we expect?
You can expect 13 pieces of epic gothic metal that will shatter the scene. But seriously, the album is the essence of what we have always been dreaming of – doing powerful epic metal that touches the listeners – hopefully this is what we will achieve.
What are AnsoticcA's plans for the future?
Next year we would like to bring the whole thing onto the stage, feeling the energy of the audience and getting more intense with every note we play – we really can't await to play live after the release of the album
Links
MySpace * Facebook * Twitter * Site
Latest Multimedia

Interview by Lindz Riot
An angelical voice by the name of Claudia Uhle was brave enough to take the reins on her own solo effort "Angelzoom" in 2004. Her style is very atmospheric and ambient and would appeal to many music fans, especially those of electro-pop, classical and movie soundtracks. From East Berlin to here at Femme Metal we got to meet with her via email to talk about her current life and hear her thoughts on her newest release "Nothing is Infinite".

Welcome to Femme Metal Claudia! Thank you so much for taking the time to sit down and talk with us about your musician lifestyle and everything stemming from it ? So when did music start for you? How old were you when you started singing? Who inspired and influenced you to become a singer?
I grew up in a musical family. I was singing already all day long as a small child. I sang in different children's choirs, among other things in the children's choir of the State Opera. Later I had singing instructions that were at first classically and then pop/musical. I made my secondary school certificate on a music-focused High School and made a study for musical early education. To be a singer came from my innermost being. With Angelzoom you have a very creepy and mystical sound going on, what inspires you to write your music? What is it that you like to write about the most?
Everything around me in my life and my feelings are a big inspiration. When I hear a song from another band it motivates me to create an idea for my own songs. Sometimes I see pictures, which give me a certain feeling and I try to write that down. It's difficult sometimes to translate that feeling in your head. Sometimes I write the lyrics in German first and then translate it but it sounds better in English.

What was the experience like recording "Nothing Is Infinite"? How was working with your producer and what is your favorite song from it? Also what is your favorite part about being in the studio?
It was a long process. We started the work for the album in 2005 but then we had a big break because of my last album with my band X-Perience and the tour in 2007. The in April 2008 was the birth of my son William. In 2009 we started the intensive work for the album. Almost daily Bernd sent new song ideas to me. Very often when Bernd plays a new theme I see pictures in my head and so I get new ideas for my texts. I wrote my lyrics down and sang it first in my home studio. When we had some good songs I took them down vocally in a Valicon Studio with Tommy Remm because Bernd had a lot other producer work at the time. Mostly I like the production and mixing work. Bernd has a fantastic feeling for harmony and sounds and he is able to create amazing ideas and likes always to test new things. I've know Bernd for many years. We worked together for the first and second X-perience album. He was one of the producers, I like his work. Together we had the idea to produce music, which sounds like a soundtrack to a film. He is the ideal partner for translating my feelings and thoughts. It is a beautiful work with him. Especially I like his harmonic understanding and his mood laden songs as well as the manner how he embeds my voice. On the new album there are instrumental pieces, which are based on a common idea. They express the internal rapture, which you can find in everyone. We called them "Battle Angel Chapters". The majority of my lyrics I like to write myself. But also Nik Page has written two beautiful pieces on "Nothing Is Infinite", which I liked to get to perform "Handsome World" and "Everyone Cares" (as Co-Writer). My favourite song on this release is "My Innermost". It is about me and I like the sound and the whole feeling in it.

Do you feel you have evolved as an artist in "Nothing Is Infinite"? Do you think your sound has changed and you yourself have as a musician and singer?
I think I myself have evolved as a musician and singer, also since the birth of my son. Now I´m a mother and you can hear it in my music and my lyrics. I think more about the life and the future. "What will be when my son is 20 years old ?", "Is every progressing positively ?", "Are gene manipulations and clones good for us ?". The album expresses more of my inner feeling and therefore the sound has developed. The evolving you can also hear in my voice as I tried to sing more extremely in the parts particularly with depth. "Nothing Is Infinite" is more personal and intensive.

Your first single "The Things You Said" is a wonderful twist on a Depeche Mode song, have they been a big influence on you? Who are some of your biggest influences?
I grew up with Depeche Mode. I like their music and the feeling in their songs. I like particularly the melancholy tendency in "The Things You Said", the song fits me well.
I'm influenced also by bands like The Police, Pet Shop Boys, Camouflage and artists like Björk, Sting. Also soundtracks of films from composers like Hans Zimmer and Alan Silvestri. What was it like making your new music video for "The Things You Said"? Where was it filmed?
We recorded it in May in Ireland when it was really cold. It was my first time there and I like the landscape and the people. It was very wind then and in the video I wore two warm winter coats, warm trousers, a kilt, and boots but nothing on my head so it was frozen. We selected two little children from there to act in the video. They looked really Irish and it was funny to work with them. They pursued me, like little rumors. I was very scared ?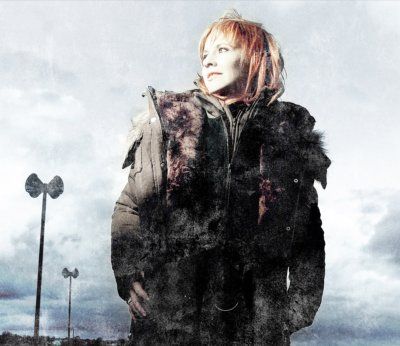 So what is the meaning of the name Angelzoom? How did you come up with the idea for this artist name?
The name was first used for a song on the first X-Perience album "Magic Fields". I was the singer of this band from 1994-2007. This song was produced and written by Bernd Wendlandt, who is the same producer of Angelzoom and this song has the same atmospheric style like Angelzoom. The name also fits to my voice and the content of my music. Many people say I have an angelic voice, very clear and high. With my music I try to look deeper into things, what means I zoom through things closer to me.

In your past self titled release you had the chance to do a song with Apocalyptica, how was that experience? What was it like writing and recording with them?
The song "Turn the Sky" was written by my producer, the lyrics are from Nik Page. We send it to Apocalyptica and after the guys had listen to the song they signaled their eagerness and so we sent the song to Finland. There they completed the song with their string instruments and send it back to us and we mixed it in Berlin. When I was on Tour with them I had the chance to meet them personally. They are great musicians and very funny. How has your life changed now being a solo artist as apposed to being in a band? Do you enjoy the solo artist life more? Do you miss anything about being in a band?
To the public through media it seems as if you are alone but in reality many people are working around and with you. Only a good team makes that you look like a good solo artist. But the internal band communication is much easier? On tour I have a good group of musicians around me.

What is your background with vocal training? Do you study a lot of classical? Have you ever tried any other singing styles?
I mostly study with Pop and Musical teachers. The sound of my voice is very clear and bright but the style I sing is not classical like opera. I think, me and my voice do not fit to Rock Style singing. I sang some Jazz Songs but in my own interpretation of it.

Do you play any instruments? How long have you been playing them for?
I play the piano and the church organ. My first piano lessons I had when I was 8 years old. Later I had 3 years of lessons under an organist. Do you have a unique talent or hobby that isn't musical you would like to share with the world?
I do not really have another big other hobby but I like to cook. I try to realize healthy food and to use products which are biologically produced and they taste much better.

What is the biggest achievement you have accomplished so far?
The birth of my son in April 2008 and the second are "Angelzoom" and my album "Nothing Is Infinite". What are your hopes for the future?
More understanding for human nature. All together more understanding for the world and more tolerance of people and their mistakes. Only in a secure world my family can grow up reliably.
Links
Latest Multimedia
Label : Wannasee Records
Review by Tony Cannella
My only knowledge of the German singer Claudia Uhle – otherwise known as Angelzoom – has been through various compilation albums. Her new album "Nothing Is Infinite" is out now and this is my first chance to sample an entire album from this talented singer. Musically, Angelzoom offers a wide scope of ambient, electro and gothic influences. "Nothing s Infinite" features 14-songs and 50-minutes worth of cohesive, innovative and atmospheric music. Some of the strongest tracks are: "The Things You Said", "Runaway", "My Innermost" and "Fragile". The vocals of Claudia Uhle are on full display throughout the album and it helps to create an enjoyable listening experience. The music on "Nothing Is Infinite" is pretty laid back and at times relaxing to listen to. Angelzoom is a different kind of animal than what your average metal head might listen to but still it is cool to put on for a change of pace, besides you can't bang your head all the time. Can you?
Rating – 75/100
Tracklist
Battle Angel Chpt. V
The Things You Said
These Arms of Mine
Runaway
Battle Angel Chpt. I
My Innermost
Hypnotized
Fragile
Everyone Cares
Doomsday
Handsome World
Battle Angel Chpt. II
Clones
Afterlife
Line Up
Claudia Uhle - Vocals, Backing Vocals, Piano, Organ
Bernd Wendlandt – Keyboards, Piano, Backing Vocals
Pitti Piatkowski – Guitar on track: 8
Links
Label : Metal Mind Productions
Review by Tony Cannella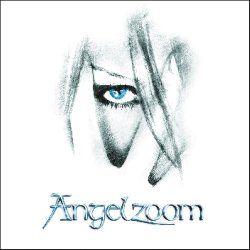 Germany's Angelzoom is a non-metal project led by Claudia Uhle. In 2004, Claudia released her self-titled debut album under the Angelzoom banner and now that album has been re-issued via Metal Mind Productions out of Poland. Not only is the original album presented here but there is also some cool bonus material included on the re-issue. So fans of the band will have an added incentive to include this CD in their collection. First off, Claudia Uhle has got such an expressive voice and vocal style. The debut from Angelzoom is an albums worth of dreamy, soundscapes. This re-issue is filled to capacity with great music. Songs like "Turn the Sky", "Back in the Moment" (which I believe she made a video out of), "Guardian Angel" and "Fairyland" all highlight the strong material contained within. Instead of playing Metal, Angelzoom offers a unique mixture of Classical, New Wave, Dark Wave, Gothic and Electro Pop. Whatever Genre, Angelzoom lies in; there is no denying that Claudia packs plenty of atmosphere into the songs on her debut.
Rating – 75/100
Tracklist
Turn the Sky
Back in the Moment
Blasphemous Rumors
Otium
Falling Leaves
Guardian Angel
Crawling
Bouncing Shadows
Fairyland
Dream in a Church
Lights
Newborn Sun
Into My Arms
Christmas Dreams
Peace of Mind (Bonus Tracks)
Fairyland (video clip) (Bonus Tracks)
Fairyland (Radio Version) (Bonus Tracks)
The World Between (non-album track) (Bonus Tracks)
Sapphire (non-album track) (Bonus Tracks)
Fairyland (Blutengel Club Remix) (Bonus Tracks)
Fairyland (Sacrifight Army Remix) (Bonus Tracks)
Line Up
Claudia Uhle – Vocals & Piano
Rene Siodla – Male Vocals
Joachim Witt – Male Vocals
Pitti Piatkowski – Guitars
Bernd Wendlandt – Keyboards, Piano & Programming
Links
Label : Rockfeld Records/SAOL
Review By Tony Cannella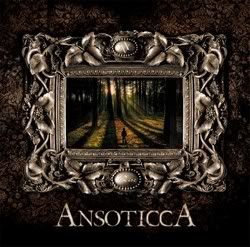 From Germany, AnsoticcA are an exciting new presence in the realm of Female Fronted Symphonic Power Metal. Their debut album "Rise" offers the listener proof that this is one band to be reckoned with in 2011 and beyond.As soon as the intro "A New Dawn" kicks things off, it is time to sit back and enjoy about 60-minutes worth of the highest caliber of Symphonic Metal. "A New Dawn" gives way to the grinding metal riffs of "Endless Sacrifice". AnsoticcA does a great job in keeping things interesting throughout "Rise" as they play with different tempos throughout the CD and consequently, "Rise" never gets boring. "Heaven Burns" and "Rise" continues in a positive direction, and "I'm Alive" became an instant favorite. One of the impressive things about AnsotIccA (okay, there is a lot to like about this band) was the fact they mixed symphonic elements with straight-forward heaviness, melodicism and displays a lot of versatility. Vocalist Carie van Heden is up to the task throughout the CD and she quickly became one of my favorite new vocalists. The pounding metal song "Faces (on Fire)", gives way to the mid-tempo beauty of "Open Your Eyes" (a song that also features flute). Other highlights include: "Tears of a Clown" and the closing trio of "Open the Gates", "Willing to Believe" and "Weight of the World". "Rise" is a good, solid debut from AnsoticcA. This German band possesses plenty of talent and the songs on "Rise" are dramatic but not overblown and pretentious. Throughout the course of this 13-song, 60-minute CD AnsoticcA managed to hold my attention and didn't let it go until the last note was played. I loved this band and I can't wait to hear what they have planned on future recordings.
Rating – 95/100
Tracklist
A New Dawn
Endless Sacrifice
Heaven Burns
Rise
I'm Alive
In Silence
Faces (on Fire)
Open Your Eyes
Our Time
Tears of a Clown
Open the Gates
Willing to Believe
Weight of the World
Line Up
Carie van Heden – Vocals
Adrian Delborg – Guitars
Maarten de Vries – Keyboards
Jay Zee – Bass
Zack Rabarti – Drums
Links
6 color styles available:

Style switcher only on this demo version. Theme styles can be changed from Options page.