Browsing articles tagged with " birds"
Independent Release
Review by Tony Cannella
From Barcelona, Spain come Leaves. The band has quite an extensive history. Leaves first came on to the scene in 2001 with the 5-song mini-EP, "XTC" and followed that up with two live releases in 2006 and 2007, now finally they have released their full-length studio debut, "While The Light Continues Spinning". The album features a clash of styles ranging from Metal, Gothic, Rock and Power Pop, giving Leaves a certain ambiance that makes them difficult to classify into any one genre. The first thing that came to mind while listening to "While the Light Continues Spinning" are the similarities between vocalist Rachel and ex-Gathering vocalist Anneke van Giersbergen. I am sure that there are comparisons between the two forth-coming. The band as a whole, reminds me of "Mandylion" and "Nighttime Birds" era The Gathering, which is never a bad thing, in my opinion. The CD begins with ambient sounds and starts off kind of slow – stylistically speaking – before the title song picks up steam and heaviness and alternates between slower and heavy tempos. The album really starts to take shape with the second track, "Zero". Here is when you start to realize what an impressive vocalist Rachel is and how good the songwriting and musicianship are, as well. "My Own Way", "Observed" and "Yellow" are three more rock solid and steady tracks that keep things moving along nicely. "My Own Way", in particular became a big favorite of mine, thanks – in large part – to the heartfelt and emotional vocal delivery of Rachel. Other highlights included: "Yellow", "Anchor", "Logan", "Cover Me", "Words" and the final track, the melodic and emotionally charged "Rose in Heaven". So, if you are missing the style of The Gathering circa 1995-97 than Leaves should be right up your alley but there is enough good material present here that should make "While the Light Continues Spinning" a viable metal release in 2010. Leaves are an impressive rock/metal band that should have no trouble in forging their own identity and path in the future.
Rating – 80/100
Tracklist
While the Light Continues Spinning
Zero
My Own Way
Observed
Yellow
Anchor
Logan
Cover Me
So I Am
Words
Lost
Rose in Heaven
Line Up
Rachel – Lead Vocals
Manjon – Guitars
Frank – Guitar, Vocals

Mireia – Keyboards

Francis – Bass
Jordy – Drums
Links
MySpace * ReverbNation * Facebook * Twitter
Label : Asylum Ruins Records
Review By Tony Cannella
France's Eclectika play experimental metal music that is quite difficult to lump into one genre. The history of this band goes way back to 2001, but their career really got moving in 2005 with the release of their debut demo, "Funeral Victorious March" which was followed by their debut full-length "The Last Blue Bird" in 2007. Their new album, "Dazzling Dawn" has just been issued via Asylum Ruins Records. Eclectika features three vocalists – each with their own styles – in the band, two male and one female vocalist (Alexandra Lemoine) with Sebastien Regnier putting his talent to good use as a multi-instrumentalist. The CD begins – ironically enough – with, "The End", a 3-minute orchestral intro piece that would fit right in on a horror movie soundtrack.The intro has tons of atmosphere and gives off an eerie vibe and it leads us into the all-out assault of, "Dazzling Dawn" which really brings out the Black Metal influence of the band. The next track, "Sophist Revenge" continues in the Black Metal vein of the previous track. The next song, "Les Demons Obsedants du Regret" is quite the contrast from the previous two. This song features the vocals of Alexandra solely and is a nice, beautiful acoustic track.The vocalists each put their own stamp on the songs. The male vocals are more of a brutal/Black Metal style while Alexandra adds a sweet, almost operatic style to the proceedings. On the final track "11 Corps Decharnes" the band brings back the horror movie vibe, with a 10-minute "outro" that ends things, as it began on a spooky note. "Dazzling Dawn" features 10-songs and 49-minutes worth of "eclectic" music from Eclectika and is a very good sophomore release from this French band. The songs have quite a diverse approach and feel to them, making each subsequent listen feel like a new experience.
Rating – 85/100
Tracklist
The End
Dazzling Dawn
Sophist Revenge
Les Demons Obsedants du Regret
There Is No Daylight in the Darkest Paradise
Experience 835
The Next Blue Exoplanet
Marble Altar
Stockholm Syndrome
11 Corps Decharnes
Line Up
Alexandra Lemoine – Vocals
Aurelien Pers – Vocals
Sebastien Regnier – Vocals & Instruments
Links
MySpace * ReverbNation * BandCamp * Facebook * Twitter * Site
Label : Psychonaut Records
Review By Tony Cannella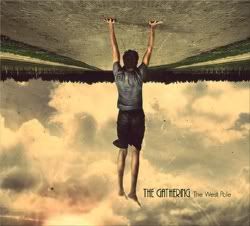 It's always a risky proposition when an established band decide to change singers after having a long successful run with their previous one. Sometimes it works out, other times it is an unmitigated disaster. That is exactly the situation that Dutch rock/metal legends The Gathering find themselves in. Out is Anneke van Giersbergen – she left to concentrate on her new project Agua de Annique. In is former Octavia Sperati front-woman Silje Wergeland. She has the toughest job of all to win over the loyal fan base, but after only a few listens to the bands much anticipated new CD "The West Pole", it appears that the band has made a solid choice. Silje fits the band like the proverbial glove.The CD opens with the instrumental track "When Trust Becomes Sound". It's rare for a 4-minute instrumental to start an album, so you have to give the band some credit for trying something a little bit different. Our first introduction to Silje Wergeland comes on the second track "Treasure". It is a song that has a heavy avant-garde pop flavor to it, but it has a definite edge and attitude to it as well. My first impression of Silje is that she reminds me a bit of Shirley Manson of Garbage at times, her vocals are actually quite sweet and passionate. She is certainly no Anneke clone, she really has her own thing going. "All You Are" is next and it starts off with a sweet sounding intro before speeding up and becoming more straight forward in approach, this is one of my favorite songs on this disc, Silje's vocals are just soaring on this one and they really push this tune over-the-top. The next track is the title song "The West Pole". This song has a bit of a "Nighttime Birds" feel to it. Complete with hypnotic rhythms and a sensitive vocal performance, this track is another favorite. Other highlights include: "No Bird Call", "Capital of Nowhere" and "You Promised Me a Symphony". The final three songs "Pale Traces", "No One Spoke" and the 8-minute "A Constant Run" all conclude this CD in style. The Gathering sound like a band reborn. The songs boast a confidence and assurance that is undeniable and quite impressive. The Gathering have been hugely successful over the past 20 years or so and it remains to be seen if they can continue with the same level of success with their new singer. For better or worse, this is a step in a positive direction. The band have not rested on past laurels and recorded an album that is unmistakably The Gathering. It has all of the ingredients that made this band such a treasure with a few new twists and turns along the way. I have to admit, the 10-songs and 55-minutes worth of material that is found on "The West Pole" far exceeded my expectations.
Rating – 90/100
Tracklist
When Trust Becomes Sound

Treasure

All You Are

The West Pole

No Bird Call

Capital of Nowhere

You Promised Me a Symphony

Pale Traces

No One Spoke

A Constant Run
Line Up
Silje Wergeland – Vocals

René Rutten – Guitars

Frank Boeijen – Keyboards

Marjolein Kooijman – Bass

Hans Rutten – Drums
Links
Label : Agua Recordings
Review by Tony Cannella
Everyone knows that Anneke van Giersbergen was the voice of the seminal Dutch band The Gathering up to a few years ago. Since leaving The Gathering she has formed her own outfit called Agua de Annique and in 2007 they released a pretty cool debut titled "Air". Now the band is back with their second release titled "In Your Room" and it sees the project expanding on what they started in '07 to release a more complete and sophisticated album. For those who have heard the first Agua release than you will know that they are really not metal, so don't expect anything like the classic The Gathering albums "Mandylion" or "Nighttime Birds", having said that, "In Your Room" is still a very good album (metal or not) that really showcases the vocal talents of Anneke, which are quite strong and getting better all the time."Pearly" started things off and it has a funky riff that starts the song off quite strong and immediate. The second song "Hey Okay!" is just brilliant and hands down my favorite track on either one of the Agua de Annique albums. It has such an up-tempo happy feel and positive energy to it, that it is impossible to be in a bad mood after listening to it, one thing is also obvious, Anneke still has a hell of a voice. "I Want" is next and continues where the previous two songs left off – again, it's got a nice melody and vibe running through it. "Wonder" is a beautifully wistful piano ballad and other song that's destined to become a favorite. Other highlights include: "The World", "Sunny Side Up", "Home Again", "Just Fine" (co-written with Devin Townsend) and "Wide Open", but honestly among the 12-songs on display here, there is plenty of good music here. With "In This Room" Anneke and Agua de Annique have far exceeded what was begun on "Air" and released an album with a ton of depth and character. "In This Room" is 12-songs worth of sophisticated and experimental, avant garde power pop music that is quite a ride.
Rating – 85/100
Tracklist
Pearly

Hey Okey!


I Want

Wonder

The World

Sunny Side Up

Physical

Home Again

Wide Open

Longest Day

Just Fine

Adore
Line Up
Anneke van Giersbergen – Vocals & Piano

Joris Dirks – Guitars & Vocals

Jacques de Haard – Bass

Rob Snijders – Drums & Keyboards
Links
Label: Razar Ice Records
Review by Mortuai
Unsurprisingly given the success of a particular band who shall remain nameless for the moment, Italy has recently become a relative hotspot for gothic metal bands like Bari's Godyva (not to be confused with Swiss classic metallers Godiva). Founded in 2000, the group went through a few lineup changes and released an EP before being discovered by American label SorceryStudios/Razar Ice in 2005, who signed them to a three-album deal, the first of which was 2006′s "In Good and Evil" and the second is my current subject of review, 2008′s "Planetarium". Quite frankly, I have to admit I wasn't greatly impressed by the band's debut full-length as an overall band product. The problem I found with it was the same issue many gothic metal bands, most specifically, female-fronted gothic metal bands have, namely 'it's all about the singer and the rest of the group seems to be just going through the motions.' In the case of Godyva, that statement is reinforced by the fact the band name and the female vocalist's stage name are one and the same. The good news is that the past two years have seen some definite improvements. Longtime guitarist Frahn stepped down in 2007 and was replaced by Antonello "Anto" Addabbo of Italian melodic death metallers Reality Grey and the band as a whole just seems a bit tighter and more emphatic in their musical delivery as well as more willing to try stylistic experiments here and there. That said, a large part of the band's appeal is still focused on the singer but that's not necessarily a bad thing given the vocal talents of Lady Godyva. She has an impressive range, able to shift from deep, throaty tones to emotive melodic midrange to operatic soprano and back again seamlessly, oftentimes sounding like a blend of Tarja Turunen and Lacuna Coil's (okay, aforementioned 'particular band' no longer nameless) Cristina Scabbia and those two examples aren't really a bad starting point when considering the group's overall style, as there are some obvious influences of Nightwish and the 'Coil in the music, though the latter stands out far more than the former. Also prevalent in the stylistic mix is a keyboard-driven industrial element very much in the vein of Rammstein, especially on cuts like the driving "My Inner" and the melodic-yet-crunchy "Innocent", the latter of which also features one of two guest appearances from tech-death metal band Natron's former growler Mike Tarantino. Of course the beauty and the beast vocal pairing concept is nothing new in the world of female-fronted metal but Godyva manage to pull it off well without making it seem like a gratuitous attempt to cash in on a well-known trend. Another guest appearance, however, does not work quite as well for me, namely the narration provided by Luca Bellanova of Rome's electronica-metal act Starkiller Sound during the otherwise wonderful track "Mary's Blood". It's a relatively short narration during a slower melodic segment but the way it's mixed, it comes across as nothing but a distraction, making it difficult to focus on either what Bellanova is saying or Lady Godyva is singing had the narration stood alone, it probably would've worked much better and this would've been my favorite song on the album. As it is, it's still an excellent song with some truly beautiful vocal and instrumental melodies. Yet more influences are obvious on other tracks, most clearly a strong dose of The Gathering circa "Nighttime Birds", particularly on "Black Door", where Lady Godyva's vocal style sounds eerily similar to Anneke Van Giersbergen's. That song is one of several high points on the album, others including the title cut, which features the album's most compelling melodic chorus, energetic leadoff song "The Ark" and the bonus track, an acoustic rendition of "Innocent"(which wisely omits the death metal vocals). While Godyva the band isn't likely to come as quite as much of a shocking surprise to people as the legendary nude horse rider they're named for, they're still definitely worth a look. Other than the largely-unnecessary intro instrumental, there really isn't anything even close to a throwaway or what can be considered a 'bad' song on the album granted, there are no absolute world-killers either, but fans of gothic metal with an industrial touch will definitely find plenty here they can enjoy.
Rating – 75/100
Tracklist
W.A.I.H.T.L.I.H. (Intro)

The Ark

Innocent


Mary in Blood

Deep Inside

Planetarium

My Inner


Black Door

On the Floor of Ice

No Fault

God Is Fallen

H.I.L.T.H.I.A.W. (Outro)

Innocent (Bonus Track – Acoustic Version)
Line Up
Lady Godyva – Vocals

Anto – Guitar


Botys Beezart – Keyboards

Nick Barah – Bass

Enyo – Drums
Links
6 color styles available:

Style switcher only on this demo version. Theme styles can be changed from Options page.