Browsing articles tagged with " black"
Label: Pitch Black Records
Review by Tony Cannella
From Denmark, Illnath is a female fronted extreme metal outfit. They were formed in 2000 and in 2011 released their third album, "Third Act in the Theatre of Madness".
In lead vocalist Mona, Illnath has a singer that is sure to give Angela Gossow a run for her money in the extreme metal field and musically the band provides enough technicality, melody and talent to make each song interesting. The bombastic opener "Third Act" sets the tempo and from there on songs like "Scarecrow" and "Lead the Way" Illnath provides plenty of heavy moments. There is no doubt about it, Illnath is certainly an aggressively relentless powerhouse force but on songs like "Tree of Life and Death" they also bring a melodic element to the table. Continue reading »
Label: Black Lodge Records
Review by Tony Cannella
The Swedish all Female heavy metal band Hysterica returns with their second album "The Art of Metal". Their debut "Metalwar" was issued in 2009, with their follow-up, Hysterica has grown so much in the three years from between their first album and this new one. As good as "Metalwar" was/is, "The Art of Metal" is a huge leap forward for this excellent band.
One obvious improvement that Hysterica has made with "The Art of Metal" is the song writing end of things. Lyrically and musically the band has come so far in the last three years between albums and it shows. Hysterica has also shown that they could be extremely melodic whilst still being very heavy. Continue reading »
Label: Trieste Records
Review by Tony Cannella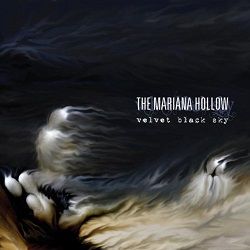 "Velvet Black Sky" is the title of the 2nd album from The Mariana Hollow, a 5-piece alternative metal band hailing from the UK. If their debut album, 2010's "Coma Heart" knocked on the door, their newest release is ready to kick it in.
The overall feeling on "Velvet Black Sky" is dark, but more varied than on their previous album. The intro "Before the Dive" segues nicely into the pounding, atmosphere heavy "Dead Reckoning". The songwriting on "Velvet Black Sky" is miles ahead of "Coma Heart", and that is evident from the very beginning. The next track is the excellent, "Your Halo" which the band has done a video for (you can check it out at the usual outlets like YouTube, etc.), and it is easy to see why this song was chosen, it is one of the more accessible songs you will find on VBS. Continue reading »
Interview by Laura Medina
What do you get when you mix five female musicians, one male drummer, heavy guitar riffs, and enchanting, mesmerizing beautiful melodies, you get Arven! Arven is the female-fronted melodic-metal band from Frankfurt, Germany that just released their sophomore album, "Black is the Colour" that is out now via Massacre Records. I had the complete and absolute pleasure and honor to chat with Carina Hanselmann of Arven to discuss Arven's new album, her memorable moments on tour, her three wishes for Arven and much more.
Hi Carina and welcome to Femme Metal Webzine! Thank you so much for allowing us to interview you today! I hope you are doing well today.
Hi Laura, thanks a lot for this interview. I´m fine, thanks !
Would you mind telling our readers a little about yourself and your band, Arven?
Continue reading »
Label: Massacre Records
Review by Tony Cannella
The German symphonic power metal band Arven first came on the metal radar in 2008 with their self-titled demo – and this hinted at great promise. In 2011 the band pushed it up a notch with their full-length debut "Music of Light". Now the band returns with album number 3, "Black is the Colour".
On "Black is the Colour" Arven continues to combine elements of symphonic power metal and the inclusion of violin on a few songs gives it an added folk element. Getting started… the powerhouse duo of "Believe" and "Don't Look Back" are simply huge – majestically so. "Rainsong" is next and begins as a ballad before evolving into a mid-tempo track featuring some cool orchestration. Lead vocalist Carina Hanselmann provides her soprano style throughout the CD. Continue reading »
6 color styles available:

Style switcher only on this demo version. Theme styles can be changed from Options page.