Browsing articles tagged with " bleak"
Independent Release
Review by Tony Cannella
From Tehran, Iran of all places comes the operatic, symphonic metal band Frosted Leaves. The debut demo is titled "Bleak Autumn". The opener "Still She Cries" is the perfect calling card for Frosted Leaves. The female operatic vocals of Flora Savant are quite dominant and front-and-center throughout the 4-songs presented here. The quality of both the production and the musicianship are top notch. The intricate "Heretic Anthem" is up next and continues with the path that is laid out on the opener. Some clean male and harsh vocals join in on this one, making this one of the more aggressive tracks offered up here – and also one of the best. Frosted Leaves, slows things down on the ballad "Depth", before picking up the tempo on the final track "Great Storm", which brings "Bleak Autumn" to a satisfying conclusion. Musically, Frosted Leaves are excellent and were an unexpected surprise. Vocally, F. Savant possesses a lot of talent and character in her voice. With "Bleak Autumn", Frosted Leaves presents a solid new voice in the Symphonic Metal Genre.
Rating – 75/100
Tracklist
Still She Cries
Heretic Anthem
Depth
Great Storm
Line Up
Flora Savant – Vocals

Shahrooz Goodarzi – Harsh Vocals

Armin Arefi – Guitars
Ali Seif – Guitars
Links
Label: Orcynia Records
Review By Tony Cannella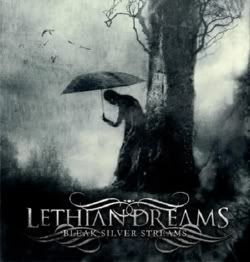 Doom metal is alive and well and currently residing in France of all places. Actually I'm talking about the band Lethian Dreams. At first glance of their new 6-song CD "Bleak Silver Streams" I thought it was an EP. Although it has only 6-songs, the CD is actually 54-minutes long! All of the songs clock in at the 8-10 minute range and feature some of the heaviest riffs this side of Candlemass. The songs feature three distinctive vocal styles in their repertoire. The male vocals are handled by Carlos D'Agua. He employs two different styles, one is more of an aggressive extreme metal style and the other has more of a Celtic Frost "Into The Pandemonium" vibe to it. Carline Van Roos performs the female vocals. In addition to her vocal duties she also plays the following instruments: guitars, keyboards, bass and programming, she also wrote all of the lyrics and co-wrote the music with guitarist Mathieu Sachs who completes the line up. The 9-minute track "Elusive" starts things off and right from the get-go the listener is drawn in by the heaviness of the opening riff and a spoken word vocal bit, before the more extreme vocals come in. Carline's vocals come in a short time later and the contrast in styles is really cool and unique for this style of music. It is really a solid opener and the song really puts the band on full display. "In Seclusion" is next and it starts off slow yet still very heavy and is a definite highlight. The band doesn't stray too far from what they do best, and that gives the listener a sense of comfort, what you hear is exactly what you get. "Under Her Wings (Mournful Whispers)" is another song over 9-minutes long and it begins with a eerie keyboard intro before Carlos' extreme style vocals come in and soon give way to Carline. The trio of "Requiem", "Severance" and "For a Brighter Death" complete the CD. "Requiem" in particular is a big highlight on the CD. I like the fact that all of the vocal styles are split pretty evenly, they are all given plenty of space the show what they can do. Looking at the song titles, you can pretty much judge what the band is about lyrically. Nothing too happy here, but Carline's lyrics are well thought out and very poetic. With their doomy riffs, long songs and the overall feel of "Bleak Silver Streams" Lethian Dreams may not appeal to everyone, but fans looking for a new band to support in the doom genre, should look no further than Lethian Dreams. They just may be the next big thing in doom.
Rating – 75/100
Tracklist
Elusive

In Seclusion

Under Her Wings

Requiem

Severance

For a Brighter Death

Line Up
Carlos D'Agua – Vocals

Carline Van Roos – Guitars, Vocals, Keyboards, Bass and Programming

Matthieu Sachs – Guitars
Links
6 color styles available:

Style switcher only on this demo version. Theme styles can be changed from Options page.