Browsing articles tagged with " bodgan"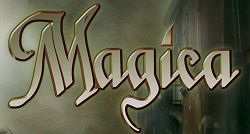 Interview by Robin Stryker
Founded in 2002 by guitarist Bodan Costea, Romanian melodic power metal band Magica has an impressive five full-length albums under their belts. Femme Metal chatted with vocalist Ana Mladinovici to learn more about the band's latest release, "Dark Diary" (AFM Records 2010).
Hello, Ana! Would you start off by telling us about Magica's new album, "Dark Diary"?
Hello there! In my opinion, "Dark Diary" is our best material so far and also my favourite one. The songs are very powerful, and the new sound helps the songs a lot and makes this material way better than the others albums.
This is the band's third release with AFM Records, a major German label. Is the partnership between Magica and AFM working out well for you so far?
The partnership with AFM it's a good one. They have a very good distribution and I hope they are happy with Magica's sellings since now. We still hope for a big European tour next year…who knows ?
Magica's earlier albums have a strong fantasy theme running throughout them – for example, "Scroll of the Stone" (2002) which told the story of Princess Alma and "Wolves & Witches" (2008) which was inspired by Romanian folklore. Does the new album have an over-arching theme?
The lyrics for this album walk hand-in-hand with the actual "Dark Diary" written by Ioana Dorojan, a diary of a teenage girl lost in the struggle with the ruthless society and dogmatic ways of thinking. It is kind of a concept album and we are very proud of it.
I was surprised (and excited) to see that the Amazon mp3 version of "Dark Diary" includes an 11-minute audiobook called "The Dark Diary". Can you tell us more about the audio-book and how Magica came up with the idea of adding a spoken-language track?
We were talking with Nils Wasko of AFM Records and we were searching for ways to fit the whole text of the diary into the booklet. At some point, Nils came up with the idea: what if we record an extra bonus track with someone reading the actual diary? It would be something like an audiobook. We thought the idea is awesome and so we asked Hilda Heidel, our drummer's sister, to be the storyteller.
I absolutely adore "Release My Demons" from start to finish. Which song really gets your blood pumping when you sing it?
It is so hard to tell…. maybe "Anywhere but Home" because it was written in a very hard period of my life and I'm very into it.
The limited edition digi-pack includes a cover of Running Wild's "Victory". Why did Magica pick this song for the bonus track?
It was also a choice of the label. The song was recorded a few months in advance because it was included on a Running Wild tribute album. So AFM considered that it would be cool to add this as a bonus track.
Magica has made some evocative music videos. If you had an unlimited budget, what track from "Dark Diary" would you pick, and what would your perfect video look like?
Unlimited budget? Wow! That would be great! "Anywhere but Home" that's the track for sure. It would be shot in as many locations as possible — for example, in front of the great Sphinx, on board of a shuttle launched for the Moon, ridding The Great Wall of China, or diving in the abyss in search of Atlantis maybe. Hehehe, I could come up with a ton of ideas. The problem remains that big IF you put in front of your question.
It seems like Magica's sound evolved from symphonic metal to power metal on the "Wolves & Witches" album, with guitars taking a more prominent place. What are the biggest differences between that album and "Dark Diary"? What genre or genres is Magica's new album closest to no w?
Bogdan (guitars) likes to call it melodic power metal. On "Dark Diary" we pushed the keyboards even more in the background just to make some more room for metal. The guys in the band are not so big fans of groups that center all the melody on a keyboard arrangement while the guitars are simply doing a rhythm job. There is a probability that Magica will become more and more aggressive as time passes by.
With five full-length albums in less than eight years, the band has been impressively prolific, when many bands struggle to release a new album every two to three years. How does Magica manage to keep up that pace while still offering something new with each album?
An answer could be that other bands are busy with touring while Magica, being so far from the heart of the metal stage (East Europe), does not have all opportunities that a German band has for example. Another answer could be that both me and Bogdan work in musical related environments.
What was the song-writing process like for "Dark Diary"? Was it a team effort, or is Bogdan Costea (guitar) still the mastermind behind the music?
Bogdan did basically all the work.
You and Bogdan have been musical partners for more than a decade – first as members of Interitus Dei and then, beginning in 2002, as original members of Magica. Why has your collaboration stood the test of time?
We are both very dedicated to metal, we are serious persons who will always respect their promises and we like more or less the same genre of metal.
Would you tell us a little bit more about the newer members of Magica?
Sorin, the bass player, is a funny guy that we knew from a long time back as a friend and a member of another band from our city. He works as a safety officer on a deep sea oil drilling platform. Hertz, our drummer, is a very active dude with very much work power, a guy that you can count on when it matters. Mostly he works as a techie for live shows. Finally the newest addition, Bogdan-Ionut, filled the spot of rhythm guitar. He is a lawyer who promises that the things will get even more heavy metal than before.
With your effortless shifts between mid-range and soprano vocals, it certainly sounds as though you have had classical training. What is your musical background?
Indeed I have graduated from a musical University but lately I do not like to mention that anymore as it has become more and more a cliche thing. Almost all female metal singers brag about being classically trained.
"Dark Diary" has quite a polished sound with the vocals and each instrument standing out distinctly. What role did Ronny Milianowicz (mixing) and Jens Bogren (mastering) have in shaping the album's ultimate sound? Why did Magica bring these guys on board for mixing and mastering duties?
Ronny Milianowicz did all the work (mixing and mastering) under the guidance of Jens. Initially, Mr. Bogren was supposed to do the mastering but it turned out that he was in the impossibility to work on our material in the period of time set by our label because he was busy with many other projects booked in advance. We chose Ronny because he had a big experience as a sound engineer, having worked with big names as Sinergy, Hammerfall, Paradise Lost, Amon Amarth and many more. We also liked him as a person, talking to him on the internet.
Is the album everything you hoped it would be?
99%
Does Magica have a special dream, whether it is playing alongside one of your musical heroes or performing at a particular venue?
Every band dreams about playing alongside their idols. For me, it would be great to sing in a duet with Roy Khan of Kamelot but I'm pretty sure that the other members will have very different ideas and choices.
What are the band's plans for the remainder of 2010? Might we be able to see Magica live soon?
For the moment the band is taking a couple of months break for me to recover after a surgical intervention on my thyroid.
Thank you so much for talking with us, Ana! Do you have any parting words for your fans at Femme Metal?
Thanks for the interview, feel free to visit www.metalmagica.ro and www.myspace.com/magicaband. Stay metal!
Links
Latest Multimedia
Label : AFM Records
Review by Tony Cannella
From Romania come the powerhouse 5-piece band known as Magica. The band line up consists of Ana Mladinovici (vocals), Bogdan Costea (guitar), Vali Zechiu (bass), 6Fingers (keyboards) and Cristi Barla (drums). The band have just issued their third album titled "Hereafter" and following their previous two releases "The Scroll of Stone" and "Lightbringer" the band continues to progress. The band plays what can be described as mix of classic and melodic power metal with elements of the progressive thrown in as well. The opening track "All Waters Have the Colour of Drowning" begins with a nice piano intro before really getting down to it. This song is also incidentally the first video of the album and it definitely was a good choice as it is a nice indication of what Magica is all about. Some really great vocals are supplied by Ana and the track also features some great musicianship and orchestration – and a nice guitar solo by Bogdan Costea deserves mention here. Next up is "Turn to Stone". This song keeps the pace going forward. It features a nice rock-solid guitar riff throughout and a great melody. Once again Ana's vocals really soar. She really does have an excellent voice and is truly a star in the making. Next is "Through Wine". This is just a straight forward power metal track and definitely one of the highlights here. "No Matter What" keeps things going with its message of optimism and is followed by "Entangled". This is a dramatic sounding song that Ana really sings her heart out on. This starts off as if it is going to be a ballad before it kicks in and maintains a steady, melodic mid-tempo throughout. Other highlights include: "This Is Who I Am", "Weight of the World" and "Shallow Grave". "Energy for the Gods" is another favorite. Possibly the heaviest song here it also features some cool male vocals to go alongside Ana's. I'm not sure who it is supplying the male vocals since it is not listed on the CD but it's still a nice touch. The final two songs "I Remember a Day" and the beautiful piano-laden ballad "Into Silence" are a nice way to close things out here. While their previous two albums were still very good they only hinted at the potential of this band. With "Hereafter" Magica have put it all together and delivered a CD that features 11 songs and 50 minutes worth of high quality melodic metal. There is not one bad song in the bunch. From the album cover art work, to the musicianship, songwriting and of course the songs, Magica are indeed the total package. This is one of my favorite albums of 2008. Definitely in my top three.
Rating – 100/100
Tracklist
All Waters Have the Colour of Drowning

Turn to Stone

Through Wine


No Matter What

Entangled

This Is Who I Am

The Weight of the World


Energy for the Gods

Shallow Grave

I Remember a Day

Into Silence

H.I.L.T.H.I.A.W. (Outro)

Maida Vale – "Remote Control" (New 2008 Version)

Submerged – "This Thing of Darkenss"

Temujin – "Let You Go"
Line Up
Ana Mladinovici – Vocals

Bogdan "Bat" Costea – Guitars

Emilian Costea – Guitar


6Fingers – Keyboards

Valentin "IngerAlb" Zechiu – Bass

Cristi "Beavis" Barla – Drums

Spencer Prewett – Drums (Session Musician)
Links
MySpace * http://www.facebook.com/metalmagica " target="_blank">Facebook * Site
6 color styles available:

Style switcher only on this demo version. Theme styles can be changed from Options page.