Browsing articles tagged with " books"
Interview by Danny Robertson
We spoke to vocalist Gogo Melone from Greek metal act Luna Obscura, to get an insight into the band's history and influences.
How and when did the band first get together?
It was in 2000. In the beginning there wasn't any major plan on creating LO, we just wanted to experiment with our musical preferences. I met Dimitris and Aris and I joined the band in the recordings of the demo "Darcanda". The idea to have male and female vocals came easily, I guess that we all loved this combination at that time and somehow we felt it was the right direction for our music.
Who first influenced you to become a vocalist?
As I've already said in the past, my first moment with the metal scene was when I bought the "Black Album" by Metallica, so I have the feeling that everything started then. I took vocal lessons, I was in chorus at school, in high school I started to sing in different bands…the usual stuff.
Who/what are the band's main influences as a whole?
Lyrically we're inspired by human psychology, moments in everyday life, our feelings and thoughts, sometimes by poetry and books!
How would you describe your sound to those unfamiliar with the band?
Our sound has atmospheric, death, gothic elements with harsh male and clean female vocals.
How long did it take to write and record "Feltia"? Had your sound changed at all since the early demo days?
I guess it's more mature now, has many dark elements, better balance in the vocal lines, better production but we are still in the same genre with our previous releases. The whole approach with this album was always so serious and important for us because we wanted to do everything in the right time, with the right people. After a small break and the release of the EP "Evilyn", we've started to work again. The problem was that we had already enough songs ready, recorded in different periods and so much new stuff. It took us 5-6 months to refresh and make the old songs to fit with the new. We've spent nearly a year with the recordings and the mixing of the album. It was a really tough period for all, especially for our guitarist Dimitris who is responsible for the most parts of our music and he did the whole work with the producers of this album.
What would you say has been your biggest non-musical influence?
Red wine and candles…. are killer inspiration

)).
What's your local scene like back in Greece? Is it easy for bands like yourself to get noticed?
Without the internet and the press, it couldn't be easy for anyone, you need everything…good music and good promotion as well. The Greek Metal scene is growing and many bands have started to act in a more professional way…this is really good. Of course the metal music industry has the normal ups and downs but people are always interested to discover new bands and artists.
Which other bands/acts, past or present, do you feel you share the most common ground with?
Maybe Draconian, Trail of Tears, Tristania, Theatre of Tragedy, Crematory and every band with death and gothic elements.
What have been your career highlights so far? What are your main goals and ambitions?
This album gave us everything and it's the start for our career. As for the goals and ambitions, we just want to share our music with the people, be creative and record another good album! Sometimes it's good to have a low profile and not expect so much.
What's next for the band?
Well, we just got signed with Casket Music/Copro Records, so the next plans are new album and gigs!
Any last messages for people?
A big hello and thanks to all of our fans! For those who don't know us please listen to "Feltia" and hope it gives you something good to remember!
Links
Interview by NocturnalConcerto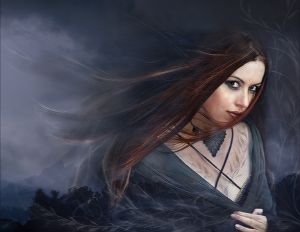 From the South of Germany comes the dark fantasy folk act Elane that present a challenging project called "Arcane", challenging because wants to merge literature and music with a hint of mysticism and ethereal vibes. See what the singer Joran and keyboardist Nico have to tell to us.
Hi Joran, thanks so much for accept the interview. First of all thanks so much! How are you?

Joran: Hi Miriam, thank you for your interest! I am fine, thank you.

Can you introduce the band with a little of history of it? Joran: Elane's members are Joran (Me) – vocals and flutes, Skaldir – Guitar, Nico – Keyboards, and Simon – Violin, Viola and Cello. Our sound is often called mystic folk. Well, the idea behind Elane was to start a soloproject, but soon the other musicians, Skaldir, Nico and Simon joined the band with their musical influences and ideas. The main mind was to create fantasy music… something that is very rare today.
Your latest album is called "Arcane" and it's based on the works of a Germany writer named Kai Meyer. First of all how it born this decision and who's Kai Meyer?

Nico:
Kai Meyer is a famous contemporary author of fantasy and historical novels in Germany. His books were also translated into many foreign languages, e.g. English, of course. I knew Kai's works before we personally met. And this was indeed a coincidence. I recognized Kai in the crowd during one Elane concert, and from that day the idea of "Arcane" grew.
Also why call the album "Arcane"? Does it to you have a particular meaning?
what's represent the cover album? There's this woman in the fog… Joran:
Yes, the cover artwork tells us that we can always expect something really mystical in nature and our environment. As written in "Loreley" you find something arcane behind the things, thus you'll find it in music as well. The lightsparks floating out from the hand lantern also symbolize the magic.

Did, during the composing of the lyrics, you have consult Mr. Meyer himself? And what Kai thinks about the album? Nico:
Kai was a perfect consultant. First of all he wanted "Arcane" to be a pure Elane album, not a soundtrack nor an audiobook-like story collection. And so he said: "Whatever you want
" Arcane"
to be – it is your decision". But, of course, we always asked for Kai's advice about the music and the lyrics. And he often gave the right little adjustments or redirections. Working together with Kai is simply fantastic. He gives you so much respect for your own work.
Doing a simple research I've discovered that Kai Meyer has already published 50 books, from which of these stories/novels you have taken more inspiration and why? Joran: I chose "Loreley" and "Die Sturmkönige" ("The Storm Kings") for two reasons. Firstly, I liked the settings of both books, because I always wanted to write something with oriental and medieval influences. And also because Kai signed a copy of "Loreley" for me with the words: "For Joran, who understands a lot of magical singin". Nico: For me his Books around the turn of the century till the 1920s are of great attraction. So I chose "Das Zweite Gesicht" ("The Second Face") for my songs "Masken" and "Goddess of the Night". It is the story of Jula Mondschein, an early film diva of high society Berlin of the 1920s. After her death her sister Chiara comes to her funeral and gets into a maelstrom of intrigues and mysteries herself. Then I contributed lyrics to Skaldir's song "Heart of the Desert", dealing with Kai's novel "Göttin der Wüste" ("Desert Goddess"), a magical book settled in former German colony of today's Namibia around 1900. Also I contributed "Magdalena" (based upon "Herrin der Lüge" ["Mistress of Lies"]), which is a song about the girl Saga. She was exploited to lead a crusade of virgins into the promised land under the name of "The Magdalena".
In the site in the banner appear in order, the following words : Mystic, fantasy and folk. Do you think that represent a sort of a band's anthem? Can you explain, you point of view, of this words for you, Joran?
Joran: It's almost impossible to describe a musical artworks style within just 3 words. It's like the smell of a flower, you have to try it yourself to know what it's like. But it is a small try to give just an idea or direction for people who don't like us yet. Let's doing a step back, what you can tell about the previous album "The Silver Falls"? Can you share with us some memories about the recording, writing process of it? For this album what was your source of inspiration? Nico: For us "The Silver Falls" was a break-out. The first 2 albums were pretty folky music, with mostly acoustic instruments with wide soundscapes and a fragile sense for melodies and instrumentation. But after the unexpectedly huge success of "Lore of Nén" we simply did not want to copy ourselves. First of all we wanted to give it a little try to do something different. And that is, what "The Silver Falls" was about. We used more distorted electric guitars than ever, had a studio drummer to make it sound a rock album with some mystic folk touches, but also some electronic sounds. And it was good to make your mind free for something different.

According to your site you are still signed on Curzweyhl label (and any news on the label site is present about "Arcane", so I presume that you're self produced) but I've noticed if I'm not wrong that "Arcane" is self produced, how's it hard to stay alive in the music business? How you plan the band activity? And why this choice? Never thought to sign with a suitable label? Nico: We always produced our albums ourselves. Skaldir is a brilliant sound engineer (Simon, too, by the way), so why enter another one's studio? And it was always important for us to decide about the music, lyrics, cover artworks and our future route ourselves. It is almost impossible to negotiate a record deal with a major label that allows you so much freedom of art. Regarding the music business it is indeed not easy to make the right decisions nowadays. It's not a secret that Elane's music is luckily able to refinance itself. But if we would not do everything by ourselves, this might look different. So, you see, there are no huge benefits for us, the composers and musicians. If you expect to make benefit with music, then stop doing what you like and start doing what the masses like. This is why we are happy about things being the way they are.

What are the next Elane projects? Joran: We are already writing songs for a second Kai Meyer-inspired album, because we had sooo many ideas. And for the future, we plan to continue doing what we love, without losing our roots.

So now I ask you this question, mainly my webzine promote metal bands, so really distant from your music genre but in some ways close in matter of ideas. If you should advice 5 celtic/ambient/folk album to a beginner, in your opinion what they are? Joran: Yes, Metal and Folk are somehow similar, they wear just another "robe" (I use to say). Well I like Loreena McKennitt, some albums of Clannad, and also some unknown Irish folk bands. Nico: I would advise the music of Dead Can Dance, Brendan Perry, ROME. I very much like Skyclad or recently I listen to Corde Oblique. But I don't prefer to think too much in genres. You should simply listen to good music, never mind about the instruments it's played with. Well, Joran, thanks so much for this interview hope you like it!! Love, Miriam x Joran: WE have to thank you, dear Miriam, for this interesting interview! Best wishes for you and your webzine.

Photo Credit
Photos by R.Hartmann/Glenvore Art
Logo by Glenvore Art
Links
MySpace * ReverbNation * Facebook * Twitter * Site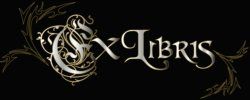 Interview by Connie Bach
What is the expression people have? Where they feel they've heard a song before, and it has a flavour all its own. While some elements are reminiscent of Tarja, others stand out as different from all others. Being both familiar and fresh shows quite a bit of talent.
Hi, Dianne. What's going on with Ex Libris at the moment?
We're very busy planning new gigs, writing songs for the new "Medea" album and rehearsing the songs we've already completed. We've set ourselves a deadline at which all of the writing should be finished but there's still loads to be done. We want the music on our new album to be a challenge for us as musicians, an inspiration for the listeners and a feast for the crowd. The "Amygdala" album already gave us a great start but there's more to come in the epic album that "Medea" will be.
I looked up the Latin translation, recognizing Ex Libris as a Latin phrase. It translates to "from the books". How does the actual meaning relate to the band's choice of name?
Yes, if you translate the word Ex Libris you will find that it means "from the books" but an Ex Libris is also an object (like a seal, stamp or a brand) which is used to indicate ownership of products of a guild. You could say that by naming the band Ex Libris we would like to brand our products as our own.
If you envision the future, what would be the dream venue for Ex Libris? What other bands would appear in the same show?
I don't think that there is one dream venue for us. There are too many awesome stages, concert-halls and festivals where we wish to perform one day. This also goes for the bands with whom we would like to share the stage but we surely wouldn't say no to performing with Opeth, Devin Townsend, UnExpect or Freak Kitchen.
If the members of Ex Libris could all agree on three influential artists, who would they be? Why?
We all have very different backgrounds and our taste in (metal) music is not always identical either. For example: the bands I would often listen to when I was 16 years old were Skunk Anansie, Nightwish and Muse. For me all three singers of these bands were a great inspiration for the vocal styles and techniques I now use with Ex Libris. Peter tells me that he was influenced especially by Symphony X and the older music of Stratovarius and Metallica. And Paul says: "It's impossible to name just three bands. Let alone name three bands only within the metal genre. As I was thinking about this question my music player randomly picked Coldplay, Nevermore and Toxic!". With Ex Libris we compose music that has a good feel for us, without thinking about bands it may sound like. It is as Paul also said: "It's up to the listeners to decide which other bands come close". Out of all the awesome tracks on "Amygdala", why did Ex Libris decide to contribute "Destined" to Femme Metal's upcoming release?
I really like the feel of the song: it's fast-paced yet eerie. Sometimes it is hard to do both. Ex Libris pulls it off quite well. Thanks, I like the song very much myself. It's a funny piece of music that could resemble a strong ballad when looking at the lyric vocal lines but doesn't reveal itself like that because of the guys playing fast riffs and solos. It's a song with two faces that really connects with the lyrics and amplifies them. The lyrics to "Destined" are written by our drummer Joost van de Pas and tell us about the inner struggle to overcome grief and move on to better times.
If there is one track in particular that has a personal story behind it, what is that song and what is the story behind it?
All the songs on the "Amygdala" album represent a different aspect of me growing up and reaching adulthood. The lyrics on the album are about problems I have been dealing with, thoughts I had and statements I wanted to make.
"Dawn Of Sugars", the first song on the album, is about me becoming an individual. Getting rid of all the ideas that are pressed upon you by the government, religion and others. In the song I also try to encourage other people to start thinking for themselves and dare to be different.
"Love Is thy Sin", is my "sorry for dumping you" song in which I try to explain to my former girlfriend that she and I were not able to survive together. The lyrics say that it would have been better for us to never have loved each other so that I didn't have to hurt her by breaking up.
"Breathe With Me", the third song on the album, is about a power play between two people who feel attracted to one another and the emotions you feel when someone is yearning for your body.
The songs "Sail…", "… Out to Farewell" and "Death Becomes Us All" are combined into one epic and resemble the end of my 3.5 year relationship with our drummer Joost van de Pas.
In the song "Sail…" a fisherman's wife watches her husband set out to sea, knowing that this is their goodbye. "… Out to Farewell" tells the tale of death who's coming to get the fisherman. During these two songs you'll hear the fisherman (spoken by Koen) writing his goodbyes in a letter to his wife. "Death Becomes Us All" is an instrumental song which is the closing piece of the epic. The last song on the album "The Day Our Paths End" is about me becoming an atheist.
"Amygdala" is an intriguing album name. How does the name represent the collective strength of all the songs together?
The Amygdala are almond-shaped groups of nuclei located deep within the medial temporal lobes of the brain. They perform a primary role in the processing and memory of emotional reactions. Since every song on our debut album is a memory or emotion set to music, we could not think of a better name.
Turning to your own personal career, tell me a little about your background as a vocalist.
Well, I had my first singing lesson when I was four years old – a birthday present from my parents, who had noticed my interest in music and singing. At the age of 7 I sang my first solo with the Concordia Fanfare during a Christmas concert. Over time I was taught by several teachers and joined various choirs. When I was 17 I sang at a prom concert with the Gildenbonds Harmonie Orchestra where I met conductor and vocal coach Sef Pijpers senior who offered to help me enter the auditions at the ArtEZ Institute of the Arts, School of Music in Arnhem where I was accepted. During my bachelor years at ArtEz I was taught by soprano Elena Vink, did a short internship at the Nationale Reisopera and received master classes from Barbara Hannigan, Barbara Schlick, Claudia Patacca, Lodewijk Meeuwsen, Riekje Bakker en Felix Schonenbaum. After completing the bachelor programme I auditioned for the master programme and was accepted. Currently I am in the second year of the master program where I specialize in classical music written between 1850 and today. I receive my singing lessons from Elena Vink, Wiebke Goetjes and Constantin Nica. Apart from this I also take composition classes, write poetry for other composers and I'm chairman of the New Artez Student Association, a group of master students who organize interdisciplinary classical music concerts. I hope to sing my final exam in June 2011.
Opera and metal contrast very well. Is this where you saw yourself in the long-run?
I don't know. I've always known that my future lies in music but which direction my path will take I don't know yet. For now I am very happy with the way my career and Ex Libris can develop side by side. I love both and need both musical styles to complete me as a singer.
I firmly believe that mastering different styles of music enriches you as a musician.
What do you want to achieve in the future, as a metal vocalist?
Mastering many more different styles of singing but always with a healthy voice. I wish to be an inspiration to many young singers out there and want to let them know that you can sing (almost) anything as long as you keep your voice in good condition and be aware of the fact that a good voice comes with a good support of breath.
Part of the beauty of the metal genre is that bands and fans are so connected, so genuine. So what would all of the members of Ex Libris like to tell your followers?
It's so very true that metal fans are deeply connected to the music! I've done concerts in many different music genres but never were the people in the audience more devoted to the music than those I've greeted at an Ex Libris concert. It really is the biggest thrill ever when the audience is right there in the music with you! This being said I can only say that we would like to invite all our fans and followers to visit our concerts, experience our music and propose a toast to metal with us.
Links
Ex Libris : MySpace * ReverbNation * Facebook * Twitter * Site
Dianne van Giersbergen : Facebook * Site
6 color styles available:

Style switcher only on this demo version. Theme styles can be changed from Options page.