Browsing articles tagged with " brothers"
Label: Manalive Records
Review by Luisa Mercier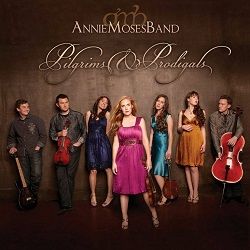 The Annie Moses Band hails from Tennessee and it is the brainchild of Annie, one of the Wolaver brothers and sisters that named the group after their grandmother that, even though poor, prioritized her children musical education, giving then birth to this next generation of musicians. The band has Christian roots, but their musical influences are very diverse and take from jazz, classical, folk, blues and bluegrass tradition as you can already hear in the opener "Poor Wayfaring Pilgrim" with an amazing string section. The band is extremely talented and musically educated and you can also hear that there is a lot of passion. They reminded me of Delta Rae, but more trained and with a more pop and less wild attitude. Continue reading »
Label : Sony Music Norway
Review by Luisa Mercier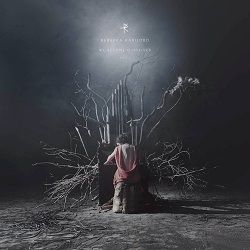 Rebekka Karijord is a Norwegian singer-songwriter, score composer, actress and "We Become Ourselves" is her fourth record. Since I am not familiar with her previous efforts, I will just analyze this album as a work by itself. What attracted me the most was the elegant gothic-tinged image that has been used as cover artwork that perfectly fits the music contained in the album. I read that "The Noble Art of Letting Go", her previous album focused on love relationships, while this one explores more themes. They always deal with her relationship with men, but this time they are not only lovers, but also friends, brothers (the touching ballad "Oh Brother") and fathers. Musically speaking is quite simple, music never overcomes her haunting vocals: piano, percussions, electronic beats are the thick envelope that contain her vocal lines. Contrary to most of indie music, Rebekka tunes are also very accessible, listen for example to the single "Use My Body While It's Still Young". I challenge yourself not to be fascinated by the syncopated rythm and the catchy chorus. "Your Love" is another refined yet pop song. Strings, piano and vocals make way for a melody that recalls me Florence Welch. Another vocal bit I love is the bridge of "Multicolored Hummingbird" where she literally soars over the music. More acoustic is "You Make Me Real", really romantic, melancholic, a bit sad, but really it moved me so much. The album is closed by the anthemic "Ode to What Was Lost" and "Bandages", another skinny music piece where her voice stands out. I am loving this album, hope you do the same.
Rating – 80/100
Tracklist
Prayer

Use My Body While It's Still Young

We Become Ourselves

Oh Brother

Your Love

Multicolored Hummingbird

Save Yourself

You Make Me Real

Ode to What Was Lost

Bandages
Line Up
Rebekka Karijord – Vocals, Songwriting & Piano.
Links
Interview by Robin Stryker
Femme Metal spoke with Leeni-Maria Hovila, frontwoman of Finnish extreme fantasy metal band, Kivimetsän Druidi, six months ago. Since that time, the band has completed a massive North American tour and released its sophomore album, "Betrayal, Justice, Revenge" (Century Media 2010). We are delighted to chat with Leeni-Maria again and get caught up on Kivimetsän Druidi's whirlwind of activity.Hello, Leeni-Maria! We're glad you could join us today.
First things first, please tell us about Kivimetsän Druidi's new album, "Betrayal, Justice, Revenge".
"Betrayal" is our second album — the first in which I have made most of the lyrics, and the first in which we have tracks composed also by our drummer Atte and lead guitarist Rinksa.
If you had to describe the new album's sound in three words, what would they be?
Massive, symphonic, complex.
The title, "Betrayal, Justice, Revenge", has a nice ring to it. Where does the name come from?
It is simply a summary of the things and ideas happening on this album.
From earlier interviews, it sounds as though the band was not completely satisfied with its debut album, "Shadowheart". How much of the harder, more aggressive sound on the new album comes from a natural evolution in Kivimetsän Druidi's music, versus lessons learned from the first album?
The compositions are all natural evolution which was not even as fast as it would seem by listening to these two albums. All the elements of the tracks on "Betrayal" were already present in the few new songs of "Shadowheart", but most "Shadowheart" tracks were both very old and some very new material which sound quite different from one another. On the other hand, the harder, more aggressive sound in general is all about making "Betrayal" sounding how we wished "Shadowheart" would, so that was about a lesson learned.
As I understand it, you are a classically trained soprano. Did you ever consider pursuing a career in opera, instead of metal?
I don't have a great desire for that. The opera world seems a rigid place to me, also I do not have such a big voice. If I do classic genre and I do study it at the present, I am a lied-oriented performer, that is an other-than-opera- kind of classic vocal style. I see myself in the future as a performing cross-over soprano artist, who is most probably chronically broke.
Would you introduce your bandmates, and tell us what you like best about each person?
Joni Koskinen is something of a leader amongst us, if at all it can be said that we have one. I like and sometimes even envy his confidence. He is one of the two of our main composers, who used to do all of the lyrics in the past. He is a founding member and does the growls as well as rhythm guitar. Antti Koskinen, the former's little brother, is our keyboardist and the other main composer. Antti is also a founding member, is somewhat multi-talented, and is very much self-educated as a musician. He is very empathic. Rinksa, our lead guitarist, is also a founding member, although the original idea of Druidi was Joni's and Antti's. But Rinksa has been aboard from the very beginning. He is quiet and conscientious. Simo-Pekka, our bassist, is big and reliable and older than his young years would say. He is always sensible, speaks the utter unquestionable truth, and others never have to worry for him. But, if he gets hungry and there's no food around, you'd better come up with some. Quick! Atte, our drummer, is as far as I remember the last line-up change before myself. He is very good in his area, and the only member besides myself who has at least some classic studies. He used to play the faggot – hold on, I have to check if that, in fact, is how it is written … err, no. I meant to say fagotto. Or bassoon, my dictionary seems to claim they mean the same. Atte is funny. The joker of the band. And open-minded.
"Shadowheart" was inspired by a fantasy story that Joni has been working on. What is the inspiration for "Betrayal, Justice, Revenge"?
I think it still is the same story actually, regardless of the fact that most lyrics are mine or even the fact that most stories of those lyrics I had thought about well before I joined the band. I simply decided — when Joni said I should try writing lyrics and I decided I should try using my old ideas — that fine, now all these things are going to happen in the world he made to happen and that's it. And the truth is that in those stories, both the ones Joni wrote and the ones I'd had in my head before, some very basic things always remain the same. It is the nature of stories regarding where and when they happen. The same things, the same big truths always are the ones that people write stories about or fight wars over. Love. Honour. Justice. Betrayal. Ideals, be they false or true. Religion is the only "big thing" we haven't touched and have no desire of doing so in the future, but I think that if you take religion down to the little pieces to find what it has eaten, what you will find are all those smaller things I already pointed out and some more of their kind. Like pride. Fear. Especially fear.
You wrote many of the lyrics for "Betrayal, Justice, Revenge". Does singing your own lyrics feel different than singing lyrics written by someone else?
Yep. I sometimes feel pretty stupid about them, and this time I can only blame myself.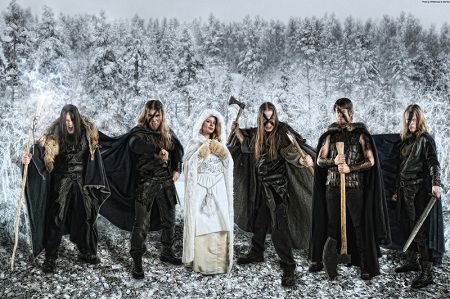 Are you a fan of fantasy? If so, what is your favourite work of fantasy?
Indeed I am. From the works of Tolkien, I prefer "The Silmarillion". The first books I ever read from the genre were the first "Dragonlance" trilogy. Perhaps my all time favourite is Orson Scott Card's strange little one-of-a-kind story "Hart's Hope".
Is "Betrayal, Justice, Revenge" mainly for fantasy fans, or does it have broader themes with universal appeal?
All the themes in our fantasy, as well as fantasy stories in general, are ultimately universal. They are always about the same things which make people move: love, ambition, ideals — betrayal, justice, revenge. Among others.
If you could select any Kivimetsän Druidi song for a soundtrack, which song would you choose and which movie would you put it in?
"Desolation: White Wolf" would be my pick — actually, we made a video for that one lately. Hasn't been published yet. Don't know about the movie, though … maybe it hasn't been made yet. Maybe we should make it. A full-length Kivimetsän Druidi fantasy adventure.
Most of the songs on "Shadowheart" are in Finnish, while most of the songs on "Betrayal, Justice, Revenge" are in English. Was the language switch intentional or happenstance?
Happenstance, actually. I sort of regret that, and hope to make more Finnish ones on the Number Three, whenever that may happen.
In November 2009, Kivimetsän Druidi performed at the Heathenfest Tour in North America, playing 20 different cities and covering 15.000 kilometres in the nightliner. What stands out in your mind from the tour?
Hollywood Boulevard. Giant turkey legs. Helmuth of Belphegor making me drink whiskey. Hilly views. Ridiculously good-looking night liners. Sushi places in NYC. A university campus cafe in Cleveland. Being slightly afraid at Detroit.
When you have a hectic tour schedule far from home, do you do anything special to make sure you stay sane and healthy?
Stay in my bunk whenever I feel bored. Go for a walk outside the bus when possible. Alone! Always, always have good and reliable ear plugs which damp out as much of surrounding noise — preferably talk — as possible. I can't always go for a longer run, sometimes I just jump or run on spot in the backstage or the hall before audience is let in. I go out, if only around the corner, to get a cup of coffee and look and listen to the local people.
Just reading about Kivimetsän Druidi's schedule in 2009 – a Russian mini-tour, writing songs for the new album, recording, going on the North American tour, and back into the studio to finish recording – exhausts me. Were you able to relax some after all that?
We did a little too much relaxing in the summer when we were supposed to be writing songs — or at least I did a little too much "relaxing" when I was supposed to be writing lyrics — so we ended up having to hurry in the studio, again. But it was not too stressing. It's not that all the band activity was overwhelming. It is this stupid thing called "normal life" like going to school, having to work alongside the school, paying the bills, having at least some hobbies and getting to see friends that makes things difficult.
What are the band's plans for the remainder of 2010?
Promoting "Betrayal, Justice, Revenge", doing as many shows as we can, perhaps getting to make a tour later in the autumn, also we have already lightly touched the idea of the Number Three Album if and whether there's going to be one. So writing new songs.
Thank you for taking the time to chat with us, Leeni-Maria. Do you have any parting words for your fans at Femme Metal?
Beware of fragile old bearded guys in strange looking clothes. They are bound to be wizards or something of the kind. Do not piss them off. Come check us out live. Get the new album, it really rocks. Rock 'n Troll.
Links
MySpace * Facebook * Twitter * Site
Latest Multimedia
Label : Stygian Crypt Productions
Review by Luisa Mercier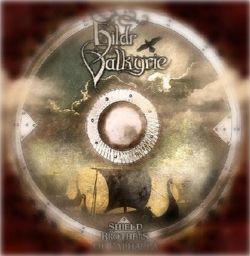 After the self-produced debut "Deceitful Fate", Hildr Valkyrie releases for Stygian Crypt her second record "Shield Brothers of Valhalla". The album is made up of ten folk tracks: their main features are Hildr's female vocals and the synth which is heavily used in order to create a dreamy and at the same time epic atmosphere. The aim of the record is to discover once again our roots, traditions and celebrate Nordic mythology, as she already did with her other two bands Folkearth and Folkodia. The sound throughout the album is quite omogenous since the song are all keyboard-synth based with Hildr vocalising through them. In some songs there are not real lyrics, but this creates a quite alienating mood, for example in "All Mighty Gods". I have to say that the metal side is not very prominent, but I guess it was a choice of Hildr. In the end you will find two cover songs, the first is Falchenbach's "Havamal", the second is Bathory's "Ring of Gold", both renditions are quite good and acoustic. I would recommend this album to folk and folk-metal lovers!
Rating – 70/100
Tracklist
The Battle Valkyrie (Intro)

All Mighty Gods

Valkyrja's Spoken Words

Father and Son

Thor, the Thunder God

To Wallhall Shall Meet

Shield Brothers of Valhalla

Riding Through the Battle (Outro)

Havamal (Falkenbach cover)


Ring of Gold (Bathory cover)
Line Up
Hildr Valkyrie – Vocals, all instruments

Alboin – Guitars (Guest)

Thanos – Screams n' Narrations to "To Walhall Shall Meet" (Special Guest)


Aled Pashley – Guitars, Drum Programming (to 2 tracks) (Special Guest)
Links
MySpace * ReverbNation * Site

Interview by Erwin Van Dijk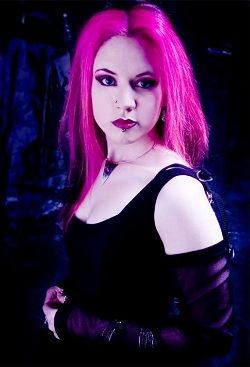 The first question: who is Sally Holliday?
Oh geez, what a question to start with. Well I would like to say that I am a wild child leading a rock and roll lifestyle but that would be an outright lie. I guess I am laid back, down to earth and approachable. I love nature and I am a photographer, which helps with the awareness of the world and beauty around me. I love old architecture and it riles me to see modern, characterless buildings replacing them. Anyway I could rant on about that for ages.
How did you get into the music business? Did you always wanted to become a singer?
I did always have a passion to sing however I was very shy as a child and I did not think that I would be able to get anywhere with it. I joined a cover band when I was living in Wales and it spiralled from there. Although I have been in bands for many years I never thought that I would get this far with it, it is still incomprehensible to me.
How would you describe your voice?
Hhmm, I find that my voice is fairly resilient. I like to push my voice to its limits to help it expand both higher and lower in notes and I shall continue to develop it. I still have a lot to learn and to do more to enhance my voice. It is a never ending learning curve. I really do not know how to describe my voice. Others have said that it is powerful however I am very self-critical and feel that may be too complimentary.
Guitarists and drummers can talk endlessly about their gear. Since you are the singer of Hanging Doll, what do you do to keep your voice in top condition?
I do not really have set rituals to help my voice although I know that I should. I do love tea and that is not good for the voice but I do try to eat sensibly and exercise my voice by doing scales and various vocal techniques.
Have you played in other bands before Hanging Doll? Or do you have an other band besides Hanging Doll?
Yes, with the various cover bands and then I started to join original bands but it is hard to keep original bands going and the motivation if the ideas are not on the same wavelength. The guys in Hanging Doll are like brothers to me. We get on so well and we all have the same visions and drive. We are always trying to test each others abilities and push each other out of our comfort zones to expand our horizons. No, I did try to stay in two bands but it was too difficult I needed to give my full attention to one band and I decided that this band had more potential and I was more passionate about the sound and ideas that they have.
So what kind of music do you listen yourself? And who is your favorite singer?
I love 80's goth and also various metal (glam, death, doom) and rock. I like a lot of instrumental, experimental and classical too. I am also fairly open minded with other styles of music as I feel it is good to consider other techniques and sounds. I do not really have a favourite singer but I love the vocals of Siouxsie Sioux, Julianne Regan (All About Eve), Rozz Williams (Christain Death), Gitane Demone, Beth Gibbons (Portishead), Harriet Wheeler (The Sundays)
About Hanging Doll: were did that spooky name come from?
Haha! Well it was before I joined. The guys tell me it was when they were watching Silent Hill and there is a scene in an old school with a hanging doll.
And, can you tell us something about the band in general? And the other members of the band?
Hanging Doll tend to be categorized as a gothic rock/metal band. Having said this we are inspired by numerous genres of music, which do and do not fall into such a category so I would like to think that we are a broader form than that . They are crazy lovable rogues haha! Although I am biased they each have such great talent and the individual input that they give keeps the sound, inspiration, ideas and band relationship strong.
Your debut album is to be released this year. Can you tell us something about it? About the songs and music? Will there be much difference with the music on the demo and EP?
We are hoping for a Sept/Oct release although a date has not been confirmed yet. The songs vary from love to death and war. I feel that the tracks interlink well with a good variety of sounds and feelings. We have strings on the tracks that are from the EP now which has increased the overall impact so they do sound quite different now.
Can you tell us something about your involvement with Rock of Ages fest and the Clive Aid Festival?
It was a great honour to play to support Clive and raise the money to help with his treatment and that of others with similar conditions. It was a fabulous event and there was a lot of warmth and good vibes from the other bands. There was a lot of adrenaline but I disappointed that there was no spandex. We will do all that we can to help with this cause.
And how did you manage to arrange a tour in Brazil? Are there any plans for a tour in Europe?
It was organized through Gotham Records, Birmingham. There are no plans for a European tour yet although we hope to organize one very soon.
And the last question, are there things the reader should know that I haven't ask?
We have a my space site : www.myspace.com/hangingdoll The official website will be viewable shortly at http://www.hangingdoll.com/
Links
6 color styles available:

Style switcher only on this demo version. Theme styles can be changed from Options page.