Browsing articles tagged with " cadaveria"
Label : Wormholedeath/Dreamcell 11
Review by Davide Torresan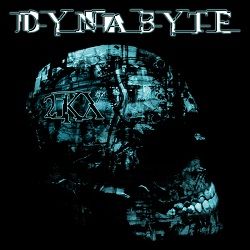 DyNAbyte is an Italian industrial metal band formed in 1998. Their monicker is the fusion of the words "Dynamite", "DNA", and "byte" that can suggest you the sound of this trio (vocals, guitars and bass). After a pair of demos, Cadaveria, the famous singer of her homonymous band, joined the band replacing DyNAbyte's first singer. She has a voice more aggressive than the previous member, and the sound of the band changed becoming heavier. In 2004 they released their first album, "Extreme Mental Piercing", in which they covered Led Zeppelin with the famous "Immigrant Song". This album is sold-out, but you can download it for free from their official website.
This one that i'm going to review is their 2nd release: "2KX". Curious title, isn't it? The explanation of this name is the release's date: 10/10/10. It was a Sunday, an unusual day to release an album.  When you listen to this album, you'll be overwhelmed by songs with a strong impact. Continue reading »
Interview by Connie Bach
Translated by Disgraced
Released on Wormholedeath, Mechanical God Creation's album "Cell XIII" is all finely-tuned fury. There is nothing but steelyaggression in MGC's brand of well-crafted death metal.
Hello, Lucy.
HI!!!
How did you come up with the dark topics "Cell XIII" discusses?
The album was born from the wish to express our inner, undeclared and huge anger. We have thought about how our society denies us the possibility to free and vent our inner rage, if not only in determinated occasions, as a matter of fact we're all chained to this concrete armchair, as was Prometheus to the mountain. From this analysis we've decided that it was time to let our voice be heard and represent this huge and inner force.
Would you say, that the combination of powerful lyrics and powerful instruments creates a kind of chemistry? Is it something that feeds itself, and you, on a deeper level?
 We tried to make music and lyrics fit together in order that no one of them abandoned each other. It was like we have tried to weave a well-stichted and tight texture that oozed all this aggressivness: the more the music was getting violent, the more my voice and my vocal lines were becoming aggressive and violent!
How did "Cell XIII" build on the foundations the band already had? How does it reflect where Mechanical God Creation wants to go?
"Cell XIII" helped us to find the perfect way to develop a composing process, a musical alchemy that sadly has been lost later on, since some members left the band. Of course the work done didn't lose its value: it's been the ground for a great, personal growth that will surely be useful for the nex record and that will help me going on on my musical road. Neither me nor the other MGC will stop, on the opposite we'll get better and better with the new line-up!
Specifically, what does the name "Cell XIII" refer to?
As I told you before, we started exploring the world of repressed anger where the body acts like a cage: the word "cell" comes from here and also the artwork leads to that concept, actually there's a person chained up in a cell. "XIII" has an esoteric and symbolic meaning, according to a worldwide tradition: it's an ambiguous number open to a myriad of interpratations and it represents the human duality, our inner and outer self.
Lucy, from your personal point of view, how does Mechanical God Creation differ from earlier projects you have worked on? Is there one thing you would bring from the past experience? If so, what?
MCG is a more personal project, I feel it mine more than the others because I created them out of nothing; I founded this band to try and create something new, something that was only mine in the world of extreme music. This is my band and not a band that I simply joined! The past lives on as a legacy in terms of songwriting and live experiences, professionality and a huge care for those details both musical and non-musical that gravitate around the band. Moreover, past experiences obviously help you to deal more easily with some situations and people and so they allow you to better understand what's going on. What nowadays is often denied is basic, without any doubt, to build an important project!
This question is for each member of MGC to offer input on. If each of you had one artist who influenced you the most, who would he/she be? Why would you choose them? Each of you probably has a different, individual answer.
Lucy: The first artist who inspired me the most was Cadaveria: I liked her vocal style a lot, very aggressive but with a feminine touch nevertheless.
Veon: There are surely three artists who had a big influence on me, which are Jaco Pastorius, Steve Di Giorgio and Jeroen Paul Thesseling. They have been in bands that I always loved. Another aspect that influenced me a lot stylistically and melodically has been the one of bringing bass-playing to a new level: not only a rythmic one but something inbetween rythmic melody and soloist parts.
If you all agreed upon a dream venue (even if it is one that does not exist yet), could you describe that ideal show, line-up, concert venue, etc.? This is sort of meant for those interested to get a sense of how you all can put this image together, by working with each other, the same way you do with a song.
Well, playing Wacken is always a dream. I've been there as a fan and I can say it's a very cool festival, so many people and interesting bands. But there are of course a lot of other places where we'd like to play. Our biggest love, so to say, are big open air festivals. Now I won't list here all the bands we'd like to share the stage with… way too many!
Another one for all of you to contribute to. What goes through your head the moment you finish a gig?
When the concert is over and you go downstage many emotions always linger on: in front of you there was someone who was there to listen to you, who was searching for something in you, who wanted to find a strong emotion in your music and therefore you hope you managed to communicate all that. You hope you played a great show, something unique because after all every gig is unique and unrepeatable and so wonderful! I take the chance to thank everyone who follows us and all those who support us in what we do!
What kind of people seem to connect with MGC's music the most? Why do you think it happens?
I think that MGC's music can appeal to several kinds of listeners: of course lovers of classic extreme metal as well as modern one and in general to whoever craves for a surge of adrenalin and wants to hear something fresh and new for some aspects. Last but not least, why not?, I think we might be appreciated also by those who want to rediscover the Italian death metal that in these last years gave us lots of nice surprises!
I have one final question, for each of you to answer, or work together on; its up to you. What is the fundamental purpose of music with darker themes?
It's surely a stylistical and harmonic research that at first is aimed to create confusion in the listener but then wants to give a sensation of rage, safety and personality to the songs, both lyrics-, musical- and vocal-wise. Nowadays being out of trends using darker themes isn't easy but there are some unxplored points of view that grant a new personality to his kind of music. It's impossible to say how through words, you have to communicate and feel it with music's own language.
Thanks to you, Lucy, and to everyone from Mechanical God Creation. I deeply appreciate everyone's contribution.
Thanks to you for this chance and for the nice and challenging questions! Hope to hear you again soon!
Links
Label : Dreamcell11/Aural Music
Review by Andrea Disgraced
Theatres des Vampires are back and this time with full force! Ok, let's start from the beginning: being an old, huge fan of the band and having followed them since the beginning, loving almost every change in directions they had made, since most times they did it with both "brain & heart", maintaining a very high profile, musically speaking. Until that infamous "Anima Noir", which dates back to 2008 and that brought a lot of doubts to my mind. Don't get me wrong, I own it and enjoyed A LOT one gig of the promo tour here in Italy but after that period I didn't listen to it anymore; when I decided to have another go at it some months ago I suddenly realized all the flaws that back in 2008 the excitement of a die-hard fan didn't allow me to see. But this isn't a review of "Anima Noir" so I'll be brief, although it's a necessary prologue to understand my following statements. In few words, that was a bad album, with half of the songs that really didn't do any justice to such a band. There was a wonderful song, the ballad "From The Deep" and generally talking the first half of the album was more than decent, with some shivers then and there (no, that wasn't meant in a positive way!

). second half of the album was shamefully bad, bad songwriting, ridiculous keyboards-laden songs with that electro flavour that can appeal only to German goth dance clubs (no offense of any kind to anyone attached, be it clear). Only other wonderful song, the magnificent closing title-track couldn't save the album from drowning, in my personal and most humble opinion. So I admit I feared not that TdV took a direction I wouldn't like or became even less metal or bullshit like that, but simply that they would've come back with a – in my personal and most humble opinion – bad written album. God! Satan! Whoever you want! I was So wrong! I'm consuming this promo, I think.

The band decided somehow to dare, without losing its trademarks since countess Sonya Scarlet is the singer, and wrote a bunch of kickass songs that I refuse to call vampiric as if this review or the album where aimed at a teenie goth who thinks Stephenie Meyer invented gothic/vampiric literature. The album starts with "Keeper of Secrets", a good, heavy gothic metal song that perfectly opens to you the doors to what Theatres are today (and, I hope for several years to come). Aggressive guitars but never wannabe-aggressive, if you get my point: they don't try to be harder than they actually are and it's perfect this way. A catchy opener that will bring massacres during gigs! Last but not least, it introduces the first guest of the album, Mr. Snowy Shaw of Merciful Fate and Therion fame (let's not chat about the latest happenings around him I'm sure you all know of and that don't get him in the light so much hehe

). Let me tell you something that I'm sure you all crave to know about. Sonya's performance is here probably her best EVER. It must be said that that is also due to a finally perfect production, able to give Sonya's different vocal nuances the right tone to be well expressed and recorded. Actually I think that her rockish vocals are quite interesting in the scene: unusual, sensual, with a lot of "recitato" (I take this word from the opera terminology to say that she really means what she sings, so to say). Not to mention that her opera-like singing, being it in the background or the leading vocal line, has improved so much and sounds now so incredibly good! Ok, not as powerful as the queens of "opera metal", but at least so clear, pure, crystalline you can't but love it. I dare to say even better than in those days in which she was merely a back-up singer and all (or nearly all) she had to do was to sing that way. Of course, throughout the whole opus we meet the usual male vocals – same speech here, sometimes they're just in the background, sometimes they duet with Sonya and sometimes they sing alone. Shame on me because I can't tell you who and when is doing them, since Fabian, Zimon and Gabriel, respectively keys, bass and drums are used to do those deep, male vocals, live too, so I guess you'll all have to attend a show! "Fly Away" and title-track "Moonlight Waltz" will make you feel like you wanna throw away half of your (modern at least) gothic metal collection, since these two passionate songs are surely above an average rating and mark other two songs I'm craving to hear live as soon as possible! Let's arrive to the cover song of this album: beloved Hijo de la Luna by Mecano, here in an Italian version called "Figlio Della Luna". Now, I usually hate covers identical or almost identical to the original, I wonder what's the point in doing that… This is NOT identical to the original, but not even totally different, that must be said. You'd recognize it very easily. Nonetheless, it's a fucking masterpiece! Perhaps because Italian is after all my mother tongue and so it has a particular taste – the exotic one for non-italian speakers. Perhaps because the orchestration and the band's skills turned it into a perfect symphonic cover – lately the only similar example I've heard, of something not having anything to do with symphonic metal that became an awesome pièce of it is "Still of the Night" by the goddess Tarja. Anyway this cover has it all: a heartfelt interpretation by Sonya, soaring orchestra and choirs and the right, fitting hitting of the band on the respective instruments. And if I can add, Sonya's performance has a nice feeling reminiscent of some classic (not classical) italian singers like Patty Pravo which is simply a point more in the whole thing. Ninth track "Le Grand Guignol" displays the talent of one of the first and best extreme metal women of all times: Cadaveria. The production gives a good hint, when she growls, of how she sounded back in the past with her previous bands, always on the edge of symphonic black metal and thrash; besides, we can hear also how perfect and angelic her clean vocals can be. "Obsession" is a good example of how you can make a song with electronic elements with an orchestra and choirs (thanks to the Classical Music Academy of Rome directed by Luca Bellanova) that would make many symphonic metal bands quite envious. Of course that isn't something related to just this track, as beautiful violins act as a perfect side part in "Carmilla", chosen as first single and which you can see the video to here. When I first listened to "Medousa" and "Carmilla", the songs made available on myspace, I admit I prefrred the former, though now also the latter, after nine or ten listenings before writing this review, has started to grow on me. "Medousa" is the closing track of this album, which features the classy participation of Eva Breznicar from neofolk-industrial band Laibach. Unfortunately although I like the song in itself, I don't find it a good ending, too anonymous perhaps. And I expected something more in the veins of Laibach, with their singer collaborating but maybe it was just me thinking wrong, maybe she was just invited to sing and stop. I still think it would've been an interesting experiment. On a negative note I can't help but pointing out that once again the English pronunciation isn't at its top at all; partly I think that's because of Sonya's particulasr style of singing: I mean, also when she sings in Italian I have problems in understanding the lyrics!

And if it can be of any consolation that's a problem shared by 99,9% of Italian bands in any genre, apart from those so commercially big that I think are forced by their labels to sing as clear as possible. Pity, otherwise my final vote (even though it's a number that doesn't count anything without reading the whole review) would have been higher. So, welcome back, TdV! p.s.The limited edition includes a bonus DVD with the video to "Carmilla", a "making of" of the album and other exclusive stuff.
Rating – 82/100
Tracklist
Keeper of Secrets
Carmilla
Moonlight Waltz
Fly Away
Sangue
Figlio Della Luna (Mecano cover)
An Illusion
Black Madonna
Le Grand Guignol
Obsession
The Secret Gates of Hades
Medousa
Line Up
Sonya Scarlet – Vocals
Stephan Benfante – Guitars
Fabian Varesi – Keyboards & Backing Vocals
Zimon Lijoi – Bass & Backing Vocals
Gabriel Valerio – Drums & Backing Vocals
Links
MySpace * ReverbNation * Facebook * Site
Label : Bakerteam Records
Review by Luisa Mercier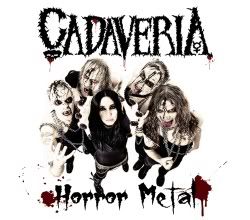 After five years of silence, the Italian extreme metal band Cadaveria is back. They are quite an institution of the Italian scene with their trademark sound. The title of this record says it all: the atmosphere of "Horror Metal" are very dark, aggressive, straightforward and sometimes splatter. Cadaveria mixes clean, creepy vocals, growl and screams while the gloomy intro of "Flowers in Fire" kicks in. The track is quite slow paced, desperate and never boring. The album mingles death, black, doom, trash and some hint of gothic metal. So, you understand that being boring is difficult. Tracks like "Death Vision" and "The Days of After and Behind" are some of the highlights of the album. They linger on a thin line between doom and black metal, the guitarwork is really remarkable, courtesy of Frank Booth and Dick Laurent who create a dramatic and horrific mood. The album is very varied therefore you may find a song like "Whispers of Sin" which is really trashy and "in your face" (even though the guitars are melodic here and there) and another like "Assassin" with a symphonic intro, immediately smashed by violent guitars. "Apocalypse" recalls their old works with its death metal edge followed by "The Oracle (of The Fog)", which is played between death metal and more melodic moments. The album is closed by the short "Hypnotic Psychosis", another simple extreme metal song. I have to say that probably it was worth the wait, the record is good and rich in influences, so none of you will never get bored.
Rating – 70/100
Tracklist
Flowers in Fire

The Night's Theatre

Death Vision

Whispers of Sin

Assassin

The Days of the After and Behind

Apocalypse

The Oracle (of the Fog)

Requiem

This Is Not the Silence

Hypnotic Psychosis
Line Up
Cadaveria – Vocals

Frank Booth – Guitar

Dick Laurent – Guitar

Killer Bob – Bass

Marçelo Santos – Drums
Links
MySpace * ReverbNation * Facebook * Twitter * Site
Interview by Ary R.
Cadaveria is one of the most famous Italian black metal bands ever. A new album will be released soon and I had the chance to exchange some words with the resolute frontwoman, Cadaveria, who has explained in short what Cadaveria means in the "horror metal" music scene and what's music for her.
Hi Cadaveria, welcome to Femme Metal.net. How are you? You'll release your new album this year and it's called "Horror Metal", it will be released via Baker Team. Would you like to reveal something about it?
Our new album entitled "Horror Metal" is already in stores, since January 31st 2012. We are really excited about it as we are very satisfied of how we worked and about the final result. Fans and critics seem to have the same opinion. All the tracks have been written with our new guitar player Dick Laurent. I can say this new entry brought new energy in the band and let us approach to Horror Metal songwriting with a great enthusiasm, as it was our debut album. This feeling can be perceived in the sound, that has been renewed, without distorting its nature. This is surely the most obscure, sick and complete album Cadaveria has even released.
Cadaveria is an italian black metal band, founded in 2001 and you come from a reality that was previously formed by Opera IX. Would you like to give us, shortly, a little biography of the band, for those people who still haven't listened to your music?
When me and Marçelo Santos (aka Flegias) decided to start a journey into the Metal music it was 1990. After some clumsy hardcore efforts, we entered Opera IX, bringing the female growling voice to the metal scene's attention. In that period just Sabina Classen from Holy Moses was known in the scene. In 2001 we split up from Opera IX and decided to found a new band, 'cause we felt we had more different ideas to propose in this musical circle and wanted to unbound ourselves from the stereotypes of the genre we had played with our previous band. From that day on we have ever been in creative ferment and full of new initiatives. Even if in ten years we released only four albums, we think to have done our best and now we can look at our past albums with no regrets. We have got great satisfactions from the gigs we played abroad, in Europe and Central America, and from the fact the number of our fans is still growing day by day.
As I've said, this year your new album will be released for Baker Team. I know that, previously, you had a record deal with Scarlet Records and right after with Season of Mist, that have released your previous album, "In Your Blood" (2007). How was born the collaboration with this label?
When we recorded our debut album "The Shadow's Madame" Scarlet Records showed an immediate interest towards Cadaveria band. With them the cooperation continued also for the second full length. When we were going to release our third album "In Your Blood", we had a look around, to see if we could embrace a larger market and reaching more fans with a foreign and well structured label. Season of Mist answered it was interested in producing the album. It seemed a good idea, also 'cause this label has a division in the US. But being a larger label it was less interested in a specific and targeted promotion. For this reason, with our fourth album "Horror Metal", we decided to come back to Scarlet's home, that in the meanwhile had created Bakerteam, a division of the main label, more focused on out style. Now we feel at home, we work with our friends and all is more simple. With renewed spurs we are now working better and all of us is doing his best to promote this new release.
Your style is coined as "horror metal". Could you please explain who had the idea to stick this name to the sound of the band and above everything, the reason why about it?
To be honest I don't remember exactly who used this definition for the first time to describe our sound, maybe Scarlet Records itself in the period of our debut album release… Anyway, what is sure is that, since then, all fans and critics started using this term to identify Cadaveria style. We liked this, 'cause finally horror metal doesn't mean anything specific, ad we love not to be classified and restricted inside a specific genre. If you listen to a Cadaveria album you can find many influences: from the first Black Sabbath to the most recent Tool, passing through Celtic Frost and Death. You know, every label is too tight for this, while a vague term like horror metal is perfect to play our game. Finally with this last album we have played with the word "Horror": many lyrics have been inspired by horror movies, as well as the band pictures… and the atmospheres you can perceive in these eleven new tracks are surely dark, sick and horror-oriented! So, nothing better than Horror Metal to come back on the scenes after five years!
Cadaveria is surely one of the few italian black metal bands that became famous in a quite extreme and perhaps little-known music scene in Italy. How was the idea of creating a band that has your own name born?
Well, when we went and play abroad with Opera IX, fans welcomed us shouting "Cadaveria, Cadaveria…". After the split for me and Flegias was simple and natural to use my nickname for the band. This created a sort of continuation, as the singer is always the same. For us it was important to be recognized by fans and that fans knew which were our origins.
You are a very curious band, since all members have the name of a "bad guy" or a movie title by David Lynch. Who started the idea of having an "alter ego" for the band? Especially, how the choice of various "nicknames" was born?
Also in this case we didn't think about this so much. We are great fans of David Lynch and we love his movies. The 'bad men' of his movies have spine and are more interesting than good characters. They remain in your mind as Lynch is used to create a sort of caricature for bad guys. Our music genres is, for definition, bad, disturbed and sometimes abstract, exactly like Lynch's movies. On stage, as well as on the cinema set, who is under spotlights is an artist and, as artists, we love to play with our image, we like transforming it and we like to be theatrical. So we used Lynch's bad guy names as the role performed by an actor. Each Cadaveria band member chose the name according to his taste and considering the temperamental affinities with the movie character.
Ok, let's go back to the album. I've got a little chance to listen to it and I was under the impression of having seen some references to atmospheric gothic metal, thrash metal, death metal and especially black metal; in short, there is a bit of everything. How did you decide to try all these styles on a unique album?
Well I have already explained this mix of genres, while I was talking about the term horror metal. This mix can be found in all our albums. Probably this time it is more tangible and evident.
You are known for your image, for being a resolute and powerful woman, but also for your kind of singing that is sometimes more melodic and sometimes it becomes "growl" and aggressive. How do you balance everything? How do you train your own voice?
When I started shouting on the microphone it was just a dirt and rotten growl. Along these twenty years I experimented new vocal solutions, shifting my limits, in order to use and mix the clean vocals and the growl in a more harmonious way, sometimes adding a third way, that is the screaming, a sort of middle stage between growl and clean (or, if you prefer, a more feminine growl sang doing a melody), that is more theatrical and emotional. In all these cases I'm in continuous studying and development. The balance is a question of mind, this duplicity reflects my way of being. My mind tells my body how to emit the voice.
I should admit that this album is very chameleon: there's a lot of different genres, a very good production behind it, a good mixing, all elements that differ themselves to the previous albums, like "Far Away From Comformity" and "In Your Blood". How the production of the album has been and especially how was the album born?
Yes, the composition process for this album was a bit different from the ones used fot the previous CDs. Dick Laurent, Marçelo Santos and I composed the most part of the songs. The following phase took place in the recording studios, where Frank Booth developed all the arrangements. We dedicated a lot of time to the production, with Killer Bob at the mixer, in order to create that powerful and rough sound you can listen in "Horror Metal". All this requested hard work and long time, but we were not in a hurry and our final goal was to go near perfection.
If you could introduce the record with your own words, which words would you use to present it to the fans or to the press?
The most obscure and powerful album even released by the shadows' madame!
What kind of meaning does this record have for you? What is it for you?
It is the umpteenth birth and like all child birth is the result of efforts and sacrifices, but finally the product gives you a great satisfaction and the memory of the efforts disappears. The more the result is good, the most satisfaction is amplified.
How do you think will it be the reaction of the fans for this new record? Do you think it will be appreciated?
The vast majority of the reactions are extremely positive, and this let us understand we worked the right way. Sure, the detractors are always under the corner, especially if there is a girl singing, but we are accustomed to this and, above all, without rumors you would not be nobody.
Have you already scheduled a European tour or something "big" right after the release of the album?
No, by now we are just doing some live shows and festivals in Italy. Foreign offers are arriving, but it is early to advertise them. We will spread them through our Facebook page and on our website as soon as all will be defined.
This was my last question. Thanks so much for your time. Would you like to tell something to Cadaveria fans and to our readers?
Thanks a lot for the space you dedicated to us. I would like to invite all readers to check out our new album "Horror Metal". If you cannot find it in the music stores of your city, you can get it online, directly from our website.
Links
MySpace * ReverbNation * Facebook * Twitter * Site
6 color styles available:

Style switcher only on this demo version. Theme styles can be changed from Options page.