Browsing articles tagged with " california"
Live Report and Photo by Vinnie Johnson
Edge of Paradise, heavy metal band from California stormed through Seattle WA this past Saturday, April 27th and they marked their presence. I've discovered Edge of Paradise a few months ago when they released their single, "Break Away". I was curious to find out weather they are just another female fronted act or a band to watch, and they are definitely the latter. With solid and refreshing material and phenomenal musicianship, Edge of Paradise is no band to take lightly. Continue reading »
Label : Southern Records
Review by Davide Torresan
Chelsea Wolfe is an American singer-songwriter and eponymous band from California. She released two albums: "The Grime and the Glow" in 2010 and "Apokalypsis" in 2011. Recently it came out a collection of acoustic songs: "Unknown Rooms". It is not easy to identify the genre that this girl proposes, but she suggests us the term "specific brand of drone-metal-art-folk". "Prayer for the Unborn" is a sort of quirk, experiment. Indeed Chelsea reproposes with her own style five songs of the English anarcho-punk band Rudimentary Peni. The change is literally radical since these songs have nothing to do with punk. They have a rock soul closer to alternative rock. Guitars are often used with fingerpicking. There are parts more quiet and others a little bit faster. Each song in the album is similar to the next one, and they show us a good singer. Chelsea's voice is really hypnotic and soothing. Continue reading »
Independent Release
Review by Luisa Mercier
Anti-M is a California electronica band formed by keyboardists John Wardlaw, Ruston, and Mark Rumer (who's no longer with the band). This album is their third full-length release, all self-recorded, produced and released by the band. This album has a nice range of styles within its seventeen tracks spanning from hard edged goth metal tracks to dreamy ethereal interpretations.
The album is opened by the pulsating ethereal "Dreamin in Metaphor" who prepares us for the alternative gothic rock pieces "Let U In". This features Barbara Mosely's melodic vocals over the guitars and sets the stage for other catchy tracks along this style like the title track (more-guitar-oriented), the sweet electronic ballad "Deep" and following the down-tempo, gloomy and sexy but edgy piece "Rage". Later, "Little Things" also deliver itself as a nice example of female-fronted alternative rock style. Continue reading »

Interview by Matteo Bussotti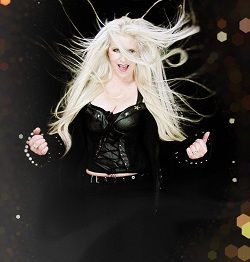 WildeStarr second release, "A Tell Tale Heart", came out not so long ago, so we decided to ask the band's founder and frontwoman, London Wilde, some questions. Being an extremely experienced musician, and having worked in pretty much all the fields related to music, we had the chance to ask her about pretty much anything which came to our mind; and her answers were very satisfying, it has to be said. So, here we present you the interview with London Wilde, from WildeStarr! Enjoy!
Hi London, welcome to Femme Metal! We are very pleased to have you with us here. My first question is: you pretty much did everything regarding to music, you composed the soundtrack for an independent movie, you were a sound technician, and now you sing with WildeStarr. How do these aspects of music differ from each other, and, on the other hand, are they similar in some way?
Thank you Matteo, it's great to be speaking with you! When someone hires you for a specific task, the goal is to present their vision to the best of your ability. In WildeStarr I am presenting my own vision, which is far more satisfying for me. It is also more challenging.  ALL my musical skills are required in the band because I sing, write melodies and lyrics, play keyboards, record, produce and mix. WildeStarr is the amalgamation of all my experience in music, and is much more personal.
Why did you choose to dedicate "A Tell Tale Heart" to E.A. Poe? Has Poe played an important role in your personal and artistic life, maybe?
The album is about a broken heart, and the journey it takes. The Edgar Allen Poe influenced stories are used as a metaphor for that journey and tells a new story. My writing in this theme happened organically without specific intent.  It could have been Tennyson, or Saki, other writers/poets I admire, but the subconscious creative mind chooses it's own muse. Horror and macabre themes really lent themselves to what I was feeling at the time. Continue reading »
Candlelight Records has announced the signing of DEMON LUNG. The Las Vegas-based quartet, featuring guitarist Phil Burns, basisst Patrick Warren, drummer Jeremy Brenton and vocalist Shanda Fredrick, is set to begin recording its full-length debut in the coming weeks at Sharkbite Studios in Oakland, California with producer Billy Anderson (SLEEP, HIGH ON FIRE, EYEHATEGOD) for a spring 2013 release. The band commented: "We are very honored to join the Candlelight roster. To be included among such talented artists is very humbling, and we thank the great people at Candlelight for giving us the opportunity." Metal Hammer called DEMON LUNG's four-song demo, "Pareidolia", "earthy yet horror-themed doom metal a la CANDLEMASS with an ACRIMONY groove." The magazine called Fredrick a "wild-eyed, satanic songstress." Popular music and film site Ave Noctum noted, "DEMON LUNG has a deft touch and solid sound. Their music is clearly from the soul. Fair to say they are a welcomed addition to the ranks of the doomed." Teeth Of The Divine added, "Fredrick has the requisite sultry pipes that keep a steady, hazy tone. She has a deep, bluesy voice that fits the languid music perfectly." DEMON LUNG has performed alongside PENTAGRAM, HIGH ON FIRE, JUCIFER, WITCH MOUNTAIN and CASTLE and will resume performing once recording has been completed. A video for the song "Lament Code" is available below. It was directed by Dustin Mills, the mastermind behind "The Puppet Monster Massacre".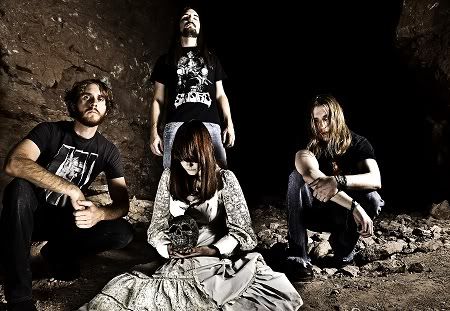 6 color styles available:

Style switcher only on this demo version. Theme styles can be changed from Options page.