Browsing articles tagged with " camilla"
Label : Ravenheart Music Records
Review by Tony Cannella
Camilla Raven has previously been the lead singer for Gothic Metallers RavenLand. Unfortunately she is no longer a member of that outfit and she has decided to try her luck as a solo artist. Her first solo work is a 4-song, 15-minute EP titled "Coming Alive". Among the four tracks offered here on "Coming Alive", there are two new songs, a radio edit of the title track and a cover of The Ramones song "Pet Cemetery" (originally from the movie of the same name). Camilla is joined by producer João Cruz, who also plays all of the instruments and male vocalist Sergio Mazul from the excellent band Semblant. After a brief piano intro the song "Coming Alive" kicks in and develops into a mid-tempo track and you can also hear the contributions of Sergio Mazul on male vocals, there is some definite chemistry between Camilla and Sergio as the two works well together. "Living a Lie" opens with an infectious, energetic riff and this track quickly became my favorite as it does a great job in combining accessible hard rock with Gothic Metal. Once again the duel male/female vocals are on full display here. Next up, we have a cover of The Ramones song "Pet Cemetery". This is just a nice and beautifully haunting piano ballad that shows a different facet of what Camilla is capable of. The EP is completed by the radio edit of "Coming Alive". With "Coming Alive", Camilla Raven has produced a fine debut offering that should more than establish herself as a talented songwriter and vocalist.

Rating – 75/100
Tracklist
Coming Alive

Living A Lie

Pet Cemetery

Coming Alive (Radio Edit)
Line Up
Camilla Raven – Vocals

Sergio Mazul – Male Vocals

João Cruz – All Instruments
Links
Label : Free Minds Records
Review By Tony Cannella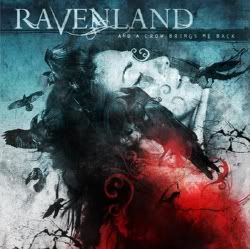 It is hard to believe that Brazil's Ravenland have been in existence since 1997. Even though it has been 13-years since the band first got together, they are only now releasing their debut full-length. They have beforehand released a number of demos and EPs, but "…And A Crow Brings Me Back" is their second full-length effort. Ravenland features the duel male/female vocals of Dewindson Wolfheart and Camilla Raven. The male vocals of Mr. Wolfheart are very similar to Fernando Ribeiro of Portuguese Goth legends Moonspell and Camilla boasts a powerful and dramatic voice. The two vocalists are split pretty evenly throughout the album. Musically and lyrically the songs on "…And A Crow Brings Me Back" paint a definite conceptual picture that certainly holds the listeners attention and makes for an interesting listen. The CD also includes a video of one of the best songs, "End of Light" is a pretty cool looking clip that was filmed in a castle and shows the band performing the song. The songs also have a darkly romantic quality to them. "…And A Crow Brings Me Back" is a 15-song, 60-minute dark, Gothic journey of a full-length by Ravenland, that fans of Moonspell and old school Goth will surely love.
Rating – 76/100
Tracklist
After the Sun Hides

She Will Bleed Again

Presage

The Last Sunset

The End of Light

Velvet Dreams

Burning for You

Soulmoon

Nas asas do Corvo

The Crow

Tragic Romance

Till Death Unite Again

Zodiac

Regret

Soulmoon (Bonus track)
Line Up
Camilla Raven – Female Vocals & Violin

Dewindson Wolfheart – Male Vocals

Albanes Gonçalves – Guitars

João Cruz – Bass

Fernando Tropz – Drums
Links
6 color styles available:

Style switcher only on this demo version. Theme styles can be changed from Options page.