Browsing articles tagged with " canada"
June 11 release of new EP marks the start of a very, very busy year
Band launches online video series: "The (Un) Real Lives" of Courage My Love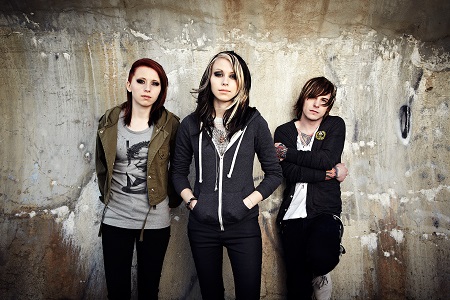 Homeskool Prom Records / Warner Music Canada recording artist Courage My Love have announced June 11, 2013 as the release date of their latest EP, "Becoming". Recorded in Toronto with producer Chris Perry, "Becoming"'s 8 songs showcase the band's rip-roaring rock. The first single from the EP will be the track "You Don't Know How" which will be accompanied by a video shot by award-winning director Warren Sonoda. Fans can purchase the single starting today at iTunes. The lyric video for "You Don't Know How" debuts today online at alternativepress.com . The release of "Becoming" will be followed by a series of live dates in Southern Ontario. The band's first full-fledged Canadian tour is expected to be announced for the Fall. Continue reading »
Label : Alfa Matrix
Review by Davide Torresan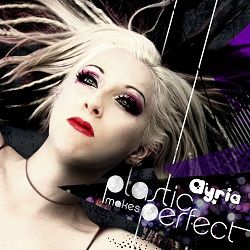 Ayria is back! After the release of the EP "Plastic and Broken" we are all invited to return on the dancefloor with her new album: "Plastic Makes Perfect". The Canadian queen of EBM returns to entertain us with her danceable songs. This time the thing that struck me most was the mood of some songs. For example the single "Hunger" is perfect when you're angry with the entire world. Instead "Friends and Enemies" has a catchy rhythm which fits perfectly as the background of a club. In short, from these simply words you understand that there's no space for sadness. Although Ayria tried different styles with her voice, in her world only one thing exists: the desire to entertain the listeners. This CD is available not only in the normal CD format but also in other two versions. There is a deluxe carton box edition and another one for free if you buy the limited edition. Both of them contains several remixes that will delight the lovers of industrial and electro-pop. Continue reading »
Label : Alfa Matrix
Review by Davide Torresan
Ayria is a Canadian dance-pop musical project formed by Jennifer Parkin. She's the former singer of the EBM group Epsilon Minus, and after the departure from the band she decided to give birth to this solo project. Its sound is characterized by her soft and sweet voice and melodic beats close to industrial and dance music. Actually she's working on her 4th album whose title will be "Plastic Makes Perfect". In the meantime Jennifer decided to release this EP, "Plastic and Broken", which is available for download on her Bandcamp page. This digital 7-track EP includes 2 songs that will be featured on her forthcoming album. Continue reading »
Label : Illusive Records
Review by Tony Cannella
From Canada, Embracing Soul was formed in 2009 and released their debut album "Shadow" only a year later. Their style is Gothic metal meets alternative metal, and you can hear this on their new 5-song EP "Luna".
From the opening track "The Raven" the songs are very hard hitting and unrelenting. Vocalist and bassist Chelsea Pisano reminded me a lot of Amy Lee from Evanescence at times. There is no doubt she is an influence and it shows in her style. Guitarist Brandon Iajecznyk is also there to add death grunts to some of the songs. The songs have a raw quality to them, songs like "Luna", "Immortal" keep things heavy and straight-forward. Continue reading »
Interview by Roberta Ilaria Rossi & Miriam C.
Young and talented, with a big desire of doing lots of new things, the Canadian band Mortillery is proud their second album "Origin  of Extinction", a pure thrash old school metal quite inspired by Overkill sound. In occasion of the official release sponsored by Napalm Records, we've got the chance to exchange a few words with the frontwoman of the band, Cara McCutchen, who brought us in a world of powerfull riffs and guitars that spit fire. Here's our chat!
Today our website has the great pleasure to welcome Cara McCutchen from Mortillery. Welcome Cara. How are you doing?

I'm doing awesome! Thanks so much for having me here!
For those who still don't know anything about you, would you like to introduce a little biography of yourself/of the band?
Sure! I am the singer for the band Mortillery from Edmonton, Canada. I started singing in metal bands 10 years ago. It has always been my and Mortillery's intention to play old school thrash metal. Continue reading »
6 color styles available:

Style switcher only on this demo version. Theme styles can be changed from Options page.