Browsing articles tagged with " cannella"
Label: InsideOut
Review by Tony Cannella
What do you get when you mix folk, psychedelic music with prog? Well, I am pretty sure it would come out sounding something like Knifeworld. Those three genres are just the tip of the iceberg. With their second album "The Unravelling", Knifeworld have so much more to offer that it makes classification nearly impossible.
"The Unravelling" is not the type of music that you hear a ton of in 2014. Their songs tend to be progressive, jamming kind of tunes in the vein of King Crimson, maybe a bit of Rush or very early Genesis. I have a great deal of respect for what Knifeworld has accomplished with "The Unravelling". The opening trio of "I Can Teach You How to Lose a Fight", "The Orphanage" and "Send Him Seaworthy" are high the musical dexterity scale. Continue reading »
Label: Lifeforce Records
Review by Tony Cannella
Ladies and gentlemen, Deadlock has re-arrived! On their latest output, "The Re-Arrival", the German melodic death/thrash metal band Deadlock brings the listener a melding of the old and the new – and here's the kicker – it all sounds fresh and vital in today's metal landscape.
With "The Re-Arrival" Deadlock present us with 15-songs and over an hour's worth of material, some re-recorded versions of older favorites and three brand new songs. The first new song is the opening track. "An Ocean's Monument" which happens to be a ferocious opener – this song gets the listener pumped right away. The band is fronted by the clean female vocalist Sabine Scherer and screamer extraordinaire John Gahlert. The two of them make an awesome combination. Continue reading »
Label: Nuclear Blast Records
Review by Tony Cannella
When it comes to Celtic influenced Folk metal, Switzerland's Eluveitie have to be considered one of the best, most influencial – and biggest of the genre. With their new album "Origins" the band has done nothing to dissuade their loyal and growing fan base.
The narrative opening intro "Origins" kicks things off and segues into "The Nameless". The songs range from mosh worthy frenzied numbers to beautiful Celtic influenced pieces. There can be no denying that Eluveitie are at the top of their game and in their prime, as songs like "From Darkness", "Celtos", "King" and "Inception" indicate. The song "The Call of the Mountains" is a huge highlight which sees female vocalist Anna Murphy showing her singing skills. Of all the songs, this is the most different on "Origins" and has a ton of mainstream potential. Continue reading »
Label: earMUSIC
Review by Tony Cannella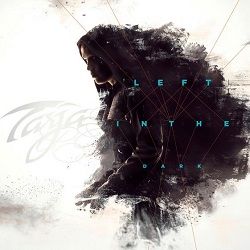 "Left in the Dark" is not the new Tarja Turunen album. Instead, this should be looked at as a companion to her previous album "Colours in the Dark". That said LITD is an album that includes demo, live versions and alternate version of 9 of the 10 songs that appeared on CITD.
The track-listing has pretty much been left intact. The lone exception is that "Darkness" has been replaced with "Into the Sun". A demo version of "Victim of Ritual" opens things and is followed with the excellent "500 Letters". This song remains haunting, frightening and beautiful. This particular version is recorded live acoustically at Vorterix radio. "Until Silence" is also from the same radio session. Beyond that, we get demo versions of several songs an instrumental version of "Deliverance" as well as variations on other songs from CITD. Continue reading »
Label: Jyden Music
Review by Tony Cannella
From Sweden, Akribi is a progressive metal band who fuses Dream Theater style song arrangements with heavy riffs and clean vocals courtesy of Jessica Åhman. The band was formed in 2003 and in 2011 released their debut album – this one here – "Black Morning Sun".
"Black Morning Sun" is over an hour long and several of the songs fall in the very prog-ish 6-9 range. Akribi are not afraid to go off the beaten path either as the songs occasionally veer off into tangents, jams and signature time changes. It all manages to keep the listener on their toes and wonder what's coming next. In addition to the longer songs, the band also gives us some shorter more immediate numbers. Continue reading »
6 color styles available:

Style switcher only on this demo version. Theme styles can be changed from Options page.
Archives
Calendar
September 2014
M
T
W
T
F
S
S
« Aug
1
2
3
4
5
6
7
8
9
10
11
12
13
14
15
16
17
18
19
20
21
22
23
24
25
26
27
28
29
30