Browsing articles tagged with " caracas"
Independent Release
Review by Tony Cannella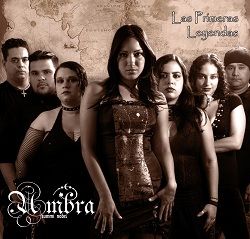 From Venezuela comes Umbra Summi Nobis. Their style is symphonic hard rock/metal and their debut EP is titled "La Primeras Leyendas". As you can discern from the song titles,this band sings mainly in Spanish. The first thing that got my attention with this band is the amazing vocal histrionics provided by Alexa. She's got such a remarkable range,sometimes she goes operatic and at other times she uses a more mid-range style, she got such a huge sounding voice, her voice just left me speechless at times. "La Primeras Leyendas" features a playing time of only about 17-minutes so it is over in the blink of an eye, but there is more than enough time to showcase what Umbra Summi Nobis is all about. The 1-minute intro "Obertura" gets things started and segues into the straight ahead riffing of "Mujer de Las Hadas". This is actually one of the weaker songs featured here but things certainly pick up in a big way with the next track "Nebulosa". This song starts off as a ballad but quickly builds into a mid-tempo groove. The opening of "The Enchanted" begins with an operatic intro as the song transforms into kind of a folk-ish type of song with lyrics sung in English. The final track "Nebula" ends things on a positive note as Alexa turns in perhaps her finest vocal performance and it is also sung in English. I am not sure if Umbra Summi Nobis's brand of Symphonic Metal will catch on but there is no denying the talent that this band possesses and is all too willing to show on "La Primeras Leyendas".
Rating – 80/100
Tracklist
Obertura
Mujer de Las Hadas
Nebulosa
The Enchanted
Nebula
Line Up
Alexa – Lead Vocals
Yareli – Backing Vocals
End – Guitar
Bray – Guitar
Alejandro – Bass
Freddy – Drums
Links
MySpace * ReverbNation * Facebook * Twitter * Site
6 color styles available:

Style switcher only on this demo version. Theme styles can be changed from Options page.