Browsing articles tagged with " carline"
Label : Orcynia Records
Review by Luisa Mercier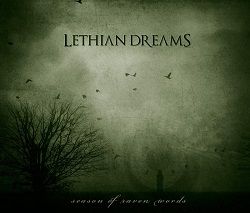 The singer Carline Van Roos is a very good artist, an artist able to put feelings in every project she is involved. Her fans will remember Aythis and Remembrance, two interesting projects and now it is impossible to ignore Lethian Dreams which have just released their second full-length, "Season of Raven Words".
In this band, the French singer showcases all her dreamy side; the wall of riffs mixes with her angelic vocals creating a thin and intangible atmosphere. They reach their aim and succed in creating a record made of emotion, fragility, dream and quiet melancholy. I have to say that none of the songs is catchy or easy to grasp, so the albums may need a few spins before you can fully appreciate it. The music featured in "Season of Raven Words" is a quite pure gothic-doom with no hooks, no choruses easy to remember, there is just the typical doom slowed down tempo and sometimes some black metal/post-rock passages (as in "Dawn" and "Satyrs"). Continue reading »
Label : Twilight Records
Review by Luisa Mercier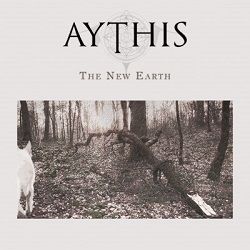 Aythis is the side project of Carline Van Roos, already known for being the frontwoman of doom-metallers Lethian Dreams, which releases I had the pleasure to listen and review some time ago. In this project, Carline expresses her ambient side, leaving outside guitar and metal noise, focusing on atmosphere, lush sounds, synth, keyboards, vocals without renouncing to a quite gloomy mood.
The opener and title-track points out towards this direction and will leave you with a feeling of melancholia that following "Ether" will only enhance. The song has some Medieval feeling, reminding me of Arcana and other neoclassical acts. Vocals are soaring and solemn and mix with the orchestral synth sounds that will leave you under the impression to be in an ancient cathedral. At least til the moment when a flute comes in and a more ethnic/folk feeling takes over. Continue reading »
Label : Firedoom Records
Review by Tony Cannella
From France, Remembrance play funeral death/doom metal and have previously released two full-length albums. Their third and latest is called, "Fall, Obsidian Night" and it is their first one to feature new drummer Norman Muller. "Fall, Obsidian Night" also features some of the heaviest and doom-filled riffs I have heard in recent memory – well, since their last one, "Silencing the Moments…". Remembrance features two vocalists, Carline Van Roos is the female singer, her vocals are clean sounding and sometimes operatic. The male grunt vocals are performed by Mathieu Sachs and this is what you hear on the majority of the CD.There are only 7-songs on, "Fall, Obsidian Night" but the album clocks-in at 51-minutes worth of high calibre Doom metal, with the majority of songs being in the 7-9 minute range, the only exception being the almost 5-minute (mostly) instrumental track, "Our Memories Are Made of Stones". Album opener, "Ageless Fever" begins with eerie keyboard music as the tune kicks in. The guttural, grunt style of Mathieu are on display for most of the track as the angelic female vocals of Carline adds a bit of a contrast to the song. Remembrance gets even slower and doomier on the next track, "Stone Mirrors". The heaviness just keeps on coming with, "The Omen", "Ice-Cold Conscience" and album closer, "Obsidian". The overall vibe on, "Fall, Obsidian Night" is dark, bleak and foreboding with a wall of sound that is just massive. If you like slow, deliberate and heavy riffing, then Remembrance are the band for you. With, "Fall, Obsidian Night" Remembrance have released a solid and worthy follow-up to "Silencing the Moments…" that fans of that album should love.
Rating – 73/100
Tracklist
Ageless Fever
Stone Mirrors
The Omen
Our Memories Are Made of Stones
Ice-Cold Conscience
Winter Tides
Obsidian

Line Up
Carline Van Roos – Keyboards, Vocals, Bass
Mathieu Sachs – Guitars, Vocals
Norman Muller – Drums
Links
Independent Release
Review By Tony Cannella
The pairing of extreme male vocals and female opera vocals, is nothing that hasn't been done before. Some do it well, some not so well. The Spanish band Tears of Martyr do it very, very, very well. The bands history actually dates back to 1996 with the release of their first demo, after releasing another demo in 2005, the band have just now issued their debut full-length, appropriately enough titled "Entrance" and to say this one blew my doors off (figuratively speaking) is an understatement.The piano/orchestral prelude of "Entrance" starts things and this brings us to… the relentlessly heavy opener "Realm of Pain". Right away the band demonstrates it's precision and talent and the duel male/female vocals are some the best I've heard in quite awhile. In female singer Berenice Musa, Tears of Martyr have someone that will give Tarja Turunen and Simone Simons of run for their money – she's that good. "The Book of Blood" is next and it is just a solid mid-tempo number with a crunchy guitar riff that is a huge highlight. "Evil Domini" is next and another highlight, before giving way to my favorite track, the melancholic "Dark Tears (Don't You Shed Those)". Other highlights include: "Shadows in the Path", "Violence In Red (A Violin's Story)" and the closing number "Ballad for a Tortured Soul". The band are highly successful in mixing parts of extreme metal (mostly with the male vocals), symphonic metal, power metal with healthy doses of melody."Entrance" is an outstanding first offering from Tears of Martyr and one that should appeal to fans of After Forever and Epica and bands of that genre. The entire presentation is first class all the way and it shouldn't be long before Tears of Martyr are mentioned in the same breath as the aforementioned bands.
Rating – 90/100
Tracklist
Entrance

Realm of Pain

The Book of Blood

Evil Domini

Dark Tears (Don't You Shed Those)

Shadows in the Path

Prelude to Violence

Violence in Red (A Violin's Story)

A New Design

The Renascence

Chasing the Sun

Ballad for a Tortured Soul
Line Up
Berenice Musa – Vocals

Miguel Angel Marquez – Vocals & Guitars

J.M. Astur – Guitars

Doramas Parraga – Drums
Links
Label : Firedoom Records
Review By Tony Cannella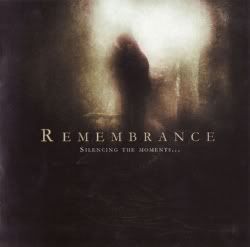 Carline Van Roos and Mathieu Sachs are very busy people these days. Not only are they part of the French Doom Metal band Lethian Dreams but they also front the band Remembrance also from France. The band describe themselves as funeral doom/death metal, so that should tell you all you need to know about where this band is coming from. Joining Carline (Keyboards, Vocals and Bass) and Mathieu (Guitars and Vocals) in the band is Norman Muller (Drums). The band has just issued their album "Silencing The Moments…" and it is a brilliant slice of down-tuned, doom metal of the finest and fiercest order. Like Lethian Dreams, Remembrance's "Silencing The Moments…" contains only 6-songs, yet clocks in at 56-minutes long. Most of the songs are between 9 and 12-minutes long. There is a lot of music hear. The song "Thief of Light" starts the doom. With it's eerie intro that builds to a crescendo as the track kicks in. The majority of the vocals are handled by Mathieu on this song and his style is of the more extreme nature. Carline joins in near the end of the song. The song builds nicely and it really is a great indicator of what Remembrance is all about. "Death Diaries" is next and it begins with a nice keyboard intro before the heaviness kicks in. This song is just out-and-out down tuned heaviness. Once again Mathieu handles most of the vocal duties with Carline providing background and harmony support. This song is very atmospheric and a definite highlight. Track 3 is the title song. "Silencing The Moments…" begins with a nice piano intro and Carline's vocals coming in over it. As the heaviness picks up the pace, the vocals of Mathieu comes in and really take over the song. This track is another highlight and it is obvious that Mathieu and Carline have great chemistry together. The next song "These Hallways Are Eternal" is also the shortest at almost 3-minutes long. It features some eery keyboard music with Carline's soft voice spoken over it. It creates a cool vibe and offers a bit of a change of pace. The final two songs "Fragments" and "One Reckless Sleep" end things on a heavy, doomy note and are two more highlights and a solid way to bring things to a close.What can I say? With "Silencing The Moments…" Remembrance have put out a solid release that is another fine statement in the doom genre. The songs are well written, well produced and the CD as a whole is very impressive and a great accomplishment for this trio of musicians.
Rating – 75/100
Tracklist
Thief of Light

Death Diaries

Silencing the Moments

These Hallways Are Eternal

Fragments

One Reckless Sleep
Line Up
Matthieu Sachs – Guitars, Vocals

Carline Van Roos – Keyboards, Bass, Backing Vocals, Drum Programming

Norman Müller – Drums
Links
6 color styles available:

Style switcher only on this demo version. Theme styles can be changed from Options page.