Browsing articles tagged with " carlos"
Independent Release
Review by Vard Aman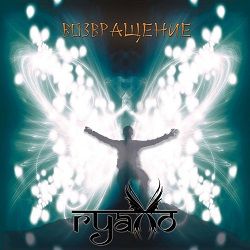 What an apt name for an album! Guaho are back with their second full length album, after their brilliant first offering, "На Пути в Икстлан" ("Na Puti v Ixtlan" – "On the Way to Ixtlan"). You can read the review of that album, as well as a brief introduction to the band here. If you're feeling too lazy to read it (tut, tut!), here is a brief summary: Guaho are from St. Peterburg in Russia and play an esoteric brand of Gothic Metal, lyrically based around all things occult, but particularly the Mesoamerican occult practices detailed in the works of Carlos Castaneda. The band's primary outstanding assets are the exceptional songwriting skills of Erema Nagual (a powerful Mesoamerican sorcerer skilled in the arts of shapeshifting) and the exceptional vocal skills of Daria "Mau" Ivlitskaya (an ancient Egyptian half-feline half-human goddess) combined with well thought out arrangements and excellent musicianship. Continue reading »
Interview by Miriam C.
The Dutch musical revolutionaries are back with "Disclosure". Elegant, subtle and refined as their style asks. Lone gone are the days when TG used to make your head bang, define them some little genious is so predictable but TG never stops to experiment itself. Everytime that they release a full lenght album is like putting a stepping stone on their long career, also they never stop you to surprised you (see the resuscitated The Gathering '92 line up gigs). And this matters we have asked some questions to the (once was a) newbie singer Silje Wergeland and to Réne Rutten for some expectation about TG '92.
Hi Silje first of all thanks for accept this interview. At the end of August/early September your ninth album "Disclosure" will be out. What you can share about its genesis, when you have nail down your first lyric?
Hello! I started writing down lyric ideas for this album some time ago, I think 3 years maybe (I guess right after "The West Pole"), and has been an evolving process since.
"Disclosure" was, in some ways, anticipated by "Heroes for Ghosts" in 2011. Why this choice? And also what you can tell us about the videoclip backstage and preparation? And what about its story?
Yes, we wanted to release this song last year to give a little teaser from the album. We all love this song, and it was one of the first songs we finished totally for this purpose. It is reflecting the atmosphere of the album, so it was a good teaser to go public. Regarding the videoclip it was originally meant to be done in Holland, but we decided in the last minute to do it in my hometown Bergen in Norway due to the script. The band flew in Dutch director Marcus Moonen, and we hired a Norwegian producer, who together with me and my boyfriend arranged for locations, car, styling, crew etc to be ready when Marcus arrived. It was all recorded during 2-3 days. We had a lot of locations so it was a busy busy time, very fun though! Very happy with the result. The video and the song shows a love story that ends with a break up.
I've imagined that being your second album that you've recorded with The Gathering you feel more "relaxed" and you don't feel the pressure (I mean all fans eyes' are not pointed at "who will be the next singer" fact). Thinking backwards did you have find something that worked better this time compared with the last recording session/album "The West Pole"?
Yes, for sure. It is all about the music and the new album this time, which is a relief hehe;-) We as band members knew each other better both in person and musically, so it was an evolving process where we worked on the songs more together from the start. It was also a lot more relaxed and we took the time we needed, and never rushed things.
"Disclosure" is such an elegant and profound title. Who came out with it and what's the meaning in your point of view? What you want to "disclosure"?
I think "Disclosure" reflects that we're making a little statement with our music, constantly showing we are developing and changing musically and doing it because we want and need to. And this album shows that the Gathering is all about music, making music we like. Also the lyrics are quite personal, honest and pure about life and dealing with heavy episodes I've and we've experienced in life.
"Disclosure" is coming with a 10″ EP vinyl called "Afterlights" : why remake this songs that are already present on "Disclosure"? And what's their main differences?
3 songs are also on the CD/LP but we did the 'mixes' ourself to give it another touch… and they are really different that the album versions. Only "Meltown" is a edit version.
Also connected to the previous question : why don't publish this release in CD format like for "City for Above"?
It's a extra gift for the people who will buy the full packages, maybe we gonna release it on a CD with extra songs or remixes, but that is still a idea.
In your opinion/idea what the meaning of the cover album, but before this (congratulations for it, I really like it!) who's the author and is it connected with the lyrics? It was random the choice of the cover to be in steampunk style?
Thank you, we love it too!:-) It is made by Carlos Vergara Rivera, a very talented Chilean artist. We have been in touch with him for some time and followed his art as he has sent us pictures he's done. We already started thinking about using drawings and artificial artwork for "The West Pole", but found the perfect picture for that album in a real photo. This time Carlos presented this artwork for us after we talked to him about a possible collaboration, and we all fell in love with his picture immediately. For me it reflects the beauty of expressing your heart and mind with art and music. It is something beautiful and fragile about it, messy but also very clear and atmospheric with many layers, just like our music.
Reading the tracklist, the fact that hit me so much is "Gemini I/II". What you can tell about these songs, are entwined in each other and why split in 2 parts?
Frank made this song, sent us a demo version like "Gemini II" with only strings. We all loved it immediately. I made the vocals on top of it. After some time the song developed more and more as a band song while the other band members worked on the song as well and "Gemini I" was born too.
I know that you've replied maybe a million of times but in which status we must consider your previous band Octavia Sperati?
Hehe, no worries. The status is basically that the band is not active and there are no further plans with the band. We are still very good friends, but everyone has started on other chapters in life with other bands, family or studies.
Now for René : I've noticed that The Gathering 1992 are come back to life, when is born this idea and also how did you felt play with them after so much time? Also never thought to record a live album of the recent played gig, sort of an official bootleg? Does this "collaboration" is something occasional or must expect something (I mean for a real record)?
Réne: Playing again the first gathering album is just for fun, we started with this idea because a friend needed help with a benefit show, and we all said yes! Let's do it for the fun! And when we announced it we got 6 more shows to do. Maybe we gonna record one club show and release it as a TG92 Live record. In 5 years form now we will come together again, but for now we have no plans for a new record with TG 92.
Now what are your next planes?
Réne: Our next plans are for The Gathering 92 line up to play some shows in September and right now we are doing a lot of interviews for the release of "Disclosure" in September and then we'll hit the road again early 2012 to finally play the new songs live. Can't wait!!
Thanks for both you and Réne for replying our questions. Please greet your fans as you want!
Thanks for your interest and reading this and for all the superb feedback and nice comments about our two singles released from "Disclosure" ("Meltdown" and "Heroes for Ghosts")! Hope you like the rest of the album just as much!
Links
MySpace * BandCamp * Facebook * Twitter * Site
Latest Multimedia
Independent Release
Review by Vard Aman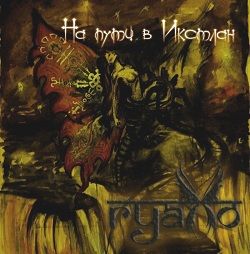 Founded in St. Peterburg in 2006, Guaho are certainly one of the more original bands around from both a musical and a topical perspective. The name Guaho, meaning "secret power" is taken from the works of Carlos Castaneda who wrote much on the topics of shamanism and the occult practices of the Yaqui Indians of northern Mexico. Castaneda himself became an apprentice to the Yaqui shaman Don Juan Matus. The album title is derived from one of Castaneda's books, "Journey to Ixtlan". A nagual, from which Guaho's guitarist and songwriter, Erema Nagual takes his name, is a powerful Mesoamerican sorcerer skilled in the arts of shapeshifting. However, Guaho do not limit themselves to the topics of Castaneda and the philosophies, spiritualism and occult practices of Mesoamerica only, they cover similar topics from elsewhere too. So Guaho incorporates a lot of magic, mysticism and ancient teachings into their imagery and lyrics; but it does not stop there (which is fortunate for those who don't understand Russian): their music is magical too – which is no doubt why I am unable to stop listening to it. Despite the Mesoamerican influences, do not expect something along the lines of Tenochtitlan (a Russian supergroup combining Doom Metal with Mayan and Aztec folk music). Guaho play what has been described as "Esoteric Dark Metal" or "Esoteric Gothic Metal"; the esoteric part being mostly in their imagery and lyrical topics.
But they are by no means ordinary Gothic Metal either; Guaho have a sound that is distinctly theirs – a sound they have created, mastered and perfected. Two things in particular have contributed to Guaho's musical rise above most of the inhabitants of the vast sea of Gothic Metaldom: the exceptional songwriting skills of Erema Nagual, and the exceptional vocal skills of Daria Ivlitskaya (also known as "Mau" – an ancient Egyptian half-feline half-human goddess). The songwriting and arrangements are excellent. The songs are melodic; conjuring the appropriate desired moods, often of a melancholic nature. Meticulous attention has been paid to the details; everything is done right and in just the right amounts. Daria's vocals are perfect for the music and she sings with immaculate control. She uses her voice wisely so that her vocal style best suits the part she is singing over, and this to me is the trademark of a really good vocalist. She also has a unique voice and stock vocal style, particularly in the way she ends many of her notes, so it is hard to mistake her for or to compare her with any other vocalist. To top it all off, she is capable of operatic vocals as well, which she uses sparingly but to great effect (e.g. in "Kadga Saditsya Solntse").
Few vocalists have the kind of range and versatility that Daria has, and even fewer have the self-control to use it so effectively. Yep, Mau has a new worshipper! Erema Nagual does his fair share of singing too (as well as a few spoken passages) and he is also a very competent vocalist. His rich, dark Gothic vocal style is very effective, especially in the parts where he and Daria sing together (e.g. in "Sumerki"). There are 12 songs on this album, including an intro ("Bhītabhāvana"), outro ("Dharma") and an interlude ("Lepis"). The intro is fantastic, and the interlude a bit chaotic (which it is no doubt meant to be). The songs on "Na Puti v Ixtlan" are all very good, but some are real stand outs: they are "Kadga Saditsya Solntse", "Era Vodoleya" and "Sumerki". "Magiya" is the song Guaho recorded a video for, and thus I presume it is the single. I don't rate it quite as highly as the other three I mentioned, but it does incorporate more of Guaho's versatility into one song than the others do. Guaho manage their variations (style and tempo) well throughout the album, but listening to the album from beginning to end the general tendency is that it gets gradually slower and more powerful, from the fast paced tracks near the beginning, "Guaho" and "Vostok", to the slow paced melancholic Gothic song at the end, "Koliybelnaya". The album as a whole is as well crafted as the individual songs on it. So, what is this band's secret power? Well, their power is in a combination of everything, and everything done in exactly the right amounts and in the right places; and their secret is… I can't say: that secret is locked in the talented creative minds of a shapeshifting sorcerer, a half-feline goddess, and their powerful mythical and arcane companions.
Rating – 92/100
Tracklist
Bhītabhāvana
Магия [Magiya – Magic]
Гуахо [Guaho]
Восток [Vostok – East]
Когда Садится Солнце [Kogda Saditsya Solntse – When the Sun Goes Down]
Позади Одни Огни [Pozadi Odni Ogni – Only Lights Behind]
λεπίς (Коллаж) [Lepis (Kollazh) – Scale (Collage)]
Эра Водолея [Era Vodoleya – Age of Aquarius]
Пралайя [Pralaiya – Pralaya]
Сумерки (Для Тех, Кто Уходит) [Sumerki (Dlya Tekh, Kto Uhodit) – Twilight (For Those Who Leave]
Колыбельная [Koliybelnaya – Lullaby]
Dharma
Line Up
Daria "Mau" Ivlitskaya – Vocals
Erema Nagual – Guitars, Vocals, Harp & Singing Bowls
Sergey "Naar" Makarov – Guitars
Andrey "Andrezz" Petuhov – Keyboards
Pavel "Leshiy" Antonevich – Bass
Vova "Hyperion" Babhin – Drums
Links
Label: Orcynia Records
Review By Tony Cannella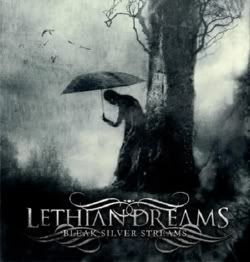 Doom metal is alive and well and currently residing in France of all places. Actually I'm talking about the band Lethian Dreams. At first glance of their new 6-song CD "Bleak Silver Streams" I thought it was an EP. Although it has only 6-songs, the CD is actually 54-minutes long! All of the songs clock in at the 8-10 minute range and feature some of the heaviest riffs this side of Candlemass. The songs feature three distinctive vocal styles in their repertoire. The male vocals are handled by Carlos D'Agua. He employs two different styles, one is more of an aggressive extreme metal style and the other has more of a Celtic Frost "Into The Pandemonium" vibe to it. Carline Van Roos performs the female vocals. In addition to her vocal duties she also plays the following instruments: guitars, keyboards, bass and programming, she also wrote all of the lyrics and co-wrote the music with guitarist Mathieu Sachs who completes the line up. The 9-minute track "Elusive" starts things off and right from the get-go the listener is drawn in by the heaviness of the opening riff and a spoken word vocal bit, before the more extreme vocals come in. Carline's vocals come in a short time later and the contrast in styles is really cool and unique for this style of music. It is really a solid opener and the song really puts the band on full display. "In Seclusion" is next and it starts off slow yet still very heavy and is a definite highlight. The band doesn't stray too far from what they do best, and that gives the listener a sense of comfort, what you hear is exactly what you get. "Under Her Wings (Mournful Whispers)" is another song over 9-minutes long and it begins with a eerie keyboard intro before Carlos' extreme style vocals come in and soon give way to Carline. The trio of "Requiem", "Severance" and "For a Brighter Death" complete the CD. "Requiem" in particular is a big highlight on the CD. I like the fact that all of the vocal styles are split pretty evenly, they are all given plenty of space the show what they can do. Looking at the song titles, you can pretty much judge what the band is about lyrically. Nothing too happy here, but Carline's lyrics are well thought out and very poetic. With their doomy riffs, long songs and the overall feel of "Bleak Silver Streams" Lethian Dreams may not appeal to everyone, but fans looking for a new band to support in the doom genre, should look no further than Lethian Dreams. They just may be the next big thing in doom.
Rating – 75/100
Tracklist
Elusive

In Seclusion

Under Her Wings

Requiem

Severance

For a Brighter Death

Line Up
Carlos D'Agua – Vocals

Carline Van Roos – Guitars, Vocals, Keyboards, Bass and Programming

Matthieu Sachs – Guitars
Links
6 color styles available:

Style switcher only on this demo version. Theme styles can be changed from Options page.