Browsing articles tagged with " carnival"
Label: S7S Records
Review by Tony Cannella
On their 2010 debut album "Perversion LTD.", the Dutch melodic Gothic metal band Sin7sinS hit the mark with an impressive debut, now with their sophomore album "Carnival of No Tomorrow", the band has reached another gear.
The ominous intro to the opening track "Brimstone Ignition" gives way to some slamming guitars as the clean vocals of Lotus joins in. She is accompanied by some male vocals on this opening track. In addition to Lotus – who is the focal point of the band – she is surrounded by some solid musicians. The next track "Sick of You" is brimming with attitude and a killer melody; this instantly became a favorite. "Pornstar Love" keeps things on course and has an electronic vibe to it on parts of the song. Continue reading »

Interview by Miriam C.
This time I've sit down with miss Autumn for drink a (virtual) tea, jokes aside, I have had the honour to speak with the last eclectic genious of our century. Ok, sound tacky and not true but it's really what I think and you know that I always try to be sincere with you all, dear readers. Eclectic because she's the true tightrope walker of the arts, she can switch from music to writing a glimpse of an eye. Genious, sorry but I really need to explain why? Now I prefere sitting in the corner and leave to her the word. For such person you have only to learn to fight and never surrender. Emilie is a true life's inspiration.
Hi Emilie first of all thanks so much for accepting this interview, I'm really honoured. I hope everything is going will with your American tour!
Hello, it's my absolute pleasure to sit down for tea with you today.
I'm gonna starting, before all, asking your about your book (that's already at 3rd edition, congratulations!) "The Asylum for Wayward Victorian Girls" that finally is out (again) to buy on your official shop, what details can you share about its genesis and the plot?
Thank you very much, that's very kind! Yes, the book continues to do very well and I am so grateful that so many people find this a story worth reading and making a part of their lives. It's truly incredible to me, since it is released independently and is only available in one place – my shop website (www.asylumemporium.com). For those who don't already know the story, this book is my autobiography of my time spent imprisoned in a mental hospital, but nothing is exactly what it seems, and the story quickly becomes a sort of fantasy, time travel, adventure, mystery novel that is actually quite a lot of fun to read. It is this story that's behind everything I do, from the music to the stage show, and this book has become the "Harry Potter" to the Plague Rats (the name for my audience) — the bible of this whole Asylum world that my art and life takes place within.
Emilie, your musical training lies in the classical music. How are you able to merge your classical side with the "industrial" one?
Once one stops thinking of music as being divided up into individual categories, each appealing to only one individual audience and begins thinking of it as just being a collection of sounds that blend well to accomplish an emotional purpose and tell a story, then it all becomes so much easier. Throughout the history of art, the way any new art form has evolved is that somebody put together things that traditionally didn't fit and simply made them fit until they seemed natural.
Despite being an artist, performer, writer – you're also a fashion designer. Congratulations for your dresses, I really love them. From where you take your inspiration and you never thought to create a dressing line for debut in such fashion events like Milan, Paris & New York?
Thank you so much for the compliment! The inspiration behind all of our costumes on stage is really quite simple, in that, just like the music, it's a blend of the old and the new, and then some fun fantasy bits that don't belong in any particular period but the imagination. Now that we have entered into a new era of performance with the "Fight Like A Girl" album and tour, I'm enjoying the new tribal elements, the warrior elements, the mohawk hairstyles and the bits of armor I am working today to incorporate. I've been sewing the new costumes before talking to you, and will get right back to work at it afterwards.
Now let's pass again into the musical side, on 2010 thru Twitter you have unleashed the title of your forthcoming album "Fight Like a Girl". It's really a strong title, what you can unveil about its creation?
The title of the album is meant to inspire a very strong reaction, and it does so because, even in this modern day in 2012, the phrase "you fight like a girl" is still used as an insult to boys, and to ridicule girls, and for absolutely no logical reason other than the misogyny that still infects our globally patriarchal culture. So, to those who are evolved and honor the feminine and are aware of her innate power, the title will immediately seems like a very positive thing, while to others who were taught that to do anything "like a girl" was a bad thing, the title will be more challenging, but this too is good. Art is about changing the way people think – not making people comfortable with what they already think.
I got really impressed by the statement that you have released for the PRs about F.L.A.G that says : "This record is my soundtrack. Of course, there's an overriding story arc. It's a social critique of the mental healthcare system spanning from the 19th century all the way up to the present, as well as the inequality women still face worldwide, whether they're crazy or not. I'm drawing upon my own personal experience as a notoriously bi-polar person who has been committed and lived to tell the tale. Hopefully, my story will give strength to those who need it, and raise a little awareness." – Did you have done some historic research for write down your lyrics? Also I would like to now if do you have a personal heroine that inspired you. Or you consider yourself the only and ultimate inspiration?
My great passion is history, and so, because it is what I love, I've done a whole lifetime of historical research, and will continue to do so, because it is what I study constantly. I certainly wouldn't feel I had any right to speak about things like gender issues or the treatment of mental illness if I hadn't the historical knowledge to back it up, and, also, it is by looking at the past that we discover how we became who we are and see where we can go in the future. There are so many strong women throughout history that I thank and am inspired by, from ancient rulers to early feminists, but I am even more inspired simply by the women I know, those around me, especially my Bloody Crumpets, Veronica, Contessa and Captain Maggots. These three ladies are the strongest, bravest, most talented and inwardly beautiful women I have ever known, and they inspire me every day.
Reading here and there I've knowledged that a Broadway musical taken from your "The Asylum for Wayward Victorian Girls" book is taking life. Have you any details that you can share?
I am very happy to be able to finally announce that Darren Lynn Bousman has officially accepted the role of director of the musical, so, between him and myself, this will definitely be a musical like no one has ever seen.
Also you have managed to put up your own imprint, how's it to be the enterpreneur of yourself? And why going solo? I mean your were onto Trisol, one of the best industrial label that I know. No more faith in the record companies?
Ha, yes! Definitely no more faith in record companies. None. I've been burned too many times, and have been stolen from, and have lost too much money that could have gone into my show or my work. All of my music and books from this point on will be under the label of The Asylum Emporium.
What you can tell me about Darren Lynn Bousman and Terrance Zdunich's upcoming project "Devil's Carnival". How you got in touch with the creators of the show and how happened to get involved into this project too?
They got in touch with me, actually. About a year and a half ago, I was on tour, and Melissa, my excellent manager, was contacted by Darren about this project. To be perfectly honest, I didn't know about Darren and Terrance, I hadn't seen the "Saw" films (even though I do have some songs on their soundtracks), and I hadn't yet seen "REPO! The Genetic Opera", so I didn't know what to think, but something about the very passionate way Darren talked about this project made me curious to know more. I very quickly became close friends with both Terrance and Darren, and, before I knew it, I was a part of this carnival family, and acting and singing in this magical, amazing film project with so many other wonderful actors and performers. I'm very proud to be a part of this film, and the best part is that we are soon going to begin filming for Episode 2!
The majority of people that listen music recognize that classical music as an elitist music. From your own side, do you think that with your music are you helping to "unhinge" such prejudice?
I really do feel that way, and I'm so glad and grateful to be in the position to encourage people, especially young people, to feel differently about something I hold so dearly. But the magical thing is that I don't really have to do anything other than make the music I make and let people come up with their own descriptions of it, or put it in their own categories. Those that enjoy my music, either the songs with vocals as well as classical elements, or simply my classical violin recordings, like it because they like it. And they often find that they love classical music, and even end up learning classical instruments, like the violin, because they want to celebrate and be a part of that kind of music and the joy it gives. But it's a very honest, non-judgmental approach. I'm not telling people they should like any particular thing, and so, when they do, it is very sincere, and they don't even know that they "aren't supposed to" like it.
What will be the difference between the "The Door Tour" and the upcoming "The Fight Like a Girl Fall Tour", what will change in matter of dresses, scenography and set list? Also all your female companions like Veronica Varlow & Co. are confirmed for the shows?
Yes, Naughty Veronica, The Blessed Contessa and Captain Maggots will all be joining me onstage. They are such a beloved part of this show to our audiences that I think there would be a riot of some sort if they weren't there! As I said before regarding the new costumes, we are definitely incorporating more of a tribal warrior element into both our look and performance, even the choreography. This next chapter is all about the war for freedom that takes place within the Asylum and the journey that we go from victim to victor. We want to take our audience on that journey with us.
What your next projects? – Including that fact that you have a lot on your plate, talking about the Broadway show, the film, a new book (a bird says me, right?) and new album to promote – what willbe your priorities here?
At this moment, the tour is the priority, but after that, my next two years will be spent mainly on the composition and creation of the Broadway musical based on the "Asylum…" book. It is an epic project that will take so much, but I think it will also be my greatest offering, and so I am willing to give it everything I have.
Emilie, thanks really so much to spend your time for checkout this humble questions that I've proposed to you, I hoped you have had fun replying in it. Feel free to greet our readers and your Plague Rats as you want. Thanks again!
Miriam, thank you so very much for your time and your great questions! And to all my dear Plague Rats, raise your paws and bare your claws, because we're coming for you and it's time to fight!
Links
MySpace * Facebook * Twitter * Site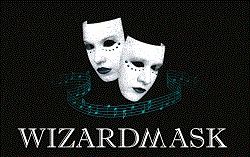 Interview by Vard Aman
In reality, they come from Novosibirsk in the South Western corner of Siberia. In reality, they are a recently formed group of extremely talented musicians who have just released their debut album, called "Carnival of Illusions". In reality, they play technical Symphonic / Dramatic Metal, and they play it very well indeed! But there is more to Wizardmask than just "reality", and when you enter the "Carnival of Illusions" you will discover a vast world that they have created: "Here live the dreams. Here languish the hidden wishes. Everything you can keep in your mind is possible here…" I spoke to one of the creators of this fantasy world, Wizardmask's diva Svetlana Sokolova.
Hello Svetlana, and welcome to Femme Metal Webzine! I understand this is your first interview, we are honoured!
Hello Femme Metal Webzine! I'm glad to be your virtual guest today and give you my first interview! Thanks for making it possible!
You have recently created something that very complex and very powerful. Take us through the creation of Wizardmask?
Wizardmask is a band created by two fantasists: Sergey Amelchenko (music, guitar, conception) and me, Svetlana Diva Sokolova (lyrics, vocal, conception, design). The idea of creating a rock band had come to us long time ago. For many years each of us had been making a beautiful music, which was like missing something, until we decided to write a song together. It was "Marine" composition – the first song which we had made together. The song was done almost in one moment, as if it was waiting for its time to come, and we realized that we can do more. Therefore our debut album "Carnival of Illusions" appeared. The album was released in winter 2011. Official release in Internet was on 1st of April 2012.
Who is in Wizardmask? Have you played in any bands before?
At the moment group consists of 4 people: Sergey Amelchenko (music, guitar, conception), Svetlana Diva Sokolova (lyrics, vocal, conception), Valeriy Fomin (drums) and Ilya Dubrovskiy (bass). Our drummer Valeriy is the only one of us who had performed with other bands before Wizardmask. He's one of the most talented people of our city, very experienced and professional drummer, who took part in many authors and commercial Siberian musical projects. Other members didn't have any experience of playing in serious projects, Wizardmask for us is the first experience of playing in serious band.
What is the story behind the name Wizardmask?
As you can see, Wizardmask consists of two words: Wizard and Mask. Wizard and Mask are generalized characters, parts of every creative personality. One of them is creative, fragile, delicate, sensitive, looking at the world in its own way and expressing it in its art. On the contrary, the other one is strong, vivid, energetic, strong-willed, it is able to knock down every barrier, break all stereotypes, create and destroy. Both parts individually are unstable and are in need of each other, when they are in balance, the real magic is born – the art. I think that every creative person has both such parts, some have more of one part, some of the other. What music is born depends on what part is dominant.
How would you define "Dramatic Metal"?
We play in Sympho/Dramatic Metal style. The prefix "Dramatic" shows the sonic picturing of our compositions and its theatricality. We're trying to create not merely good music, our goal is to create a valuable independent image in a listener's mind. In this style, as in no other, the ties between melody, arrangement and lyrics is important, no single part can exist without the others. It is very important to hear what exactly I am singing about, telling about, what role I am playing at the moment. In Wizardmask art we make use of synthetic approach to creation of compositions – confluence and freedom, lack of exact regular forms, our compositions are unpredictable in their development, this makes them even more interesting. Every piece of work is a little performance, a fairytale, a sonic picturing story, a scene played by roles, and not only by vocal parts but by all instruments. If you listen to our music carefully, you will feel it and maybe even see it inside you…
Your songwriting style is very technical and detailed on "Carnival of Illusions" and included an orchestra. Tell us a little bit about the songwriting itself and the recording process.
Sergey is writing songs for Wizardmask, thinking over every detail in the sound and the form of composition. Together we contemplate on what the song is really about and what arrangement it should have. Then I think up the vocals line, write vocalization, supporting voices, some melodic turns, I breathe meaning into songs and write lyrics. Sergey makes most of arrangements himself, but in some cases we ask for help from bigger professionals. As you can see in "Carnival of Illusions", almost in every song there is an orchestra, this is the work of our close friend, Honoured Artist of Russia Vitaliy Vdovin. It should be noted that writing an orchestration part over rock music is a very difficult and scrupulous process, many nuances should be followed. It's not enough just to write a nice orchestration part, it must be written professionally, without any errors in voice-leading and harmony, it's an unbelievably difficult toil and it can be done only by an experienced and talented person. Vitaliy has done that brilliantly, he has breathed true symphonic world into our project. It was an important experience for us. We are satisfied with the results. Instruments and vocals were recorded in Novosibirsk studios and Mixing & Mastering was done in the northern capital – St. Petersburg.
What is the theme tying the songs on "Carnival of Illusions" together?
"Carnival of Illusions" is a special place inside every person, it's the world of mysteries, fantasies and hidden wishes, the world of magic. Spirit of fairytales and dark beauty is running through every song. These are the songs about human's hearts secrets, about dreams that wait for their hour, about ancient gods, about sins and doubts.
How does your music translate live? Do you play live or make shows often? What is the audience reaction to Wizardmask?
The group has been completed quite recently, and at the moment we have played not very many live concerts. But it should be noted that every new concert of ours is an experiment on our part. Costumes, make-up, stage behaviour, interaction with the public… You understand, right?

) In future we want to develop the visual part of our performances and to accentuate our theatricality even more, using decorations, inviting dancers, light specialists and much more. It's quite expensive, but always interesting. People react well to us. We are open and sincere in our art and I think that everybody who comes to listen to us feels it. Our performances are like our revelation to the listeners, it's like our friends coming to our house, sitting by a big fireplace and listening to our mysterious fairytales.
What is next for Wizardmask? What are the group's plans?
We are planning not to stop now but to move on! To perform, to do active advertisement in Internet. We want to tell everybody about us. Also we want to perform a solo concert and to record another album, we have already started to work on it. We are constantly working on new music, and in a year we are going to release a second album, I hope the starts form up right and all our intentions will be realized.
How do your new songs compared with the songs on "Carnival of Illusions" so far? What can we expect from the next album, or is it too early to tell?
It's too soon to talk about new songs, we don't want to tell all our secrets. We can only say, that new songs will be "older" and much more interesting. The experience received helps us to develop our work and to open the specifics of our style and presentation of compositions.
What is the Metal scene like in Novosibirsk?
In Novosibirsk there are very qualified bands of different genres of Metal. But unfortunately the very industry of hard rock concerts is poorly developed. There are few scenes suitable for hard sound. Most of such concerts usually are organized in summer at various open-air festivals.
Tell us a bit more about Novosibirsk and what it's like living there.
Novosibirsk is quite a big city, not so big as New York, of course

) But big enough. There are many sights and monuments. The city is developing intensively in trading terms, growing dynamically, every year a huge number of hypermarkets and business centres are opened, the city is increasing its speed and rhythm of life, fully becoming a megapolis. In the centre of the city there are many cars, hurrying people, while closer to its outskirts, on the contrary, it's calm and soothing.
When most people hear the word "Siberia" they immediatly think "very cold". But Siberia is a big place and Novosibirsk is in the southwest. Does it get very cold there?
Sometimes it is very cold, temperature goes below -40 C . This weather usually begins in the end of January and lasts for 3 weeks – this time is called "hard frosts". It is hard to get used to it, but that's the Siberian winter – sometimes it can be so harsh! fur coats, fur boots and metro are saving us, because cars may not always start in such a weather. ))))
What do you do apart from the Wizardmask project?
I like classical music, so me and Sergey frequently go to theatres to watch performances and ballets. Often we relax out of town at our beautiful summer cottage. We go in for sports. We work in Design Studio (This is yet another joint project of ours). But Wizardmask art occupies most of our time. We are constantly creating something, carrying a dictaphone with us and recording each and every thought and melody that comes into our head. We are always in pursuit.
Thanks for talking to us Svetlana! You can be sure that we're going to follow the Wizardmask's progress very closely in the future!
Thank you for taking interest in our work and for giving us this wonderful opportunity to tell your readers about our project.
Links
Independent Release
Review by Vard Aman
Wizardmask is a recently formed band from Novosibirsk in South Western Siberia, made up of some very accomplished and professional musicians indeed."Carnival of Illusions" is their debut album, and it is available from their website for free download (though they would be grateful if you gave them something for it; they have certainly earned it). Wizardmask play Dramatic Metal, which is Metal which includes a lot of dramatic elements (I mentioned it when I reviewed Blackthorn) and is not something that is very easy to describe. In the case of Wizardmask the closest I can come to describing what they play is very technical Progressive Symphonic Metal. The songwriting is very detailed and very intricate and very well executed by Wizardmask. Fronting the big symphonic orchestration, the heavy guitars and the technical brilliance of the band is vocalist, Svetlana Sokolova. She has immaculate vocal control and is extremely versatile and expressive – all necessities for Dramatic Metal of this kind, and she suits the role perfectly! "Carnival of Illusions" consists of 9 tracks but because of the technical nature of the music it takes a few listens to get into – there is too much to take in listening to the entire album in one go for the first time.
The result is that after the first listen, I found myself greatly impressed by what I'd heard, but remembered nothing specific at all. Several listens later, I am still greatly impressed by all the technical intricacies of the music (even more so after several listens), but now I have several of the songs firmly stuck in my head. At first listen everything seems to merge because of the way the album and the concept flows, but after several listens the songs begin to stand out well from each other. It's a bit like looking at a car engine for the first time… OK, let's rather use a somewhat more appropriate theme: it's a bit like visiting a Trade Fair in the Forgotten Realms for the first time – you only remember a few things, like where the ale tent is, but after wandering around for some time you soon get to know where everything else is: the stores selling clothes, books, weapons, spells, potions, etc; and the secret entrance to the mage's dark tower. That is what the music of Wizardmask is like: the more you listen to it, the more you will discover, the better you will get to know it, and the more you will like it and the more you will want to listen to it again. Several songs from "Carnival of Illusions" stand out for me as highlights, although all of the songs are good. They are "Gromoverzhets"; "Sumrachniy Mir"; "Koroleva L'da"; "Karnaval" and "Bashnya". "Gromoverzhets" is a fast, heavy and powerful track interlaced with beautiful vocal melodies; while "Koroleva L'da" and "Karnaval" are slower, also with amazing vocal melodies. "Bashnya" has everything. The production is top quality – everything has ample space in the mix and all the instruments are crystal clear. "Carnival of Illusions" is the cumulative result of a great effort by a very talented and professional group of people who know what they want to do and know how to do it. That said I can understand how "Carnival of Illusions" might not appeal to everyone, especially after only one listen – this is not a band that uses the "less is more" philosophy. But for fans of the "more is more" philosophy, you need look no further than this – everything you could possible want can be found right here, at the Carnival of Illusions!

Rating – 90/100
Tracklist
Вертиго [Vertigo]
Громовержец [Gromoverzhets – The Thunderer]
Морская [Morskaya – Marine]
Сумрачный Мир [Sumrachniy Mir – Twilight World]
Королева Льда [Koroleva L'da – Ice Queen]
Богиня [Boginya – Goddess]
Маска [Maska – Mask]
Карнавал [Karnaval – Carnival]
Башня [Bashnya – The Tower]
Line Up
Svetlana Sokolova – Vocals
Sergey Amelchenko – Guitars
Ilya Dubrovskiy – Bass
Valeriy Fomin – Drums
Links
6 color styles available:

Style switcher only on this demo version. Theme styles can be changed from Options page.