Browsing articles tagged with " cave"
Interview by Gaia Stella Rotondi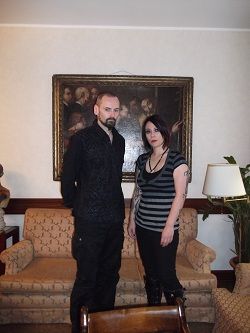 We have met vocalist and mastermind Aaron Stainthorpe and bassist Lena Abé from UK doomsters My Dying Bride for get the latest updates and info about their twelfth album out on Peaceville "A Map of All Failures". Be enchanted and be doomed by this symphony….
Welcome guys how are you doing?
Very well, thank you very much, good to be here.
You are here in Milan to talk about and promote your new album. It is produced by Peaceville Records and it will be in stores on October 15th. It is named "A Map of All Our Failures". Would you like to tell us something about this album?
Aaron: Yeah, it's brilliant. It's um, it's been a while since we did a full studio album, because last the last project was all classical music and then the last thing an EP. So it has been a while since we did a full rock studio album. Three years I think. So that is I think a good evolution from the previous album, we are older now and I think we are wiser, I would like to think we are wiser and better songwriters. I think the more you work on something, the better it should be. We've been working on this stuff for a long time. So in theory, with those mathematics the album should be the best one we've ever done. And all new bands who have a new record say their new album is the best they've ever done. And it's true, this is what you've just achieved, so you're very proud of it, it's like it's you just had a baby, the greatest thing ever. And so, it is wonderful. We've worked hard on it; you can tell its My Dying Bride still, we're not trying to write something completely out of our style. It's recognizable as My Dying Bride, but still fresh enough to be interesting, new and exciting for the fans. So if you've liked anything we've done the past there's pretty much a good chance you're going to love this.
Lena: Some people give us feedback and that it's quite reminiscent of the early works as well. People who like the early work are probably going to like this.
I know that there will be a special edition with CD and DVD and also a double vinyl edition. So what is the reason for this release?
Aaron: It's the record label I guess. Vinyl despite it being not very popular is popular enough for the record label to still do it. They wouldn't do it if they couldn't sell. And I love that as well and I don't even have a record player but I love vinyl because…. Especially gatefold, this thing is huge you don't even see these anymore. It's like an antique but it's a lovely thing to have because we've worked hard on the artwork, photography and the lyrics. So I think if you buy something even a CD, it's something you're hard earned money is well spent on. It's a good piece of rock. I think downloading it, you're missing out. You really are missing out. If you're buying something, have it, don't have it digital, have it in your hands because you can see and appreciate the work we've put into it. And special editions are great. I think special editions are for the diehard fans. They always want a little bit extra. And I was the same when I was younger. I would collect picture disks of Iron Maiden, any weird shit. I loved all that. I would spend all my money on this stuff, box sets. I loved it. And so we do a similar sort of thing. And so the special edition has nine songs instead of eight and will come with a DVD. Which for the first time ever in our history we are showing people behind the scenes of My Dying Bride what goes on the tour bus, how boring it is on tour. You know some live stuff, interviews with all the members of the band. Explaining how we feel on tour. We've never normally done that, we've been a very private band. We sit in the background quietly. When we do an album we talk about it and then disappear again but I think for the DVD we just said let's shout about what we do and then people will see and they'll think it's actually quite boring. The DVD is just a little history of what we do. And the vinyl is great but I'm not gonna play it because I have nothing to play on.
A few days ago, we were given a chance to download the single "Kneel till Doomsday" off the new album for free. Can you tell us something about this song?
Lena: A good general vibe of a whole album, it starts off with slow riffs, it comes back down again, it goes back up and comes back down. It's a good representation of the whole album in general. You've got death metal and a bit of doom metal in there. It's good representative of what "A Map of All Our Failures" is all about.
Aaron: Some of the songs have a specific feel and if you choose an unusual sounding track for download, people assume the whole album is like that. You need a track that has the good spread of what My Dying Bride is about to give people the chance to know that it contains all kinds of stuff. So that is why that one was chosen.
The artwork for this album is very dark. It represents a women sitting on a bed and in a white sheet, with a veil covering her face. Would you like to talk about the album concept and tell us who created this artwork?
Aaron: The album cover was created by a guy called Rhett Podersoo who did the previous albums artwork, "For Lies I Sire". He's quite a visionary guy. I like his work a lot. I gave him the lyrics for the actual track "A Map of All Our Failings" and I explained to him what I wanted and when he came up with a concept, with the idea of my concept, I thought, "Ja that works", because in the lyrics of that song, it's about someone who's just completely alone and in complete and utter silence they have absolutely nothing, nothing at all. The only thing they can sense is their breathing. There's just nothing else there. And there is just a bed and a chair and the chair is just there for when death comes. And it's just terribly tragic. It's a very lonely song. I so I was explaining this to Rhett and I said I want complete misery. I don't want sparks and blood and guts and mayhem. I want loneliness and inspired death looking image, but it works like that. His artwork is throughout the whole CD. Every single page in the CD booklet, an image related to the words. It's not just random artwork, it's all been really well thought out. We worked long and hard for a few months to make sure each image, even though it's covered with lyrics, each image has the feeling of that track. Again that's something you'll miss if you download it. So for the full package, buy it kids!
You're going to be on a European tour in December and you are going to come back here to Italy for two days. What do you think of the Italian audience?
Aaron: They're alright (LAUGHS)
Lena: I've only played there once before at the Frozen Rock Festival. I think it was 2007 so it's been a five years since we came here. I believe the band has played there before, a few years ago? I have some really good memories of playing there.
Aaron: The Italian fans have been backing us back from the demo, a long time ago. You kids weren't even born then. You don't even know what a demo tape is. We've had letters from Italians before the Internet even, when people use to write to us with a pen. They've backed as for years, so every opportunity we get when we on the road, includes Italy, to say thank you.
How is your relation with fans in general? Are there chances to meet them, maybe after your shows?
Aaron: We have lots of time before the show because after the show we're too drunk. Before the show we always agree to do what we call "meet and greet". We always agree to do these things at our own shows because these people have payed for your records, they've bought your things with their hard earned money and it's rude to not say thank you. So playing live for them isn't enough, it's important to meet them. And every time anybody says there's these lines of people outside, they want an autograph, we go outside and sign their autographs because it's important. And they love it as well. The jam their faces between us and we have a photo. It's a special moment. It's easy for a band to do; I don't know why other bands don't like to meet with fans. The fans, without them, there is no band.
Lena: I was in America in January and there was this guy and we had a really good chat and he came from Australia to America just to come see us. He wasn't so bothered about any of the other bands. When people start doing that, why wouldn't you want partisan and say thank you? That kind of dedication means quite a lot to us.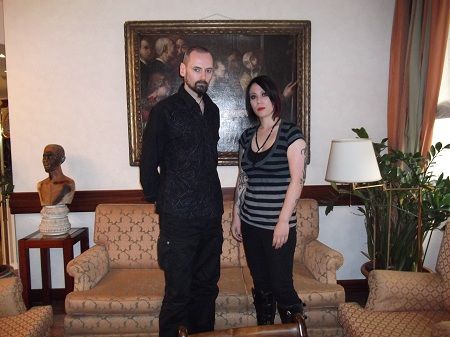 What do you think about British and International gothic scene of this day?
Aaron: Um, I'm only aware of the scene when we perform live because I don't really stay up to date with what's happening in the scene. Because the scene is quite split because we're sort of Doom gothic death metal, it's almost three genres stuck together, that's what we do. So there doesn't appear to be single website dedicated to that kind, or even a single festival. We play metal festivals, extreme metal festivals, gothic festivals, we play lots of different sorts of festivals. We have quite a broad appeal. So it's hard to see what the scene is like because we're seeing different scenes at different times. We still get messages from young upcoming bands who are actually saying thank you for the influence, we love My Dying Bride, and we've created a band because we love you guys. And that's wonderful. That's quite a big thing. We see loads of bands who have mentioned us as an inspirational force. We've done some good old festivals, which are attended really well, despite it being no money in the world at the moment. Some festivals that we've played, particularly Graspop in Belgium, have thousands and thousands of people there. So it's wonderful. We span different genres, so it's hard to see if one is more potent than the other.
How often and how much have you changed since the beginning? What do think of these changes in your 23 years of career?
Aaron: Well, I've got older but I've got wiser? Importantly, we're all going to get older but some people don't get wiser. I don't know? I still like the same sort of subjects that I sang about in the early days. f you picked up our first album and the new album and looked at the song titles and the lyrics, you would see similar themes because those are the things I find interesting. I'm not going to start singing about something I know very little about because it would be pointless. I sing about the things I understand and the things I am comfortable with. And so those subjects have spanned all of our albums. But I think the vocals have developed for sure because in the early days there was a lot of shouting and some clear vocals that weren't great. But that's what I did when I was younger. I was a shit singer and I can hear it. When I listen to the early records I think; "He was a young boy back then". I can't play an instrument, so I have to develop vocals and you get older you feel more, brave. You want to experiment more. So now, on the new album, there's screaming, shouting, whispering, spoken word, all sorts of harmonics going on. And so that's completely different from the first album. Something's don't change much and other things develop and evolve as we get older because it's such a long period of time, 23 years now. Changes are nice and steady, it's not suddenly; "What's going on now?". It's slow evolution and that's a nice way of doing it, I think.
A question about your voice actually. Your voice has its own style. It is clear especially in the later works. What is a change made that you haven't planned. How and why were you moved to follow such a personal approach?
Aaron: Well, again, it's all about experimenting and about expanding. If you're good at something you want to be better at it. And I'm not different, these people that play instruments, they are getting better and better at it. A bit more flashy and stylish on stage. They're looking cool. I am thinking "I have to expand". I am not going to stand there doing nothing. I am going to elaborate and gesture like performers do. Again, it's the braver thing, as you get older you don't care so much about the image. You think I am going to sing this! I don't care about Death metal songs. I am going to sing because it's a good lyric on a nice piece of music, no point doing a death metal vocal just for it. So I much more open to performing vocals in a more appropriate style for each song. And to keep a good variety keeps in interesting not only for the fans, for me as well. I don't want to do the same thing over and over again.
Do you have any artists you look to for inspiration?
Aaron: No, not really. I did in the early days. Not from a vocal point of view. I did in the early days. In the early days, influences were from bands like Celtic Frost and Candlemass. But even not from a vocal point of view. I like Nick Cave. Nick Cave and the Bad Seeds was a great band. I like Swans, Michael Gire has a great voice. They would the closest thing I could associate with an influence.
The band has gone through lineup changes. The arrival and departure of Katie Stone and who has been replaced by Shaun MacGowen. How did you find Shaun?
Lena: When Katie left it was quite sudden. It was about 4 weeks to our next gig. And our tour manager had a feeling that she was not quite committed. We asked her, "What's going on?". She said she wanted to leave and work on her career. She a student psychologist. So that was it and she left. My friend Shaun, he is a big My Dying Bride fan, he plays violins and keyboards. We all got together at our rehearsal studio. We auditioned him and he was fantastic. That was it really.
The music industry convention suggests problems in terms of dealing with business detracting from the musical side. How do you manage to keep working ahead after seeing what could be the pitfalls that the business has to offer through the years?
Aaron: It is difficult. It's a juggling act. A balancing act. When My Dying Bride formed, it was just a band. A bit of fun. Now it's a business, we pay VAT. All that shit. And we've never had a manager, myself and Andrew manage the band. We have an accountant, because our math is terrible. It is boring. Sometimes our accountant will ring us and say "Ok guys, come to the office. Let's look at some figures". And it's so dull; I didn't form a band to band to do this shit. This is what we are paying you to do. I don't want to see any good news or bad news, I don't care if we are making money or losing money. This is boring! So Andrew would normally deal with statistics. And will try and concentrate on the more visual side of things. The T-shirt designs, that's more my thing. I work with the artists to come up with the album covers. But it's hard and sometimes you do see problems in the business. We've shit that goes on you wouldn't believe! And you just think, "This is a criminal business we're in". But you just gloss over it and think "but well that doesn't matter" because we've got the good stuff, the songwriting. So if you're having problems in the office, get out the office and write the songs, because that's where the front of your business is, that's where the passion is. Someone else can do all the calculations later. Let's concentrate on the artistic side of things. They clash sometimes but we try and keep them apart.
Lena: The thing that keeps us going as well, is that we are not constantly touring. So we are not constantly feeling that kind of business pressure. Almost like a part time kind of band, if that makes sense. A lot of bands they do many concerts a year. We're not really under that much pressure. That keeps are more focused and enthusiastic about what we do. We will never turn up at a show looking tired and not bothered. We are totally focused on one event and that particular moment in time, we are there do that job.
Thank you very much for being here. Would you like to tell us anything else?
Aaron: Pleasure.
Aaron: Well actually, next year there is an EP coming out as well, because we wrote and recorded 13 songs. So after the special edition, there's 4 more songs. So the record label would like to do an EP. So in maybe March/April next year an EP with 4 brand new My Dying Bride tracks on it. More stuff to come yet!
Thanks for the good news.
Aaron: Thank you very much!
Credit Photos
Photos by Erika Cremonesi
Links
MySpace * Facebook * Twitter * Site
Label: Cave Music / Töfrahellirinn
Review by Tony Cannella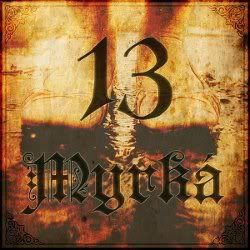 Not too many bands are coming from the country of Iceland these days. The band Myrkà just so happen to come from that country, and they are just about the only band I can think of that hail from Iceland. The band describe their sound as 'death pop' and that is as fitting a description as any since I really can't think off what genre or sub-genre they would fit into. Their debut release goes by the title of "13″ and musically the band is difficult to describe. "13″ features 13-songs (naturally) and 58-minutes worth of interesting music that can be bit of an adventure to listen to at times, but after a few listens, I found myself humming along to the songs and impressed with the whole presentation. The band features a Hammond Organ as a prominent instrument, which is immediately very different for a lot of today's metal, giving the songs almost a Uriah Heep or (early) Deep Purple classic sounding vibe at times. The lead vocalist is Guony Lara Gunnarsdottir and she brings a raspy sounding voice to the band. Her voice is very consistent with the music and definitely has a charm about it that grew on me with each listen. Some highlights include: "Unborn", "My Prison", "Soon", "All Is Lost" and "Now It's Gone". The final track, "Reborn" turned out to be my favorite as it wraps things up beautifully. The music and songs on "13″ have a dark vibe to them. Myrkà, may not appeal to the mainstream metal fan, but I am sure that they will have no problem in finding their niche in the metal community. With the release of, "13″ are Myrkà here to usher in a new (or first?) era of Icelandic metal? Only time will tell.
Rating – 77/100
Tracklist
Unborn
Untouched
Sad World
Mind of Sadness
Lost
My Prison
My Inner Self
Soon
All Is Lost
Now It's Gone
Line Up
Guony Lara Gunnarsdottir – Vocals & Flute
Stefàn Orn Vioarsson – Hammond Organ & Backing Vocals
Guojon Svanur Hermannsson – Guitars
Helgi Jonsson – Drums
Links
MySpace * ReverbNation * Facebook * Twitter
Label : Singed Records
Review By Tony Cannella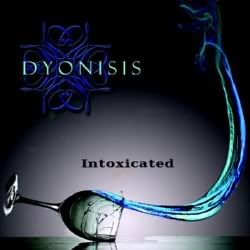 I was a huge fan of the 2007 self-titled debut from the U.K.'s Dyonisis. That was followed up by the "Blue Shift" EP in 2008. Now the band has issued their second full-length titled "Intoxicated", which I was very excited to hear. I am happy to say that on their sophomore effort, Dyonisis has not disappointed, all of the elements are still in place that made their debut such an interesting and unpredictable ride, while the band has still managed to progress. Dyonisis are still fronted by the duel female vocal attack of Nel and Lou (she also plays piano), to create a unique musical style that is virtually impossible to categorize. As a point of reference, it is always easy to say that this band, 'sounds like this or that band', but with Dyonisis, I can't think of one band who they sound like, or can be favorably compared to. The band really has managed to forge its own path and that can be heard on "Intoxicated". The CD contains 11-songs and a playing time of almost an hour, and in that time you get some wonderfully beautiful vocal harmonies performed by Nel and Lou, and some brilliantly performed ethereal, atmospheric music that definitely does paint a musical picture. The short (2-minutes) intro track "We Are…" is a great opener that features the vocal tandem of Nel and Lou in all of their harmonic glory. A great opener that leads us into "Of the Fear" and the equally potent "Inside Out" follows. Other highlights include: "Arachne's Song", "Eve's Song", "Flown", "Dead to Me" and the closing number, "Lunatic". "Intoxicated" is a great CD to listen to on headphones and just get lost in the music and lyrics. With "Intoxicated" Dyonisis has issued the perfect follow-up to their self-titled debut. This is definitely a band that deserves to be heard and hopefully, with "Intoxicated", Dyonisis will get the following that they so richly deserve. With "Intoxicated", fans of their first album should fall even more in love with Dyonisis.
Rating – 90/100
Tracklist
We Are…
Of The Fear
Inside Out
Arachne's Song
Eve's Song
Smart Mouth
Oxygen
Flown
Dead to Me
Ashes
Lunatic
Line Up
Nel Cave – Vocals
Louisa Welsby – Vocals and Piano
Tom Chaffer – Guitars and Programming
Marcus Cave – Bass
Links
MySpace * Reverbnation * BandCamp * Facebook * Site
Label: Anthem Records
Review by Tony Cannella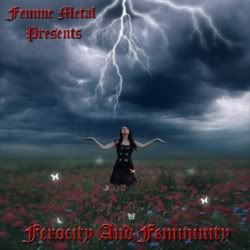 Metal is truly a worldwide phenomenon. Okay, maybe that is the understatement of all time but it is great to see how metal is represented all over the world. Different styles, different genres, it all has something to offer. In the realm of female fronted bands, it is no different. There is a lot of good music out there, sometimes you just have to look for it. Here now is a compilation CD brought to you by the good folks at the Femme Metal Webzine titled "Ferocity and Femininity". Represented are 15 bands and over 70-minutes worth of some of the best up-and-coming bands in the Female Fronted metal scene. The CD begins with "The Reach" by the UK's Adastreia. This is a good track to choose as an opener, since it sets the standard very high right away. The song is dramatic with great operatic vocals. From there are another two bands representing the UK are on board. The first of which Hanging Doll are on board with the fantastic "Sweet Retribution". This is an excellent track with an infectious melody and more great vocal work. That is followed by another equally good song by Submerged titled "This Thing of Darkness". A cool mid-tempo number that has plenty of killer riffs. Canada's AraPacis check in with "So Many Leapers". This song ups the heaviness a bit with it's Maiden-like galloping rhythms. It's just relentless. Their style is more in a traditional metal vein, but equally effective as the previous bands. Next is Fateless Tears from the U.S. Their style generally reminds of good progressive music as can be heard on their track "Mesmerized". Dueling female and male grunt vocals are used here. The UK's hAND are represented with "I Find Myself" and this is musically phenomenal track and the vocals are very strong. Dremora from the US check in with "Alone" and Maida Vale from the Netherlands with "Remote Control". A couple of perfectly crafted songs that highlight the strengths and differences of both bands. Dendura from the US are represented with Symphony – a symphonic metal masterpiece and that is followed Celticia (from the UK) with "Misshaped Scenes". Next is Afterdawn with "Top of Occasions". The great Australian band Temujin is heard with "Let You Go". This is one of the most promising new bands I've heard in quite some time and this is one of my favorite tracks from their brilliant "1000 Tears" CD. Dyonisis – another great band – is up next with "Xact". The final two songs "Ghost in the Shell" by Liquid Sky and "Disclosed" by Norway's Ancestral Legacy bring this collection of female fronted metal to a rousing conclusion. With 15-songs and over 70-minutes worth of powerful music, this CD should provide a great resource for fans who are always on the lookout for new bands to support. Caz and the Femme Metal crew have put a lot of dedication and heart in compiling this CD and that is to be commended. The spotlight is shone brightly on these 15 bands, who each bring something unique and interesting to the table. This is truly a great collection of songs and bands that should please not only fans of the femme metal genre, but fans of music in general. The packaging layout and artwork also deserve a special mention. Plus, it's all for a good cause. All proceeds will go to aid Cancer research.
Rating – 90/100
Tracklist
Adastreia – "The Reach"

Afterdawn "Top of Occasion"

Ancestral Legacy – "Disclosed"


AraPacis – "So many Leapers"

Celticia – "Misshaped Scenes"

Dendura – "Symphony"

Dremora – "Alone"


Dyonisis – "Xact"

Fateless Tears – "Mesmerized"

hAND – "I Find Myself"

Hanging Doll – "Sweet Retribution"

Liquid Sky – "Ghost in the Shell"

Maida Vale – "Remote Control" (New 2008 Version)

Submerged – "This Thing of Darkenss"

Temujin – "Let You Go"
Links
Independent Release
Review by Tony Cannella
I was a big fan of the self-titled debut from the U.K.'s Dyonisis, so I was very excited when I recieved a copy of the their new EP "Blue Shift" (especially because I had no idea about its release). As mentioned, this is an EP and it is designed as a bridge to their next full-length but at 38 minutes long it is obviously longer than your average EP. Before getting into the music, I'll re-introduce the band members to you. Lou Welsby (Vocals), Nel Cave (Bocals), Marcus Cave (Bass) and Tom Chaffer (Guitars & Programming). So, with that out of the way, on to the music. Is this release any good? Is it worthwhile? Absolutely, I can say "Yes, it is" on both counts. The CD begins with the first new track called "Abyss" and immediately I am reminded why I loved the first CD so much. It starts of with some cool keyboard effects and then goes into a beautifully melancholic, ethereal number. Next is another new one – at least for Dyonisis. "Son of a Preacher Man" is a cover song (I believe it was originally recorded by British pop singer Dusty Springfield). I had never heard the original version so I can only say that Dyonisis' version fits right in there with the rest of their catalog. The new song "Let Go" is next and it is a somber track that has an acoustic base to it and it really takes you on a sublime journey. Of the new songs, this is probably my favorite – even though it's a slower number, it is still plenty powerful and emotional. Next up is the first of two re-mixes. "Pretty at a Distance" was perhaps my favorite song on the debut and the "Blue Shift" remix does nothing to sway my overall enjoyment of the song. It's a bit different than the original, but it is still very good. The next new song is "Shamania" a mostly instrumental track that adds to the overall atmosphere and ambiance of the CD. The final track is another remix. This time of the 10 minute long "Rainy Day". The new version now clocks in at, oh only a mere 16 minutes and it is a perfect way to conclude things. As with the other remix, this one (dubbed the Psychedelic Kitchen Sink Mix) is a strong alternate take on another fantastic song. Even though this lasts 6 minutes longer than the original version, it never gets dull and really holds your attention. The "Blue Shift" EP is a very satisfying release that should hold us over until Dyonisis releases their next CD. It has indeed raised my level of excitement for their next full-length. Hopefully, we won't have too long to wait. This is only limited to 200 copies so I would suggest that fans of the band scoop theirs up before they are all gone. In conclusion, Dyonisis are a band that are consistent, dynamic, interesting and just flat out good. They are everything I could want in a band.
Rating – 85/100
Tracklist
Abyss

Son of a Preacher Man

Let Go


Pretty at a Distance (Blue Shift Remix)

Shamania


Rainy Day (Psychedelic Kitchen Sink Mix)
Line Up
Nel Cave – Vocals & Lyrics

Lou Welsby – Composer & Keyboards


Tom Chaffer – Guitars & Programming

Marcus Cave – Bass
Links
MySpace * ReverbNation * BandCamp * Facebook * Site
6 color styles available:

Style switcher only on this demo version. Theme styles can be changed from Options page.