Browsing articles tagged with " celtic"
Label : Ravenheart Music
Review by Tony Cannella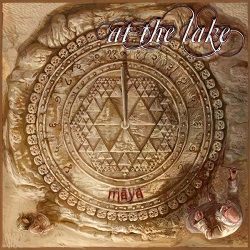 Formed in Warsaw, Poland in 2005, the band At The Lake combine elements of Symphonic, Gothic, Folk and Celtic music and an interesting mix of influences which can be heard on their debut full-length "Maya".
The intro track "Tomorrow I Will Fly" starts things off with some melancholic violin and lead vocalist Natalie. This sets the tone and leads us into "Live Again" which begins with choir-like vocals before the violins and heavy guitars join in. "Forget" starts off with a slower tempo before progressively picking up the pace. "Like a Northern Wind" is another solid track that has sort of a marching vibe to it. "The Spring of Forgiveness" is perhaps a little on the more commercial side, but that's what I liked about it. It has a memorable melody and a chorus that you can sing along to. By far, my favorite song is the 9-minute epic "Karma". Continue reading »
Label : Arcane Records
Review by Luisa Mercier
Schoolcraft is the solo project of Lindz Riot, singer of the Canadian gothic rock band Mary and The Black Lamb.
As solo artist, she decided to show us her skills with piano, since she is classically trained, drawing her inspiration from nature, fantasy, orchestral music and trip-hop.
"Your Mind" is a 2-track single which features the title track and "Where You Go".The first is a simple piano-driven ballad, sweet and melacholic. The mood reminds me of singer songwriters like Kirsty Thirsk or Johanna Stevens. "Where You Go" is more electronic based, with a trip-hop vibe. The vocals are more sensual and less naive, feels like floating in the air.  If this is just an appetizer of the album that will come, I will be really glad to listen to it! These two tracks sound really promising and diverse, so I am eager to listen to what she can do on her own! Continue reading »
Label : Yidneth
Review by Luisa Mercier
Second release from the fairy Priscilla, from Spain. I already had the privilege to listen to her 2006 release "Ancient Shadow" which became quite known among the lovers of female fronted, ethereal, Celtic tinged music. She also had the chance to support the legend Qntal in the USA, letting her gathering new elements and further developing her sound.
"The Underliving" is her second concept and it comes with a beautiful artwork and package, showing us her her skills are not only music-related.  She brings us in her world suspended between magic and reality alternating moments of serenity as in "Through the Long Way" and creepier ones as in the title-track. Continue reading »
Label : Manhattan Records
Review by Luisa Mercier
Celtic Woman has always been a synonym for beauty, sweetness, quietness and a certain magic atmosphere.  The present compilation has all of these qualities and it really has a soothing effect on your soul. The girls in Celtic Woman have thought of recording a collection of lullabies and put them all together in this release. Most of these songs have already been performed live by them, but they shine in all their calming melodies.
From the world reknown "Brahm's Lullaby" who has accompanied most of us as children to "Hush Little Baby". Other songs are taken from Disney's classic movies as the opener "When You Wish Upon a Star" from "Pinocchio", "Stay Awake" from "Mary Poppins" and "Baby Mine" from "Dumbo". A nice way to go back to our childhood accompanied by the sweet vocals of the girls in Celtic Woman. "Goodnight My Angel" is a cover of Billy Joel, really heavenly, while the very successful "Over the Rainbow" follows and offers an enchanting duet. "Suantrai" is a Celtic-tinged song, the vocals soar towards the sky in an almost mystical atmosphere. Continue reading »
Independent Release
Review by Tony Cannella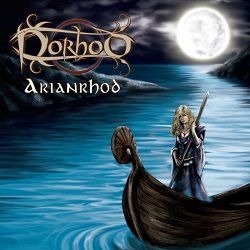 From Italy (a metal band from Italy? What a surprise) comes the conceptual symphonic death metal band Norhod. The band was born in the summer of 2009 with original members: Michele Tolomei (keyboards), Giacomo Casa (growls), Giacomo Vanucci (guitars) and Andrea Stefani (guitars). After solidifying their line-up with a few new members including female vocalist Clara Ceccarelli, Norhod has released their independently released EP "Arianrhod". "Arianrhod" is a concept EP based on the Homonymous Celtic goddess, but at its core the story is about the age old struggle between good and evil. Norhod utilizes beauty and the beast style vocals with Clara's clean, soaring vocals contrasting with Giacoma Casa's growls. The music performed by Norhod does lend itself very well for storytelling – as it does create a special atmosphere throughout the 22-minutes worth of playing time. The intro "Caer Arianrhod" sets the stage for the bombastic opener "Doomed to Ashes". The two vocal styles are split pretty evenly. For the most part, "Arianrhod" combines melancholic metal with folk metal influences and tempo changes; "Last Sundown" is a pretty solid indicator of what is good about the album. The album is completed with the pounding title song "Arianrhod". I can already tell that the vocals will be an acquired taste for many – they will either be loved or hated – especially Clara's high-pitched vocal delivery. The growler Giacoma Casa will definitely appeal to the death metal side of the metal spectrum. Norhod are far from being a mainstream band. The songs on "Arianrhod" are definitely going to appeal to a select audience, but fans who like a little bit of melancholy with their metal, should like what they find from this Italian band.
Rating – 73/100
Tracklist
Caer Arianrhod

Doomed to Oblivion

Lily's Ashes

Last Sundown

Arianrhod
Line Up
Clara Ceccarelli – Vocals

Giacomo Casa – Growls

Giacomo Vanucci – Guitars

Andrea Stefani – Guitars

Michele Tolomei – Keyboards

Matteo Giusti – Bass

Francesco Aytano – Drums
Links
MySpace * BandCamp * Facebook * Twitter
6 color styles available:

Style switcher only on this demo version. Theme styles can be changed from Options page.