Browsing articles tagged with " chapter"
Interview by Ed MacLaren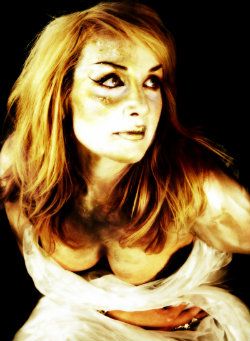 Since the mid-1990s, The Dreamside have entertained fans across the world with their unique musical vision: gothic, metal and dance music combined to create a singular sound and emotional point of view. With their new album "Lunar Nature", The Dreamside continues to push the musical envelope and prove without a doubt they're still as relevant and influential as ever. Vocalist/writer/producer Kemi Vita talks with Femme Metal about "Lunar Nature" and reflect on 15 years in music.
"Lunar Nature" retains many of the electronic elements of your previous efforts but the overall sound is more metal with a cleaner and a definitely more biting sound: much less ethereal. What was the evolution of "Lunar Nature" – especially when it comes after the "13th Chapter" CD of dance remixes?
The evolution of "Lunar Nature" took a time span of around four years and in that time a lot happened. It's a bit more rock than previous albums, also because we like the live feeling of the new material. Songs like "Higher Ground", for instance, are great to play live. However, if you get into the album as a whole you will experience much of our music in a more ethereal way. Songs such as "Hush" or "Willing to Learn" are good examples. The dance remixes of "13th Chapter" are a continuous thing of The Dreamside since we always collaborated with other bands and artists and released these kind of dance mixes in the past and most likely in the future. The Dreamside was and will always be a band full of diversity.
The cleaner production on "Lunar Nature" has brought your vocals much more up front in the mix. That vocal focus really benefits the overall feel of the music. How did you approach your vocals with this CD?
We always considered the voice as the most important instrument within our music. We did use different tube microphones and outboards for the various needs of the different songs but also my technique changes for different songs. Over the whole we tried to make the arrangements and the production clearer and leave out anything that would not feature the song as a whole. We usually record all ideas and do a selection in the final mix. Furthermore, I am as open as I can when singing and this intimacy is a red line though out the vocal recordings.
When you listen to the early CDs you can hear that your voice has changed dramatically. It's stronger with clear highs and a menacing and dark low end. Did your voice develop as you became more experienced or were you trying to vocally reflect the changes in the band's music?
I think that here you have already given the answers since it's a mixture of those two elements. With the years I gained a lot of experience and learned so much about the qualities and limitations of my voice. Nevertheless, I also still let my voice go free on the music; the tunes, songs and music trigger my inspiration and therefore my voice. Also, because Roman and I write the music together, music and voices go hand-in-hand from the start of each composition.
What do you think when you listen to your early vocal performances?
Well, I am very critical about myself so I always strive to improve. However, when you put things in perspective, I think my early performances in their own time and space always came from the core. I am proud of all of them.
Back in the mid-1990s when The Dreamside began there were comparatively fewer female singers in the genre than now. Who were your vocal inspirations? Are there any current vocalists that you admire right now?
Yes, there you are hitting a clear point – there were a lot less female singers indeed! I must admit that I listened more to bands with male vocalists but some of my female vocal inspirations were Stevie Nicks, Siouxie, Liz Frasier, Lisa Gerrard and Tori Amos. About your question of recent vocalists, I cannot see the voice without the content. This is one of the reasons that mostly I am not such a fan of highly studied voices. I like artists who are over the whole involved in their art, so I have a lot of respect for the innovation of Bjork; I like the rawnessand sincerity in the music and voices of PJ-Harvey and of Melissa Auf der Maur. Amy Lee has also done some great stuff.
The Dreamside has been going strong for 15 years and the music keeps improving with each release. To what do you owe your longevity?
It's the fact that our music comes from deep within and has to find its way out in the open! In the past, we got ripped off far too often and the fact that The Dreamside survived its hardships is actually something "supernatural" as a matter of speech.
Musically, the band has also changed dramatically over the years. How important is it to develop your sound? Is there a need to stay "current" or is it more important to stay true to your musical vision?
To us it's truly remarkable that a great majority of our fans feel and see a clear line in the diversity of our music. They dance on a remix, are romantic with the love songs, are letting go their tears at some ballads and rock with the heavier songs. They call it The Dreamside and after 15 years they know what they can expect from us. Critics and journalists always seem to question the evolution we were going through and in a way I certainly understand that since purely listening to music differs from reviewing and categorizing music. However I believe that our sound became better through the years and we are grateful that this is appreciated. We stay true to our belief in the naturally growing of our musical vision, the challenges that come along and the development of what we create – like we do in many aspects of our lives.
The Dreamside has leaned much more in the metal direction with "Spin Moon Magic" and "Lunar Nature" but split the time between CDs with a collection of dance remixes on "Chapter 13th". The band definitely has a love for both metal and dance music. How do you reconcile the differences between the two genres?
The Dreamside always was a band full of diversity and we are always looking to improve our sound and be open for new inspirations. It's not common in the metal scene to do remixes and we are lucky with The Dreamside that we have the opportunity to combine the best of all styles and create our very own thing. We consider this as a pillar of what we do.
The Dreamside is one of the standard-bearing gothic metal bands. What do you think of the current scene and how has it progressed since The Dreamside debuted in the mid-1990s?
Well, we plan to play some festivals this season and we got some invitations from overseas. But I think that this year we mainly play in Europe, Germany and Holland.
What can we expect to see on stage?
The Dreamside loves to play live and it's always an explosion of energy. I am happy to introduce a new band member who comes in with the guitar section, Louis Buurman. Although he helps to underline the heaviness of the songs when playing live, we include some very sensitive moments in our shows. There is always a sense of magic when we play live and I am very proud of our audience, the crew and our band. We like to give the people always something "extra" with the performance, the sound, the light and our outfits, etc. I would say, just come and find out.
How do your long-time fans respond to The Dreamside's evolution over the years? Do you see many of your original fans at your current shows?
The Dreamside fans respond very positive to the development we've been through. They also know that we will keep on making different songs so whatever they prefer about The Dreamside will be something with a similar vibe and hopefully even better. Yes, we get many reactions and visitors who followed us since the early days. It warms my heart to know that they come along for our long trip. Many let me know that our music really touched their being and helped to make a change for the better in their lives. That is a beautiful thing so we keep the dream alive and rocking along the way.
Latest Multimedia
Links
MySpace * Facebook * Twitter * Site
Interview by Scott Johnson
If Battlelore and Nightwish got in a fight and Celine Dion were the referee then a big meteor fell from the sky and smashed them all together the survivor would be called Ancient Bards. Their EPIC songs and beautifully hand crafted musicianship plus the not of this world vocals of Sara Squadrani make for a combo that would fire up any battle weary warrior and help him find new energy to slay a thousand dragons. I had a chance to talk to Sara and to eneter the world of Ancient Bards.
Hello Sara, so nice of you to give me this oppritunity to talk to you today. I would like to ask you if a person were to ask you to descibe the music of Ancient Bards what would be the first thing that would pop in your head?
Hi Scott! Well Limb described us as a Symphonic Epic Power Metal band and I think this label suits our music pretty well but I would add the word "imaginary" or maybe "fictional" because every time I hear the tunes I can perfectly picture the deeds of the heroes we're talking about. This is some kind of magic Daniele does when he writes, I starts by thinking about what's happening in the story and then the music comes out naturally from his fingers playing the piano!
How long has the band been together?
We became an actual band in the summer of 2007, it seems like it was yesterday! Daniele was looking for musicians to join his project, he found me through MySpace; he wasn't really searching for a female vocalist but when he first heard me he thought that he could give it a try!
Have you been with them from the beginning?
I've been with them from the beginning. Daniele had tried before to form a band though but with no results, as he coulnd't find people who shared his same visions and had the same aims.
What is the metal scene like in Italy?
In Italy the metal scene is nothing like the ones of the other European countries. Here metal music is followed by few, it never went mainstream and good metal bands too often remain underground realities. It's just that it isn't part of our culture, here Italian pop music has a long story and people are not attracted to heavier sounds, they're not interested and I'm afraid that there can also be a little prejudice towards those who listen to metal, as ignorance can easily lead you to make the logical association metal=satan (I'm not saying Italians are ignorant, I just meant to say that whenever one doesn't have the curiosity to really get to know something he accepts the common judgment). That's too bad!
Taking a listen to the album, Who are some of your personal influences as a singer?
My personal influences are very particular for a metal singer… my first choice would be Celine Dion, ever since I heard her singing "My Heart Will Go On" I literally fell in love with her, she is a strong woman with an amazing voice she can do everything she wants with! She is also very versatile as we can see in her last album "Thaking Chances". Celine is like my beacon but I also love Whitney Houston, Aretha Franklin, the amazingly talented Jessie J, I adore Adele and Giorgia Todrani, the best Italian singer of all times I think. I obviously take inspiration from female singers, though I "steal" something from Gavin DeGraw too.
Have you ever been compared with Celine Dion before as far as singing style? I love her.

Once someone wrote a comment on an Ancient Bards YouTube video saying "Celine Dion is that you I hear?" and that made me go crazy! It was and it still is a huge compliment for me to be compared to my vocal hero. Of course I don't have her warm and lovely timbre but I grew up listening to her every song so I must have absorbed her singing style a bit.
I noticed that the musicianship of everyone in the band is very very technical and wonderfully detailed. Have you all been studying music and all of the centain instruments for a long time?
The guys started studying when they were kids and they all took lessons in academies (some of them now are teachers). In our kind of metal you need to be very prepared technically and my boys are really good, because the all have a great passion for music, which make it easier to find the strength to practise and practise and practise…
I really love all of the elements within the band. From the epic big full over all sound to the choir to all of the beautiful notes flying from the guitars and the thunderous drums and especially your voice that gives me utter goosebumps every time you open your mouth to sing. Where did the idea to tie all of these elements together come from?
Everything comes from the mind of Daniele, when he composes he can imagine all these elements together and the rest is the natural consequence of the fusion of our different personalities, our diverse musical tastes and our different musical aptitude. All these elements create our particular sound.
Can you explain the concept of the Black Crystal Sword Saga?
I honestly don't know everything about the saga, only Daniele knows the whole story, he just gave me a few hints but I don't know exactly how it's going to end. It's all about this Black Crystal Sword and all the people that happen to know about it. In the first two chapters the story is entangled enough so I suggest you to go on our website (www.ancientbards.com), in the download tab you'll find a pdf file with all you need to know about what happened so far!
Let's talk about "Soulless Child" which was released last November. What is the over all story and message with this album? Is it a continuation of the Black Crystal Sword Saga?
Yes, "Soulless Child" is the second chapter of the first part of the Saga, that was created by Daniele when he was just a kid (he was like 16 or something) and right because Daniele was so young that the story is full of that naïvety which is typical of the pureness of a young heart. The characters are virtuous, never-failing, brave and fearless but also so so human! I think the great message is this, in this world we need heroes and we look for them everywhere but the real thing is that anyone can be a hero just by being the best person one can be!
What character from the saga do you relate too the most?
I relate to Shena because she's the only female character of the story so far and I'm the only female musician among the bards! I like her because she's a tough woman, she has the responsability of her realm on her shoulders so she needs to be flawless and blameless even when it's not easy to… I wish I could be as brave as her (I'm doing my best)!
Are all of you big fans of fantasy fiction?
Not really, the ones into fantasy fiction are Daniele, Martino and Federico, they are the experts in those things. I personally was never attracted too much to these kind of things.
How many parts of the story do you think there will be?
I don't know precisely as Daniele himself is not sure of it. The only thing I know is that there will be three parts, each one divided into (I don't know how many) chapters
Will there be a tour for the "Soulless Child"?
Nothing sure yet, we will be having a few gigs around Italy and we will attend a few festivals we'll soon give news about. For an emerging bang is still very hard to play abroad, we need to wait for one of those chances that happen only once in a while and take it!
Is Daltor dead??????

It's what we are let to believe at the end of TAOTK… but at the beginning of "Soulless Child" it's clear that maybe it takes more than some dragon bites to kill a hero!
I can't wait for us to find out what is next in the story of the Black Crystal Sword Saga and in the story of Ancient Bards. I would like to thank you for your time Sara and do you have anything that you would like to add?
It's always an enormous pleasure to talk with Femme Metal, I wanna thank all of you guys who bring on this beautiful webzine! I hope to see you all from the stage soon! Cheers!
Links
MySpace * ReverbNation * Facebook * Twitter * Site
Latest Multimedia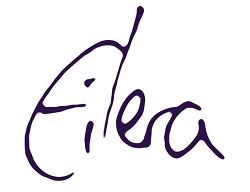 Interview by Claudio Grippi
Femme Metal Webzine got the chance to interview Eilera, a French artist who was able to draw the attention of the Finnish label Spinefarm Records, releasing under this label their first studio album called "Fusion" in 2007. Her new album "Darker Chapter… and Stars" is divided into two parts that lead you through a journey of personal discovery where different worlds coexist and interact harmoniously.
Hi Eilera, thank you for your time. How are you?
Hello dear. I'm good, thank you. I've had a much relaxed Sunday and I'm now answering your interview with HIM's "Venus Doom" playing in the background. All fine

First of all, the title of the new album is "Darker Chapter… and Stars". Why did you choose this title? Why is this chapter 'darker' if compared to your previous albums?
This title refers to the two main characteristics of this album: darker than my previous work, in its music and in its lyrics, yet filled with positive energy. I wrote and composed this album during a darker period of my life. I thought I should use this challenge that life was offering to me: use this darker energy and create something positive out of it. It was thus the perfect opportunity for me to pay a homage to the roots of rock and metal. I have always opened new doors with my songs and pushed metal music to its limits. This time the challenge was: make songs that would honour the roots of Rock and Metal, in my own style.
Why did you choose to divide the album into two parts? Is there a particular reason?
Yes there is. When I started working on this album I had decided to explore the possibilities of the digital world. I wanted eilera.com to offer an exploration game for its visitors, with photos and a story associated to each and every song.I also decided that the album would first be released digitally only. And in order not to be cut from our public for too long again, we would release one part, then tour, then release the second part, and play more shows. After that we released a special limited CD edition that can currently be bought in French shops, or via the websites of Season of Mist and Levykauppa äx.
I listened to the album and I really liked it as I found different worlds coexisting and living harmoniously. It was a real pleasure listening to this record. How long did it take you to write this album?
Nice. Your reaction is a reward in itself to a loooong working process. It took me several months, five to six I would say, to write the album. Some of it I wrote in Helsinki, some of it I wrote in France. For the first time I had decided to focus on humans instead of nature. Hence the 11 stories with this female character at the heart of each of them. This woman you can see at the back of the CD cover and on the opening page of eilera.com.
I am very curious to learn more about "Fly", "Celtic", "Passport Please", "At a +- Roads" and "From Pink to Black". What can you tell us about these songs?
My intention with "Fly" was to make a heavy song that would sound like a standard of metal music in the Metallica tradition, invite Max Lilja to play his brilliant cello-metal for me again on top of it, and add the power of the Ocean to it in a much personal way. I wanted to make a song that could sound like a classic and fill it up with the pure freedom and power of the Ocean. There is a strong anti-formatting message to it. "Celtic" belongs to the filmic tradition I've been evolving into from the start. It is a ballad, a moment of peace and beauty.When you hear it you can feel the Blue Mountains of my homeland around you, a big source of inspiration for me. Whenever I need a moment of rest, or when I need to go back to the essentials of Life and forget about the rest, the mountains are always there for me. An ocean of blue mountains, like waves of the Ocean, heart of the Celtic tradition. "Passport Please" is pure, row energy. Violent and fun at the same time. It cuts into the air like a metal blade. It is the most punk of the songs. It is meant to slap you in the face whenever prejudice might get a grip on you. I like the very modern catchy side of it. I think this song is a good combination of my early songs in "Facettes" with the "Darker Chapter… and Star" sound. I had an idea in mind for "At a +-Roads": combine what I love of a Western cowboy film soundtrack with a heavy sound. Make it groove, make it my own. Create a space of imagination for whoever might be working at his desk with headphones on his ears, fancying that he/she is riding a horse in the wildness… The song is about freedom of the earth versus religion. "From Pink to Black" is about the questions that any of us might ask oneself when our heart has been broken. This is the oldest subjects of all for a song and yet a subject that will never die. We all fall in love, we all get hurt, and we will all fall in love again. For this song I wanted a sexy groove. I wanted to fill it with "americanization". Europe and USA in one song, uniting on an international subject.
I read you started playing music when you were twelve. How did time change your way to make music?
It has not changed much really: I still compose and play in a spontaneous way. When I was in music school I used to boycott music theory because I could not stand the "organization of freedom" it represented to me. Today I have found a balance, this might be the change: I accept the extreme organization and precision that recording demands, but I have not given up on my freedom in making my songs.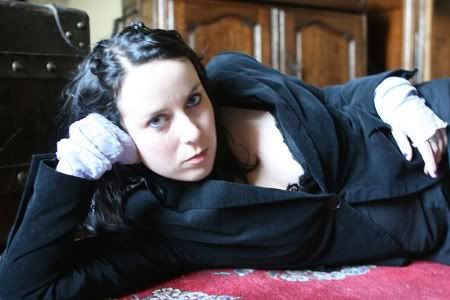 Before embarking on your current project, you were part of a melodic death metal band called Suspiria, soon after renamed Chrysalis. Do you still have some melodic death metal influences when it comes to songwriting?
I think so, yes. I dislike the obvious yet I still use and love my roots. In my own way.
If compared to melodic death metal influences, are there still any electronic influences from your side project called Bliss?
Yes, definitely. I love electronics. They are less present in "Darker Chapter… and Stars" than in my previous CDs because there was less space for them there. It was an album for more classical instruments, especially for big walls of guitars, fat bass and voice.
In your opinion, what are the main, straightforward differences between this album and the previous one?
It sounds more like a band album. It is more masculine. Less experimental; more traditional. It sounds more live. A sort of metal Lord of the Rings with muscles and magic, written by a tiny woman.
What are your plans, career goals or aspirations that you would like to achieve as a singer and as a band?
Make songs for as long as I breathe on this earth, sing them to people for as long as I have a voice. I feel like I'm only at the beginning of this adventure.
Are you already working on news songs for a new album?
Yes, I have a few on the side. I can feel the excitement of the next album already. Full of light after this darker chapter.
Do you think your future sound will go towards an heavier or more melodic direction?
More melodic. I think that after this chapter I'll be done with the heavier sound for a while. I have been through the extremes, from the lightest to the heaviest. The next album will be that of balance.
Is there a question that no-one asks you that you wish someone would?
Actually you have killed my frustration with your interview: before you I had not had an opportunity to speak about my lyrics. So, merci dear.

Well, Eilera, thank you very much for your precious time! Is there anything you would like to say to our readers?
Keep supporting music and the metal scene! Keep the passion alive. For it will keep you alive. See you!
Links
MySpace * Facebook * Twitter * Site
Label : Sleazy Rider Records
Review by Tony Cannella
Germany's Re-Vision have been with us since 1993 and released its debut in 1997. Now, the band is back with their 4th full-length platter, "Chapter IV: …All for the Sake of Love". The CD features production and guest vocals by Devon Graves from the band Dead Soul Tribe. The material highlighted on "Chapter IV…" is quite melodic hard rock/metal with a heavy groove that has an immediately infectious impact. Among the 14-songs, Re-Vision gives the fans a strong metallic record, with a bit of an alternative vibe present as well, but at its heart, "Chapter IV…" is a melodic, metal guitar-driven disc. The CD sets a solid pace from the outset with "Colours", "Scream" and "Deconstructed". "For the Sake of Love" is just a huge sounding number and an early favorite of mine. "Tomorrow May Come" has got a ferocious sounding guitar riff that really drives the song. In vocalist Anke Willnat, Re-Vision has a singer with a powerful voice that oozes character and emotion. Other highlights include: "Awake My Soul", "While We Sleep" (a great ballad), "Chew 'Em Through" and "Light on Me". "Chapter IV…" comes to its conclusion with a stirring cover of the underrated Iron Maiden song, "Strange World" featuring just an awesome duet between Devon Graves and Anke Willnat. In addition to their duties in Re-Vision, the members of the band (minus vocalist Anke Willnat) have been supporting ex-Iron Maiden singer Paul Di'Anno as his backing band on tours throughout Europe, this is a solid choice by Mr. Di'Anno in my opinion. I have never been familiar with Re-Vision prior to hearing "Chapter IV…" and was shocked to hear how long they have been around but consider me impressed with what I have heard from this outstanding German band.
Rating – 93/100
Tracklist
Colours

Scream

Deconstructed

For The Sake of Love

Tomorrow May Come

Shapeless

Awake My Soul

While We Sleep

Chew 'Em Through

Don't Wake Me Up

Tantalized

Light on Me

Deep Forever

Strange World
Line Up
Anke Willnat – Vocals

Daniel Duering – Guitar

Christoph Luecker – Bass

Dominik Nowitzki – Drums
Links
Label : Napalm Records
Review by Tony Cannella
Like Doom Metal? Well, I find it hard to imagine that there is a band out there any doomier than Sweden's Nox Aurea. With their second album, "Ascending in Triumph", Nox Aurea present an album that is loaded with some of the heaviest riffs I have heard this side of Candlemass or Solitude Aeturnus. The riffs are also slow, deliberate and did I mention heavy? There are moments on "Ascending in Triumph" where the band speeds up the tempo a little bit with bursts of aggression, and it is these moments that really pack a huge wallop. Even though "Ascending in Triumph" features only 8-songs, the CD clocks in at over an hour long. Every song is in the 6-8 minute range, with the lone exception being the final song, the instrumental "Emendare", which is just over 4-minutes long. The main lead vocalist is Patrik Kullberg whose style is your basic, growly brutal style; his vocals are simply ferocious at times. He is also joined by female singer Alice Persell who really enhances the songs when she is called upon. Throughout the course of "Ascending in Triumph", the heavy doom laden riffs, just keep on coming. I have never professed to be a Doom Metal aficionado, but Nox Aurea really seems to be a band that has a belief and conviction in what they are doing. "Ascending in Triumph" is a release that should be welcomed with open arms by fans of Doom Metal.
Rating – 75/100
Tracklist
Ascending in Triumph
The Loss and Endeavor of Divinity
The Shadowless Plains
Mother Aletheia Chapter II
The Delight of Autumn Passion
My Voyage Through Galactic Aeons
To the Grave I Belong
Emendare

Line Up
Patrik Kullberg – Vocals
Alice Persell – Vocals
Grim Vindkall – Guitars, Keyboards, Vocals
Peter Laustsen – Guitars, Keyboards
Robert Persson – Bass, Keyboards, Vocals
Joakim Antonsson – Drums
Links
6 color styles available:

Style switcher only on this demo version. Theme styles can be changed from Options page.