Browsing articles tagged with " charles"
Label : Adalruna
Review by Tony Cannella
Whether you like the avant-garde metal band Therion or you don't, there is no denying that they have done things their own way since they were founded by Christofer Johnsson in 1987. Going back to their debut EP "Time Shall Tell" in 1991, Therion has morphed from a Death Metal band to an experimental symphonic metal juggernaut and with their latest opus "Les Fleurs Du Mal", the band marches on. 2012 marks the 25th anniversary of Therion and "Les Fleurs Du Mal" is part of commemorating such a milestone. The album title is based on Charles Baudelaire's writings and poems and the title "Les Fleurs Du Mal" (English translation is "Flowers of Evil") is the title of a collection of poems from Charles Baudelaire. Therion's avant-garde approach is happily intact throughout this 15-song 45-minute effort. As always Christofer Johnsson has surrounded himself with some top tier musical talent, including vocalists Lori Lewis (she sounds amazing as always) and metal veteran Thomas Vikström. Some of the strongest moments are: "Poupee De Cire, Poupee De Son", "Initials B.B.", the hypnotic "Mon Amour, Mon Ami" and "Lilith". The whole thing is quite grandiose and is simply huge in sound and scope. One thing Therion has proven over the years is that they are not afraid to take chances and they do exactly what they want. For better or worse, "Les Fleurs Du Mal" is another shining example of this.
Rating – 83/100
Tracklist
Poupee De Cire, Poupee De Son

Une Fleur Dans Le Coeur

Initials B.B.

Mon Amour, Mon Ami

Polichinelle

La Maritza

Soeur Angelique

Dis-Moi Poupee

Lilith

En Alabama

Wahala Manitou

Je n'ai Besoin Que De Tendresse

La Licorne D'or

J'ai le mal de Toi

Poupee De Cire, Poupee De Son
Line Up
Thomas Vikström – Vocals

Lori Lewis – Vocals

Christofer Johnsson – Guitar

Christian Vidal – Guitar

Nalle Påhlsson – Bass

Johan Kullberg – Drums
Links
MySpace * Facebook * Twitter * Site
THERION are currently celebrating their 25th anniversary and will release their new album "Les Fleurs du Mal" tomorrow in North America via End of the Light Records. Today GuitarWorld.com the online home of Guitar World Magazine is hosting an exclusive stream on "Les Fleurs du Mal" in its entirety HERE. There are still many details that are unknown about this mystical art project, and so far only the album title "Les Fleurs du Mal" can be officially announced. The album title refers to Charles Baudelaire's (French author and poet 1821 – 1867) famous poem collection "Flowers of Evil" (Les Fleurs du Mal in French) that caused such an upset of emotions in France that the author was brought to court and got fined for "insulting the public" with six of the poems, that remained forbidden in France until 1949 when the ban was finally lifted. The spirit of the project is a tribute to Baudelaire, and is imbued into both music and artwork. The album was recorded at Adulruna studio, located in a separate building next to Johnsson's decadent "Villa Adulruna" where the band lived together while recording.
"Les Fleurs du Mal" is available to order on Amazon.
For more Information Visit:

Interview by Roberta Ilaria Rossi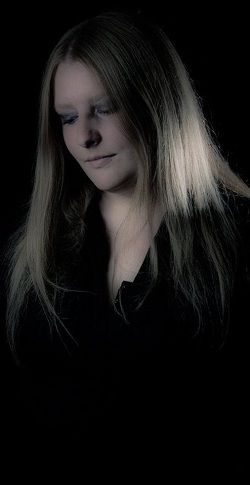 Unsettling. Enigmatic. Spooky. Claustrophobic. These are the proper words to best describe the new album of the French doom funeral project Grey November, here dealing with a crazy work that exceeds the limits of madness. "The Fall of the House of Usher", a concept album based on the short story by Edgar Allan Poe, is presented as a work that results in patches of balance, a work that takes the viewer to live a first-hand experience. In occasion of the official release, FM crew has had the pleasure of analyzing it together with the singer Marieke, who has brought us in a spooky and crazy trip…
Hi Marieke and welcome to Femme Metal.net. First of all, let me thank you for having stopped here and giving us a chance to have a chat with us. How are you doing?
Hello Femme Metal.net! First, we want to thank you for your interest in Grey November. I'm really pleased to answer the interview. I'm doing very well, thank you!
Grey November is a French dark romantic doom band, born in 1998, in France. Would you like to introduce yourself to those people who still don't know you and/or your band?
I think I am not the best person to talk about the origins of Grey November as I am not involved in this project since long. Grey November is a dark romantic doom band created by Cédric in 1998. Cédric discovered the dark romantic doom movement a long time ago and found it really emotionally powerful. He loves also a lot the authors of the Romantic Movement and the music of Grey November grew with the readings of Cédric. The music of Grey November shares the same themes: life, death, beauty.The dark romantic doom enables us to express an ideal of beauty and sadness or melancholy through the sound of the strings. The rhythms and the guitars had power to the feelings given by the melodies. To summarize, the music of Grey November aims at expressing sensitivity and passion with low rhythms and strong melodies.
Recently your album "The Fall of the House of Usher" has been released. The title, obviously, recalls Edgar Allan Poe and his short story that has the same title. The story tells about the loss of a young girl, Lady Madeleine, that is the sister of one of the two protagonists (Roderick Usher) and the story is based on one of the most essential elements of the story: the house! Poe wanted to represent the contrast between science and the occult, reason and superstition, between the human need for certainty and irrational phenomena that we can't explain. How come have you made this choice to "develop" your album?
As I said previously, Cédric has an immoderate love for the writers of the Romantic Movement. "The Fall of the House of Usher" became one of his favorite text a long time ago and the French translation of this text which is by Charles Baudelaire has really captured the essence of Poe's writing. After "D'automne", the previous release of Grey November, Cédric realized that he strongly wanted to work on the "Fall of the House of Usher". He decided to create an album based on this text in order to dive himself and the listener into this powerful short story. In addition, dark romantic doom is the perfect style of music to express such strong feelings as those given at the reading of the "Fall of the House of Usher". I arrived in the project later when Cédric had already decided to put this short story into music. I already knew the story of the "Fall of the House of Usher" and the work of Edgar Allan Poe and I had been really touched by his texts so I decided to get involved in the project when Cédric proposed it to me.
What is your relationship with everything that is decadent, moody? What is your relationship with the decay (the decadent movement)?
The work of Cédric is more linked to the Romantic Movement and romanticism in general: he wants to express himself freely through his music and to pass strong feelings and impressions to the listener. If I don't make mistake, the Decadent Movement appeared in the late 19th century and Charles Baudelaire is one of the writers of this movement. But I don't know enough about it and its links with the Romanticism to speak of the relationship between Grey November and Decadence.
How was it working for this album? I mean: working on the single tracks, the lyrics, the music itself, the arrangements…
Here, I will re-transcript what Cédric said since he is the one who wrote the entire album. "The first step in creating The Fall of the House of Usher was a pure musical approach. It was also the most exciting part for me. The challenge was, first, to compose the musical parts corresponding to the beginning of the story. I had to find the right tone, the rhythm and the atmosphere to fit each of the major themes of the novel. For this first part, I wrote mainly keys parts. Then I developped the musical parts, added arrangements… I concentrated on the coherence of each song's structure.Finally, the writing of the lyrics came with the recording of the instruments. At the very end, we worked on the melody and the phrasing of the lyrics.".
What was the most beautiful part in recording this album?
I'm not sure of what was the most beautiful part in the recording process. I had so much great moments working on the melodies of my parts; immerse myself in Cédric's songs, trying to feel like Lady Madeline while singing… The thing I find really extraordinary is that Cédric and I didn't know each other before starting working on this project. He went on my MySpace page and liked my voice so he sent me an email asking if I would have been interested in working with him. I listened to what he sent me and I liked it a lot, I tried to put some vocals on the first songs and he liked it also. That's how we decided to work together. During the recording process, we worked only by email sending each other ideas, first recordings and so on. So I found someone with, I think, the same sensitivity as me toward the work of Edgar Allan Poe and with whom it was really easy to work since we had the same view. I'm really proud that people seem to feel our emotions through the music of Grey November though we didn't know each other before this project. I'm not sure if I'm really clear…

As I've said, the album is related to Edgar Allan Poe's short story. Was it hard to work and to write the lyrics for the album?
It is true that it was not a little thing to try to write an album based on an Edgar Allan Poe novel. The novel itself is so well written in the typical flamboyant style of Poe. However the lyrics are in French and Cédric wrote them after composing the music, it enabled him to have a certain distance with the original text. Cédric was interested in a thematic and chronological approach of the text so he developed songs in a chronological way speaking first of the House, then of Roderick and after that of Madeline. He wrote on the mourning after Madeline's death and finally on the "Fall of the House of Usher".
Listening to the album, I felt so much drama and expressiveness. How did you decide playing the role of Lady Madeline? I'd like to remember that Madeline is a quite troubling character.
As I already explained, Cédric and I didn't know each other before the beginning of this project. He contacted me via MySpace. Since I really love reading Edgar Allan Poe's novels, when Cédric explained me his project, I was very interested and enthusiast. When I first listened to the music written by Cédric, I was sure I wanted to sing on it! In addition, it was quite a challenge for me to sing so emotional parts; I'm not really used to this kind of music. I've read the novel again several times and I tried to immerse in Madeline's feelings.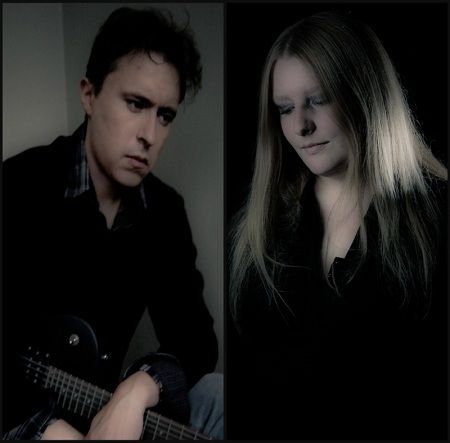 Marieke, I was particularly impressed by your voice, which results very expressive: you can give the songs that sense of drama, and why not, also that sense of melancholy. How do you manage to make all of this? What was your music education and/or the bands/singers that have inspired your musical growth?
It's true that, when people listen to the album, they say that I managed to express the melancholy and sorrow of Lady Madeline with my voice. I'm really proud that people can feel so many emotions while listening to this album. I don't know if I really succeeded or if people are kind with me when they tell me these things but it's true that I tried to put as many emotions as I could in my voice when I recorded the songs to serve the story, the music and the lyrics of Cédric. Concerning my musical education, I learned a little bit of music theory when I was young and began playing clarinet. After that, I tried to play guitar but it was definitely not for me. I began taking singing lessons about 10 years ago. I always sang but not really seriously. I began trying to improve my voice when I was in high school with singers like Alanis Morisette or Beth Gibbons (Portishead). Then, I began to listen to more and more Metal Music and I tried to sing on Lacuna Coil songs or Within Temptation songs. I even tried to sing Metallica with one of my previous bands…
When did you start to sing and to develop your passion for music?
I always had a passion for music. First as a listener, even when I was very young, I always listened to a lot of music (not always to good music…

). I began playing instruments when I was 13 I think. But since I was really shy, it took me a lot of time to have the courage to sing in front of other people. SoI have been in bands as a singer only since 10 years I think. Since 2006, I am part of a band called Heonia (www.heonia.fr) and, in this band, we decided to play only the songs we are writing. When I discovered that I was able to write my proper songs and to sing them, I think it made my passion for music grow even more!
The first song, "Pendant Toute Une Journée D'automne" ("A Dull, Dark, and Soundless Day in the Autumn of the Year"), is a gothic/doom track, that puts the listener in a sort of "atmospheric/dark" mood. It shows what the album is going to be. I'd like to define this album something that comes closest to being Funeral doom genre. Do you agree with this sentence?
From a literal point of view, it is true that Funeral doom could be a genre that corresponds to us. On the other hand, from a cultural point of view, funeral doom makes Cédric think of a cold and harsh British doom, like My Dying Bride. In Grey November, keys have a lot more importance than in the funeral doom genre. That's why the style dark romantic doom is what we think is the most appropriate to describe our music. With the adjective "romantic", it embodies the tragic and sensuous dimension brought by the string ensembles in our music.
In my opinion, the best track of this album is "Lady Usher". It's what I'd define "romantic doom". The songs opens with a instrumental intro, and your soft voice becomes more powerful/whispered, as if you were really Lady Madeline. How was playing this role?
Actually, I was quite tense before the beginning of the recording of this song. I knew it would be a very emotional song. So I tried to enter in this character and feel like her to sing with all her sorrow and languor. It was quite moving for me but I really enjoyed recording this song.
I've noticed that the songs are quite "long". What could you tell about the length of the tracks? Why have you decided to create so long pieces for this album?
The songs were built naturally, following the story and its atmosphere. It's certainly what brought Cédric to write long pieces. The languidness of the novel, the long descriptions of the sceneries, the way the author describes the characters' mood, the characters who are extremely hesitant to act instead of thinking, all of these characteristics of the novel favored the writing of long songs. In addition, Cédric loves to construct languid atmospheres and deeply loves Poe's novel so it is also perhaps an explanation for such long pieces in the album.
I think that it's a good doom album and I think that, if Poe were still alive, he would be pleased about you, your work, what you and Cedric have made this work in music. What's the real meaning of "The Fall of the House of Usher" for you?
I leave here the world to Cédric : "The topics covered in "The Fall of the House of Usher" are extremely numerous; according to us, far away from the academic considerations, the interest of the history does not appear in the opposition between science and the occult, or in dubious oedipal considerations, but in the metaphor of the glance of the main character on its own decline, on its immutable decrepitude and sovereign death. Roderick and Madeline are twins and, through the whole story, Roderick sees himself dying and wasting away when her sister joined the tomb, he feels himself rushing to the end of its own destruction, the collapse ofits family, his condition relentlessly promised to nothingness. This story is for us the story of as a lucid man confronting to the spectacle of his inescapable human condition, of his destiny and his death… Similarly, the house is the epitome of the history of the family, his state of decrepitude is the image of an absurd entelechy, in which the heritage, the family, the offspring can be no outlet, no metaphysical consolation: the end of everything. The story is just an introspection, a minor movement sublimated by the prose of Poe. It is true that there were many reasons to be hung-up by the original text of Poe and his flamboyant style. But our words have been drafted in French, and after the process of composing music, and this could well afford a certain distance. Cedric was interested in an approach in both a thematic and a chronological order of the text, by developing successively songs on the house of usher, on the character of Roderick, on that of Madeline. Over the period of mourning following his death, then the Fall of the House of Usher, finally…".
What is your own opinion about Doom and all its subgenres?
I am absolutely not a specialist of doom music. I really like the way emotions are brought to the audience by this kind of music. I think it's one of the Metal subgenres which is the most emotionally powerful. Apart from that, I don't really have an opinion on this genre which I am not really used to listen to.
Is there something new, now, for Grey November?
Cédric is now working on a new project for Grey November but we can't say more for the moment. Everyone interested can follow the news on our facebook page: https://www.facebook.com/#!/greynovember
Ok, thank you so much Marieke for the nice chat. You have the chance to speak to Femme Metal users and Grey November fans. Is there something you would like to say?
Thank you very much for this interview! I know it took me a lot of time to answer these questions and I apologize for that. What do I have to say to Femme Metal users and Grey November fans? First thank you very much for reading this interview, supporting Grey November and listening to our music!! And finally, keep listening and discovering little bands, they deserve it!
Links
Interview by Robin Stryker
As Halloween creeps closer on stealthy black-cat feet, my musical taste shifts gears towards darker fare, and you can't get much darker than "A New Dawn…", the sophomore album by German doom blues/dark rock band, Reactive Black. It's like a triple-shot of espresso… dark and delicious but the bitter after-taste lingers. Femme Metal caught up with Sassy Skeleton and Rotten, the masterminds behind Reactive Black for a shockingly candid discussion about their music and their views on politics and religion. Read on, if you dare.
Hello Sassy and Rotten and welcome to Femme Metal webzine! We are looking forward to learning all about your band, Reactive Black.
Sassy/Rotten:
Hey Robin! Thank you for your welcome!
If you don't mind doing a little memory test, let's go back in time.Would you tell us about the first time you met and your first impressions of each other?
Sassy:
The first time that we met was in Rotten's recording-studio, where we later did the rehearsals for a coming tour through Eastern Europe with a band I was involved as guest musicians. I don't know exactly when it was, someday in spring 2005 or so… He opened the door and welcomed me with the words: "Hey, welcome! Want a beer?". This sounded VERY cool to me and was quite different from people I made music with before. So, what should I say…from the beginning there was no real distance between us, like in other bands before.You know, sometimes it's hard to be a woman…;-)
Rotten:
LOL…I remember that day, Sassy went to the studio by her motorbike. My first impression of her was that she was self confident between a horde of "fucked up" musicians, LOL…what else should I say to her, than: "beer?"

Sassy was different than other female singers with all of her behaviour, not like a chick or whatever… The first time hearing her voice was impressive for me, because it was remarkable.
Sassy:
>smile<…Rotten was very directly with his way, he was not colouring something …. and later, when we have been already on tour, I understood, Rotten was also a guest musician like me, too. We never talked about being a guest musician, so we couldn't know this about each other, strange. But then, one day, right in the middle of the Carpathian Mountains….
Rotten:
Transylvania…spooky….
Sassy:
Yes indeed…;-) spooky…..Right there, we talked about music itself, our influences, our idols, our way of life etc….and found out, this was close to each other. So we decided to write some songs together after finishing the tour, which went really great by the way. So, back in Germany, we worked at the beginning on ideas via e-mail over more than 300 km and sporadically meeting.This was not very satisfying. Later Rotten moved to Hamburg and since this time, working together is much easier…;-)
You both were in bands before forming Reactive Black. When you first met, what projects were you involved in?
Sassy:
There were some projects and former bands where I've been involved in as a singer, mostly in Gothic Metal bands, sometimes with German lyrics

These formations represented often the style of a "beauty and beast" image — but over the years, I found out, this kind of singing was not my way, I'm no dark princess or opera singer. This role is definitely too feminine for me, I cannot identify myself with this. So I decided to find or build up a project where I could express myself more than before with my kind of vocal timbre. Before I did the guest musician thing, I was part of another gothic music project which was more experimental and electronic.I was more able to bring in my darkened voice or my kind of singing, but…..how things go, there have been the so called personal differences, lol, etc…another reason for going on tour, to get new influences is always better than standing still. Then I met Rotten, we built up Reactive Black, and well…the rest is fucking history..

Rotten:
Nearly the same here…many bands and several outputs…from old days Punk bands, via Power and Glory Metal, Oi to Black and Death Metal…but sometimes there are people in the music biz and musicians…it's surely unbelievable…I can't tell what I felt about them and what I felt in some bands…so shorten it up and say, I was MORE than unhappy in some of these bands, especially in the Goth Genre. Words like "hey, that's not goth enough" and so on or just like in the Metal section "hey, that's too dark" and this shit… Hey, come on…this is what I feel…no need to categorise or limit myself! I am how I am..not more, no less.

Over the years, I learned to play the instruments for my needs on my own in order to make myself not depend to others… Ok, some instruments I do not play very well, lol, but I play them in this way, that I could let out, what I feel….sorry, now, what WE feel, LOL!!! This dependence was also the reason for me to get the skills of audio engineering etc to build up my own commercial recording studio, so that I can work however and whenever I wanted to work.So far, so good…;-)
Considering that the two of you have essentially been the band for most of its history, what is your relationship like?
Sassy:
What?! We love and hate each other quite a lot, lol! We can only work together under influence of a lot of spirits or psychoactive substances, hahaha

Okay, stop joking, there was equality since we started with the project and we felt more and more like a band fitting together.
Rotten:
I think, I can say, that we have respect for each other. Honesty, reliability, teamwork, that's what it's all about…
If you had to describe Reactive Black in five words, which would you choose?
Rotten:
One word will describe all of Reactive Black's aspects for me: BLACK!!!
Sassy:
Polarising, different, emotional, darker, BLACK!!!
I'll go out on a limb and guess that you were not born with the names Sassy Skeleton and Rotten. Where did your nicknames come from?
Sassy:
Well, Sassy is a short form or a nickname of Saskia. But we have already noticed that the term "sassy" is also a synonym for "cheeky" or "impudent"….. It is not like that, I would not be impudent in my behaviour

but it has nothing to do that, I am a "sassy skeleton" -– just a simple clarification…but the surname "Skeleton" is rather self-explanatory but it has a special meaning for me, for sure. The "skeleton" or better to say, the "bones" have always had a deeper meaning in different cultures or for some people for their own rituals to get in touch with the mystic or dark side. So I always played with this kind of statement and the English meaning too…
Rotten:
In my childhood they called me Rotten, because of The Sex Pistols Johnny Rotten, it was simply a joke on names, but an honour to me…finally as a fan of the Sex Pistols, Sid Vicious was the reason for me to start playing bass guitar

Puh, a long time ago…but today it is more that my name describes how I see the world…;-)
Congratulations on releasing your second full-length album, "A New Dawn…" ! What vision did you have for this album and in which ways is it different than Reactive Black's 2007 release, "Upcoming Evil"?
Sassy:
We wanted to work out much more the musical elements that really represent us. We wanted the songs to come more directly without losing their emotions or without losing the catchiness. And sometimes it was much more about giving answers to our own questions or finding out something about ourselves

We wanted to combine our aggression more with our own unique melancholic atmosphere, created by the keyboards and also with my voice. This record should more deepen the body of thoughts which already appeared on "Upcoming Evil" …. For myself, sometimes it was quite a hard time to get through, LOL, I was suffering a lot

, not least in cause of the outer circumstances. It was important for me to bring in more emotional feelings with the vocals….not to leave our path which we went on since the first album, and support much more our kind of dark style…. We are no happy people, so we show it on this record how we think about life and about the world outside but in the end I was glad to express my sadness, disappointments and hate on this album. So, what should I say, I think "A New Dawn…" has a special dark vibe, a sinister atmosphere…when you hear through the whole record and you are alone, you will get a bitter "aftertaste"….What I like to say is that there is no good feeling left, like a happy end ….

Rotten:
The vision behind this records? Hmmmm..at least to free our minds!!! LOL!? But..uh, hard to say… for me, "A New Dawn…" grabs on some of the feelings we already started on our first record "Upcoming Evil" but we put it together with more electronic elements, without letting them take over the song. But I think these electronical influences are now definitely an elemental piece for our kind of sound and songs too. It was my wish to make the songs a little bit harder and more in the face without losing their brittleness of feelings the songs are about…and without following the cliché. So, we described our points of hate, with more aggression, our points of views and our views of the world we live in and we do not like very much…;-) and of course again we send out questions to those stupid steam followers without an own opinion or point of view…caring about nothing more than a well filled fridge. I cannot describe with words what I feel about those people…but I must say…the record describes the feelings we had during the time we did it, and yes, sometimes it was hard to get through because of the things that happened.
Reading between the lines, it seems that the process of finishing your new album was a longer process than expected with some painful set-backs along the way.What happened?
Rotten:
Damn shure!! Sometimes it was hard…the loss of good friends, even the coming and going of false friends, dramaturgies inside of my family and even the death of beloved friends during this time was hard for me. So these changes put sometimes our work on the records nearly down to zero…but then, like ever in life, we have to reflect who we are and what we wanted. We decided to reset ourselves, think about who we are, what we can do and decided to hit the way what WE considered as correctly. So, "A New Dawn…" is a very emotional thing for us.
Sassy:
Sometimes it was very frustrating, thus a hard fight…against time and against unexpected circumstances…. Unfortunately we also had bad experiences with some musicians — but they were like….let's say more than a very bad joke — shit, but sometimes you recognize things when it is already too late.You lose so much time with this bullshit, too

Damn, no time to lament, sometimes, losing means winning! You never know why things sometimes happen like that…..some things you will get to know only in the end

…..the end your only friend, like Morrison liked to say, lol, shows.
Reactive Black's lyrics explore dark themes and some rather unpleasant aspects of humanity. Are there particular issues that make you just shake your heads at the self-destructive tendencies of mankind?
Rotten:
For me, it is more than just shaking my head…I have some days where I am looking out for another reason NOT to press the red button to reset the whole world without having any backup …I think humanity itself is just a mistake of gods.It is a bad virus. What did I say? Of the gods, fuck, I do not believe in any god, by the way…Religion is a very evil thing to humanity. I prefer darkness, silence and loneliness in my life. I give a fuck for what people expect me to do..I live my own life and this must not be the one of any other. So, let's be a little bit elevated…I love the night, when everything is silent and everything is much more intensive… I am no child of the night but I like the moonlight more than the sun, coldness more than heat… So I always do not like places with many people, as well as busses or subways and so on.. I am really thinking of moving to the top of cold and freezy Norway….LOL…. I can say…some days I really hate the world….and, fuck, I feel it is like a world full of Zombies…caring about nothing more than making money or bearing down on people….so please, no more words about this…;-)
Sassy:
Jep, sometimes Rotten is not able to go out and get some fresh blood, muhuhaaahaaa

So, it is on me to go out for a hunt, lol. Seriously, I don't like masses of people too and I don't like the "rush hours" you are involved in daily…when the night begins, everything is more patient, there's no trouble around. I can concentrate myself on the creative work. We are a kind of "night breeders", lol. That's right, it's so beautiful when the moon is full and everything is quiet

I'm happy to live not directly in the city of Hamburg, it's more the "suburbia" and I be surrounded by a nature reserve. You will go crazy when you are always stuck in the crowd. Like Rotten said before, religion really sucks… like Christianity or the Islam, or Judaism or whatever….this is an instrument which lets the people be stupid to put pressure on them. The believers are forced to kill each other in the name of god — they don't questioned it! What the fuck!?
Rotten:
We do not help them to kill each other…muhuhaaa …stupid people…
Sassy:
LOL…But anyway, politics sucks too, especially here in Germany but also in the rest of the world. So much corruption, megalomania, greed and exploitation. The people are always fucked by the government, which tries to persuade that we still live in a democracy and that we all have the same rights and blah blah blah ….they told us that globalization is a perfect way to be united…it's only valuable for the big concerns and lobby groups to get much more influence in politics and society (but, what they don't really say, is that the people lose their employment because everything is getting more and more in price dumping!)…..I hate that everything changes into stereotype masses. When you have idealistic visions

and no commercial intentions then you are declared as a "crank" or "dreamer"…
I was interested to read that the track "Taste of Paradise" was inspired by the French poet, Charles Baudelaire. Was your inspiration "The Litanies of Satan" from his Les Fleurs du Mal volume? Why does Baudelaire's poetry appeal to you?
Sassy:
Jep, I was inspired by Baudelaire's litanies verses, they really suits me

It's because Satan is often a misunderstood character, not only in the bible, which is for me definitely NOT the book of books……he is still responsible for every kind of dark theme, for the misbehavior of mankind, for every kind of pain and so on. Let's say, Baudelaire moved Satan and his character over into a "positive" light

he described and honoured his "qualities" and did not declares them as "evil failures" like all the representatives of religion groups did before and still do. What is Satan or Lucifer…in the real meaning of the name he is the bringer of the light…so it means wisdom, placing questions as well…What's wrong about to say "something's going wrong here ?!" Or to put inconvenient themes into a question….When you say what you don't like or don't have respect for someone or something….you are a troublemaker, a "grumbler" in the view of the society…that comes along to Satan, he disagrees to "divine regulation" and therefore he was cast off by "god". By the way, I don't believe in that what they call "god" …For me, Baudelaire's works/poems are offensive and provoking, they deal with unsuitable themes and social criticism, it's about his sufferance of the world he was living in, and I think he reflects himself and his depressed soul. He represents the dark aspects of human existence. For me, I think, he was a rebel and he has chosen the way to be a writer, this was his tool to fight against the social conventions at that time.It was not a kind of worship Satan, to speak out the lyrics of the song "taste of paradise" like a sacral speech, but absolutely some kind of tribute to Satan…until now, some reviewers weren't able to understand that the lyrics at the end of the song are spoken in reverse. They noticed it as a bad "rap" thing or something like that….I think they don't even get it

Our thanks for donating a song to Femme Metal Records compilation, "Beauty and Brutality". Why did you choose "Thoughts" as the song to introduce listeners to Reactive Black?
Sassy:
I think this song represents our sense for darkness and melancholy. "Thoughts" is floating, has a catchy tune and has a lasting effect. The lyric deals with the expression of internal emptiness…to feel as an alien, as somewhat very strange in the midst of the society.
Saskia, in addition to being a musician, you are also a photographer and free-lance artist. Can you tell us about combining all those talents together to create the music video for "Doom", the final track on the new album?
Sassy:
Yes, that's right. I studied Illustration and Design here in Hamburg and after my graduation, I have lived and worked as a free-lance artist. I express myself not only by voice and by lyrics but also in a creative way in form of photographs and collages (as well as painted and drawn pictures) … it's always some kind of dark style. I keep myself busy with dark and mystic themes, also with mythological ones and try to put them into a form by visual instruments… I really prefer to underline our statements and lyrics by art and design. I did the artwork of both booklets of our albums "Upcoming Evil" and "A New Dawn…" and I'm also responsible for the design on our website, let's say the art direction of Reactive Black. It's important for me and for Rotten, as well that we make the decisions and the concepts for the visual stuff of Reactive Black. So, I had the first ideas of our videoclip "Doom" — I had some aspects in my mind like the pictures with the coffin and the "dead and alive" painting on my face. Rotten and me put our ideas together 'cause we wanted to express our morbid and dark style here in this clip too and not only in the music. You cannot divide these things, music and visual arts belong together. It's always important for us that a video tells a story and does not show a simple or boring uniform band performance like thousands of other videos…so Rotten wrote the whole videoscript and we started with a few friends to set our visions into scene.
Rotten, one of my favourites is the spoken-language track "Fading Away", which is completely different than anything else that Reactive Black has done.What were you going for with this song?
Rotten:
Yes, it is different.This song is a statement about Sassy's and my life. Some days we feel like aliens on a very strange planet…so why don't put a song into a strange and different form…I think with this instrumentation, the words on "Fading Away" have the place they already need. And thank you Sassy, you did a great job on this!!!
Sassy:
I like the timbre of my voice…I tried to express it by my emotions and inner feelings although I didn't write the lyrics of "Fading Away" but as Rotten said before, I feel in the same way about the world and the place I live in, sometimes I feel like an alien too….at least this song is a very intimate thing for us…
You had been searching for musicians to round out the line-up for live performances. Have you found everyone you need to start performing live shows?
Rotten:
There are several things that make it very hard…first of all…Hamburg is definitely NOT the place where we want to live, 'til we are old…and is NOT the best place for goth musicians or dark rock musicians as well. This town is full of Power Metal Heads, Emos etc…but we need a musician, who is black inside and feels the music in a way we do…and lets our music grow, not stagnate. But finally we found N:H:S: for the job on the live guitar. I think, he feels the songs and the music, in a way like we do and we he has still the same influences. But also for the future, Sassy and myself will continue being the heads of Reactive Black, so a little bit different than other bands, but I think that's no problem.
What is the current music or club-scene like in Germany?
Sassy:
That's a bad thing. It's so frustrating when you see that most of the underground bands are playing in front of a handful of people because the clubs didn't care to promote the events before or let the bands start playing so damned early in the evening that there is unfortunately no audience at all.We had this case two weeks ago…there was a concert with 4 bands (3 of them came from Finland) on a Saturday "night" at the Reeperbahn here in Hamburg, that's the best day for an event like this — BUT…the first band started at 7 p.m. and the last at about 10 p.m. The room was cleared at 10:30 p.m.There were a big crowd outside of the club but nothing was going on INSIDE the club. It was more important for the club owner that the "club party" with techno or mainstream shit started right on time at 11 p.m. than to let the bands playing longer…that was a really a bad joke…
Rotten:
Yes it is a bad thing…many smaller but very attractive clubs have died in the last couple of years, not to say this walked over the years. Many of today's club owners are not experts in having a club, it is more a thing about making quick money…so they think they would do a favour for the bands to let them play live…but sometimes you have to rent the club for a lot of money…So many bands are surely not able to play live because of this costs.Today it is also common to pay for going on tour with a more established band…as well some German magazines go over, maybe because of the disastrous financial condition, to let the bands pay to for a review in their magazines…that's fucking bullshit, isn't it? So in a few years there will be only a handful of big festivals with the same old and sucked out bands…a very nice vision…argl!
Thank you so much for talking with us today. Do you have any final words for your fans at Femme Metal?
Sassy:
That's right.Thanks so much for doing the interview. So we are really pleased that we got the chance to talk to you guys at Femme Metal. Keep up the good work on supporting outstanding female fronted goth metal bands.

Rotten:
Thanks you for this interview and the chance to being part of the compilation.
Rotten/Sassy:
One thing left to say for our friends, thanks for reading and: STAY BLACK AND BE YOURSELF!
Links
MySpace * Facebook * ReverbNation * Twitter * Site
Latest Multimedia
6 color styles available:

Style switcher only on this demo version. Theme styles can be changed from Options page.