Browsing articles tagged with " chasm"
Label : Fono LTD
Review by Tony Cannella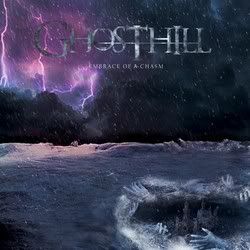 From Russia, Ghosthill plays great, straight-ahead heavy metal. Their debut album is titled "Embrace of a Chasm" and their style is along the lines of Crystal Viper, Germany's Backslash or even going back a few years (okay, more than a few) classic Warlock. Not a bad lot to be compared too, but Ghosthill also puts their own stamp on things and delivers a powerful debut. The intro "A Billion Years of Torments" segues into the bouncy, "Keepers" era Helloween vibe of "The Last Dimension". This song also features its share of crunchy, headbanging parts and Mira's strong vocals; at times she reminds me of Marta from Crystal Viper or Heike from BackSlash. "Cyclonic Death" keeps up the frenetic energy and pace, with some cool riffing and guitar leads. "The Mist" is up next and has a dark, eerie feeling to it. Some cool sounding keyboards and mixing different tempos drives this number, and helps to make it an instant favorite, and shows that Ghosthill are capable of more than just headbanging music. If the band ever does a video, I vote for "The Mist". The pretty sounding piano starts off the ballad "Silent Night", before the rest of the band joins in and helps to make this song an effective ballad. You prefer the heavy stuff? Fear not. The band picks up the pace once again with the almost thrashy "Titanic Heroes". Ghosthill returns to a darker vibe on the next track "Down the Dark River". This is just a beautifully melodic track that is hands down my favorite. The classic European metal style of the title song is next. The final two tracks "Stronger Than Fire" and "Vigilant Forest" brings the album to a monstrous conclusion. Overall, I loved "Embrace of a Chasm" by Ghosthill. It is great to hear a band like Ghosthill, still flying the flag for traditional metal and playing the music that they love with such energy, power and conviction. "Embrace of a Chasm" is one of my favorite albums to come out in 2010 and Ghosthill is a band that I eagerly await to hear more music from in the future.
Rating – 93/100
Tracklist
A Billion Years of Torments
The Last Dimension
Cyclonic Death
The Mist
Silent Night
Titanic Heroes
Down the Dark River
Embrace of a Chasm
Stronger than Fire
Vigilant Forest
Line Up
Mira – Vocals
Val – Guitars
Nick – Guitars

Ilia – Keyboards

Leo – Bass
John – Drums
Links
6 color styles available:

Style switcher only on this demo version. Theme styles can be changed from Options page.