Browsing articles tagged with " choir"
Interview by Eetu Niskanen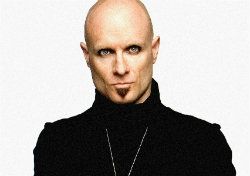 For the beginning, you just released your new album "My Fatal Kiss", how much work did it take to get it written, recorded and finished?
It took us over a year to write and record "My Fatal Kiss" primarily because we also changed record labels during that process, which is not something you can hurry. But I guess we made the best of the situation, cause when the new deal was finally signed we had already finished about 90% of the songs. We put a lot of blood, sweat and tears into "My Fatal Kiss" not only as far as the songwriting and the actual production is concerned, but we also worked extremely diligently on its artwork so it would reflect the album's lyrical concept in what we hope turned out to be a creative and thought-inspiring way.
How have you improved as musicians since your latest effort "Bloodangel's Cry"?
Well, Krypteria is now in its fifth year together, which I consider a testament to the dedication of the four individuals in this group, that being Ji-In, Chris, Frank and myself. Sticking together through these years despite a huge number of setbacks gives us a sense of cohesiveness both musically and personally. We absolutely cherish the opportunity to keep working on our dream. With that in mind I'd say the most significant improvement is us benefiting from our collective experiences as a group both live and in the recording studio over the last couple of years.
How would you explain your music to readers who haven't heard you?
We are a female-fronted rock/metal band of four who like to combine catchy melodies with heavy rocking riffs and hard driving grooves. Add a bunch of classical and gothic elements such as the occasional Gregorian chants or Ji-In's delicate piano to the mix and what you hear is a dark, emotional and dramatic kind of high-energy music. Some people call it Gothic Metal, some call it "Rockmantic", somebody even dubbed it "Sexy Symphonic" – whatever you want to call it, if you like passion, power and emotion all rolled into one you might want to give our music a try. I'd say checking out "My Fatal Kiss" will give you a pretty good idea of what Krypteria stands for.
How long have you been playing drums?
I got my first drumkit at the age of 15 and formed a band right away with a couple of classmates – and, yes, it's safe to say we weren't very good. (laughs). A couple of years later I met Chris and Frank and we joined forces for the first time – little did we know then that we would reunite and start Krypteria together more than a decade later.
Who writes the music on Krypteria?
We all do. Everybody brings different ideas to the table and we are lucky to have four people in the band who are able to write both individually as well as in groups of two, three or four. Plus, due to the fact that we spend a lot of time together away from the studio or the tour bus I guess you can say we are a very tight-knit family. We don't have to deal with any ego issues when it comes to writing songs. That said, discussions about certain parts of the music can still get pretty heated every now and then – however, it never gets personal and always happens in the best interest of our songs.
Who are your biggest influences?
Personally, I'd have to say that Queen had the biggest influence on my development as a youngster trying to become a decent musician. They of course first blew me away with their musical diversity and their unique image. But more importantly Roger Taylor's drumming and him being one of rock's greatest background vocalists ever as well as contributing as a songwriter big-time was something I tried to emulate – so I owe trying to become this drummer/singer/songwriter combo to him being a role model in that regard. As a group we all listen to a very wide array of musical styles and we consider ourselves pretty open-minded. If it gives us a kick we appreciate it, be it metal, rock, pop, electronica, classical music or even some obscure avant-garde stuff. And if you listen to our music closely you will probably discover some of the less genre-typical influences we draw from.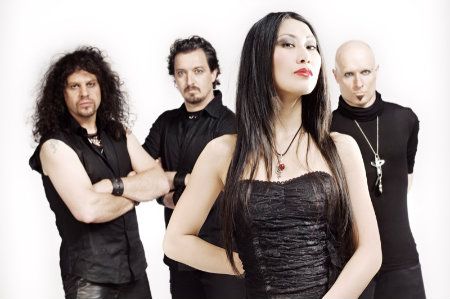 Could you tell us something about the other band members?
I guess everybody can see that Ji-In is a very beautiful woman and that she is an amazing performer both in the studio and on stage. What people who haven't met her don't know is that she just has the sweetest soul. It may sound like a cliché but to know her is to love her. Plus, she is one heck of a team player and one tough cookie. Chris is a man of conviction, a visionary and Krypteria's savvy business authority who is not afraid to get in the ring with anybody for the good of the band. Frank not only plays the bass in Krypteria, he is a fantastic singer in his own right, a guy I trust and the ultimate goofball who is not afraid of constantly going the extra mile. And I guess that's what unifies us, the goal we share, the hopes and dreams we share and everybody being willing to go the extra mile no matter what. We know that us finding each other is very special and that's why we'll never let go of it just because the going might get tough once in a while.
There are tons of female fronted rock/metal bands out there, how does Krypteria keep unique?
By staying true to ourselves. This is who and what we are, four individuals working as a team, combining their creativity to make music that is meaningful to us while hoping that we'll be able to reach out and touch as many people as possible. I am a firm believer that you can't be truly relevant if you try to chase a certain formula or try to be different for the sake of being different. It either comes naturally and hopefully people will recognize a uniqueness of some sort, or you probably don't have it in you. See, you can't force anyone to love you, love has to find you. So basically our fate is in the fans' hands. It's up to us, though, to make sure we're out there so they can find us.
With "Bloodangel's Cry" you changed your music style a lot from the earlier works, when and how did you decided to go for a rockier style of music?
That's just part of us evolving as a group. What originally started as a fun studio project between Chris and I only became a full-fledged band when Frank and Ji-In joined us and that's when things took off. Becoming rougher and edgier just came naturally, because that's where our hearts are musically. As I mentioned before, we've since shared quite a number of different experiences both good and bad.These experiences and all the concerts we played kept shaping us as a band and brought us even closer together. All this combined with our individual musical backgrounds as well as our influences and preferences made this a very natural process and the inevitable next step in the evolution of the entity that is Krypteria.
After four studio albums wouldn't it be ideal place for a live DVD, what do you think about making one?
Oh, we'd absolutely love to. But right now we are focusing on making sure the world knows about "My Fatal Kiss" first. However, I am pretty sure that a Krypteria DVD will be released in the future, I just don't see it happen within the next year or so – but, hey, I've been wrong before. All I can say is that the four of us would love to do it, so our fans who don't have the chance to attend a Krypteria concert in person will still be able to see what we are about on stage.
What can we except for Krypteria in the future?
For at least the next 12 months we'll primarily be playing live not only in Europe but we'll return to Asia and Latin America as well. We simply love to introduce our music and the band to as many people as possible in a concert setting. Fortunately, we've built a reputation for being quite energetic and entertaining on stage which rings especially true for Ji-In – again, she is simply adorable but at showtime she turns into this uncontrollable wildcat. I'm glad I have the best seat in the house to watch this tiny firecracker explode everytime we play live (laughs).
Is there anything readers should know I haven't asked?
Yep ! That our bass player Frank really is bat-shit crazy ! (laughs) And that I'd love the readers to check out our new album "My Fatal Kiss" at www.krypteria.de. Please let us know what you think of it and come see us live if you can. That'd be awesome and you're guaranteed to see a band work their butts off to give you a great, great time.
Thanks for the interview!
It was my pleasure, thank you for the opportunity and keep up the great work ! Here's hoping we'll see each other at the Femme Metal Festival 2010

Links
MySpace * Facebook * Twitter * Site
Latest Multimedia
Interview by Ed MacLaren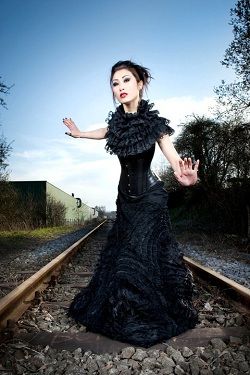 Since 2004, Germany's Krypteria has released a string of excellent symphonic metal albums – each reconstructing and redefining their trademark symphonic metal sound. With their latest album, "All Beauty Must Die", Krypteria has stepped out once again with amazingly ear-pounding results. Led by the formidable vocal talents and dynamic stage presence of Ji-In Cho, Krypteria are becoming as equally known for their powerful live shows as their complex and powerful music. Femme Metal recently got the opportunity to talk to Ji-In about the making of their new album where she breaks down the Krypteria sound and tells us why all beauty must die.
Welcome to Femme Metal Ji-In! "All Beauty Must Die" is out and it's a winner! Life in Krypteriapolis must be looking pretty good these days.
Hello Ed! Thank you very much! Yes, I can't deny that after all the time we were confined to our studio working on "All Beauty Must Die" we are now very happy about getting all the great mail from our fans and wonderful reviews!
"All Beauty Must Die" is hookier and heavier than any of your previous efforts yet you've still been able to maintain many of symphonic and choral elements that made "Bloodangel's Cry" and "My Fatal Kiss" such interesting listens. What was the band's mindset going into the recording of the album?
Like always, we poured our experiences and emotions we had to deal with in the last year into the record. But as you may know we set up our own label and that means for the first time in our career we are free – in every part of this business. That means we are now responsible for everything – even besides the music – and that is very exciting and new for us. We told ourselves that if we fail, we will die by our own sword. This might sound a little weird but because of this knowledge we feel totally liberated, independent and stronger than before. I really hope you can hear it on "All Beauty Must Die". By the way: we called our label Liberatio. (Smiles)
Do you feel that Krypteria has established a certain "trademark" sound that sets you apart from other bands – a sound that people will instantly identify with Krypteria?
I believe we do have quite a different sound from other bands. Not on purpose, this is just the result of our combined efforts at composing and writing. It is hard to describe in a few words, but I believe our fans will know by now what a Krypteria song sounds like. We have a knack for dramatic but still catchy melodies. We like to combine choir parts and classic elements with heavy riffs and beats. On our new album we have further grown and evolved musically. Maybe we are a little tougher and rougher, but unmistakably still Krypteria.
Are there still wild and unknown places the band still wants to explore musically?
There are surely a lot. But at this moment we are very happy with our baby and it is too early to think about our next steps or our next album. The only wish we have is to present our baby live on stage to our fans.
All Krypteria albums have a central theme that holds the lyrics and music together. What's the conceptual thread that ties together "All Beauty Must Die"?
Well, it's not a concept album like "Operation Mindcrime", "Streets" or our 2007 release "Bloodangel's Cry". It's about staying true to yourself and to your ideals no matter the obstacles. There's a lot of rage and yearning involved and it's about loss. But there's also a lot of resolve, defiance and hope to it.
While we're on the subject: why must all beauty die?
If I only knew!! Well, that's how it is and there is nothing you can do against it. You can't hold the good moments forever and stop time – only the memories can remain. But even these are gone when you die. To say something positive: not only the wonderful moments fade away but also the bad times and negative emotions are someday over.
Your singing is spectacular on "All Beauty Must Die". Your vocal melodies have matured immensely on this album. How would you chart your vocal evolution over the course of your time with Krypteria?
Thank you for the compliment but I guess my teacher at the Musikhochschule who taught me classical singing would have a hard time listening to my singing!(Laughs) I think everyone of us has found his place in the band. We all respect and appreciate each other. We also totally trust each other and we feel safe when we are together. I think it's always very helpful and encouraging if you feel comfortable and you feel accepted as the person you are. That's the best way to express and develop yourself.
Do you still work on improving your vocal abilities either through personal practice or professional instruction?
There are days when I sing all the time just to try out what's possible with my voice. And sometimes it's better just to shut my mouth! (Laughs)
A goal of the band seems to be capturing the energy of your live performances – especially yours – on album. Are you getting close to getting that dynamic down digitally?
I hope so. But in the end it's never as easy as we always have a lot of fun on stage – thanks to our audience. Every band would say so – the fon stage. Fans give you the best energy boost you can have and I could never compare these moments we share with our fans with anything else.
Although Krypteria started out more like a loose and informal "project", it seems like Krypteria functions more and more like a true collective. How does that affect the direction and arrangement of the music?
I never thought of this band being loose and informal. But you're right: the longer we know each other the more organic we're getting. I'm very thankful that we're aware of being four totally different personalities and treat this fact as an inspiring fact. That's why we try to make sure that every facet is represented. I'm sure that helps to make our album more multi-dimensional and more colorful.
"All Beauty Must Die" is a heavy album with tracks like "Messiah", "Higher" and "Eyes of a Stranger" but there's still room for your delicate piano flourishes. How important is it to express that musical aspect of your personality on each album?
I love to write songs with only my piano and I think it's a perfect instrument to bear up against the guitars. In comparison with the voice you can show a different and more complex atmosphere and in addition to my voice, the piano is very important for me to express myself and my musical imagination.
"The Eye Collector" is a standout track – and not just because it clocks in at an epic-length 11 minutes long. The intense arrangements and the simmering force of the music make it arguably one of your strongest tracks from any Krypteria album. What is it about extended tracks that bring out the best in the band?
Well, in this case this is easy to answer because we had a great inspiration based on a book by the German author Sebastian Fitzek. One of his fabulous books is a psychological thriller named "The Eye Collector" and we are relieved and very happy to tell you that he likes our song and the fact that it's inspired by his book too. (Smiles)
When you decided to bring in some guests to record you didn't fool around. Doro Pesch, Tobias Exxel and Olli Singer! Nice job! How did they do?
We are very happy that we could win these guys to play with us. For me personally, it's a big honor to sing a duet with Doro – she's really the Queen of Metal and no one is more experienced than her. After all these years she still gives to her fans everything she's got on stage and that's really something to admire. We got to know Eggy when we had our first gig in Germany. We shared the dressing room with Edguy and very soon we found out that they are very nice and funny guys. We are glad that finally after all these years Eggy could find some time to join us on the record – especially as a guitar player! And regarding Olli: he's the best guy we could find to replace Chris on stage. He's a real good guitar player but first of all a real good guy and we have a lot of fun with him when we are on tour.
Krypteria's artwork always shows a lot of attention to detail – both in quality and in reflecting the musical and lyrical content of the album. At the very least the skull logo will look great on a black tour shirt! How did the artwork for "All Beauty Must Die" develop and what were you trying to convey with it?
Talking about the artwork for "All Beauty Must Die", we were searching for a picture that would fit this title. I didn't want my face to be displayed again on our cover, because we already did that. So I came up with the idea of a female and Asian skull. Fortunately, my band members were also very curious about the idea and what such a skull could look like. Thanks to our great illustrator Torsten Bürgin we now have this fantastic female skull logo. If I had tried to draw up something like that, we would probably have a different cover – I'm a real bad drawer and painter!
We're starting to see more bands integrating members from different countries and making some incredibly creative music. This includes Leaves' Eyes, Tristania and Visions of Atlantis to name a few. You've been the lone South Korean in a German band for a long time now. Has your South Korea ancestry played a part in your contributions to Krypteria or influenced the direction of the music?
Not in a direct way. But I can tell you that my family loves music – especially passionate and wonderful melodies. We're very emotional and everyone in my family can play a classical instrument. So I guess this love for this style of music is in my blood.
"All Beauty Must Die" gives you four solid albums of excellent metal music to perform. Does the material give you an opportunity to express all facets of your personality on stage?
Absolutely yes. I love to live out all the emotions and subjects we are concerned with. It's really like a therapy and after every concert I feel clarified – I'm very thankful for that.
Will Krypteria ever get around to capturing your live energy and the band's stellar performances on DVD?
I hope so and I'm sure this wish will soon come true! (Smiles)
Where will "All Beauty Must Die" take you touring this year? Any chance for an appearance in North or South America?
So far we're abroad in Asia and some other foreign countries but unfortunately not in America. We would really like to but there are no confirmed dates yet. Later this year we will tour in Germany. But let's wait and see: not everything is set in stone, yet. (Smiles)
I am not good with last words. All I can tell you is what I tell myself as often as I can: Enjoy your time on earth and keep in mind the wonderful moments but also the bad moments – you never know for what they are good for!
Links
MySpace * Facebook * Twitter * Site
Latest Multimedia
Label : SPV/Steamhammer Records
Review by Tony Cannella & Luisa Mercier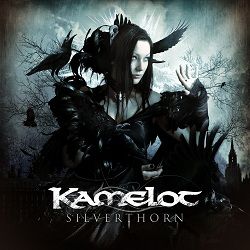 It is finally here. One of the most eagerly anticipated symphonic metal releases this year has to be "Silverthorn" by Florida's Kamelot. Of course it is well documented that the band parted ways with popular longtime vocalist Roy Khan. After utilizing Rhapsody's Fabio Lione to fulfill their remaining tour dates, Kamelot finally settled on a permanent replacement for Mr. Khan… His name is Tommy Karevik from the Swedish band Seventh Wonder. One thing Kamelot has always done is incorporate some of the most talented female vocalists to further enhance their albums and "Silverthorn" is no exception. Elize Ryd from Amaranthe, Alissa White-Gluz from The Agonist and Amanda Somerville has already been on tour with Kamelot and they all turn in tremendous performances when they are called upon. "Silverthorn" is a concept album about "a young girl who dies in the arms of her twin brothers, taking the three siblings' secret to the grave". Kamelot has really outdone themselves in the lyrical department, and the music has that movie soundtrack feel to it to really compliment the lyrics. After the opening intro "Manus Dei", the band goes into "Sacrimony (Angel of Afterlife)". I would say that this is probably my favorite song, which also features some killer vocal performances courtesy of Elize Ryd and Alissa White-Gluz. Alissa adds a more aggressive style. I was surprised to hear that Alissa was on tour with Kamelot and that she sings on this album. She definitely has a more aggressive style to contrast the angelic voice of Elize Ryd. Next is the heavier "Ashes to Ashes". One thing is apparent, Tommy Karevik definitely has Roy Khan thing going with the vocals, I wouldn't say he is a carbon copy sound-alike, but with him at the helm the band loses nothing in the way of vocals and musically this is the most inspired they've sounded in years. "Torn" is next and has an up-tempo style. Next is the ballad "Song for Jolee". Next is "Veritas" which features a huge sounding choir on the chorus. Other highlights include: "Falling Like Fahrenheit" and the closing 9-minute epic "Prodigal Son" which is divided into three parts: "Funerale", "Burden of Guilt (the Branding)" and "The Journey". There are a lot of similarities in both look and style between Tommy and Roy, but for the most part, I like the bands choice of singers, and I don't know if it is a coincidence, but "Silverthorn" is probably my favorite Kamelot album since "The Black Halo".
Rating – 90/100
All of us Kamelot fans were eagerly waiting for this new record. Two years ago, Roy Khan stated that he would have not toured with the band for a while, and after some months he left Kamelot. Since then, I was quite sceptical and curious about his replacement, since Roy voice is unique ine power/symphonic metal and it was the main feature of the band, the one that made Kamelot stand out. It was with relief that I welcomed Tommy Karevik into the band, since he is not the typical power metal singer, but he's quite versatile and really talented. On the other hand, it was the record that partially did not meet my expectations, since it is hit and miss for me. Do not misunderstand me, the balance in the end is good, but it stays quite below legendary records like "The Black Halo" or "Poetry for the Poisoned". There are very good songs and songs that are quite average, not the best melodies, sometimes they are just cheesy and too power for my taste. "Manus Dei" is the usual symphonic intro, nothing new if you love this kind of music: orchestra, piano and choirs that build the climax for guitars and the beginning of "Sacrimony (Angel of Afterlife)", the first single. The song has power/symphonic riffs and Tommy is scarily similar to Roy, so similar that I am almost convinced that it was a conscious choice. In the song, he duets with Elize Ryd from Amaranthe and Alissa White-Gluz that is in charge of harsh vocals. All in all, it is a nice track, nothing oustanding. Another track that did not impress me much is "Song for Jolee", the ballad. Kamelot are masters of ballads, think for example of "Abandoned", but this is way too cliché. Of course there are positive sides and I can name a few. Beside Karevik vocals, I really liked "Torn" that, even though short, has a good variety of styles and tempo changes without relying too much on power. Same for "Veritas" that recalled me the sound of the previous masterpiece "Poetry for the Poisoned": epic, more prog-oriented and Tommy is magnificent. Title-track and "Falling Like Fahreneit" are quite good, but the real highlight is "Prodigal Son" in which Tommy uses several vocal styles and also musically goes from solemn to balladesque to heavy metal, symphonic and epic. I wish the others were the same. Nonetheless, the album is good, not a masterpiece, but the result is positive in the end. So Kamelot fans like me will keep on listening to it.
Rating – 70/100
Tracklist
Manus Dei

Sacrimony (Angel of Afterlife)

Ashes to Ashes

Torn

Song for Jolee

Veritas

My Confession

Silverthorn

Falling Like the Fahrenheit

Solitaire

Prodigal Son

Continuum
Line Up
Tommy Karevik – Vocals

Thomas Youngblood – Guitars

Oliver Palotai – Keyboards

Sean Tibbetts – Bass

Casey Grillo – Drums

Elize Ryd – Guest Vocals
Alissa White-Gluz – Guest Vocals
Amanda Somerville - Guest Vocals
Links
MySpace * Facebook * Twitter * Site

Interview by Si Smith
First-time viewers of the new album by Dotma will be presented with a fantastic vista of colour and imagery – but what are the forces at work behind the image, behind the polished artwork and powerful musicality? Not ones to be pigeon-holed or typecasted, Dotma tread the line between gothic and power metal with the skill and dexterity of players well-established in the world of female-fronted metal. Yet this is only their first full-length. To understand how this remarkable feat has been achieved, I spoke to singer and lyrical crafter Johanna Lesonen….
Biographies of Dotma seem to start as many band bios do, with guitarist and keyboardist Harri deciding to form a band surrounding a particular theme or genre. Johanna, how did you join up with these guys at the very beginning?
Well I had just started to take classical singing lessons, and I was very excited about singing. I wanted to try singing in a band and my friends had just founded one. I was the one who asked if I could sing in their band. They weren't sure if they wanted a male singer, so they hesitated a little. But since there were no other singers around, I got the job! And it seems that it was a good decision! =)
Dotma has a strong image, both musically and artistically. This image seems to draw the listener/viewer into the heart of the band experience. What were your expectations of the band from the start? Did you know in which direction the band would be going from the time of the first demo?
At the beginning I really hadn't any specific expectations for this band, I just wanted to sing. We started with power metal and after the first demo we came to the conclusion that we wanted to develop our style. We weren't sure in what direction. We thought it will come naturally, if it's meant to come. And so it did.
A second demo entitled "Dances With the Shadows" was released in 2009. How had the music progressed by this time? Were you happy with the end result?
We were much happier with the result than we were with the first demo. We had grown as musicians and the songs had developed into this style which felt more like ours. It was still power metal but there were these symphonic and atmospheric elements already to be heard. But still, the process continued till the recordings of the full-length album.
It seems that all lyrics are written by yourself at this time: how do you go about choosing themes for songs? Could you take us through your creative process for writing and/or perfecting your song lyrics?
Actually I have written most of the lyrics, except "Kingdom of the Sky" and "Memory Worth Dying For" which are written by Harri. My writing process starts when I hear the song. The song gives me a certain feeling and I start to imagine things in my head. I tend to think quite visually. When I hear music, pictures appear in my head and finally a story. There are few songs in which lyrics I have used old poems of mine. For example "The Cave" and "Reborn" are such songs that I had already written most of the lyrics and suddenly I realized that there were these poems that fit perfectly in the theme. After this I finished the lyrics automatically. "Indian Fall" is a ballad and when I listened the song, the lyrics came at once. "Whispering" didn't get its final form until the vocal recordings! So it really depends on the song how the lyrics are being born.
In December 2009 you started to prepare to record your first full-length debut album involving Rockstar Productions (Finland) and Cutting Room Studios (Sweden). Was it difficult involving people from outside the band at this point? How did you communicate to them your own hopes and ideas for the finished product, to ensure that the album turned out how you wanted it?
Of course it's always challenging to find the right people to work with this kind of project. It's not possible to read other people minds, so I think the most important thing is to speak up. We negotiated a lot about the sound, arrangements and so on. We also were along in the whole process, including mixing and the mastering.
Coming to the debut album "Sleep Paralyses", it is a remarkable epic journey through a series of emotional landscapes. Would you say there is a uniting theme or feeling to the album?
The uniting themes are probably the instability of human mind and the beauty and the ugliness of this surrounding world. Dreams and nightmares rules through the whole album and the main feelings are loneliness, fear and hope.
The fantasy image is still strong surrounding the band, yet the band is so much more than just the traditional fantasy and medieval themes. How has the music now developed beyond the "typical" Gothic and Power metal imagery and become something unique in the genre?
This is a difficult question for me because I cannot look objectively our music. I cannot define why the music is now unique because we just do what our heart tells and if that's something new that differs our band from the others, we have done something right. If we talk about the concrete music, there is a big change from the early days; tempo. We have slowed down the songs and given more space to the atmosphere. I have also used my voice as versatile as it's possible with my classical technique. We have done everything with a great passion.
The construction of this epic masterpiece included vocal and guitar contributions from members of other bands such as Thaurorod and Embassy of Silence. How did they fit into the overall vision of the band? Are there plans to use more guest musicians in the future?
They fitted perfectly because first of all they are all great musicians and their way of doing music is very passionate. We gave all the guest musicians free hands and we trusted them. And they did an amazing job!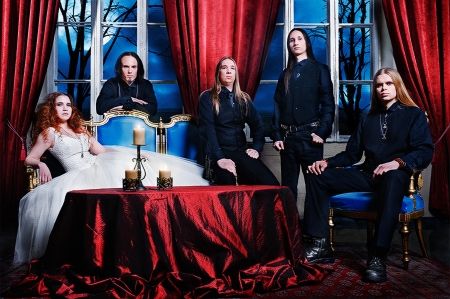 The song "Reborn" blasts out triumphantly, almost as a decree that the band is itself is reborn with power and self-belief on this new release. Also your band's logo has developed into a far more intricate and beautiful creation since the previous two albums. How are you going to keep up this newfound impetus and vigour? When things become stale or routine, how do you as a band keep yourselves fresh and enthusiastic?
I think we will be worrying about it when it happens. You cannot think and plan all the things beforehand. We live in the moment, and what happens in the future, we live along with it. We all love music and we will always do it some way or another. When things become stale or routine, we just wait until it will pass, and maybe concentrate on something else for a while, until the inspiration returns.
All the music for this album has been credited to Harri Koskela. Is this completely his own work, or do other members of the band have contributions and musical ideas as well? If so, how does this work? If not, wow! That is a big load on Harri's shoulders!! He surely is a master of his work! Does he present these musical pieces to you ready-made, or are they constantly-evolving works in progress?
That is a big load on Harri's shoulders yes, because he does all the composing. We all are involved when the songs are being arranged, but before that Harri composes the songs from the beginning to the end. The songs get their final form in the studio where new visions wake up.There in the studio we all work with the songs, especially the vocal parts.
"Kingdom of The Sky" has been described as the masterpiece of the album. Could you tell us more about it, its meaning and also the other voices and ideas involved?
It's a song that Harri composed as a dedication to his dear cousin who passed away. It's a very personal song to him, so he did also the lyrics. Concerning the music, it's quite an unusual composition. There are many different parts which describe the periods of life. The last choir part is in Finnish and it tells about the funeral. It's a very intense and beautiful song.
As the date of the album's release draws nearer, it seems that you have a number of live dates already set up for April/May 2011, many involving fellow Finns Beyond the Dream. How do you find the different stresses of performing live? Is there anything special we can expect from your live performances this year?
You can expect great interpretation of our songs and pretty costumes of mine! =D Heh well seriously, we love performing and giving the music to the people and we just hope it shows. We try to give people a musical experience that they feel alive. About the stress when performing live, it's part of this job and we have learned to handle it, so it's mainly positive anxiety and adrenaline flow.
You played in Russia towards the end of last year – that must have been quite an experience! How was the Russian audience?Were many already familiar with the band?
That was a great experience,they were so hospitable,all the arrangements worked perfectly and I just fell love with the audience.They were truly listening our music and I felt the connection with them.I want definitely to go back some day!
Finally, as you look forward beyond the new album into the future, are there any plans to extend the bands' influence beyond Finland? If so, what are your plans for world domination??
I think the big market will be outside of Finland, so we hope to get a lot of gigs outside of Finland. About the world domination, it comes along with good shows. =) It only leaves to say thank you for this interview, I hope it has given people a chance to get to know the characters behind the image, the minds behind the lyrical soundscapes
Links

Interview by Ed MacLaren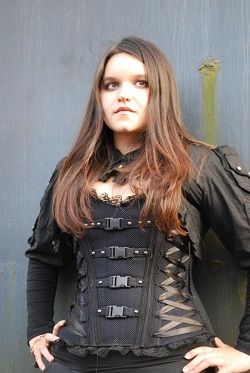 After numerous delays, Norway's Ancestral Legacy has just released an exceptional new album of doomy black metal with "Nightmare Diaries". But before the album was released the band experienced a nightmare for its own diary – the departure of longtime vocalist Elin Anita Omholt. While losing a vocalist might be a death knell for some bands, Ancestral Legacy are set to continue their own legacy with an excellent new vocalist in Mexican Isadora Cortina. Ancestral Legacy fans get the best of both worlds – they can listen to Elin on the CD and get to watch live as Isadora grows into her new band. Femme Metal got a chance to spend some time with Isadora and get her views on Mexican assimilation techniques for living in Norway, living the dream, and the importance of bringing your own shoes.
So how does a nice young woman from Mexico hook up with a bunch of long haired Norseman in a metal band?
I first met Eddie through MySpace, he added me as an Ancestral Legacy friend, I left a comment on the music and after some chatting we became friends. Like a year later he told me about a song he wrote and asked me if I was interested in working on it and of course I was – it's the song called "Atrapada en Pesadillas" from the EP. After the band got to hear the song, I met Christopher the drummer, we talked on MSN and things happened so I traveled to Norway for a month to visit him. While I was there Eddie told me they had not rehearsed in a while because of Elin's (former vocalist Elin Anita Omholt) accident, he was wondering if I could rehearse with them. After some months, Elin decided to quit and I was getting my visa to move to Norway and marry Christopher, it was kinda natural for them to ask me to join and it was like a dream come true to me. Now I live in Norway with the man of my dreams and play in the kind of band I always wanted to.
What was it about the band's music that attracted you to it? Were you a fan of Ancestral Legacy before you joined the band?
The first thing that attracted me was a song on their MySpace called "Murdered by Reality" I really love the ending of the song and how Elin sings it, I had it on my mind for weeks. After I worked with the song in Spanish, I got to hear "Out of the Dark and into the Night" from the new album and I could listen how mature and incredible the new material was. It was very mature compared to their older material and I think it's a very different sound from other metal bands with female vocals. I was not the kind of fan that screams and flash boobs when she meets one of the guys, I was more admiring how good musicians these guys are and how good quality songs they can create.
What's your musical background? Have you performed in any other bands?
Well, I had been most of my life a shower singer, then at 15-years-old I joined the concert choir of my school. My teachers were singers from the Mexican Military so it was a good way to start and of course I believed in myself as a singer. After three months of rehearsing two hours, five days a week they picked me as soloist. We had concerts out of Mexico City and we also sang for the President once. I had always been into gothic and metal stuff since my brother listened to Iron Maiden and my cousin to Metallica since I was a kid. Then I discovered that metal was also for girls by listening to After Forever, Nightwish and especially Tristania. My life changed and I knew that metal was what I wanted to sing. I tried to join some bands but my mom would not let me do it, so the only band I could join was my brother's cover band. We were playing four days a week in bars and it became a good way to get some money and train myself onstage. Anyway, I was getting frustrated that metal was not part of what the owners of bars let bands play. The good thing is that I learned to sing different styles; VERY pop things to more hard rock voices and that help me to get out of my head that the only way I could sing was the military-opera style I learned. In that period I did some presentations on TV, universities and musical contests. In 2008, I recorded two songs with the gothic German band Beyond the Void and also the song with Ancestral Legacy. Those experiences gave me a lot to learn on the studio and were very important to me. From then on my life completely changed so I went from singing metal in my room in front of the mirror to play original songs with the guys onstage.
How have things gone so far? Is everyone getting along? Is the band treating you well?
From the beginning they have been very nice and warm (that Nordic people is cold is not true at all). I was not sure what they were thinking of me until we did a three song-concert and they got really drunk, so they told me that they were really happy to have me on board. In the beginning they were hoping that my voice was not that soft. They wanted me to sing more powerful like Elin did because my voice can easily get lost within this hard music. But after rehearsing a lot with them – and in a way get used to the music without Elin's vocals – I got better and in the latest concerts they were telling me that I have improved a lot.
Replacing any longtime vocalist is a daunting task. Do you feel any pressure living up to Elin's vocal legacy? Considering that Elin's vocals appear on Ancestral Legacy's new album, "Nightmare Diaries", it must be difficult to step into her shoes.
Since the "Nightmare Diaries" album is Elin's album, I get to sing Elin's melodies but with the new songs I think I can bring a darker sound than Elin did. In a way I am not stepping into her shoes but coming with my own shoes to do my own thing. Elin is an awesome singer and I learned from her to print more power in my voice but now it is my turn to make music with them as Isadora not as the next Elin.
It was a long road for Ancestral Legacy to record and release "Nightmare Diaries" however the end result is a very strong doomy offering of black metal. How do you develop that connection to the music when you missed out on all the struggles to get it recorded and released?
In a way I didn't miss them that much since Christopher and Eddie were updating me on it via MSN and the release problems were on while I was moving to Norway. On the other hand, I was there but only through them. Since I came in, Eddie has given me songs and he is very open minded. He has never pressed me with what kind of lyrics or melodies he wants, he knows that I don't have experience writing vocals so he is very patient and helpful. The band know that the fact that I came in is gonna mean a change but at the same time all of us wanna have some new and different elements. Christopher has been into progressive drums and he thinks that that will improve his style with the band. We just wanna make music and we do it as it comes natural to us and that's the connection we all have with the music – no matter who came first or last.
What is your plan on reproducing the vocals live? What are you doing to put your personal stamp on the vocals?
For me, the most important thing live is that people get to feel the music as I feel it inside. If I am home alone I will not head bang or get really physically active, I just concentrate on the singing and practice on printing my feelings for the song in my voice. But when you sing live everything counts, and a good way to transmit what that music does to me is by being very active onstage. I hate to stand still and smile (as I had to do before) and of course since I practiced at home so much I can concentrate on the people there, in making them see that they are special to us no matter if they are old friends of just first time listeners. That formula works very well for me live, and it has helped me in the way that people don't compare me to Elin – they just accept me as I am and they like the music as it is on the CD with her and live with me.
Ancestral Legacy has been touring to support "Nightmare Diaries". What has been the fan reception to the album and your vocals?
DAMN AWESOME! For some reason I am always very worried of what the people will think of the band with me, but in the last concerts they have been buying CDs, coming to say hi and say how much they enjoy our music, telling me that they will be waiting for the new album with my vocals and of course head banging a lot! Especially they guys in Paris, they are so metal! I am really thankful that fans and friends of the band welcomed me in such a good way instead of just comparing me. And as a great plus, I was so happy after we made it to the local newspaper twice.
You've re-recorded "Separate Worlds" for Femme Metal's Demonic and Divine CD compilation. Have Ancestral Legacy been doing any other recording since you joined? Have your vocals and influence had an impact on the creative process of the band?
We have some new songs but we have not recorded them, just some demos without recorded vocals (since I don't have good recording equipment at home). But I have the lyrics and bad quality recorded vocals in my computer. I think new songs will be coming this year. Well, I don't believe it's my voice that impacts the creative process since Eddie has the same system: he writes a song, sends it to me as he once sent it to Elin and we work on it. He is not writing music for my kind of voice specifically. I have enjoyed it a lot; we have one song ready that is called "My Wretched Lord" and in a way I feel it's so mine and I feel it's easier for me to sing it. I think that will be for good in the future as it will be easier for me to interpret the new songs.
What are your aspirations since joining Ancestral Legacy? What are your goals for yourself and the band?
When I started my aspiration was to sing the songs as well as I could, now my aspiration is to write good vocals and lyrics for the new songs, and of course get a CD where I can read "Isadora Cortina-Vocals"! I have to say the band exceeded what I thought it would be. I never imagined I would play a gig in France or Germany. Now I see that everything is possible and I just wait for life to surprise me… Maybe one day we will get a world tour or something! Ha-ha! In my personal life my aspiration is to incorporate myself into Norwegian society, go to university, get to speak Norwegian perfectly and be a perfect wife.
Starting in a new band comes with a lot of new experiences. What have been your best and worst moments so far?
To start with a new band meant to start a new life with a new language to me. I do not regret anything and I have loads of new friends from all around the world. In a way, the best moments are each live concert we have had. After all of them we were always so happy. But especially the mini European tour we did was beyond everything. I didn't wanna come back! We went on tour with bands that became really good friends: Act III, Veil of Mist and Thorny Roses; all of them stole a piece of my heart. The worst has been that since I am not really used to the weather in Norway I get sick quite often so I usually come to the rehearsals with zombie face and a biiig pack of tissues. Unluckily, I got sick in France once so it was quite tiring to play, I was fighting with myself because I didn't want to sleep all day – I wanted to enjoy every single moment in and offstage!
Links
6 color styles available:

Style switcher only on this demo version. Theme styles can be changed from Options page.