Browsing articles tagged with " chrigel"
Interview by Laura Medina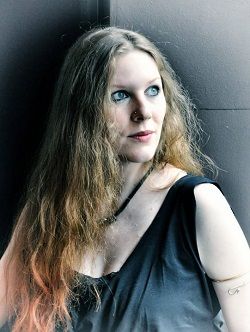 Caladmor is an Epic Folk female-fronted Metal band from Switzerland, who has just released their sophomore album, "Of Stones and Stars" in which is currently out now. Caladmor is not only making a name for their band with a "more mature sound" that you can be heard in their current release but also they are proving to their fans that they do belong and are here to stay! What I liked most about Caladmor is not only are they are a female fronted band but they sing about topics that brings fans from all over the world together like wisdom, truth and enlightenment. I had the absolute and complete honor and pleasure to chat with Babs Brawand of Caladmor to discuss Caladmor's current release, her favorite hobbies like sewing and much more.
Hi Babs and welcome to Femme Metal Webzine! Thank you so much for allowing us to interview you today!
Continue reading »
Interview by Rachele Valente
Shortly after the last Italian date that took place in Bologna as headliner for the Paganfest, Eluveitie comes back to Italy, but this time as the support act for the Swedish band Sabaton with the Hungarian band Wisdom. On the occasion for the release of the new album (compilation), "The Early Years", Chrigel and Anna gave a little appetizer about it, remembering something of the early beginning of their musical activity. Here you are with our interview!
Today Femme Metal has the pleasure to welcome to Chrigel and Anna from Eluveitie. Hi guys, how are you doing?
Chrigel: Allright!
Anna:

Your last show in Italy was last year in Bologna, as the headliner for the Paganfest. Now you're coming back in Milan, supporting the Swedish band Sabaton. Why did you decide to be on tour with them?
Chrigel: Because we're masochist

No, they were just looking for another band to join this tour and we've been asked and we thought "Yeah, it's just a great opportunity for us to expose our music to a completely new crowd", because in this tour a lot of people are coming for them and it's like a really different crowd. I mean: most of the people like classic heavy metal and stuff so we just thought "It would be cool to present our music to people that maybe don't know who we are"… so… that's why we decided to join this tour!
This is the first tour without your own guitarist, Simeon who has recently left the band and you're playing without Päde, who's coming back in a couple of weeks. Can you explain what happened?
Anna : Well, Päde died unfortunately, that's a sad thing (she jokes with Chrigel). No, he has to do a work-shit and so he couldn't join us and Sime left for a personal decision. We didn't get any fight.
Chrigel : He was actually thinking of it since a year or maybe more… I mean: he just wants to reach some personal goals. He was thinking about it for a long time actually, so yeah, the time has gone.
After the great success of "Helvetios" you released with Nucler Blast "The Early Years", a collection containing "Vên" completely re-recorded and a remastered version of "Spirit". Why did you decide so?
Anna: 'Cuz it's cool

Chrigel: Yeah, I mean: both albums have been sold out since a quite long time and many people were still asking for them so many people actually told us "Yeah, you should release them", like management and the record company. Everybody told us "Yeah, re-release it, seriously!". Everybody wanted that, but we thought "That's cheap to just re-released it, it's not that cool, we don't want to do that!" and then we had the idea to completely re-record "Vên" which sounded for us at least like an amazing idea, because, you know, those songs are about 10 years ago, those songs are kinda developed together with us and we just thought "It would be cool to re-record it again and just see how the songs sound today", so yeah, that's why we decided to do that!
Just before the release date of "The Early Years", you published on your official Youtube channel a lyric video for the song "Lament". If I don't get wrong you said you had completely revised the song. What can you tell us about this choice?
Chrigel: To be honest, I wasn't too happy with the old lyrics. I mean: the original lyrics were written from a point of view of today looking back to the time of Helvetians and I actually made the exactly same thing but with the time switched and the lyrics now, the new version, are also looking back to the Helvetians but just from 2000 years later. Helvetians were already Romanized and stuff and it's written from that point. That's a different version but I prefer it!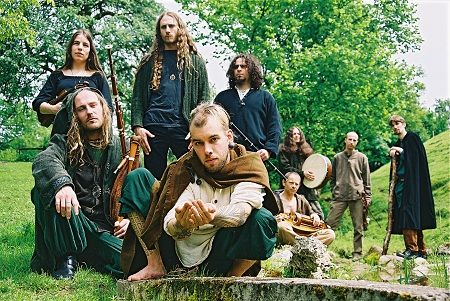 "Vên" was released in 2002. At first, there was a song more you couldn't finish to write. Now, in 2012, this song is finally completed: "Divico" will be part of your own edition of "The Early Years". Why in Nuclear Blast version of the album the song will not appear?
Chrigel: One reason why we did this now is also because of our 10th anniversary and we just thought that it would have been cool to do something special as well and also to give people something that just comes directly from us. It's like a personal birthday present or something like that! That's also why we did this own edition because every little detail about the album is done by ourselves, I mean: everything is done by ourselves. We wanted to have something special on that too so that's why!
Can you tell us something about "Divico" song?
Chrigel: That's cool! I like it!
Anna: Yes, I like it too.
Chrigel: It's just a song about a character of Celtic history which played an important role in the Gaulish Wars and the history of Helvetians.
You have changed some lyrics too. How did this decision come out?
Chrigel: We revised them, the lyrics basically are still the same, especially the Gaulish part in the lyrics, I've just corrected, you know, because it was 10 years ago and my Gaulish back then was "very little" and very bad, especially the song "Uis Elveti", the lyric was catastrophic, if it comes with the grammar and everything it was really, really bad! Today I know much more about the Gaulish language and I've just corrected. I mean: the lyric is still the same, it's just in a better Gaulish

If I'm right you're planning a big show in Zurich, this December, the second edition of your own festival "Eluveitie and Friends". Can you tell us something about this show?
Anna: That's a great opportunity to make a own festival and invite bands and friends of ours even if something arrive many people that we ever known that's pretty cool.
Chrigel: That's actually a kind of "special guests", we basically invite bands from somewhere, bands we toured with and then there's always a kind of "special guests", it could be anyone.
Anna, let's talk about your upcoming solo album. Why did you decided to work on it? Are you excited about it?
Anna: Yes, I'm very excited! I decide to start on my own stuff like, I don't know, two years ago but in between I did stuff… It just kinda happened and I don't plan anything. More people behind me pushed me to do it… It's a lot of kind of developing.
In these years you have joined many side-projects playing different instrument and singing. How did you manage to do something? What are your personal plans now?
Anna: I don't really think about what I gonna do in the future, what I doing in the moment is just music, music and music and not really anything else. I'm really happy about this and I have to be proud of it and Eluveitie is always first of course and so everything else is just filled around…
What are your future plans?
Chrigel: Pretty much as she said. I mean: right now we're on tour until next Spring or so… I mean: I'm pretty sure we'll work on new material for a new album, to be honest we've already started but yeah, we don't have many plans exactly.
Thank you for your time. Would you like say something to our readers?
Anna: You're awesome! Thank you!
Chrigel: Thanks for your interest in Eluveitie!
Links
MySpace * Facebook * Twitter * Site
Interview by Miriam C.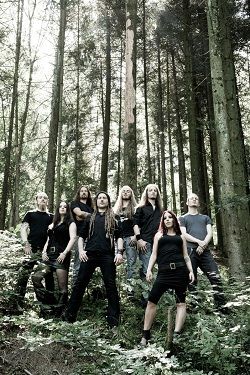 For the second time we give space to one of the last metal sensation of these years : Eluveitie. We asked to the singers and instruments players Chringel Glanzmann & Anna Murphy some news about their recent new album "Helvetios" and his concept behind. Enjoy!
Hi Chrigel and Anna, how are you?? I hope all allright!!! And thanks for reply at our questions!
Anna: Hey there! Fine, thank you. And that's no problem, thank you for the interview.
Ok, let's get delve into the brand new album "Helvetios". How was the genesis of this album, when you have started to compose it?
Chrigel: The idea of doing a concept album about the so-called gaulish wars we had quite a while ago. Somewhen in summer 2010 I started working on the concept for the album. I started composing the single songs somewhen in winter 2010, but most of the songs actually emerged in spring/summer 2011 though. I worked closely together with our guitar player Ivo. He's an amazing composer of awesome riffs.
First of all what's means the word "Helvetios" and is related to the lyrics inside the album?
Chrigel: "Helvetios" is basically the name of the celtic tribe that inherited the area of todays Switzerland: The Helvetians. The album tells the story of the gaulish wars – from the Helvetians perspective.
How's recording an album with a great legend like Tommy Vetterli? Is like a mentor, a friend or a little despotic (XD I'm joking now hahaha) ?
Anna : If somebody would have told me 7 years ago that I'd be talking to Tommy Vetterli on the phone on a regular basis I would have freaked out, haha. I've always been a huge Coroner fan so I was thrilled and a little nervous at first to record an album with him. We were quite overwhelmed by his perfectionism, the guy has insanely good ears and you can imagine that that can create quite a problem for him when dealing with tons of folk instruments that simply aren't perfectly in tune all the time. But soon enough we could work together really well and we got to know him as one of the nicest and funniest guys we've ever met. We're still good friends and spent some fun times on the 70'000 tons of metal cruise together. And more importantly, "Helvetios" is our best sounding album, I'm sure we will be faithful to Tommy for a while!
I really liked the historical in-depth explanation that you have published on Facebook and get me to assumethat "Helvetios" is a concept because I've seen quite a connection between the 2 lyrics. Who were the Helvetians and firstly when you have decided to focus on these topic? Also are a lot of historical infos that you have provided, where did you got it? You should have an encyclopaedia at home!
Anna: "Helvetios" tells the harrowing chronic of the Gaulish war. But it's not just a chronological account of this terrible war, the album tells the story from the viewpoint of the Helvetians, a Celtic tribe. This wasn't a very simple task, since history is mostly written by those who triumphed in war which in this case was the Roman empire, Gaius Julius Caesar to be exact. Most of what we know about the Gaulish war nowadays stems from Caesar's transcripts and that these do not convey the full truth is pretty obvious and also confirmed by historians. His scripture "De Bello Gallico" is political propaganda for his benefit to a great extent in which home and family defending Gauls become "belligerent barbarians" and sheer genocide over Gaulish tribes become "glorious battles" that were fought by Roman legions "heroically to protect the Roman people." So you can see it's not an easy undertaking to portray the Gaulish war as Helvetians (Gauls) would have. We still tried and cooperated with scientists to question historiography and let historical and archeological findings influence us in writing the album. But we also just let simple emotions and feelings speak by imagining what it really must have been like back then.
I'm getting so really curious about the various goddess and god workshipped by the Helvetians. Excluding Epona, who totally hit me, are you able to give us more cultural insights about this population?
Chrigel: First of all we have to face the fact that we don't know too much about the Celts religions today. All we can base on are historical literature on one hand (which is partly very vague) and archeological evidence on the other hand. The existence of diverse gods (such as Epona) is documented by the latter. All across Gaul there were small Epona temples found. Regarding this goddess there's also one note in historical literature, stating that there were usually fresh cut roses or rose petals offered to Epona in those little temples (that's also where the song title comes from, btw).
According to Facebook – "Helvetios is a concept album about the gaulish war (58-50 B.C.), the story of the war being told in a chronological timeline." – can you, somehow, explain the chronological timeline referring to the songs titles'?
Chrigel: To be honest, I seriously think that this would break the mold of an interview – it would be a bit too much (unless you're planning to publish an 8 page Eluveitie feature, haha

). But yeah, the story of the gaulish war is actually well documented and publicly accessible. So, just check a good scientifical book on the gaulish wars. If you're familiar the story of the gaulish wars, the song titles will make a lot of sense.

Talking instead about the cover album is really simple, white and black a badge. What's stands for? Who representing? And why opt for so simply cover? (You know, that badge remembers me a lot the Aurum from the 1984′s "The Neverending Story" film, never watched it?)
Chrigel: Haha, yeah I've seen the movie, when I was a kid. Well, the album cover just shows a traditional helvetic ornament, which has been found through archeological excavations (it was chased in a golden fibula). So, it basically represents the celtic tribe of the Helvetians. The black, simple cover forms kind of a "book cover", you know. The inside of the (btw quite extended) booklet pretty much elaborated. The idea behind the album artwork was to create something like a volume of art photography. You know, to create pictures as they would have occurred if a gifted art photographer – such as Andre Kertesz or Henri Cartier-Bresson – would have been there, 2000 years ago, and documented the events of the gaulish wars photographically.
Now for Anna only, which are the vocal part that you have enjoyed recording the most on the latest Eluveitie album? Also, not so time ago, you have joined Nucleus Torn, how happened and how you'll manage it?
Anna: That's a difficult question, I enjoyed everything of course. But in a different way, maybe. "A Rose for Epona" is probably the most difficult (and high as f***) thing I've ever undertaken, so my singing was taken one step further just by recording this song I'd say. "The Siege" is something completely new which was a lot of fun, but made me lose my voice completely for two days, haha. I guess I still enjoyed "Alesia" the most though, because I probably improvised more than half of my parts in the studio and Chrigel and I were still working on arrangements right before recording them… I really like doing things spontaneously. Yeah, Fredy asked me quite a long time ago if I'd like to do some guest vocals on his new album. We noticed that we work together very well and have similar tastes, so it came naturally that I joined as an official member. We're going to compose new stuff together very soon and I'm looking forward to it! I'll manage somehow, of course Eluveitie is Nr. 1, but that doesn't mean I can't be creative with other projects, I just don't have all the time in the world.
Chrigel, running down the list of the line-up and the instrument played I notice that you're playing the gaita too. I've never heard of it, can you explain its peculiarities?
Chrigel: Hmmm, check: http://en.wikipedia.org/wiki/Galician_gaita

The gaita is just a bagpipe. We're using diverse kinds of bagpipes in our music and among others also the galician gaita. It's a rather simple bagpipe. But really love it's sound and also the way it can be played (it allows much more "emotional" expression than a scottish bagpipe for example).
The band started as a merely studio project, Chrigel, when have you "understood" that Eluveitie was evolving into a proper live metal band?
Chrigel: To be honest – the only reason I formed Eluveitie as a mere studio project at first, was because I couldn't find dedicated fix members for a band back then. You know, back then the combination of folkmusic and metal was not common at all, there was no folk metal scene or something like that. It was new, unknown and most people considered it a pretty weird, crazy and pointless idea. But yeah, actually it has always been my wish and idea of have Eluveitie as a proper live band – which was possible later then, fortunately.

In your opinion(s) where lies the differences between "Everything Remains as It Never Was" and "Helvetios"? What is the step towards a musical evolution that you have accomplished on this last album?
Anna: I don't know Chrigel's opinion on this one, but I would never think about differences between albums. We just write music, do what we feel sounds good and if it sounds different from the last album, well so what? We don't care or think about these things. At least I don't, haha. I mean, our music has always been very diverse, though still creating a solid entity. That's what Eluveitie is.
Will be a an "Evocation II" in the near future?
Chrigel: There will be "Evocation II" for sure. But I can't say if it will come in near future or not (well, regarding the fact that we're just about to release a full studio album and thus we just started a world tour that will keep us on the road for at least 12 months, it's actually not very likely that "Evocation II" will happen in NEAR future

).
Anna, can you talk more about ThruByRed and Fräkmündt I must presume that are some other bands beside Eluveitie and Nucleus Torn. And by the way congratulations for being so diverse in your tastes, for being so really young (me and you we have tha same age hahaha) you rock.
Anna: Hey cool that you checked out my other projects, thanks! Well, Fräkmündt is my other band. It's Swiss traditional folk music, but still has a rather dark, atmospheric and sometimes even modern touch to it. We're all really good friends and do exactly what our music sounds like, we hike in the mountains for hours or days and then go get wasted somewhere and talk for hours from philosophical debates to complete and utter nonsense. I play the hurdy-gurdy, flute and acoustic bass, do some vocals and composing. ThruByRed started shortly after I joined Fräkmündt. Christoph Ziegler (who is also in Fräkmündt and apart from that the man behind Vinterriket, Atomtrakt, Nebelkorona etc.) and I really hit it off when we got to know each other and pretty much immediately decided to start an electronic project together. The plan was for it to just sound completely weird and have all sorts of musical elements and confusing lyrics in it. I think we managed pretty well, ThruByRed was born!
Well, guys I think we're at the end do you have any last consideration about your next projects?
Anna: We're touring our asses off this year to promote "Helvetios", that's project Nr. 1! Then, I guess we'll see what's next.
Chrigel: Yeah… couldn't add anything to that.

Just greet as you want your fans and our readers. Thanks so really much for everything! Hugs, Miriam x
Anna: Cheers to our fans and readers! You guys rock! And thank you Miriam for the cool interview and your interest!
Chrigel: Yep! Thanks! And see you on the road! Cheers
Credit Photos
Photos by Manuel Vargas
Links
MySpace * Facebook * Twitter * Site
Latest Multimedia
Label : Massacre Records
Review by Tony Cannella
On their second full-length album, "Torque" the Swiss band 69 Chambers looks to build upon what began on their 2009 debut "War on the Inside" and in so doing, the band has delivered a massively, multi-tiered sophomore effort, that is a huge (and I do mean huge) leap forward from their debut. "Torque" really runs the gamut of styles. While heavy in most parts, "Torque" does a good job in mixing up the tempos and infusing the album with different influences like melodic metal, Doom Metal, Gothic Metal and thrash, 69 Chambers' pallet is full on "Torque". For "Torque", 69 Chambers are joined by Coroner guitarist Tommy Vetterli (aka Tommy T. Baron) and his input is definitely instrumental in making this such a huge sounding album. Of course the focal point is multi-instrumentalist Nina Vetterli-Treml. In addition, to lead vocals, she also contributes guitars and bass. At over an hour's worth of music, there is a lot to take in and "Torque" gets off to a roaring start with "Cause and Effect" which features Chrigel Glanzman from the band Eluveitie on guest vocals. Right off the bat, this song highlights what is so great about this band; you have the heavy thrash-metal like riffs combined with Nina's smooth vocals and a killer melody. "Bring on the Flood" is next and is more of a straight forward song with bits of electronic music and some killer vocals by Nina who has a different style than a lot of vocalists in the femme metal scene and she should be considered one of the best vocalists in the genre. "Naughty Naughty Naughty" is next and this song adds some doom metal to the mix with an Ozzy-era Black Sabbath style guitar riff. My favorite song is "And Then There Was Silence" which opens with a very Slayer-ish guitar riff and is just a powerful song. The fact that 69 Chambers can be so heavy whilst still being a very melodic entity is one of my favorite aspects of the band. The melancholic piano dominated ballad "Elegy" brings the album to a close and shows another facet to the band. Other highlights include: "Burn Some Gasoline", "The Peephole", "Closure" and a cover of the Jeff Buckley song "Grace". It is difficult to write a review on "Torque", because I want it to be as detailed as possible. "Torque" is just a 60 plus minute whirlwind that hardly ever lets up. "War on the Inside" was a cool debut but "Torque" has the sound of 69 Chambers ascending to the next level.
Rating – 90/100
Tracklist
Cause and Effect (featuring Chrigel Glanzman)

Bring on the Flood

Naughty Naughty Naughty

Anhedonia

Burn Some Gasoline

The Peephole

Ring a Bell

Closure

And Then There Was Silence

Temple Down

Your Fool

The Doom of Her Power

Grace

Elegy
Line Up
Nina Vetterli-Treml – Vocals, Guitars & Bass

Tommy Vetterli – Guitars

Diego Rapacchietti – Drums
Links
Interview by Ed MacLaren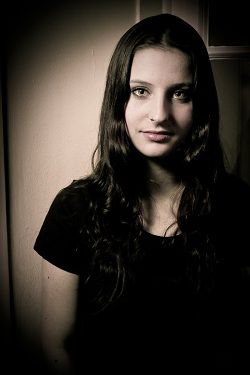 OK. Time to go over the standard metal band check list: Throat tearing vocalist? Check. Guitars? Check. Bass? Check. Drums? Check? Hurdy gurdy? Well, maybe not for most metal bands but for Switzerland folk metalists, Eluveitie, hurdy gurdist Anna Murphy gets a big checkmark all her own. On the eve of Eluveitie's April North American tour with Amon Amarth and Holy Grail, Femme Metal got a chance to chat with Anna about their outstanding new album, "Everything Remains (As It Never Was)".
Congratulations on your excellent new album, "Everything Remains (As It Never Was)"! The fan response must be fantastic.
Thanks! Yes, so far the responses from both fans and press have been really good… It's good to know they like the album as much as we do.
Celtic folk music and death metal seem diametrically opposed to each other musically and lyrically. What is it about these two genres that work well together?
To be honest, I have no idea – it just seems to work! I mean, it's mainly the minor tunes we use with our music… so I guess this Celtic "melancholy" goes well with the rather rough metal around it. As for the lyrics, I wouldn't say they're opposed. As far as I know you can sing about anything you want in metal music…
Your music ties the traditional and the modern together in a unique manner. How did the idea evolve to combine folk and metal music?
That was Chrigel's idea. Eluveitie actually started out as a mere studio project of his where he wanted to combine the two styles of music he likes best; Celtic folk music and melodic death metal.
Folk music is very acoustic and metal focuses on brute power. How do you balance the rhythms and melodies between the two?
That's a business secret.

Lyrically, your music has a heavy historical influence – it draws heavily from ancient battles and early civilizations. This comes from the folk tradition of preserving the past. What traditions or stories are Eluveitie trying to preserve?
We're not really trying to preserve anything, what we do is mere story-telling, you could say. We do sing about Gaulish wars and tribes but we either just do that from a neutral standpoint (how the legend/myth/occurrence has been passed down through time) or we look at these topics with a critical eye because in the end you never really know how it was back then.
Eluveitie has had a long history of members but now seems to have settled into a cohesive line-up. What were the reasons for the line-up changes and what is it about this line-up that is so unique?
Yes, there have been but now I guess and hope this line-up will continue for a few years. The reasons for those changes were always of personal nature. The people who left the band either didn't want to continue or couldn't fit the band in with their other plans in life. What's unique about the line-up we have now? You tell me!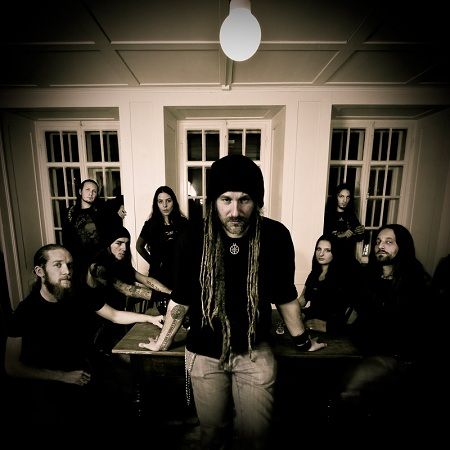 When you learned to play the hurdy gurdy did you ever think you'd be playing in a death metal band? With that said, how did you get involved with the band?
Actually, I would have never thought that! I was actually listening to metal at the time which made it even weirder for me to join a metal band with such an instrument. I had been playing the hurdy-gurdy for three months when a friend of mine told me about Eluveitie and that they're searching for a new hurdy-gurdist. I of course sent Chrigel an e-mail right away… so you could also say I learned to play the instrument with the band.
Your vocals bring an engaging contrast to Chrigel's screams. You also provide some beautiful solo performances. How do you balance the vocals within the band? Do you ever try to push Chrigel for more microphone time?

No, I don't do that. Whenever I sing it just happens because it fits. Sometimes it's my idea; sometimes it's Chrigel's idea… I always try out new stuff with my vocals, especially since I don't really have a technique or sing professionally, I'm still trying to find the right style a bit.
The reviews of "Everything Remains (As It Never Was)" are overwhelmingly excellent. Musically, where do you go from here?
Wherever we want to. We're not planning what to do next… we'll just write songs and release albums. There's definitely going to be one more acoustic album, "Evocation II". But even when and how we're going to do that is not planned yet.
Judging from the increasing number of bands playing folk metal these days, the scene is getting a little crowded. How does Eluveitie try to differentiate itself from other bands in the genre?
We play better music!

No, I guess the fact that we use so many traditional instruments instead of keyboards is one thing. The other is that we balance our music – neither the metal nor the folk takes over. And I guess that's why so many people like our music but we don't differentiate ourselves by trying really hard to and having that in mind, we just somehow do that automatically with our music.
What is it about the folk metal genre that makes it so popular?
I have no idea. I'm actually not a big fan of folk metal… I don't listen to anything except for our music (of course). I guess there are many people who search for "softer" metal and find a lot of bands they like in that scene. And it may be possible that people like the traditional aspects of it… singing about your heritage and using old folkloristic elements in the music can have a "homely" effect one can connect with.
You returned from a tour of the United States in 2009 with Heathenfest. How did you find the American response to your music? How do the American fans compare to their European counterparts?
The response was really good! I like American audiences – they're very enthusiastic and sympathetic crowds. There's not a huge difference to European crowds though… The only thing I noticed was that Americans are more into taking pictures with band members and having things signed.
With eight band members it must get pretty crowded on that stage… How would you describe Eluveitie's live performances?
Yes, small stages are always a challenge for us. I think our live performances are getting better and better. We feel more confident on stage and the sound is getting much better due to having a crew that is familiar with us. We like to interact with the audience a lot and have a blast on stage.
What are your tour plans for 2010? Will you be performing internationally as well as returning to the United States?
Yes, we'll be touring the States soon again with Amon Amarth actually! Apart from that we want to tour as much as possible and promote the new album. I really hope we get to go to places we've never been before, like South America for instance.
Links
MySpace * Facebook * Twitter * Site
Latest Multimedia
6 color styles available:

Style switcher only on this demo version. Theme styles can be changed from Options page.