Browsing articles tagged with " chris"
Label: Century Media Records
Review by Tony Cannella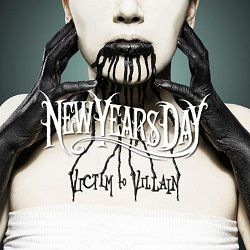 From California, New Years Day plays infectious alternative hard rock with a punk edge. Their third album "Victim to Villain" comes 6-years after their debut "My Dear". NYD released their sophomore effort "Headlines & Headstones" in 2010 and now comes their aforementioned third album.
"Victim to Villain" features 11-songs and a manageable playing time of 34-minutes. Musically, New Years Eve takes what Paramore does and turns it up to 11 and beyond. Lead vocalist Ashley Costello has a clean yet hard-edge to her vocals and they are just dripping with attitude. The opener "Do Your Worst" begins with some ominously, lilting piano before the song develops into a pounding, hard rock tune. Continue reading »
Interview by Miriam C.
Straight from OC [Orange County, yeah like that eponymous The CW's series], California, comes the alternative rock band New Years Day. Although their proved live experience on the 11th June 2013, the band will debut on Century Media Records with their second album "Victim to Villain". Read some thoughts from Ashley, the singer, about the album's genesis.
Hi Ashley, first of all. How are you? I hope everything's fine.
Hi there! I'm doing great! Very busy planning our upcoming music video for the song "Angel Eyes" and our upcoming tour with the Vans Warped Tour. So busy!
Would you mind presenting the band with some biography?
Well…. Ah. Well… We attended Juilliard… We're graduates of the Harvard business school. We travel quite extensively. We lived through the Black Plague and had a pretty good time during that. Continue reading »
Label : Alfa Matrix
Review by Luisa Mercier
The Greek duo Siva Six is back on the scene after five years of absence. Their latest release was the their second album "Black Will" and now "The Twin Moons" comes to fill the void they had left. What is peculiar about this record is that a real orchestra has been hired, the one directed by Chris Antoniou, who may be already known to our readers because of his work with Septic Flesh and Chaostar. The basic concept revolves around ancient human tribes, destruction of the earth, alien race. Quite apocalyptic, indeed. The music highlights this aspect since it is quite harsh, the beats are restless as Z 'svocals are. There is not much space for moody songs or melody pieces in this record. Continue reading »
Interview by Miriam C.
For the second time in this webzine we give space to the Italian progressive power metal band Lunocode promoting their latest work "Celestial Harmonies". This time the questions have been replied by drummer Perseo Mazzoni and singer Daphne Romano. Just a curious info – this interview was scheduled to be face to face but 'cause of the bad weather our editor Alessandra didn't make to be at the location by the way at the end it come out a real nice, as always.
Hi Perseo and Daphne, welcome to Femme Metal Webzine and how are you??
Perseo: Fine thanks, a bit tired but happy. The last two weeks have been great with two concerts, the first in acoustic, at Teatro di Anghiari with the show "C'è Vita intelligente sulla Terra?" (Is there intelligent life on Earth?) togheter with Francesco Cecconi and the last, just two days ago, in Rome, with Ivory Moon and Blind Horizon. We discovered that our acoustic side works very well and playing in a theater is something very special, something magic.
Daphne: Yes, two different and exciting gigs. The acoustic set in particular: I have to admit that it's been really thrilling.
Well, first of all, do you mind give us more insights about your biography?
Perseo: Lunocode formed in 2004 under the name "Anima". We played mainly cover for about 2 years and had another singer. Then we started writing new material and in 2006 we released the demo "Birth". The demo went well and we continued writing new material. At the end of 2010 we gained a contract with Spider Rock Promotion and in January 2011 we released the EP "Last Day of the Earth" that also went very very well. At the end of 2010 our previous singer left the band and we found Daphne. After releasing "Last Day" we continued writing and in January 2012 we released our debut album, titled "Celestial Harmonies". And here we are.
According the site, the band's name "lunocode" is a wordplay between Lunokhod and the english word Code. From where did you get it?
Perseo: I was watching a documentary about this Russian rover sent on the moon. It's been the first radio controlled rover to be sent on another planet. I thought it was very interesting and I proposed this name to the band. Giordano came out with the wordplay and everybody liked it so we took it as the new band name.
In your discography we can count the demo "Birth", the "Last Day of the Earth" EP and your debut "Celestial Harmonies". As I remember "Last Day of the Earth" EP was a stand-alone piece of concept. This time with "Celestial Harmonies", as your label states "It's a moving journey thru the Cosmos with the purpuose to search the origins and life's origins" although you declare that the album is not a proper concept. Can you tell us more about the album's lyrics?
Perseo: "Celestial Harmonies" is not a concept in the sense that we're not telling a single story that starts on a song and continues through the other songs of the album like a concept album usually do. "Celestial Harmonies" has a fil rouge, a loose connection between every song, but it's not a concept. Every song tells something about humankind, the cosmos, life or nature and things like that so, in a sense, is a trip through cosmos, a voyage by which we can explore the meaning of life, the universe, the pain and the joy of being alive.
"The Origins of Matter and Life" is a suite long almost 30 minutes. What insight can give us about it and also are the suite's lyrics a concept ?
Perseo: "The Origins of Matter and Life" is actually a story which develops through the songs "On Matter and Mind", "High", "The Cosmic Architect", "Tree of Life", "Crossing the Line" and "Albert II". Is a fictional story about a character (at the very end his identity will be revealed) who starts thinking and, by this act, gives birth to a universe in which he finds himself in. He then starts exploring this new world and he asks himself questions about what's happening all around him and even to himself. Following this questioning the story of this suite unfolds till the end when a dramatic turn of events occur. I prefer not to explain all the details of this story, as I think everyone, if interested, has to discover the message by himself.
For what I get the album was mastered by Ronan Chris Murphy, that has worked with legends like King Crimson, Steve Morse and Ulver. When and how you have contacted him and why work specifically with him?
Perseo: I followed him on internet, on his YouTube channel, on his Facebook and as I think he is a great engineer and producer, I asked him if he was interested in working with us. This was happening in 2010, during the "Last Day of the Earth" mixing sessions. He said yes and I sent him all the audio bounces. As I find myself very confortable working with him, I contacted him again in 2011 and asked him to master "Celestial Harmonies". Again, he said yes and I sent all the material. He made a great work and he was surprised about the songs quality and the big step forward we made in songwriting during the last year. Working with him has been so great!
"Celestial Harmonies"'s cover transmit a feeling of peace. Do you mind explain the meaning's cover building into your personal opinion about it?
Perseo: I too think so and this sense of peace was one of the goals I wanted to achieve with this cover I developed. The airplane you can see on the cover has a particular meaning to me, as actually is a wheater vane my grandfather has built. The cover is in fact a photo and not a computer generated image.
What are the band's influences?
Perseo: I think we are working hard to find and extract our real self so for sure there are influences but I think they are becoming more unconscious day after day. If I had to name just one band, I would name Anathema.
What difference you can see between the debut EP "Last Day of the Earth" and "Celestial Harmonies" in matter of musical style and lyrics? Do you feel more mature?
Perseo: There are big differences but, at the same time, the differences are not so big. In both albums the writing style of the lyrics remains the same, maybe in "Celestial Harmonies" our acoustic side is more prominent, but even in "Last Day of the Earth" there is a completely acoustic song called "Invisible Tears". Maybe in "Last Day of the Earth" the songs sounded more heavy but even in "Celestial Harmonies" we have heavier songs, like "The Cosmic Architect" or "Sin Cara". I think "Celestial Harmonies" is a more mature work, and a natural evolution from "Last Day of the Earth".
Daphne, what are is your musical background? Did you ever do any vocal training?
Daphne: I like different kinds of music like rock, metal and electronic. About my influences, I can say Freddie Mercury, Anneke van Giersbergen and Lisa Gerrard have always been a great inspiration for me. Today I found with Lunocode some new colours in my voice and in my soul that I've never suspected to have. I think I'm evolving…but, who doesn't? I studied opera singing for 1 year, years ago. Now I'm studying modern singing with a great Italian singer. I think singing is a vast world where you can always discover something new: I'm curious, I have a thirst for knowledge and I think exploring the voice potentialities is one of the most stimulating and satisfying elements of singing.
What we can expect next? I read in the website an East European tour with Theatres des Vampires…
Perseo: Yes, we've been on tour with TDV and JTR Sickert and it's been a great adventure and a great experience for the whole band. They are smart and nice people and we enjoyed very much visiting East Europe and Turkey! Then, two weeks ago, as I already said, a dream came true for me, to play with Lunocode in a real theater, in acoustic. We played 10 songs in Teatro di Anghiari (Tuscany, Italy) for about an hour of show. We re-arranged some songs from "Celestial Harmonies" and "Last Day of the Earth" in acoustic and we even played "The Origins of Matter and Life" from start to end! The show has been recorded so maybe we will use those recordings in the future! Other plans for the future? We have some ideas to record a new album, you will hear from us soon!
Daphne: Yes it's been amazing and crazy sometimes! Cool musicians and stuff, great audience, life on the road and foreign countries.
Well, Perseo and Daphne, I really thank you for this interview, I hope you like it! Please greet our readers (and your fans) freely! Thanks again!
Perseo: Thank you for your time, hope to see you at our shows! If you want, you can buy our cds at www.lunocode.com or follow us at www.facebook.com/LunocodeFan
Daphne: Thanks to you and all the readers of Femme Metal Webzine! See you soon!
Links
MySpace * ReverbNation * Facebook * Google Plus * Twitter * Site
Label : Lava/Universal Republic Records
Review by Tony Cannella
Just in time for holidays comes the new EP from the traveling Christmas extravaganza known as the Trans-Siberian Orchestra, entitled "Dreams of Fireflies (On a Christmas Night)". Two female singers (Erika Jerry and Georgia Napolitano) are used as well as the male vocalist Tim Hockenberry. It is not very long but this is the classic sound of TSO that the fans have come to know and love. "Dreams of Fireflies" opens with two instrumentals. The first being the piano and guitar driven "Winter Palace". This is a huge bombastic sound to it and it is definitely what people have come to expect from TSO. Next we have the second instrumental "Dreams of Fireflies (On a Christmas Night)". This track features a cool interplay between the heavy guitars and orchestration. Next is "I Had a Memory" featuring the vocals of Erika Jerry and a rich sounding choir as the song morphs into an up-tempo, bouncy hard rock number. Erika Jerry has a big sounding, impressive voice with a lot of soul and passion. "Someday" is next and is a heartfelt acoustic ballad sung by raspy voiced Tim Hockenberry. This is actually a pretty sentimental and relatable song about growing older and moving on. The EP is completed with the piano ballad "Time You Should Be Sleeping", sung by Georgia Napolitano. All three singers featured here represent a different style from each other. Georgia's is more classical than the other two. She's got such a hugely expressive voice as "Dreams of Fireflies (On a Christmas Night)" comes to its conclusion. At only 5-songs and a length of 15-minutes, "Dreams of Fireflies" is a pretty short listen. This really isn't a radical departure musically; it is simply the classic TSO sound. Listening to TSO will always put you in the holiday spirit and if you haven't done so already, be sure to check out their Christmas tour – it is quite a spectacular experience.
Rating – 80/100
Tracklist
Winter Palace

Dreams of Fireflies (On a Christmas Night)

I Had A Memory

Someday

Time You Should Be Sleeping
Line Up
Erika Jerry – Vocals (on "I Had A Memory")

Tim Hockenberry – Vocals (on "Someday")

Georgia Napolitano – Vocals (on "Time You Should Be Sleeping")

Paul O'Neill – Guitars

Jon Oliva – Keyboards

Al Pitrelli – Lead, Rhythm Guitars

Chris Caffery – Guitars

Roddy Chong – Violin

Angus Clark – Guitars

Joel Hoekstra – Guitars

Mee Eun Kim – Keyboards

Vitalij Kuprij – Keyboards

Jane Mangini – Keyboards

Johnny Lee Middleton – Bass

John O. Reilly – Drums

Jeff Plate – Drums

Derek Wieland – Keyboards

David Zablidowsky – Bass
Links
Facebook * Google Plus * Twitter * Site
6 color styles available:

Style switcher only on this demo version. Theme styles can be changed from Options page.