Browsing articles tagged with " christopher"
Label : Adalruna
Review by Tony Cannella
Whether you like the avant-garde metal band Therion or you don't, there is no denying that they have done things their own way since they were founded by Christofer Johnsson in 1987. Going back to their debut EP "Time Shall Tell" in 1991, Therion has morphed from a Death Metal band to an experimental symphonic metal juggernaut and with their latest opus "Les Fleurs Du Mal", the band marches on. 2012 marks the 25th anniversary of Therion and "Les Fleurs Du Mal" is part of commemorating such a milestone. The album title is based on Charles Baudelaire's writings and poems and the title "Les Fleurs Du Mal" (English translation is "Flowers of Evil") is the title of a collection of poems from Charles Baudelaire. Therion's avant-garde approach is happily intact throughout this 15-song 45-minute effort. As always Christofer Johnsson has surrounded himself with some top tier musical talent, including vocalists Lori Lewis (she sounds amazing as always) and metal veteran Thomas Vikström. Some of the strongest moments are: "Poupee De Cire, Poupee De Son", "Initials B.B.", the hypnotic "Mon Amour, Mon Ami" and "Lilith". The whole thing is quite grandiose and is simply huge in sound and scope. One thing Therion has proven over the years is that they are not afraid to take chances and they do exactly what they want. For better or worse, "Les Fleurs Du Mal" is another shining example of this.
Rating – 83/100
Tracklist
Poupee De Cire, Poupee De Son

Une Fleur Dans Le Coeur

Initials B.B.

Mon Amour, Mon Ami

Polichinelle

La Maritza

Soeur Angelique

Dis-Moi Poupee

Lilith

En Alabama

Wahala Manitou

Je n'ai Besoin Que De Tendresse

La Licorne D'or

J'ai le mal de Toi

Poupee De Cire, Poupee De Son
Line Up
Thomas Vikström – Vocals

Lori Lewis – Vocals

Christofer Johnsson – Guitar

Christian Vidal – Guitar

Nalle Påhlsson – Bass

Johan Kullberg – Drums
Links
MySpace * Facebook * Twitter * Site
THERION are currently celebrating their 25th anniversary and will release their new album "Les Fleurs du Mal" tomorrow in North America via End of the Light Records. Today GuitarWorld.com the online home of Guitar World Magazine is hosting an exclusive stream on "Les Fleurs du Mal" in its entirety HERE. There are still many details that are unknown about this mystical art project, and so far only the album title "Les Fleurs du Mal" can be officially announced. The album title refers to Charles Baudelaire's (French author and poet 1821 – 1867) famous poem collection "Flowers of Evil" (Les Fleurs du Mal in French) that caused such an upset of emotions in France that the author was brought to court and got fined for "insulting the public" with six of the poems, that remained forbidden in France until 1949 when the ban was finally lifted. The spirit of the project is a tribute to Baudelaire, and is imbued into both music and artwork. The album was recorded at Adulruna studio, located in a separate building next to Johnsson's decadent "Villa Adulruna" where the band lived together while recording.
"Les Fleurs du Mal" is available to order on Amazon.
For more Information Visit:

Interview by Ed MacLaren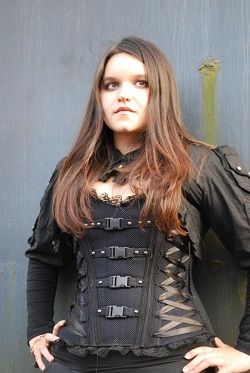 After numerous delays, Norway's Ancestral Legacy has just released an exceptional new album of doomy black metal with "Nightmare Diaries". But before the album was released the band experienced a nightmare for its own diary – the departure of longtime vocalist Elin Anita Omholt. While losing a vocalist might be a death knell for some bands, Ancestral Legacy are set to continue their own legacy with an excellent new vocalist in Mexican Isadora Cortina. Ancestral Legacy fans get the best of both worlds – they can listen to Elin on the CD and get to watch live as Isadora grows into her new band. Femme Metal got a chance to spend some time with Isadora and get her views on Mexican assimilation techniques for living in Norway, living the dream, and the importance of bringing your own shoes.
So how does a nice young woman from Mexico hook up with a bunch of long haired Norseman in a metal band?
I first met Eddie through MySpace, he added me as an Ancestral Legacy friend, I left a comment on the music and after some chatting we became friends. Like a year later he told me about a song he wrote and asked me if I was interested in working on it and of course I was – it's the song called "Atrapada en Pesadillas" from the EP. After the band got to hear the song, I met Christopher the drummer, we talked on MSN and things happened so I traveled to Norway for a month to visit him. While I was there Eddie told me they had not rehearsed in a while because of Elin's (former vocalist Elin Anita Omholt) accident, he was wondering if I could rehearse with them. After some months, Elin decided to quit and I was getting my visa to move to Norway and marry Christopher, it was kinda natural for them to ask me to join and it was like a dream come true to me. Now I live in Norway with the man of my dreams and play in the kind of band I always wanted to.
What was it about the band's music that attracted you to it? Were you a fan of Ancestral Legacy before you joined the band?
The first thing that attracted me was a song on their MySpace called "Murdered by Reality" I really love the ending of the song and how Elin sings it, I had it on my mind for weeks. After I worked with the song in Spanish, I got to hear "Out of the Dark and into the Night" from the new album and I could listen how mature and incredible the new material was. It was very mature compared to their older material and I think it's a very different sound from other metal bands with female vocals. I was not the kind of fan that screams and flash boobs when she meets one of the guys, I was more admiring how good musicians these guys are and how good quality songs they can create.
What's your musical background? Have you performed in any other bands?
Well, I had been most of my life a shower singer, then at 15-years-old I joined the concert choir of my school. My teachers were singers from the Mexican Military so it was a good way to start and of course I believed in myself as a singer. After three months of rehearsing two hours, five days a week they picked me as soloist. We had concerts out of Mexico City and we also sang for the President once. I had always been into gothic and metal stuff since my brother listened to Iron Maiden and my cousin to Metallica since I was a kid. Then I discovered that metal was also for girls by listening to After Forever, Nightwish and especially Tristania. My life changed and I knew that metal was what I wanted to sing. I tried to join some bands but my mom would not let me do it, so the only band I could join was my brother's cover band. We were playing four days a week in bars and it became a good way to get some money and train myself onstage. Anyway, I was getting frustrated that metal was not part of what the owners of bars let bands play. The good thing is that I learned to sing different styles; VERY pop things to more hard rock voices and that help me to get out of my head that the only way I could sing was the military-opera style I learned. In that period I did some presentations on TV, universities and musical contests. In 2008, I recorded two songs with the gothic German band Beyond the Void and also the song with Ancestral Legacy. Those experiences gave me a lot to learn on the studio and were very important to me. From then on my life completely changed so I went from singing metal in my room in front of the mirror to play original songs with the guys onstage.
How have things gone so far? Is everyone getting along? Is the band treating you well?
From the beginning they have been very nice and warm (that Nordic people is cold is not true at all). I was not sure what they were thinking of me until we did a three song-concert and they got really drunk, so they told me that they were really happy to have me on board. In the beginning they were hoping that my voice was not that soft. They wanted me to sing more powerful like Elin did because my voice can easily get lost within this hard music. But after rehearsing a lot with them – and in a way get used to the music without Elin's vocals – I got better and in the latest concerts they were telling me that I have improved a lot.
Replacing any longtime vocalist is a daunting task. Do you feel any pressure living up to Elin's vocal legacy? Considering that Elin's vocals appear on Ancestral Legacy's new album, "Nightmare Diaries", it must be difficult to step into her shoes.
Since the "Nightmare Diaries" album is Elin's album, I get to sing Elin's melodies but with the new songs I think I can bring a darker sound than Elin did. In a way I am not stepping into her shoes but coming with my own shoes to do my own thing. Elin is an awesome singer and I learned from her to print more power in my voice but now it is my turn to make music with them as Isadora not as the next Elin.
It was a long road for Ancestral Legacy to record and release "Nightmare Diaries" however the end result is a very strong doomy offering of black metal. How do you develop that connection to the music when you missed out on all the struggles to get it recorded and released?
In a way I didn't miss them that much since Christopher and Eddie were updating me on it via MSN and the release problems were on while I was moving to Norway. On the other hand, I was there but only through them. Since I came in, Eddie has given me songs and he is very open minded. He has never pressed me with what kind of lyrics or melodies he wants, he knows that I don't have experience writing vocals so he is very patient and helpful. The band know that the fact that I came in is gonna mean a change but at the same time all of us wanna have some new and different elements. Christopher has been into progressive drums and he thinks that that will improve his style with the band. We just wanna make music and we do it as it comes natural to us and that's the connection we all have with the music – no matter who came first or last.
What is your plan on reproducing the vocals live? What are you doing to put your personal stamp on the vocals?
For me, the most important thing live is that people get to feel the music as I feel it inside. If I am home alone I will not head bang or get really physically active, I just concentrate on the singing and practice on printing my feelings for the song in my voice. But when you sing live everything counts, and a good way to transmit what that music does to me is by being very active onstage. I hate to stand still and smile (as I had to do before) and of course since I practiced at home so much I can concentrate on the people there, in making them see that they are special to us no matter if they are old friends of just first time listeners. That formula works very well for me live, and it has helped me in the way that people don't compare me to Elin – they just accept me as I am and they like the music as it is on the CD with her and live with me.
Ancestral Legacy has been touring to support "Nightmare Diaries". What has been the fan reception to the album and your vocals?
DAMN AWESOME! For some reason I am always very worried of what the people will think of the band with me, but in the last concerts they have been buying CDs, coming to say hi and say how much they enjoy our music, telling me that they will be waiting for the new album with my vocals and of course head banging a lot! Especially they guys in Paris, they are so metal! I am really thankful that fans and friends of the band welcomed me in such a good way instead of just comparing me. And as a great plus, I was so happy after we made it to the local newspaper twice.
You've re-recorded "Separate Worlds" for Femme Metal's Demonic and Divine CD compilation. Have Ancestral Legacy been doing any other recording since you joined? Have your vocals and influence had an impact on the creative process of the band?
We have some new songs but we have not recorded them, just some demos without recorded vocals (since I don't have good recording equipment at home). But I have the lyrics and bad quality recorded vocals in my computer. I think new songs will be coming this year. Well, I don't believe it's my voice that impacts the creative process since Eddie has the same system: he writes a song, sends it to me as he once sent it to Elin and we work on it. He is not writing music for my kind of voice specifically. I have enjoyed it a lot; we have one song ready that is called "My Wretched Lord" and in a way I feel it's so mine and I feel it's easier for me to sing it. I think that will be for good in the future as it will be easier for me to interpret the new songs.
What are your aspirations since joining Ancestral Legacy? What are your goals for yourself and the band?
When I started my aspiration was to sing the songs as well as I could, now my aspiration is to write good vocals and lyrics for the new songs, and of course get a CD where I can read "Isadora Cortina-Vocals"! I have to say the band exceeded what I thought it would be. I never imagined I would play a gig in France or Germany. Now I see that everything is possible and I just wait for life to surprise me… Maybe one day we will get a world tour or something! Ha-ha! In my personal life my aspiration is to incorporate myself into Norwegian society, go to university, get to speak Norwegian perfectly and be a perfect wife.
Starting in a new band comes with a lot of new experiences. What have been your best and worst moments so far?
To start with a new band meant to start a new life with a new language to me. I do not regret anything and I have loads of new friends from all around the world. In a way, the best moments are each live concert we have had. After all of them we were always so happy. But especially the mini European tour we did was beyond everything. I didn't wanna come back! We went on tour with bands that became really good friends: Act III, Veil of Mist and Thorny Roses; all of them stole a piece of my heart. The worst has been that since I am not really used to the weather in Norway I get sick quite often so I usually come to the rehearsals with zombie face and a biiig pack of tissues. Unluckily, I got sick in France once so it was quite tiring to play, I was fighting with myself because I didn't want to sleep all day – I wanted to enjoy every single moment in and offstage!
Links
Interview by Matteo Bussotti
As soon as their new album, "Power Dive", came out, we had to ask Voices of Destiny's singer, Maike, what's behind this album, the creative process behind it. She was very nice and answered politely to all our question, making Voices' style and history clearer. So, let's take a "Power Dive" into their new album and this interview!
First of all, have you ever been to Italy? And if you have, what differences have you found from your homeland?
Yes I've been to Italy many times but only on holidays with my family when I was a child. Of course a big difference is the climate, the beach and the sea Italy has. I also liked the temper of Italian people a lot.
What was, in your opinion, the best country you've ever been, especially while touring with Voices? How one country differs from the others?
Well, that's very difficult for me. We've just been on tour through some countries in eastern Europe by now and we had great experiences everywhere. I liked it very much to play in Budapest (Hungary), where the people were remarkable friendly and generous. We could visit the city as well and it was a great day there. Besides touring I love Ireland and Wales a lot. There the people are so hospitably and the landscape is beautiful.
Let's talk about "Power Dive": what do you think is the strongest point of your second album?
I like to listen to the album as a whole artwork, but there are some songs I listen to more often. For me that's "Power Dive", "The Untouchable" and "Your Hands" at the moment. I like the structure of these songs, the way I could interpret the lyrics and the heavy parts in it.
How do you think you've changed, as a band, but also you as a solo, from your first album "From the Ashes"?
All in all the album is much more aggressive and there are more strong feelings to be found I'd say. We decided to reduce the orchestral elements a little bit and give more room to the guitar and the growls. For my person I think I improved in expressing the feelings that I have about the songs.
Looking at the future, in what ways you think you can evolve, what do you think you can improve?
I'm still young and I think I can improve in many ways. I'd like to get even more volume and hope to improve my breathing technique as well. As band I hope we can play some more live shows to get more confident on stage.
There are bands which really struggle themselves to give the best during concerts, making every one of them a unique experience. On the other hand, there are bands which see concerts only as a "showcase" of their songs, like "These are our songs, we are great and powerful. Now go buy our cds.". What's your point of view? What do you think about concerts? Do you try to give your fans a unique experience, maybe delivering some sort of message?
That's a very good question, thank you for that. Well, we've just been on tour and for me it should always be the goal to make the audience happy and give them a good time during your show. We always have a great time on stage and I hope the people realize that. I feel happy when the audience seems to like the performance or when I see people singing along. But what I like most about concerts is to get in touch with the fans afterwards. I really enjoyed talking to different people from several cities and get to know them. For me it's very important to keep in touch with the fans and not just think of them as (potential) consumers.
Is there any crazy thing you've done, or you'd like to do, during a concert?
Not until now. But you never know what the future brings

You are very into social networks, in fact, on your band's website are linked you facebook, twitter and youtube pages. What's your opinion about them, and the opportunity they give the fans to interact with the artists?
For us it's a great opportunity to stay in touch with our fans and to spread our music all over the world. We all like it to get to know bands we listen to and therefore we want to enable our fans to get to know us and our music as well.
If you had to describe the other members of Voices in…let's say 30 words, how'd you describe them?
Chris is our idealist and organizer, Jens is the critical one and cares for the finances and Lukas is the genial musician. All of them are very crazy and funny and some of my best friends. (Sorry, now there are 36 words

)
Who you usually writes the lyrics in the band?
Most of the songs and therefore the lyrics are written by Lukas, two songs on "Power Dive" were written by Chris.
Is there some particular theme you'd like to sing about in your songs? What's your favorite song you've written so far?
No there is no special theme that occurs over and over again, but most of the songs deal with daily problems and often the lyrics are about interpersonal relations.
Last but not least…is there something special you're looking forward to in the next few months?
Yes we will start to work on new material in summer. We all are very excited about what comes next.
Links
MySpace * Facebook * Twitter * Site
Latest Multimedia
Label : Nuclear Blast Records
Review by Tony Cannella
The band Therion has been in existence since 1987. In that time they have continued to evolve and progress into one of the leading Avant-Garde, Symphonic metal bands ever. The band has gone through a myriad of line-ups with the one constant force being Christopher Johnsson. Therion return with their newest symphonic metal experience, "Sitra Ahra", and the band continues their evolution and growth on their new output. Where to begin? There is a lot to sift through on "Sitra Ahra", which is the case on most Therion albums. I suppose the thing that always fascinated me about Therion, is just the hugeness of their sound, and that absolutely holds true on "Sitra Ahra". Joining Mr. Johnsson for this album are three singers, Snowy Shaw and Thomas Vikström provide the male vocals, while Aesma Daeva singer Lori Lewis is the female vocalist. There is no denying that the scope on "Sitra Ahra" is simply huge. Songs like "Sitra Ahra", "Kings of Edom", the 10-minute "Land of Canaan", the all-out metal fury of "Din" and the 7-minute closer, "After the Inquisition: Children of the Stone" all represent where Therion is headed in 2010 and beyond. Female vocalist Lori Lewis provides an operatic style to the songs, while the male vocals alternate between traditional metal singing and a more extreme, gothic style. Featuring a playing time of an hour, Therion always manage to keep things interesting and moving along at a rapid pace. It is amazing to me how Therion continually are able to produce such good quality material after all these years. With "Sitra Ahra", Therion has delivered quite an epic piece of work and a worthy addition to their legacy.
Rating – 90/100
Tracklist
Sitra Ahra

Kings of Edom

Unguentum Sabbati

Land of Canaan

Hellequin

2012

Cu Chulain

Kali Yoga III

The Shells Are Open

Din

After the Inquisition: Children of the Stone
Line Up
Christofer Johnsson – Guitars, Keyboards

Thomas Vikström – Vocals

Snowy Shaw – Vocals (Session Member)

Lori Lewis – Vocals (Session Member)

Christian Vidal – Guitars

Nalle "Grizzly" Påhlsson – Bass

Johan Koleberg – Drums
Links
6 color styles available:

Style switcher only on this demo version. Theme styles can be changed from Options page.