Browsing articles tagged with " clean"
Label : Grom Records/Tmina Records
Review by Davide Torresan
6th Awakening is a curious case of a band. This Swedish group was created in 2001 by the singer Lovisa Lundmark and the guitarist Mathias Hamerud. Over the years, they changed the line-up many times and because of this, they released only 3 demos. Until now, since the line up has settled and therefore has been able to condense the ideas of the members into the debut album. The genre that they propose is melodic death metal with different contrasts and shades, thanks to the sound and Lovisa's voice. The main feature of this singer is that she can do both clean vocals and growl. She's able to switch between the two styles with extreme ease. Just to give you an example, when she does the clean vocals she remembers me of Anna Murphy, the singer of the folk/death metal band Eluveitie. They have a similar vocal register. Now let's talk of the music. Continue reading »
Independent Release
Review by Tony Cannella
From Brazil, the band Eternyx formed in 2008 and has just issued their debut album "Unknown Way". Throughout the 10-song 38-minute album, Eternyx offers various styles of metal, from death to doom to progressive to symphonic metal. Lead vocalist Aline Vandrack provides both clean and extreme vocals and the band is there every step of the way to compliment the duel vocal styles.
"Unknown Way" begins with the symphonic "Trust Me". This is a huge sounding intro which segues nicely into the over-the-top bombast of "Lake of Tears". The guitar riff is simply crushing on this one and the clean vocals soar right along with the music and the grunt vocals come into play as well on this one. Continue reading »
Independent Release
Review by Tony Cannella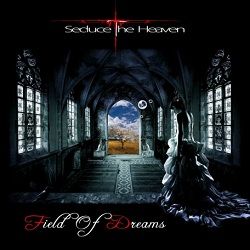 2013 could be a big year for the Greek melodic thrash, death metal band Seduce the Heaven. In 2011 the band released a well received 5-song promo CD, now the band has finally released their full-length debut album "Field of Dreams".
Seduce the Heaven utilizes the duel vocals from Marios Mizo (male growls) and Elina Laivera on clean female vocals. They use these styles as well as – if not better – than most bands. The songs are aggressive, but not so aggressive that they are unlistenable.
Elina is excellent and the chemistry she shares with Marios is one of the main highlights for me. Some highlights include: "Reflection", "Leave Me Alone" and the wonderfully, non-stop energy of "Field of Dreams". Those are just some key examples, some other favorites are: "Illusive Light" and "Falling". From the word go, "Field of Dreams" is a relentless exorcise in aggressive, yet melodic and beautifully crafted songs. I was so impressed by their promo CD and saw a lot of promise in Seduce the Heaven; with "Field of Dreams", that promise has been fully realized.
Label : Ravenheart Music
Review by Tony Cannella
The Montreal, Canada based progressive, gothic metal band AraPacis were formed in 2003. In 2006 they released their debut "So Many Leapers" and followed that up in 2009 with "Consequences of Dreams". On their first two albums they made it clear that they have a wide range of influences. AraPacis returns with their third album. So without further adieu, let's enter the "Netherworld".
"End of the Line" kicks things off with an infectious and melodic guitar riff. Lead vocalist Lizzie Fyre alternates between a clean singing voice and an extreme style. She does that just about as well as anyone, it is not a technique that is overused, she only does this on a couple of songs. "Horror Show" is a straight-forward song, based around a simplistic heavy metal riff and the high vocals of Lizzie Fyre. "Lord of the Clouds" is next and it is reminiscent of Swedish doom metallers Candlemass. It's definitely got a slow, heavy and doomy vibe to it, except for the thrashy part near the end. At 7-minutes, this is the longest song and my favorite. Other highlights: "Unbirth", the great ballad "Beautifully Blind" and the closing instrumental "Dark Days Ahead". For the most part, "Netherworld" maintains a good hard rock and metal pace, while also veering off into Gothic, Doom and Progressive territories at times.
I'm not sure where this will stack up compared to their previous material, but "Netherworld" does maintain a level of consistency that their die-hard fan base should love. AraPacis are fast becoming one of the best bands out of the Canadian metal scene. Continue reading »
Independent Release
Review by Vard Aman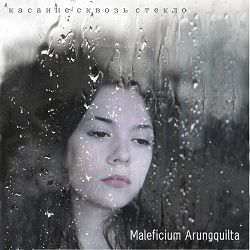 I have written before about the potential benefits of searching harder and farther through Femme Metal's vast underground; there are some real gems out there. And then sharing those gems with others… I run a group on Facebook for Russian and CIS female-fronted metal bands, and one day a user posted a link to a band they had discovered on the group's wall; a band that I had at the time not even heard of before, but a band that has since then become one of my favorites. That link was to a band called Maleficium Arungquilta.
Maleficium Arungquilta are from Izhevsk in Russia. They formed in 2009 and their name roughly translates to a dark spirit or supernatural force that performs evil sorcery (or evil deeds, if you translate "maleficium" directly). Musically, they live up to their name; lyrically, they are more diverse than that, although it does play a part. The strength of this arungquilta's musical maleficium centers mainly around two great assets: 1) their ability to create haunting, and very powerful and beautiful melancholic melodies and 2) the quality and ability of the band's vocalists, particularly the lead vocalist, Lisa Karkina (Lisa Shadrina now… sorry guys). Lisa's voice must surely be one of the most beautiful female voices around. Her timbre and control are superb, as is the clarity of her voice – you won't need lyric sheets to follow her (if you understand Russian that is). She also sings with an emotion that lies beneath her exquisite vocal control but is still very much there – a calm outer surface that still gives away just enough to reveal, or allows one to sense the turmoil underneath. It is very effective, especially when the vocal melodies she delivers are such as they are. To add to her normal voice, she also possesses a powerful operatic voice that would put most operatic singers in metal to shame, and thanks to the band's exceptional songwriting skills, they are used wisely. Lisa is backed up occasionally by the smooth and sonorous clean vocals of Maxim Gankov, and by the blackened shrieks and wailing laments of Alexey Kirsanov (I hope I have them the right way around). Alexey is a potent Black Metal vocalist. Then there is the backing female vocalist, Yana Lindarskaya, who is a similar vocalist to Lisa and whose operatic vocals, when she uses them, are just as powerful. On the song "Чернобог" off "Касание Сквозь Стекло", where Yana sings the intro, she brings an added folk element to her vocals.
6 color styles available:

Style switcher only on this demo version. Theme styles can be changed from Options page.