Browsing articles tagged with " competition"
Serbian female-fronted metal band FACE OFF has inked a deal with Toronto, Canada's Maple Metal Records. The group's debut album, "The Colour Of Rain", will be released in early 2013. The nine-song CD was recorded at Music Studio Novicic from 2011 to 2012 with producer Vladimir Novicic.
A three-minute audip preview of the forthcoming album is available in the YouTube clip below. Formed in 2006 by vocalist Marija Kovacevic and guitarist Stefan Vitasovic, FACE OFF is currently a quartet, rounded out with bassist Stanislav Stanojevica and a yet-to-be-announced new drummer. The group has already won a few competitions in its native homeland, toured across Serbia, been broadcast by national radio, and performed on Serbian national TV. "The Colour Of Rain" was recorded with FACE OFF's previous lineup of Marija on vocals, Stefan and Miroslav Veselinovic on guitars, Danilo Svorcan on bass, and Milos Branisavljevic on drums. "The Colour Of Rain" track listing: 01. The Colour Of Rain
02. Dream Chamber
03. Close Enough
04. War Against War
05. The Innocence
06. Voices
07. Fragile
08. Lost In Translation
09. The End
Interview by Si Smith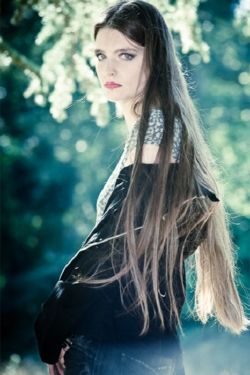 And here we are having a nice chat, this time, with Kat Ward about the second platter of the UK Progressive Gothic masters hAND. Let's hear what the singer she has to tell us…
If you don't mind, let us take a walk back in time. You describe your current musical incarnation loosely as "Prog goth", but originally you were a rocky trance duo? How did that work?! And where did you find Cris? (FYI Cris has now left the band and Dan Thomas is now our new drummer).
We started off with a piano, a guitar and a drum machine, the very early work of hAND is quite industrial sounding and very different to our current sound. We recorded one EP before we decided that adding a live drummer to the mix would really add impact and presence, especially on the live front. We advertised for a drummer on our local music forum, Cris turned up for an audition and we just hit it off straight away.
So moving on a little we find the band releasing 2 EPs, the second of which appears to have gained you some sponsorship and reputation in the industry. How was the feeling in the band at this time? Did you see something good coming, or were you just playing things "by ear"?
The second EP was really just a chance to see how we sounded as a three piece, it was also the first time we went into a studio to record so it was a nice experience all round. We sent it out to a few people for critique and overall response was very positive. At this point we just wanted to get some live experience, write some new songs and look into releasing a third EP. We were enjoying being a band more than anything else.
In 2007 you took part in the AKG Unsigned Heroes competition and won through to the top 20; eventually you signed to Copro Records. How was the band evolving at this time? Were you still reworking your original material, or constantly writing new stuff?
We're always writing new songs! When we signed to Copro it was a little bit of a wakeup call, I think we all took a step back and thought "ok let's start taking this a bit more seriously and see what we can do". The first album consists of most of our original material; there are songs on there that are from back when hAND was a duo.

And so the inevitable debut album loomed large on the horizon!! "Deadroom Journal" (July 2008) seems to have been received well in the press, with Metal Hammer describing it as "surprisingly inventive", and Kerrang comparing your lyrical world to Amy Lee but your musical approach as "reminiscent of Tori Amos-style experimentalism". Great praise indeed from two of the UK's most popular music magazines! How did you as a band view your debut album? Did it end up as you had hoped?
The whole experience of recording "Deadroom Journal" and hearing the final version was one of the best times of my life so far, I'm pretty sure that goes for the guys as well. It came out far beyond expectation, and we are all really proud of that record. Sure we listen back to it now and think we should've done this differently or that could be better, but it's still a great sounding album. It was really nice to hear all the songs we'd been working on and playing for a couple of years brought to life and done justice.

"Manuscript" and "Clannad Mass" were the only two tracks to make it to your debut album from your earlier releases. What was it about these two pieces that you felt was particularly worthy of a place on the album?

"Clannad" was always a favourite with the band and our fans, so we felt that it had to be on our debut album, everyone loved that song. We really wanted to represent the piano more and we had some interesting ideas for an album version of "Manuscript", so that's why it ended up as the first track.
Much gigging and promoting of the new album followed, but at the beginning of 2010 your UK tour dates were cancelled. Two cancelled tours in 12 months? That must have been a real downer for the band. What was the problem with the management? And how do you "bounce back" from something like that?
At that time we didn't have any management, we were doing everything ourselves. We were approached by an events company who we had played for before and they were really enthusiastic about getting us on this UK tour with a few other bands. Unfortunately the company disbanded and closed its doors before the tour got off the ground. We understood their reasons but it was a disappointment none the less. Before that we had been asked to support Ayin Aleph on a burlesque UK tour, this time the tour manager pulled out and we only ended up playing one gig with the band that we had arranged. After the second tour fell through we decided to focus solely on our second album, and not even think about the live side of things for a while. We lived in the practice studio, perfecting the songs and pre recording all the guitar/bass and piano.
It must have been a real buzz to join up with Femme Metal Records, as committed as they are to supporting and promoting their acts. Has it made a difference to the bands outlook and approach at all?
Now that we have a label and management team behind us that are actively promoting and getting our music and name heard; it's given us a definite boost as a band. We feel like we have a clear direction and always something to work towards. It also helps when dealing with others in the industry as they tend to see you as a serious act and not a "bedroom band" so to speak.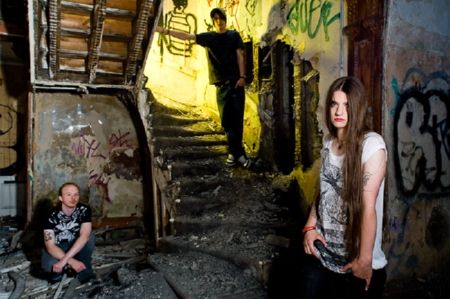 Towards the end of last year you were asked to guest on Isor's new album on the cover of "I've Got the Power". That must have been exciting! Did it tempt you to progress in an even heavier direction? Or are you happy with the band's "heaviness" as it is now?!
It was a last minute and spontaneous thing but I was very happy to do it. It was a nice feeling to be asked as Nick (drummer for Isor) has worked with lots of artists but chose me to guest on his album. In terms of heaviness, I would say we are writing "heavier" sections for some of the brand new material, but for us it's about a piece as a whole and we love contrast and unpredictability. I don't think we'll progress much more into the heavy side of things, but you never know.
The first thing you revealed with regards to the new album was the cover, which you posted up on your various sites. Could you explain its significance to us?
The whole album artwork was loosely based around a vinyl by Toyah called "The Blue Meaning". We all really liked the front cover and wanted to create something along the lines of that. We invested a lot of time and energy in a photo shoot for the artwork and let Gustavo run with it, we wanted photos to play a big part of it. He came up with about 4 different covers which were very hard to choose between, in the end we picked the one we did because it was a little bit darker and had a bit more mystery to it than the others.

It appears from the "Recording Breathing" video series that you released that you had a great time in the recording process of the new album!! What would you say is the key to successfully getting through this process alive and well at the other end (and with a great product!)?
Preparation before you even get to the studio is a major factor. The more practiced you are with the material the easier it is to record and it's going to make the process more relaxed and fun. You want to triple check every piece of gear and take spares if you can, something will go wrong!!! Other than that, discipline in yourself. Recording an album is a great experience and personally I want the finished result to be the best that it can be, if that means detoxing on caffeine, dairy, alcohol and the occasional smoke to make sure my voice is ready, then that's what I'll do.
The album starts with a deceptively simple song, after which we get "The Pier", a six minute journey through mellow parts, a really fast interlude and finally almost shouted/spoken vocals over riffing towards the end. With all that variety, how on earth do you decide upon the final structure of a song? Do you all have similar ideas as to where a song should be going, or do you all have conflicting influences and preferences that somehow create a coherent whole?
Sometimes we have a rough plan for a certain type of song and work round that, others we just go with the flow. We generally tend to write songs with the music first, and most of it comes from us having a jam until one of us plays something we all really like, and that's our starting point. I write all the lyrics completely separately from the band and match them up with whichever song I feel they suit the best, the vocal melodies are always the last thing to be worked on. All of us have very different influences and taste in music but we're happy to include bits from everyone's pool of experience, it's what makes our music so varied.
Being only a three-piece, the vocals are quite prominent in the mix and some of the backing is quite minimal in places. Do you feel that the band is limited at all because of this? Have you ever thought of having additional members?
I definitely don't see it as a limitation and it helps in writing by pushing us to think of more interesting ideas. We did experiment on this album with the track "Re-animation" (and are continuing to do so); it features some synth from Tom Johnstone – which works quite well! We're always trying to think of new elements and have discussed having a second guitarist from time to time; we usually come to the same conclusion that we feel it would make our sound more "mainstream" and lose some of the quirky edge it has now.

The album comes out on the 2nd May (It's was changed to June 6th) in the UK. Judging by the reviews you have received so far, how do you anticipate the album being received?
I hope the overall reception will be very positive, based on the reviews and comments so far it's heading that way. I think most reviewers will be able to appreciate the musicianship and intricacy of the music even if it's not a style that they would normally listen to. A big "thumbs up" from the UK prog scene would be very nice too!
You have played in the past alongside bands such as Delain, Octavia Sperati & Lahannya. Will you be (hopefully) touring the UK promoting this album? Any festivals planned?
Unfortunately not long before "Breathing" was released our drummer Cris decided to leave the band due to having other commitments; this has meant that any dates or plans for a launch party have had to take a backseat to finding a new drummer. Fortunately we have very recently recruited Dan Thomas to be our new drummer and are looking to get back on stage and playing shows as soon as we can.
Well we look forward to hearing more from the hAND camp in the future, but until then thank you so much for talking with us, we at Femme metal webzine wish you all the best with the album release!!
Cheers and thanks for the interview!
Links
MySpace * ReverbNation * Facebook * Twitter * Site
Interview by Roberta Ilaria Rossi
Gone Til Winter is a melodic metal band from Manchester (UK) with some progressive and power melodies embodied in the sound. Still "unknown" to many people, this band is trying to enlarge their music and trying to get a name all over Europe. With a new album that will come out this year, Gone Til Winter is proudly spread the word and for this reason, we met Talena Cuthbert, the vocalist of the band, who kindly presented the band and said something about her future goal. Check it out!
Hi Talena, today you're our guest on Femme Metal. First of all, how are you doing? Would you like to introduce yourself and the band, saying something about your biography, how were this project born for those people who haven't had the chance to get in touch with your music?
Hi Femme Metal! We are: Talena Cuthbert (Voice), Jonathan Gruzelier (Guitar), Rosie Smith (Keyboard), Shirezy (Bass) & Ollie (Drums), collectively known as Gone Til Winter. Jonathan & I started this band about 10 years ago now. I have always been in bands from about the age of 13…It is totally in my blood to perform so I don't think I'll ever be stopping! If you are searching an in-depth biography, check our site

Gone 'Til Winter comes from Manchester and that mainly plays melodic metal, but your influences also involve the most various genres like progressive, power and gothic. What were your biggest influences?
Gone Til Winter has evolved quite a bit since the beginning, seeing many lineup changes as well as a darker, heavier sound wash over us. We now like to describe ourselves as UK Dark Melodic Power Metal. We have so many influences from many different genres, I guess because we all are in to slightly different things. Some examples are Iron Maiden, Katatonia, Led Zepplin, Heart, Skunk Anansie, Kamalot, The Mission, Opeth, Warlock and so many more!
"Deconstruct The Season" was the first EP and it got lots of positive reviews. Did you get the same "treatment" with the self-titled EP and with the record "The First Season"?
Yes. Both have had mixed feeling but generally people are very positive…even people that aren't it to metal have said they like it!
From "Gone Til Winter" you've published the single "Hear Me" and it has been recorded a video clip for it. How have you lived this experience?
We all really enjoyed making the music video for "Hear Me". It was something that none of us had ever done before so we were quite nervous but it was so much fun too!
A new record is scheduled to be out this year and it will be called "Hiding from the Sun". What can you tell about it?
This new album is what we have all been waiting to do! It is a dark, powerful heavy moody album, full of great riffs melodies and an atmosphere that will leave you with goose bumps. We are all so excited about his as we are doing it all on our own – no record company telling us what we can and can't do – so it is exactly who we are!
Along with the official release of the new record, it is also schedule a tour in the UK. Would you like to tell us something?
We are hoping to put together a UK tour for May 2013 and then maybe get a few shows in Europe too.
Your sound is quite influenced by bands like Lacuna Coil, Nightwish and Evanescence, just to name a few. What did cause this choice? They are so famous bands in the metal panorama scene…
We don't 'choose' what we are going to sound like as our song writing process is very embryonic. We are all individually influenced by many different bands and we write the songs all together. I hope that each listener finds themselves hearing many influences of their liking.
Listening to "The First Season", I've noticed a few influences related to prog and medieval melodies, especially in "Distant Places"… but I've also seen that that are some softer songs as well. What could you say about the recording process of this album and what about the music and lyrics instead?
"The First Season" is a mixture of earlier Gone Til Winter songs…something for the fans. The first two tracks ("Solemnise" and "Heat Signal") are the most recent, both being recorded as demos in 2006. We were hoping to put these two songs on to our self titled EP but they never made it on there. They are probably the most heavy songs on the album and defiantly leading toward the sound that we now create. The next three songs ("Kill Me", "Utopia" & "Deep Sleep") were all recorded in 2004. They were the first three songs that we ever recorded! It was with the original members of the band. The last three songs, the acoustic tracks ("Distant Places", "Release –Acoustic" & "Constant Retreat – Acoustic") were recorded around 2005. Jonathan & I went through some pretty tough times and ended up writing "Distant Places". We decided after a while that we would like for our fans to hear this as it was such an emotional thing for us to do, so we recorded all three acoustic tracks.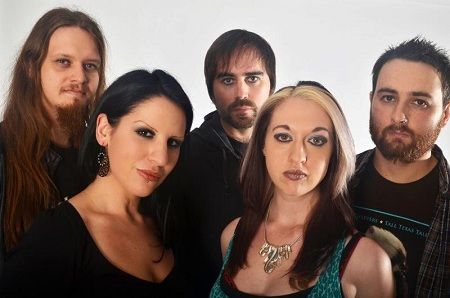 Inspiration is something that is quite "difficult to get". How do the music and lyrics branded "Gone Til Winter" come to life? Do you also make that so-called team work or does each band member do his own work?
To start off with, one of us will come up with an idea – a riff, a beat, a lyric – and then we throw it at the rest of the band. Sometimes we'll go away and work on parts on our own but mainly all the music is jammed out. Lyric wise, I do like to take myself away from everyone else and write. The lyrics are sometimes quite personal so I need to get myself in to the right frame of mind to get the creative flow.
The artwork of the album is very curious. I don't know the reason why but in a first moment, it reminded me the artwork of the movie "The Silence of the Lambs"

Who has taken care of the cover of this record? What is the concept that is behind that image?
Actually for "The First Season" we ran a competition in schools and colleges across the UK for someone to come up with the artwork. We thought it would give up coming artists a chance to showcase their work!
In this record your potential is clearly visible and I assume that we will hear from you soon in future. Have you already decided your next goals? I know that you'll play somewhere in the summer season…
We are all taking things one step at a time. We are really looking forward to the summer show across the UK before we take a break to get our new album finished off.
As I mentioned before, you'll play at Bloodstock on August 11th. What can you tell about this gig? I know that lots of your fans are waiting for this moment for so long…
We are so excited! We are playing on the New Blood Stage (unsigned artists). Because of the buzz that always seems to surround the New Blood Stage there is always going to be an element of pressure to deliver the best you can. I'm so looking forward to it though, hoping to release our sound to a much wider audience!
If I'm not mistaken, you've also signed a deal record with Headroom Records. Are you still working with this label at the moment or are you searching for something else?
We signed a licensing deal with Headroom back in 2008. They were very good with us, getting our music video made and getting our first release out there. We are no longer with Headroom Records. Everything we do, we do on our own so it does take a lot of time, but I am so proud of where we have got too.
Ok, let's change the topic for a while. Along with Rosie Smith, your keyboard player, you're the only woman inside the band. How do you face this situation? Do you manage to assert your own opinion among the guys?
Always…I am the boss! Haha! The guys in the band are great. We all have equal opinions and we are all equal in the decision making too. It is very difficult being in a male dominated industry so even the guys in Gone Til Winter feel the frustration that us ladies get when confronted with discrimination. We are like a family really. All best friends with no egos, it's great!.
Talking about fronted female bands: is there any band you would like to start a collaboration with or would you like to work with?
I would love to collaborate with Heart. Ann & Nancy Wilson are amazing!
Thanks so much for your willingness. You have carte blanche to share some words with our readers and your fans. See you soon

And thank you!
Links
MySpace * ReverbNation * Facebook * Twitter * Site
Latest Multimedia
Label : Out of Line Music
Review by Vard Aman
From 2004-2008, Dark Princess was a band that had perfected rather than pioneered the art of producing fairly mainstream Gothic Metal/Rock in a way that few of their counterparts had managed, including many of their more illustrious ones. They produced 3 full length albums and a compilation, which included some of the best songs the subgenre has ever had to offer; songs such as "Cry", "My Fragile Winter Dream" and "Close to the Sky"; songs that I still listen to on a regular basis. So when I read that Dark Princess were about to release a new album I almost fell off my chair (in a good way). This is their first full length album since 2007, so the expectation was high. The brilliance of their lone single "We Can Not Fly So High" in 2009 elevated that expectation even further. Now that the wait is over and I have my promo copy of the "The World I've Lost" right here, it's time to find out if the album lives up to those high expectations. I'll need to give it a few more listens, and on more than one system and over a few days – as I usually do; once/one is never enough I find (old engineer/producer habits die hard). In the meantime, let me introduce you to someone by the name of Natalia Terekhova: Olga Romanova, who had become synonymous with Dark Princess, left the band in early 2008 due to personal reasons. She was replaced later that year by Natalia. A vocalist of the quality of Olga Romanova is hard to replace, so no doubt there must have been questions in the minds of fans along the lines of "Is she a worthy replacement and is she as good?". Natalia answered all of those questions with a resounding "Yes!". The single in 2009 was as good as anything Dark Princess had produced previously,and Natalia suited the role perfectly (and for those of you who are wondering if I have eyes in my head, yes, she is every bit as nice to look at as well – she is Russian after all…) Natalia Terekhova was already a name on the music scene, participating in several national and international singing competitions, TV shows and musicals (she's a member of The Moscow Four).
She participated in the Russian qualifying finals for Eurovision in 2008 (Dima Bilan won – which he only did because he got rid of his mullet… well, OK, at least I like to imagine that was the reason) and again in 2010, this time with Dark Princess although she performed one of her own songs, called "Everything" (I forget who won that year, but I dare say it was probably someone not nearly as good). She also has a solo album out, called "The First Step". She is a versatile and multitalented vocal powerhouse. And, above all, she is the new Dark Princess of Dark Princess! OK, on to "The World I've Lost". The album starts off with "Fight With Myself", which is an awesome track full of powerful guitar riffs, certainly one of the highlights off the album. Next comes the single "We Can Not Fly So High" and… things suddenly start to go a little wrong. The 2009 version of this song was better. My main reason for saying that arrives halfway through the song and is a problem that haunts the album in a few other places as well, particularly in the following 2 tracks; and that problem is the various synth sounds and electronic percussion. Half way though "We Can Not Fly So High" a synth that is often used in various kinds of Dance music comes in (there are several different kinds and variants of these synths out there so I can't name the exact one used here). It sits just below the mix, not loud enough to be an integral part of the song but just loud enough to be a distraction and therefore really annoying. The next song, "Fields of Youth" has some percussion SFX that sounds like some sort of sucking sound; and the next, "The Key" has electronic percussion throughout. Why? They add nothing to the sound but instead provide a distraction from the excellent guitars and vocals that make these songs what they are, which therefore ends up taking something away.
What was the producer/band thinking? These songs would have been so much better without the synths and percussion SFX. I'll finish off my list of beefs with the vocal effect on the sustained note at the end of the first chorus of "Fields of Youth" (again why?) and the male vocals later in the same song. Otherwise, both "Fields of Youth" and "The Key" are good songs with some beautiful and very catchy vocal melodies. Natalia saves the day! Things start improving (i.e. the distractions become less) from the next track onwards. "Everlasting Pain" is a good solid Rock/Metal song followed by "Paradise Land", which is beautiful melodic ballad with folk influences and is another of the highlights off the album. Then comes "Point of No Return", which is some more melodic Metal/Rock; and then a rock ballad called "The Temple of Darkness". "The Temple of Darkness" comes with an interesting change at the end where Dark Princess start playing something in the vein of Doom Metal (and they're as good at that as they are at everything else). "The Last Page" is more of a Gothic song, and is another of the highlights off the album. The synths and percussion SFX still turn up occasionally on the second half of the album, but in the second half they are used more appropriately and more sparingly so that they aren't such an annoyance (it would still be better without them though). In the final song (on my promo version), "The Way of Passion", the Rave synth is used again, but this time it is used in a way that really works and really adds something to the song. It is a poppy Rock/Metal song with a catchy, almost ABBA-esque chorus.
The track list that came with the press release lists another song afterwards, entitled "Caruso", but it is not on my promo copy. "The World I've Lost" is Dark Princess's most mainstream release to date. To people who follow the ideals of Manowar style metal-elitism or "Tr00 Kvlt", don't bother; to everyone else, if you like solid Gothic Metal/Rock, then this is a must have – it is full of great riffs, well written songs, very catchy melodies and, most of all, excellent vocals. So, to close off: – "Is Natalia as good as Olga?"- Yes, most definitely! – "Is it a good album?" – Yes, very! (Aside from the unnecessary SFX). – "Will fans of Dark Princess and of the subgenre in general like this?"- Yes, without a doubt! – "Is it accessible to fans of other types of Metal and/or to people who don't like Metal?" – Yes, absolutely! – "Does it live up to the expectations?" Yes, to a point. – "Is it as good as old Dark Princess?"Hmm… – "…so close to the sky, the spirit of my sorrow…" – No, I personally don't think so. But whether you agree with me on that opinion or not, one thing is for sure: Dark Princess is one of the best bands this subgenre has to offer. They have come far, and they're going farther. Don't miss out on this if you're a fan of Gothic Metal. Actually, don't miss out on this if you're a fan of any kind of good solid Rock music. Actually, just don't miss out on this, full stop.
Rating – 85/100
Tracklist
Fight With Myself
We Can Not Fly So High
The Key
Everlasting Pain
Paradise Land
Point of No Return
The Temple of Darkness
The Last Page
The Way of Passion
Caruso
Line Up
Natalia Terekhova – Vocals
Aleksandr Lubimov (Saint) – Guitar & Backing Vocals
Ilya Klokov (Wizard) – Guitars
Stepan Zujev (Exumbra) – Keyboards & Backing Vocals
Stanislav Fatyanov (Dogma)– Bass
Denis Stekanov (Ghost) – Drums
Links
MySpace * Facebook * Twitter * Site
Interview by Erwin Van Dijk
Since the bio on the Midnattsol website (www.midnattsol.com) is writen in German, can you tell us something about the band?
Everything started some years ago, in 2002, when I moved from my hometown Norway to Germany because of different reasons, e.g. my longing for my sister and for learning more about the German culture and language. I was at a new stage in life, wanted to bring the little melodies keep circling around in my head to grow up to real songs by instruments as well. The coincidence was that I told my friends and family about my wishes for founding a band, about the same time Chris H. told about his wishes for founding a band too. So thanks to nice friends, we met in a metal-disco in the nearby of Stuttgart and talked about our plans and wishes. And luckily, we had some of the same ideas. From that point on, things went very fast. Chris talked with some of the earlier members of their Ex-Band Penetralia, Chris M. and Daniel F., and they were curious about finding out what this was. Chris contacted Birgit and we saw that we functions well together as a band, and with this formation we started to make some songs. The writing process went very fast, it was like the ideas popped out of us, it was a great time. But it didn`t stop there, it was only the beginning: in a very short time we made a demo, Daniel D. became a member of the band, we got a record deal with Napalm Records and then it just went up the hill, hehe.
About how you describe your music: what are the differences between the 'Nordic Folk Metal' you make and all the other folk metal bands like Korpiklaani, Battlelore and Cruachan?
Cool questions! And great bands indeed! I think that the main difference lays on the main focus; after my opinion Midnattsol has its main focus on metal with folk elements, while the other bands have the main focus on folk, which means that our music is quite heavy and dark. They use real folk instruments as well, which make a big difference for the sound, while the folk elements in our music mainly appears in the melodies, in our concept and in the lyrics. We also stress the word Nordic folk metal and use Norwegian titles and lyrics. So I think that are the main differences, but of course, that is only my opinion.
What made you decide to become a singer? And, who are your big influences?
It is difficult to say why I started with it, but I think I can say that it is my love for music and the great thing by coping with my thoughts and experiences. I use the writing and the lyrics for dealing with all these things, it gives me so much. I started as a little child singing, writing lyrics and stories and making songs, so I sang and made music almost my whole life, but not in a professional way. When I became a teenager I slowly started to get the feeling of founding my own band and when I was 18 I felt ready for it. But I have to say that my aim was never to be a famous singer, earning a lot of money or getting much attention. I work over 100% as a teacher, what I absolutely love, I have two studies, so I don't try to live from the music, even if I had the chance, I can`t stand the thought of letting money decide which kind of music and lyrics I should make and write, how I should sing, how I should dress, I want to do my thing, just as Midnattsol as a band want. Big musical influences are Anathema, Amorphis, Dead Can Dance, Paradise Lost and Norwegian folk music.
You are Liv Kristine's sister. She is very famous in the Gothic scene for her work in Theatre of Tragedy, Atrocity, her own band Leaves' Eyes and numerous guest apperances. Like on Cradle of Filth's "Nymphetamine". Does that make things more difficult for you? People will always compare you with your sister?
I would have lied if I said that I never would have thought about it, in the beginning I got totally shocked, everywhere you can read about the comparison between us. In the beginning I felt a bit sad as well, because people didn't see me as the person I was, only as a sister and I thought that people wouldn't take me and Midnattsol serious for what we really are. But luckily, I saw after I while that it has much more positive effect than negative. My sister is well known in this business and is touring a lot, so through her a lot of people got to know about us, with other words, for the promotion it opened many doors. And of course, it is positive to have the connections, through her I have since I was a teenager the chance to meet great people in the music business. So I think all in all you can say that it was much more positive than negative for Midnattsol. On the other hand, we hadn't come where we are now, if we wouldn't work hard every day, burning for what we are doing and having that quality of the music, lyrics, artwork and so on. It is so difficult to get a good record deal today, it is definitely not enough just to have the same last name as a well-known person, it is the whole package that you have to deliver. Additionally I have to say that I have grown a lot since then and I seldom read what people write about me. I think positive and try to enjoy life as good as possible and I am proud to have such a lovely sister!
Can you tell something about the other members of Midnattsol?
Yes, love to, Daniel D., who plays the guitar, acoustic guitar and also sang on our bonus track October is just exploding of great music ideas and melodies, I love to sit together with him and do some improvisations for new songs. He is also taking care of the organization of transport when we are on the road. Daniel F. is our keyboarder and at the same time he is taking care of the organization of our homepage and myspace. He always wants to try different things out and has a lot of creative ideas; Christian H. is playing the guitar and acoustic guitar and mouth harmonica and is also doing a lot of managing and is taking care of the financial stuff in the band, he knows the music business very well and has good connections. Chris M. is playing the drums and knows a lot about graphic design and does a lot of planning and organization of the concerts and the merchandise. Birgit plays the bass and acoustic bass and is helping Chris with the concerts and me with some interviews.
The lyrics of your last album "Where Twilight Dwells" are partly written in English and partly in your own language. Can you tell us what made you decide to do this?
I have to say that my feelings of the individual songs play an important role for the chosen language, and as on the debut, the languages I sing in is English and Norwegian. I can't really describe why I do it, it is like you indicate just a feeling that I get when I write a text for a certain song. It comes some text lines in my head and then I often can't change it, I just have to continue. It has a lot do with intuition, it has to fit with the atmosphere. When I sing in Norwegian, it is very personal for me, it is more close because it is my mother tongue. I also sometimes combine it with songs with folk elements, it fits well together, like perhaps "En Natt I Nord". It wouldn't give the same feeling in another language. But at the same time Norwegian is very difficult to sing, and English gives me more opportunities to experiments with words, because English has enormously more words than Norwegian.
Can you tell us how you get the inspiration for a song?
My main inspiration is the mystic and wonderful Nordic nature and the nature creatures in the Norwegian tales. In this clean untouched nature I feel real, I feel alive, I feel that everything flows. The sight of beautiful waterfalls, deep dark green woods, powerful waves of the ocean makes my thoughts escape from this industrial material focused society in kind of another world where these things don't matter. So the wonderful nature inspires me a lot, and direct description of the nature like e.g. the northern light, magical rivers of powerful winter landscapes, you can especially find in the songs "En Natt I Nord", "River of Virgin Soil", "Wintertime" and "Northern Light", and in the rest of the songs you can find it more indirect. But not only the nature inspires me, a great part of the influences are my thoughts, experiences, happenings in life like and feelings like frustration, loneliness, anger, sadness, but also happiness, hope and love. With other words, the music and the lyrics come from deep within, it's real, it comes from my soul.
You where responsible for the lyrics on "Where Twilight Dwells". How does the band Midnattsol write the music. Is it teamwork or is there a mastermind behind the writing process?
Yes, you are right and I have written all the lyrics for "Nordlys" as well, besides the lyrics for the song "October" on the limited edition, Christian H. wrote that one. The writing process of Midnattsol is really a big teamwork, we don't have a leader or a mastermind that is doing everything or deciding everything. Every band member has the right to say his/her opinion and we always discuss about things together. It takes much time and sometimes nerves, hehe, but it can also be very interesting, all the ideas, we can be pretty creative together! This way of thinking is also very important for us as a band, every individual is important and has something to say. We also don`t keep songs on the records that one member wouldn't like. So then everybody can identify with our songs 100%, that is a great thing. Mostly someone has a melody or a special idea, each member give their special part to their music, we are reviewing it, we make some changes, new ideas and then the lyrics are written and sometimes vice versa.
Midnattsol means Midnight Sun. What does "Nordlys" mean in English?
"Nordlys" means the northern light in English and is for me to be seen as a perfect symbol for the beautiful but mystical site of the nordic nature, which is a great inspiration for both the music and the lyrics of Midnattsol. This light shows the real beauty of the world, far away from material and industrial things, which only take us further away from the real meaning of life after my opinion. At the same time, the northern light, which appears because of the energetic connection between two extreme poles, the sun and the earth (like you see on the cover, Birgit and I are symbolizing these two poles and the connection between them) stands for diversity, it is made of two extreme poles, and stands as a symbol for treasuring different sites of life, both rain and sunshine. Like I sing in the song "Wintertime": "How could I ever recognize the light, without dark clouds?." Everything in the nature is special and beautiful in their way and shouldn't be seen as negative. The title is also strongly connected with the musical site of the album; the songs are diverse like the northern light as well, they content beautiful and melancholic melodies with inspiration of the folk, but at the same time complex song structures, heavy guitars and loud drums with a lot of double bass are central elements in the music. So the title was chosen because of its perfect fitting to the music and the lyrics on the new album, but also to the general band concept and style. So every element on "Nordlys", from the title to the layout and so on, is strongly connected, like a whole package, so to say.
And, can you tell us something about the new album. What are the differences between "Nordlys" and "Where Twilight Dwells" and about the songs.
You know, it is really interesting to hear about all the different opinions about the differences, some are like the night and day, so I don't think there is a 100% answer, it has a lot to do with personal opinions, which are great, because it would be quite boring if everybody would think the same. We in Midnattsol actually think that "Nordlys" is heavier and darker than the debut which I think is connected with the fact that we developed a lot as musicians in these three years. When we started to make the new songs we noticed that we could play and sing more complex and diverse stuff, it was a fantastic feeling, just looking how the band had grown. We wanted to create something new, and the result is what you hear on the new album, there are some differences; more quality and variability from both the vocals and the instruments, more details and extras, which you perhaps don't notice after only one time listening, more guitar melodies, more complex drums and bass and keys, the vocals have more volume and a lot of different matters to sing are used. Additionally I think the song structure is more progressive than before and the sound is more natural and warm. But even though there are differences, there is a strong the red line to the debut, e.g. the folk inspired melancholic melodies.
Like "Where Twilight Dwells", "Nordlys" is recorded the Mastersound Studio (www.mastersoundstudio.de) by Alex Krull. Was the whole recording process easier this time?
I have to add some information here. We decided to let different kind of studios with different producers give their best to our new album, so besides the recording of my vocals by Alex Krull at the Mastersound Studio in Fellbach in Germany, the recording of the instruments took place at the Studio E in Mellrichstadt in Germany by the producer Markus Stock. Tue Madsen at the Antfarm Studio in Aarhus in Denmark was responsible for the mix and last but not least the well-known Mika Jussila at the Finnvox Studio in Finland did the mastering. So which you understand, we had a lot of great and professional producers with a lot of experience to give their best into the new album, which we all think they did in such a great way, we can`t describe how satisfied we are! And yes, I think it was much easier this time, I grew a lot during these three years, both musically and personal. I got a lot more experience after recording the first record, you have to remember that Midnattsol is my first real band, before that I only sang and made music on my own. So I feel that after these important experiences, I am on a totally different level now and everything is easier.
"Nordlys" will be released at 28th march in Europe and 1st in North America. The first tour dates of 2008 are Metal Female Voices Fest (18th of October at the Oktoberhallen in Wieze, Belgium) and Summer Breeze Festival (14.08 – 16.08, Germany) MVFV will be the third time in Belgium. Any plans for a tour in Europe and/or North America?
Right now we are in the planning phase regarding live activities, so I can't say so much about it yet, unfortunatly. But we will come with more information on the new homepage which we just have put online, so you can keep yourself updated there! See you on the road!
And the last question, are there things the reader should know that I haven't asked?
I want to use the opportunity to thank all the fantastic people out there for the amazing support!! I hope you like the new album, we are so excited about your reactions! Take good care of yourself and have a great new metal year!
And the question from Lithium that won the competition on Femme Metal Forum… What are your thoughts concerning the recent popularity of female-fronted metalcore (The Agonist, In This Moment)? Do you feel that this poses a threat to more-traditional bands such as yours?
Wow, congratulation to you Lithium, how nice of you to ask me that question, it is a really good one! Actually, I never feel threatened in any way, no matter which band. I think that these are great bands and it would be so boring if every band would sound the same, I think it cool with variety. I can't speak for the other bands, but I have to say additionally that we in Midnattsol do our thing independent of what people think or say, we don't try to be fashion or something like that, we do what we always wanted to do and what we burn for, and the listeners decide whether they want to listen to us or not. And fortunately until now I have to say that most of the reactions and response were in fact not only good, but overwhelming, which of course we are very grateful for. We just hope that the music of Midnattsol can give the listeners something special like its giving us and the future will show what will happen.
Links
MySpace * ReverbNation * Facebook * Twitter * Site
6 color styles available:

Style switcher only on this demo version. Theme styles can be changed from Options page.