Browsing articles tagged with " confessions"
Label : Alien Productions
Review by Luisa Mercier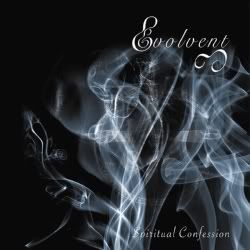 From France, another little masterpiece of gothic-doom has landed on my desk. Evolvent's "Spiritual Confession" was released back in 2008 and soon it obtained a very good response from media, they even released a video for the title-track in 2009. On the present album, the female singer is Céline de Kerliviou, but in the meanwhile Johanna Manto replaced her. "The Canticle of the Shade" which opens the EP is a painful hymn of agony: the guitars flow with their doomish pace while keyboards and synth paint a gloomy landscape. On top of them, male aggressive vocals entertwine with sweet, angelic female vocals. Strings, keyboards and the usual tuned-down guitars introduce "Engraved on the Tomb". Towards the half Céline appears and the track clearly recalled me Draconian early releases and their majestic, solemn atmosphere. Definitely more doom than gothic is "My Mystic Storm" where Céline amazes us all with a magnificent solo perfotmance towards the end of the track. Perfect song for grey, gloomy wheather outside. The title-track is quite short, but really moving. Relying more on a neoclassical style, it is a sort of interlude in which Céline sings in a very operatic way. Fascinating and enchanting, really. Last track is a 15-minutes song, "The March of Death", goes back to gothic-doom. It ranges from more metal to more atmospheric moments, but I have to say that there is not a great variety, even though being so long. The piano outro is sweet and calming. Really, a treasure most doomsters don't want to lose!

Rating – 75/100
Tracklist
The Canticle of the Shade

Engraved of the Tomb

My Mystic Storm

Spiritual Confession

The March of Death
Line Up
Celine De Kerliviou – Lead Vocals

Yann Zilliox – Death Vocals & Lyrics

Sebastien Latour – Keyboards

Alan Raoul – Bass

Sylvain Begot – Drums & Guitar
Links
Label : Kurfew Records/Ravenheart Records
Review by Tony Cannella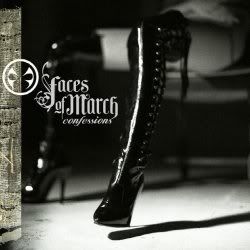 Faces of March are a modern rock band from Miami, Florida. On their debut album "Confessions", the band showcases their brand of accessible and – at times – haunting hard rock. The vocalist Gia has a powerful voice and is able to convey an array of emotions with her style. "Confessions" gets off to a quick start with "Not Enough", "Drowning" and "Broken" making an immediate impact. After the first three hard rocking songs, Faces of March slow things down a bit with the piano ballad, "Too Late" before the song evolves into a big symphonic piece. Other highlights include: "Who's To Blame", "Turn Around", "Maybe" and album closer, "Wanna Be". The potential accessibility of "Confessions" is undeniable. I would not be surprised to hear some of these songs on the radio in a few months time. That is not to say that the songs are shallow, to the contrary there is enough depth to the songs to please even the most jaded rock fans. Overall "Confessions" is a pretty good debut. The CD features some cool musicianship and personal lyrical subject matter. This one should appeal to fans of Evanescence and Paramore.
Rating – 85/100
Tracklist
Not Enough

Drowning

Broken


Too Late

Who's to Blame

Turn Around

Nothing


Maybe Alone

Wanna Be
Line Up
Gia – Vocals

Joe – Guitars

Marcelo – Bass

Eli – Drums
Links
6 color styles available:

Style switcher only on this demo version. Theme styles can be changed from Options page.