Browsing articles tagged with " connie"
Interview by Connie Bach
Translated by Disgraced
Released on Wormholedeath, Mechanical God Creation's album "Cell XIII" is all finely-tuned fury. There is nothing but steelyaggression in MGC's brand of well-crafted death metal.
Hello, Lucy.
HI!!!
How did you come up with the dark topics "Cell XIII" discusses?
The album was born from the wish to express our inner, undeclared and huge anger. We have thought about how our society denies us the possibility to free and vent our inner rage, if not only in determinated occasions, as a matter of fact we're all chained to this concrete armchair, as was Prometheus to the mountain. From this analysis we've decided that it was time to let our voice be heard and represent this huge and inner force.
Would you say, that the combination of powerful lyrics and powerful instruments creates a kind of chemistry? Is it something that feeds itself, and you, on a deeper level?
 We tried to make music and lyrics fit together in order that no one of them abandoned each other. It was like we have tried to weave a well-stichted and tight texture that oozed all this aggressivness: the more the music was getting violent, the more my voice and my vocal lines were becoming aggressive and violent!
How did "Cell XIII" build on the foundations the band already had? How does it reflect where Mechanical God Creation wants to go?
"Cell XIII" helped us to find the perfect way to develop a composing process, a musical alchemy that sadly has been lost later on, since some members left the band. Of course the work done didn't lose its value: it's been the ground for a great, personal growth that will surely be useful for the nex record and that will help me going on on my musical road. Neither me nor the other MGC will stop, on the opposite we'll get better and better with the new line-up!
Specifically, what does the name "Cell XIII" refer to?
As I told you before, we started exploring the world of repressed anger where the body acts like a cage: the word "cell" comes from here and also the artwork leads to that concept, actually there's a person chained up in a cell. "XIII" has an esoteric and symbolic meaning, according to a worldwide tradition: it's an ambiguous number open to a myriad of interpratations and it represents the human duality, our inner and outer self.
Lucy, from your personal point of view, how does Mechanical God Creation differ from earlier projects you have worked on? Is there one thing you would bring from the past experience? If so, what?
MCG is a more personal project, I feel it mine more than the others because I created them out of nothing; I founded this band to try and create something new, something that was only mine in the world of extreme music. This is my band and not a band that I simply joined! The past lives on as a legacy in terms of songwriting and live experiences, professionality and a huge care for those details both musical and non-musical that gravitate around the band. Moreover, past experiences obviously help you to deal more easily with some situations and people and so they allow you to better understand what's going on. What nowadays is often denied is basic, without any doubt, to build an important project!
This question is for each member of MGC to offer input on. If each of you had one artist who influenced you the most, who would he/she be? Why would you choose them? Each of you probably has a different, individual answer.
Lucy: The first artist who inspired me the most was Cadaveria: I liked her vocal style a lot, very aggressive but with a feminine touch nevertheless.
Veon: There are surely three artists who had a big influence on me, which are Jaco Pastorius, Steve Di Giorgio and Jeroen Paul Thesseling. They have been in bands that I always loved. Another aspect that influenced me a lot stylistically and melodically has been the one of bringing bass-playing to a new level: not only a rythmic one but something inbetween rythmic melody and soloist parts.
If you all agreed upon a dream venue (even if it is one that does not exist yet), could you describe that ideal show, line-up, concert venue, etc.? This is sort of meant for those interested to get a sense of how you all can put this image together, by working with each other, the same way you do with a song.
Well, playing Wacken is always a dream. I've been there as a fan and I can say it's a very cool festival, so many people and interesting bands. But there are of course a lot of other places where we'd like to play. Our biggest love, so to say, are big open air festivals. Now I won't list here all the bands we'd like to share the stage with… way too many!
Another one for all of you to contribute to. What goes through your head the moment you finish a gig?
When the concert is over and you go downstage many emotions always linger on: in front of you there was someone who was there to listen to you, who was searching for something in you, who wanted to find a strong emotion in your music and therefore you hope you managed to communicate all that. You hope you played a great show, something unique because after all every gig is unique and unrepeatable and so wonderful! I take the chance to thank everyone who follows us and all those who support us in what we do!
What kind of people seem to connect with MGC's music the most? Why do you think it happens?
I think that MGC's music can appeal to several kinds of listeners: of course lovers of classic extreme metal as well as modern one and in general to whoever craves for a surge of adrenalin and wants to hear something fresh and new for some aspects. Last but not least, why not?, I think we might be appreciated also by those who want to rediscover the Italian death metal that in these last years gave us lots of nice surprises!
I have one final question, for each of you to answer, or work together on; its up to you. What is the fundamental purpose of music with darker themes?
It's surely a stylistical and harmonic research that at first is aimed to create confusion in the listener but then wants to give a sensation of rage, safety and personality to the songs, both lyrics-, musical- and vocal-wise. Nowadays being out of trends using darker themes isn't easy but there are some unxplored points of view that grant a new personality to his kind of music. It's impossible to say how through words, you have to communicate and feel it with music's own language.
Thanks to you, Lucy, and to everyone from Mechanical God Creation. I deeply appreciate everyone's contribution.
Thanks to you for this chance and for the nice and challenging questions! Hope to hear you again soon!
Links
Interview by Connie Bach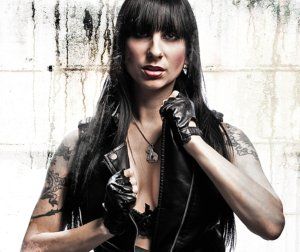 Rock with attitude. This is Sister Sin's personality. The "attitude" aspect is loud, edgy, and melodic. If you are furious with someone this is a great album for the situation. And if you are not in a rage, there is energy for entertainment, and plenty to spare.
Hi, Liv. What's going on with the band right now?
Hi! Right now we are playing lots of shows in Scandinavia and doin' some tours in Europe, we hope to be back in US early next year! The album is just released in Japan too so hopefully we will get the opportunity to do a tour over there next year too. This one's for the whole band. How did each of you get involved in rock music? What's your background?
Liv : Well, I started to get into rock in my early teens when I found Nirvana and Hole, and a Swedish metal band called Drain. Drain had Pantera as their favorite band and that got me into Pantera and the heavier stuff. I so wanted to become a rock star that I forced my to best girlfriends to start a band with me. After a while they got into it too ha, ha… We were called Sisters of Kali and we´re very, very dark and angry on everything. Jimmy : I got into rock music seriously when I was around eleven years old. I loved Metallica and Pantera at that time which friends introduced me with. Then I discovered more extreme music such as Slayer, Sodom, Entombed and later on bands like Morbid Angel, Deicide, Suffocation, Gorefest and also a lot black metal. I played in many bands in those days, mostly death and black metal bands. Then I had a break from playing and one day I heard from a friend that Sister Sin was looking for a new guitarist, knew nothing about who they were. But I gave it a shot since I always had a soft spot for classic hard rock and heavy metal. It turned out to be perfect! Dave : I stole all my brother's heavy metal vinyls after discovering Vanessa Warvick hosting "Headbangers Ball" in the early nineties. After that I got in to a lot of punk, hardcore and eventually black metal as well. Started playing guitar back then but moved on to drums for the usual reason that there weren't any drummers around. And here I am today, piss poor but happy with a Metal Heart, ha ha. It's been a few months since Benton, Sister Sin's bassist, unfortunately had to part ways with the three of you. Liv, how is the search for a new bassist going? What challenges does a change in line-up present, even with the qualifications you have in mind?
It's always very hard to find replacement for someone that you liked and that suited the band so well and we have been thru this before so we are pretty tired of this whole bassplayer thing. That's why this time we really need to find someone that has the passion for music and touring that we do and that could dedicate their life to this band. Even if you do find someone who is technically qualified the most important thing is always the social aspect. When spending so much time as we do in a van you can't have one guy you wanna choke to death every half hour. I think we´ve actually found the right man for job but he´s gonna do at least one tour before we make it official, for both parties sake.
Why does Sister Sin require that the new bassist have studio experience?
Do we? Ha ha… I didn't know that. No, but I guess it´s more of sorting out the serious ones, like we get so many e-mails from people who think that anyone can play bass and let me tell you; just because you can play guitar and get by doesn't mean you can play bass. What are you expecting with the tour with Grave Digger and Grand Magus?
I think that will be a blast! We haven't toured so much in Europe with all the focus that's been on U.S last two years so it´s gonna be cool for sure and we are hitting some very interesting countries as well, so I'm really looking forward to that.
What determines where a tour takes Sister Sin, or any other band? Why?
Since we haven't really sold shitloads of albums around the world we can't exactly pick and choose where and when we wanna tour and whom with. Many people ask why we go on tour with bands like Arch Enemy or OTEP and the reason is just that we got offered those tours and we need to be on the road all the time. Got nothing against any of the bands we´ve toured but yeah, if we could choose we would definitely tour with headliners that are more close to our genre and fan base. We´ve been over totimes and the reason for that is that our label has spent more promotion over there and we need to back that up.

Liv, you are featured as "Miss November" in Revolver's "Hottest Chicks in Metal" calendar. How do you feel about the award? Nice job. The reason I ask is that for some it is a source of pride, whereas some feel it mocks women in metal.
For me it's a pride!! I'm very, very glad to be one of the girls in that calendar, it's an honor. I truly can't believe it really, I'm just a working girl from Sweden and a big American rock magazine wants me in a calendar ? That's so cool! And I don't understand these people that think it's mocking women, if you are a beautiful woman with a talent, show it! Both your talent and your beauty, that calendar is a way to celebrate both in my opinion! "True Sound Of The Underground" did quite well on the charts. What does that mean for the band?
Of course it means a lot to know that people enjoy our work and that we hopefully can inspire others with our music. Not that you have to sell a lot of copies these days to end up on a chart but it´s a nice motivator for us that there is a growing market for the kind of music we play. Do each of you have a personal goal that you are fulfilling through being in Sister Sin?
Jimmy : Yes absolutely. I get to play guitar just they way I dreamed of when I first picked up a guitar and all the countless hours of practice finally pays off with releasing albums and touring, it certainly is a privilege and a dream come true.
Dave : Ever since first got in to heavy metal I always wanted to tour and see the world. And now I get to travel, see new places, new people and be on stage every night doing what I love to do. I've never dreamed of making lots of money (although it would be nice! ) and playing big arenas, I'm just glad that 3 nobodies like ourselves who have been stuck in a rehearsal studio for 5 years never gave up and it´s paying off the way I always wanted it to do. Liv : This is my personal goal, to be able to be in a great band and play live all over the world! One thing that would make it even better would to be able to live from the music one day, that's very much a goal for me. To just live 100% for the band, now I have to share my time with my job as a personal trainer.

Liv, Sweden (especially Gothenburg) has a huge metal scene, with many famous acts. Why does this scene influence Sister Sin?
I really don't think there are any Swedish bands that influences us really. There´s a lot of extreme metal coming out of here which obviously is what Sweden is mostly famous for in metal. A lot of those bands, like In Flames for example definitely inspire in another way though that you can make it if you just hang there, never quit and be true to what you love. Liv, Dave, and Jimmy, thanks a lot for your time. Your musical energy and commitment to Sister Sin is impressive. Hopefully we'll see you in the States again soon.
We will be back 4 sure!
Links
MySpace * Facebook * Twitter * Site
Latest Multimedia
Interview by Connie Bach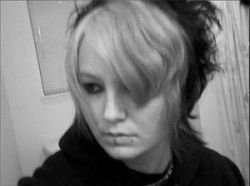 Don't take this album lightly. It isn't your average metalcore album. It is far more intense. Guttural growls, with angelic clean vocals mixed in, is probably a description that has been offered before. But the way Kierston uses her talent, combined with a varitable onslaught of sound, equals nothing I've run across before.
Hello, Kierston. For the Suffering is a recent, welcome find for me. For the Suffering has a powerful sound with a lot of energy and thought behind it. What's going on now?
We're currently doing a lot of writing, recording and playing show
s every chance we get. Our focus right now is to keep it diverse and intense loaded with hooks that will keep our fans head banging and singing along until we hit the road and bring it live!
Your Myspace blog says you are working on a new album. What made you guys decide to release four tracks so early? That's pretty cool.
We had a bit of a delay in releasing our new tracks due to a recent change in band members. Because of the delay we had plenty of time to write and not enough patience to keep it to ourselves!
Kierston, you do a great job blending clean vocals with searing growls. Why did you use more melodic vocals, at least on these tracks? If this is a trend that the album will follow, what encouraged it?
Listening to the first FTS album we all realized there was plenty of aggression and brutality but it was just a taste of what we all wanted to do. We all love metal, no doubt, but "Life Without a Cure" is just another side of music we enjoy. We wanted to share that with our fans. As far as this continuing, it's a strong possibility but we never know for sure what's next until we start writing…but I promise it'll be worth waiting for!
"Belly of the Beast"is such a deep song, especially considering its simplicity, only using an acoustic guitar. What does the lyric "I'm finding all my remains deep in the belly of the beast" stand for? What is the whole story?
"Belly of the Beast" was very real and raw for me. This line refers to the feeling of being emotionally consumed and destroyed by an abuser, specifically in sexual abuse. The entire song is a battle between the predator and the prey. The simplicity in the music was a reflection of the isolation felt by the victim. Definitely a message meant to be heard clearly.
As I said the song is lovely in its solemnity and simplicity. Why did For the Suffering round out the EP with an acoustic track? It's a nice touch.
On our first album there is a much more aggressive version of the same song, most people wouldn't even realize because of the vast difference. The song carried a much heavier meaning and I chose to do an acoustic version later on for this reason. The music had to fit the message, and the message was simple yet devastating.
Kierston, earlier, I refered to the two contrasting vocal styles you use, both melodic and aggressive. My question is: what drew you to the darker, more aggressive vocal style you use?
As I said earlier, it's very important that not only is the message heard but also felt in the music. We touch on a lot of darker subjects in our music, all things we strongly believe in. The music is simply saying what words cannot.
How did you develop the talent you have? What sparked the interest and how did it grow?
I've been singing as long as I can remember. I honestly have no idea what started it, I can't recall a time when I wasn't passionate about music but it really flourished when I got my first guitar and started writing my own music. At first I stuck to acoustic, writing songs similar to "Belly of the Beast". But joining FTS awoke a whole different animal in me that I don't think I could stop if I tried.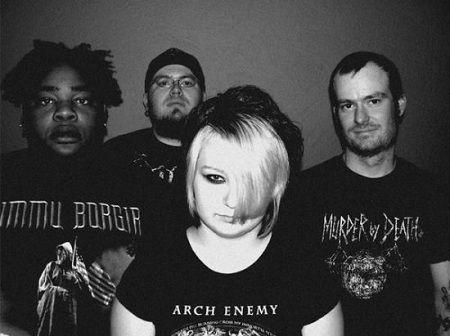 Shifting focus to For the Suffering as a whole, what are the band's future goals? Specifically, how do you envision Marty, Dave, Ryan and yourself a few years away? What would be the ultimate achievement?
We would love to tour soon and spread our music far beyond the U.S. Ultimately, we want to tour full time and see where that leads us. "Fame and fortune" isn't what we are going for…but if we happen to get rich doing what we love, we won't complain! Based on online information, Brian is currently not playing bass. I've always heard that bands bond like families. What goes into finding a band member?
Although ability and talent plays a huge role in each member, we are all friends before we are band mates. It's not easy having to sacrifice the time, money and effort as individuals and as a unit. But you're much more willing to do so when there's a solid bond between each person in the band. We all had to fit that bill in order to be a part of FTS and we had to look for someone who could do the same.

What happens if and when musical tastes of different band members clash? How do you resolve them? Apart from keeping relationships among band members healthy, why is it important to reconcile these differing interests?
We don't necessarily try to reconcile our different tastes in music, we try to embrace them, allow them to influence and inspire us. Between all the members of FTS, we cover a lot of ground musically. This seems to allow us more room to write, brings more ideas, and puts more passion into our music.
Building on that, is there any one artist within the metal community which all of For the Suffering's members can agree is influential?
Well I'll be honest. No, there isn't just one. I can't possibly choose just one haha, sorry! So for the sake of compromise, I'll make this short. Ronny James Dio, Devin Townsend, Rob Flynn, Iron Maiden, Rush, Angela Gossow and David Gilmore.

Keeping on with that thread, how have For the Suffering's other members, and fans, changed you in the last few years?
FTS is like a band of brothers, we've had to learn a trust and commitment to each other enough to endure a lot of hard work and frustration, its impacted and changed us all. And our fans quickly become our friends. We have had many GREAT fans that have helped us out a lot! We wouldn't be here if it weren't for our core!
I've been to a few concerts in the last few years, enough to realize that the audience has a big impact on a show once it begins.
What is the most hilarious, insane, and/or moving memory you have of touring or performing? If the guys want to contribute their perspectives on the same event, that would be awesome.

Encores, unexpected new fans, sharing the stage with some amazing bands, seeing people sing along to your songs, rocking out so hard you puke, epic on-stage injuries, ALL the good stuff that comes with making music!

How has the Internet benefited your connection with fans? How does Clovis's music scene impact the band?
The internet has been a great expansion to our networking and keeping in touch with our fans, but most of our fans are made at shows. We try to connect with the crowd on and off stage and keep in touch through the web. Clovis fans, although this is a small town, have been supportive and many of them are great friends!

What would you guys like to throw out there to the public?
Be ready for some new songs and upcoming shows! And HUGE thanks from FTS to everyone who's been such a huge part of helping, promoting or supporting us!
Links
Interview by Connie Bach
Bel o Kan has an interesting combination of elements. There is the romance of symphony, an eighties flare created by the guitars, and a folk element Over it all.
Hello, Sarah.
Hello!! I'm happy to answer this interview.
Sarah, what is the story behind "Birth of a Queen"? How do you relate to it?
This album includes songs written a long time ago ("Dark and Light", "Utopia", "Salem") and the other composites a little bit before the recording ("Children Call", "Blowin'", "Ten Thousand Milliard"). The band is created in 2001, so when I took the singer place in 2005, some songs were already composed, we chose our 11 favorite song between the 18 we had. There are different songs in this album, for example, "Blowin' the Wind" is very different from "Six Men" or "Too Late". I wrote the lyrics of "Too Late" and it was easier to record it because it's my words and my feelings I sung. It was difficult for me to record this album because it was my first time in a studio, I was afraid and I think you can hear it when you listen to the album.
Can you tell me, with some detail, how the album came together?
We recored guitars, drums, bass and keyboard in a different studio than the voices. The voices were recorded in Dedy studio with André Bermudez who made the mix and we made the mastering in Alto studio…a funny detail when I recorded voices it that André was always hurting me for fun with a little paper book when I told him that I couldn't sing anything or anything else…
The name Bel o Kan seems to have something to do with ant society, according to your Myspace. Can you elaborate?
Bel o Kan is the name of the ant hill in the book "Les Fourmis" (ants) of Bernard Werber.
Our first drummer Lionel who created the band chose this name because "Les Fourmis" is one of his favorite books. Bernard Werber has our album and he likes "Too Late".
Different people describe an artist's sound different ways. How would your perception, as Bel o Kan's singer, differ from mine (introduction) ? It is interesting to compare perceptions, and the reasons why they differ.
Each person has his perception of our music, I could read that we played, symphonic metal, heavy, prog, power, celtic…. in my opinion, we play heavy metal melodic. Denis (bass), Fox and Khrys (guitars) like Iron Maiden, I love Epica, After Forever, Doro…even in the band we've many different sources of inspiration. So we compose a music varied of our different style.
Where does your musical experience come from, (I.e. your background as a singer)?

I started to sing in a musical when I was 10. I sung Edith Piaf, Maurice Chevalier…I was also dancing there for exemple, tap dancing like Shirley Temple (I love her). The musical stopped when I was 15 and I continue to sing in different places but nothing very interesting. I've read in a newspaper that a melodic metal band was looking for a new singer, so I tried and i'm always here.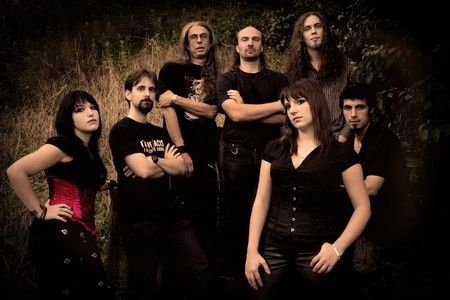 Marion
is a choir singer who provides backup vocals for
Bel O Kan
. The contrast between your two unique styles is something not often seen. How did it come about, that the two of you work together? Her voice compliments yours well; some bands would try to find a backing vocalist who sounded similar to their singer; this makes
Bel o Kan
unique.

Marion was the singer of another band before enter in Bel O Kan, when she left this band we called her to sing with us. We don't want a similar voice in choir, we would that everyone can here two voices, it's better for the music we play! Marion left the band 6-8 months ago because of her school, she hasn't enough time to continue the band. Carole took her place in the band 6 monthes ago, you could hear her voice on the future album!
This is a question, for each band member to contribute an individual answer to. What is the best moment during a show? (I.e.: beginning of a set, set-up, or when the crowd's energy is at it's highest?) What goes through your minds at this moment?

Fox: We start every show with the symphonic introduction "Birth of a Queen" from the album, while we wait to get on stage. I think this particular moment is my favorite. There is so much tension, the anxiety and desire to go on stage mixed altogether… Of course, I also love when the public is going mad, full of energy and headbanging to what we play but I guess it is a common feeling for every Bel o Kan members so my personal choice is this climax just before going on stage.

Sarah : My favorite moment is just when I feel that the spectators are receptive at our music, when they come to see us after the shows to tell us it was great… I want to play music to give fun and enjoy people!

Bruno : The second part of set-list, when we play the faster songs ("Run Away", "Ten Thousand Billions") and when the public and the group give themselves completely for the final highlight!

Sarah, what goes into coming up with the costume, or outfit, you will wear for a show?
I love to wear clothes that I can't wear outside of the stage! I love to put corsets or dresses a little special, I love to make up with special colors, strass and red lipstick. Be on stage is for me like to be an actress, you're on stage, you're yourself but you dare everything, you enter in your other character! It's a magical moment, the moment when you can be free! I feel so great when I'm on stage and it's also a moment before the show to be alone, make up me and enter in my other me! I'm not at all on stage the same that when i'm in real life!!

Bruno :
I choose my most beautiful socks, the whitest (what? this question is not for me??)
Everyone in the band has different techniques, and brings his or her own element. This is one for individual answers from everyone. Who is the strongest influence in the musical path, style, and goal of each band member?

Bruno :
I think that the musician who influences me most would be Daniel Zimmermann, a drummer of Gamma Ray and Freedom Call

Sarah :
Simone Simons, Floor Jansen and Doro, are my main influences, I try to mix différents styles and I try to have my own character

Carole : Floor Jansen, Anneke van Giersbergen and Sharon Den Adel

Nico : Tuomas Holopainen and Tony Kakko

What is one story you can tell me Sarah, regarding your fans?
One day, my cousin came in a show with a friend of him who he's bass player and his friend bougth our album, he's so fan of ours that he learned all music at the bass! He come to see us at all show and once he told to Denis : "Hey, I know all bass parts from the album", it was funny!! An other day, in stage I've forget the lyrics of a chorus in a song and I saw in the spectators a friend of us who knew the song so I gave him the microphone and he sung for me (I know it's bad to forgot lyrics on stage but he saved me !)

What is the next step for the band, since the release of "Birth of A Queen"?

The next step for us is preparing shows in France or in foreign coutries, it's important to make shows if you want that more people know our music, if you record an album to stay in your studio all day it's not very interesting. We want to be on stage often that it's possible.
People say a band is like a family. What (besides music) gives all of you a connection to one another,and brings everyone together?
We call us when one need of the Bel O Kan, otherwise Denis comes to make repairs our bathrooms when we have a problem, we can call him (he is a plumber)

. When someone organize a party or just dinners, he calls the other! We try all to arrive early in repetition and we leave later to have time also to discuss and to share other things that the music
Sarah, thanks so much for your time and energy. Merci to the rest of the band as well.

Thanks to you ! I wish a long life to Femme Metal Webzine !! And thanks to all people who like our music and who give us the strength to go on !!!
Links
Interview by Connie Bach
Diva Suicide's flavor is a constructed system of layers. It kind of reminds me of chocolate-covered pretzels, with the hard, solid guitar at its core.The layer of synthesized elements and sweet, emotional lyrics adds the "chocolate" in the equation. I feel I'm hearing undertones that call up the alternative music of the early nineties when I listen to "Scars", Diva Suicide's debut release.
Hello, Xs.
Hey hey

The name Diva Suicide stems from a photo shoot you did. Would you tell me more about the career that led you to be the band's singer?
Singing is my passion and I have always been involved in bands and when I had the chance of joining Diva Suicide I jumped on it.
As a singer, what inspires your lyrics?
Depending on the song really. Sometimes personal situations and thoughts, sometimes just general things in life…
In the past, you mentioned you are interested in animal rights activism. Do you intend to use your musical career to promote animal rights activism and how?

Yeah absolutely – I think it's really important that bands support these causes. Music unites and makes people think. The more we are, the stronger and more able to change things. I'm delighted to see bands like London After Midnight and Undercover Slut promoting animal rights.
The song "Crystals" is being featured on Femme Metal's upcoming compilation. What is the concept behind this song?
I wrote this song thinking of those whose lives are so meaningless that they have to gossip of someone else's and who put a label on you because of your image without caring for what's inside.
Moving on, you joined the band after your photo was their cover art for a demo. How did you become connected to the band and what were your impressions?


I was a friend of the band's members and they got in contact with me when they were looking for a singer. Our manager and some of them came to one of my rehearsal's with my previous band… they liked what they saw and offered me to be the new singer for Diva Suicide.
How has working in a home studio influenced the type of music and the relationships between band members?

Working in a home studio has its good and its bad things. On one hand, soundwise you can't have 100% the final product you'd like to but of course it's more comfortable to record there as you spend lots of hours so it feels like being home and you've got more time to experiment new solutions.
Building on that, what does Diva Suicide have in mind for the near future? Is there another album in the works?


Actually, we are working on our first full length album, which we thinks it's gonna really represent the energy and the personality of the band as it is has developed during the past months.
What does it take, for you and your fellow band members to navigate your day-to-day lives around rehearsing, playing shows, etc?
Sometimes it can be really hard work but at the end of the day it's worth it cos' the band is my life and even if we have to fight against lots of problems and sometimes some idiot we always get around and do what we wanna do at the end.
What do you personally enjoy doing in your free time? Any crafts, hobbies, or other musical side projects, or other pursuits?

There's little free time outside the band and it's always about music too. Love going to gigs and checking out other bands on the scene or spend hours discovering new bands and buying new CDs. I also like enjoying time on my own reading or writing too, though.


I've visited London in the past, and the city has a relaxed atmosphere. Many noted female-fronted bands have sprung from the city's streets. Is there anything about the city that ever comes to mind while performing?
I think London can be really stressful if you live it day by day. At the moment we are really excited about our forthcoming gigs around UK and abroad and we'll take this as a chance to take a break from the city for a little while. Also we are really looking forward to play in front of the audience of other cities which we've heard are really cool.
Thanks for your time, Xs. Diva Suicide definitely brings a fresh take on the metal scene.
Thanks!
Links
MySpace * ReverbNation * Facebook * Twitter
6 color styles available:

Style switcher only on this demo version. Theme styles can be changed from Options page.