Browsing articles tagged with " core"
Interview by Vard Aman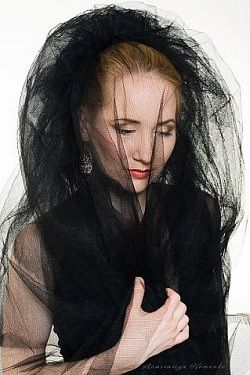 Vocalist, Olga Salikhova, has over the years become a familiar name and face (and voice) in Russian Female-fronted Metal, having fronted bands such as Slavery, Oktagon and Luna Aeterna. Currently, she is singing for one of the pioneering bands of Russian-based Doom Metal, Voiceless Void, as well as her own project, Core. I caught up with her for a chat about her musical career to date.
Hi Olga! Welcome to Femme Metal Webzine. So, to start off with: when did you start singing?
When I was a little girl my granny used to take me a long way to our summer cottage on a bike on the rear seat, and I used to sing all the way to entertain both of us. Later when I was 7 I went to music school and joined a choir, and I liked being part of it.
Did you have any special training?
Yes, I did! When I was a teenager, I felt a great desire to get a Grammy and to conquer the world, and I was quite sure it won't take me more than, say, 5 years, so I started attending some weekend classes at a musical studio. There I experienced my first individual vocal classes. After that all my training was mostly with different private vocal coaches.
What was your first band?
I was 17 then, it was a very nice band called Slavery, they lived in a different city in the Moscow Region, so I had to commute to our rehearsals twice a week and my parents had to meet me really late at night coming back. Slavery was kind of melodic power metal with dark lyrics and kind of gothic image. They were really nice guys and the founders of the band are still my friends.  There are only a couple of live audio recordings from our gigs and a demo. Unfortunately, even though they existed for 10 years, they didn't release any albums, even after I left the band.
According to Metal Archives, Slavery split up for the second time in 2010. When was the first time? Was that also when you left?
No, when I left the band, they found another female leader, also named Olga (Mashkina), also a blonde, there were kind jokes about that in the group and among our fans that the band attracts such front girls. I know after Olga Mashkina they had another blonde singer, Nastya. I actually don't know much about their first splitting-up, I know about the second one in 2010, I was involved then.
How were you involved?
I took a break in my musical career after I left Luna Aeterna. I didn't sing at all for about 4 or 5 years. I communicated with my ex-music colleagues very seldom, only occasionally. Then one day I met with the bass-player of Slavery, Irina, and she suggested that I join them again because their singer, Nastya, was leaving the band for personal reasons. I agreed with enthusiasm, we started rehearsing together, it all was nice and we were discussing recording an album, but after a month of rehearsals the guys decided that they felt exhausted and lacked creative inspiration and new ideas for our music. That's how we split up, basically.
Interview by Ed MacLaren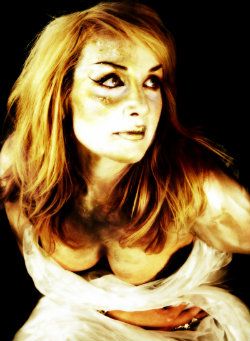 Since the mid-1990s, The Dreamside have entertained fans across the world with their unique musical vision: gothic, metal and dance music combined to create a singular sound and emotional point of view. With their new album "Lunar Nature", The Dreamside continues to push the musical envelope and prove without a doubt they're still as relevant and influential as ever. Vocalist/writer/producer Kemi Vita talks with Femme Metal about "Lunar Nature" and reflect on 15 years in music.
"Lunar Nature" retains many of the electronic elements of your previous efforts but the overall sound is more metal with a cleaner and a definitely more biting sound: much less ethereal. What was the evolution of "Lunar Nature" – especially when it comes after the "13th Chapter" CD of dance remixes?
The evolution of "Lunar Nature" took a time span of around four years and in that time a lot happened. It's a bit more rock than previous albums, also because we like the live feeling of the new material. Songs like "Higher Ground", for instance, are great to play live. However, if you get into the album as a whole you will experience much of our music in a more ethereal way. Songs such as "Hush" or "Willing to Learn" are good examples. The dance remixes of "13th Chapter" are a continuous thing of The Dreamside since we always collaborated with other bands and artists and released these kind of dance mixes in the past and most likely in the future. The Dreamside was and will always be a band full of diversity.
The cleaner production on "Lunar Nature" has brought your vocals much more up front in the mix. That vocal focus really benefits the overall feel of the music. How did you approach your vocals with this CD?
We always considered the voice as the most important instrument within our music. We did use different tube microphones and outboards for the various needs of the different songs but also my technique changes for different songs. Over the whole we tried to make the arrangements and the production clearer and leave out anything that would not feature the song as a whole. We usually record all ideas and do a selection in the final mix. Furthermore, I am as open as I can when singing and this intimacy is a red line though out the vocal recordings.
When you listen to the early CDs you can hear that your voice has changed dramatically. It's stronger with clear highs and a menacing and dark low end. Did your voice develop as you became more experienced or were you trying to vocally reflect the changes in the band's music?
I think that here you have already given the answers since it's a mixture of those two elements. With the years I gained a lot of experience and learned so much about the qualities and limitations of my voice. Nevertheless, I also still let my voice go free on the music; the tunes, songs and music trigger my inspiration and therefore my voice. Also, because Roman and I write the music together, music and voices go hand-in-hand from the start of each composition.
What do you think when you listen to your early vocal performances?
Well, I am very critical about myself so I always strive to improve. However, when you put things in perspective, I think my early performances in their own time and space always came from the core. I am proud of all of them.
Back in the mid-1990s when The Dreamside began there were comparatively fewer female singers in the genre than now. Who were your vocal inspirations? Are there any current vocalists that you admire right now?
Yes, there you are hitting a clear point – there were a lot less female singers indeed! I must admit that I listened more to bands with male vocalists but some of my female vocal inspirations were Stevie Nicks, Siouxie, Liz Frasier, Lisa Gerrard and Tori Amos. About your question of recent vocalists, I cannot see the voice without the content. This is one of the reasons that mostly I am not such a fan of highly studied voices. I like artists who are over the whole involved in their art, so I have a lot of respect for the innovation of Bjork; I like the rawnessand sincerity in the music and voices of PJ-Harvey and of Melissa Auf der Maur. Amy Lee has also done some great stuff.
The Dreamside has been going strong for 15 years and the music keeps improving with each release. To what do you owe your longevity?
It's the fact that our music comes from deep within and has to find its way out in the open! In the past, we got ripped off far too often and the fact that The Dreamside survived its hardships is actually something "supernatural" as a matter of speech.
Musically, the band has also changed dramatically over the years. How important is it to develop your sound? Is there a need to stay "current" or is it more important to stay true to your musical vision?
To us it's truly remarkable that a great majority of our fans feel and see a clear line in the diversity of our music. They dance on a remix, are romantic with the love songs, are letting go their tears at some ballads and rock with the heavier songs. They call it The Dreamside and after 15 years they know what they can expect from us. Critics and journalists always seem to question the evolution we were going through and in a way I certainly understand that since purely listening to music differs from reviewing and categorizing music. However I believe that our sound became better through the years and we are grateful that this is appreciated. We stay true to our belief in the naturally growing of our musical vision, the challenges that come along and the development of what we create – like we do in many aspects of our lives.
The Dreamside has leaned much more in the metal direction with "Spin Moon Magic" and "Lunar Nature" but split the time between CDs with a collection of dance remixes on "Chapter 13th". The band definitely has a love for both metal and dance music. How do you reconcile the differences between the two genres?
The Dreamside always was a band full of diversity and we are always looking to improve our sound and be open for new inspirations. It's not common in the metal scene to do remixes and we are lucky with The Dreamside that we have the opportunity to combine the best of all styles and create our very own thing. We consider this as a pillar of what we do.
The Dreamside is one of the standard-bearing gothic metal bands. What do you think of the current scene and how has it progressed since The Dreamside debuted in the mid-1990s?
Well, we plan to play some festivals this season and we got some invitations from overseas. But I think that this year we mainly play in Europe, Germany and Holland.
What can we expect to see on stage?
The Dreamside loves to play live and it's always an explosion of energy. I am happy to introduce a new band member who comes in with the guitar section, Louis Buurman. Although he helps to underline the heaviness of the songs when playing live, we include some very sensitive moments in our shows. There is always a sense of magic when we play live and I am very proud of our audience, the crew and our band. We like to give the people always something "extra" with the performance, the sound, the light and our outfits, etc. I would say, just come and find out.
How do your long-time fans respond to The Dreamside's evolution over the years? Do you see many of your original fans at your current shows?
The Dreamside fans respond very positive to the development we've been through. They also know that we will keep on making different songs so whatever they prefer about The Dreamside will be something with a similar vibe and hopefully even better. Yes, we get many reactions and visitors who followed us since the early days. It warms my heart to know that they come along for our long trip. Many let me know that our music really touched their being and helped to make a change for the better in their lives. That is a beautiful thing so we keep the dream alive and rocking along the way.
Latest Multimedia
Links
MySpace * Facebook * Twitter * Site
Interview by Ed MacLaren
Harkening back to the heavy metal heyday of the 1980s, Kentucky's Hydrogyn are keeping the sound alive with its raunchy guitar crunch combined with the powerhouse vocals of singer Julie Westlake. On their latest release, "Judgement", Hydrogyn keep one foot in the past while looking directly into the future, putting a modern spin on a classic metal sound. Julie took some time to talk to Femme Metal about image, the lasting influence of hard rock and how sometimes one good guitarist is all you need.
It's clear from the opening riff of "Lost Reality" that Hydrogyn brought the metal on "Judgement". The guitars are beefier and the overall tone of the album is heavier. You guys really mean business!
Yeah, you're right. It wasn't anything we did as a plan – it's just the way it happened. Jeff Westlake has always liked the real heavy guitars but I don't think until this recording we had the drummer he felt he needed to back that guitar tone up. He really likes Joe Migz's drumming and he said it really helped to bring out the heavy playing to its full capacity this time around. I like the heavy stuff as well so for us this was a great blend of melody and heaviness so to speak.
Hydrogyn plays blues-based hard rock but you're getting progressively heavier with each release. Even with the increasingly "metallic" influence, you've never compromised your hard rock core. Did you have a clear idea of where you wanted to take the music when you hit the studio?
No, not really Ed. We go into the studio with a theme in mind for every CD – we almost always have the CD title in mind before Jeff and the guys start putting the music together. We don't do anything that is pre-meditated so to speak for the songs. Nothing like, this one's going to be heavy or this one's going be this or that. Jeff has many different sides to him as a writer, as do I, but we just have this certain thing we do as Hydrogyn and we let it take its course without planning in advance.
Are you still working towards finding the perfect Hydrogyn sound?
No, not really. I think we have established, as you stated earlier, our base sound. Outside of that, however, we are always looking to push the boundaries in different directions. One thing I'm proud of is the fact that we have not made CDs that sound like each other. Each release has progressed from the previous ones and has its own character and that's very, very important to the band to be able to accomplish that on every recording. That's something we do consciously in the process. Someone will say, that kind of sounds like such and such, a part from such and such a song and then we go…well that's gone… on to the new part. *laughs*
You and guitarist Jeff Westlake are the nucleus of Hydrogyn (sorry, bad pun!). How would you describe your relationship? How has it evolved over the years?
Besides the fact we tend to fight like cats and dogs during the writing and recording process, we do pretty good together… *laughs*. We both are pretty intense at times and sometimes butt heads a bit. But for the most part, we've done well together over the years and have become a stronger team during the writing process and work really well together.
There aren't many bands making the kind of music you're creating right now. They're either going in a more pop rock direction or towards a more extreme metal sound. There seem to be very few straight-ahead hard rock bands out there. Why do you think that is? What is the attraction of that style of music for you?
It's just what we do. If you look at all the fans that go to the festivals and how people like Dio, Heaven and Hell, Maiden, Whitesnake – the list could go on – and continue to pack places, there's a big call for it. I'm not interested in extreme metal and I'm not interested in pop music per se. I'm interested in good songs and something I can relate to. If something extreme would come up in the process, that's fine if we can make it a great piece and the same goes for pop-oriented rock as well. If it works then it does but as for the screaming from beginning to end I can't give that more than five seconds but I do think if you mix that extreme stuff in properly to what you do – like we do – it can work. Now this is strictly my opinion but I see those crowds of people packing places for that type of music – melodic heavy rock – and as we have seen with Ronnie James Dio's passing, someone is going to have to fill that void once these guys are no longer with us and I would love to fly that flag. I'm not saying we're like them – we have our own sound and that's a fact – but we are a heavy band and if you strip the vocals away the band is killing it. The added vocals make it melodic, and that I love, as do the guys.
It's amazing to listen to your vocals on "Judgement". There are few singers that can command a vocal like you do. There's real attitude in your voice –a power and vocal control that permeates tracks like "Self Destruct" and "Medicate". But at the same time, you can give a track like "Gold Dust Woman" an emotional root that's essential to the believability of the song. Have your vocals always been so confident? What has changed in your voice since the early days of Hydrogyn?
Thank you, Ed, for those comments. It hasn't always been that way. The voice has always been there but it wasn't until I met Jeff Westlake and Jeff Boggs that I really started taking singing in a big direction. I always wanted to sing professionally but hadn't done so until those two pulled me into Hydrogyn. We've done a ton of music together over the past eight years but Hydrogyn is what did it.
I spent all of 2003 building my voice up in strength because Westlake said it had to be done. When we started doing that, I sang in a tuning that was much lower than the standard we work in now. Over 2003, I built that power and strength but I don't think it really took hold until we went in to do "Bombshell" with Michael Wagener. My voice has gotten much stronger since then and now I feel like I can hang with anyone but it did take some time. Also, singing rock, you either do it or you don't and there's no hiding behind anything so it was sink or swim and sinking was not a choice. *Laughs*
Vocally, today's women in metal and hard rock have arguably developed into two main camps: the corset-wearing soprano singers and the unbridled screamers. Your voice doesn't fit into either group. It has power and an excellent clear tone – a distinctly American style – in company with vocalists like Pat Benatar and Anne Wilson. Do you ever see a resurgence of your "classic rock" vocal style?
I don't know. Has it ever really gone away? I like Anne and Pat but I look more to Ronnie or Rob Halford for what I do. I've always heard that I don't have the typical "girl" voice which is very cool to hear. I can also do a lot of different things but my voice is my voice. I didn't try to be that way or model myself after anyone in particular. I released a solo CD in February of a bunch of stuff from country to rock to gospel just to show the different things I like and do but I love to rock. I am not much on the operatic stuff that is out there and I'm not about any pitch correctors on my voice either. I am just blessed with a clear powerful voice and I love it.
You perform and belt out your vocals like a true rocker. You would never think that your background is in country music. How does a country princess end up a metal queen?
*Laughs* Well, again, blame Westlake and Boggs. I'd stumbled onto Westlake in a studio in Ashland, Kentucky to do a demo and he was the engineer in there at the time. So I did the singing and he and I started working together on writing material but I was still in country. One day he and Boggs approached me and said we have a gig in 14 days and no singer –think you can try to do it? I said yes so they made me a CD of 40 cover songs ranging from AC/DC to Dio, Whitesnake, Priest, Heart and on. I was like, wow I don't know. So what I did is learn the melody of the songs and then taped 40 songs worth of lyrics to the stage and did the show. It went over so well that I decided to keep going with it and here we are today. I love to sing anything but I love to rock the most.
With all the success of "Judgement", in other ways it was a difficult year for you and Hydrogyn. You gained and lost a potential guitar match made in heaven with ex-Megadeth guitarist Jeff Young. It looks like the dust has finally settled from that failed collaboration. What have you learned from the experience?
That having one guitarist is plenty good enough *laughs*. You never know how things are going to work until you try it, and some may refer to it as a match made in heaven and others or myself may say hell. *laughs* Sorry. Needless to say, it just didn't work for us, for me, for whoever. I'm just glad it's over and we're able to move forward with the release. Lesson learned. Why fix it if it's not broken. We've been playing with one guitarist for a couple of years now and that's how we'll continue on for the duration.
Legendary producer Michael Wagener has been a great friend of the band since "Bombshell". How has your relationship with him impacted the musical evolution of the band?
A lot of ways. Just his support has been enough but the biggest way is probably that Jeff Westlake has been mentored by him as an engineer and music producer since 2005. That has been the biggest impact of all I think. The last two releases, "Deadly Passions", and the new one "Judgement", have had three songs on each produced by Michael and the others by Jeff. Jeff has learned so much it's amazing. Reviewers have said they can't tell who did what because it all sounds so good and that's huge for us and especially Jeff. Jeff is also building a new studio as well as he's busy with other bands all the time so the relationship with Michael has been big on many, many levels but the bottom line is that we love the guy.
You managed to score Doug Pinnick of King's X to perform on the track "Big Star". How did he get involved in the "Judgement" project? You must have had some high expectations for the result. So how did he do?
Well, he did great! *Laughs* We've known him since 2006 as King's X works with Michael as well so that's how it came about. Jeff Westlake had mentioned it one day to Jeff Young and so Young contacted him and the rest is history. He's unreal and soulful and a great player as well so he did the male vocal part and the bass line for the song. We love it.
You release regular albums with Hydrogyn and tour extensively. It doesn't leave a lot of free time yet you still found time to record a solo album. Why did you decide to step outside your comfort zone with the band and do something on your own? Did you have a creative itch that couldn't be scratched within the confines of the band?
Yeah, I do in a way. I've had so many comments made about the "country" background and friends and family asking me to do some stuff along those lines that I decided to do it. This solo CD is basically for them and I have another one on the way that will be more of what I want to do which again is different than Hydrogyn. Westlake and Boggs are working on a side project too called Ura-Kia and then Westlake has another one as well called Slave Train. These will all see release in 2011 and another Hydrogyn record as well. Now that's a lot but it's the way we love it. I really don't have just one comfort zone. On the solo release, which is called If Ever a Day, I do country, rock, gospel and the title cut is a bit of a jazz/blues tune that I wrote so it's a bit of everything. The next one will be more of a rocker.
You're no stranger to singing cover songs – you've had at least one cover on each Hydrogyn album. As a cover expert then, what's the attraction to putting a cover song on an album when you could be adding another original track?
You hear songs you like and you catch yourself singing them and then you go, "Wow I'd like to do that!" So we do! On "Judgement", we have fans asking for "Gold Dust Woman" as a lot of people have heard us doing that one in acoustic settings so we did it for the fans. "Assault Attack" from the Michael Schenker Group is done because I love the song and so do the guys, so we did it. We could always write another song to put on the CD but those cover tunes are for us and we enjoy them a lot.
What's the criteria for selecting a good cover song? You've performed covers by everyone from AC/DC to Alanis Morissette to Fleetwood Mac!
Just loving the track. We did "Back in Black" in our live show when we met Michael and he said can we please record that and we said sure. I think the only cover song we have done that had some resistance to it is "18 And Life" because Westlake hates the song. Other than that, we have a vault of cover tunes recorded just waiting for their time, so to speak. Now "Assault Attack" was my idea but it took no time for the guys to jump and do it. That's been one of Jeff's faves since it came out in 1982.
"Big Star" was part of your original "Best Served With Volume" demos from 2004. Why did it take so long to formally record?
We also recorded it for the "Bombshell" sessions and it made the live release of "Strip'em Blind Live" in 2007. We just love the song. Westlake wrote it in like 1999 and we said this song has never had an official release so we reworked it a bit and then got Doug involved and it just came out so good that it finally got the green light.
Do you have any other great tracks lurking in the Hydrogyn vaults that are waiting to see the light of day?
Yes. A ton actually and Jeff would kill me if I said what. We've been talking of releasing a cover CD so for now I have to keep mum.
Fashion alert! OK now, is that really the "Bombshell" outfit you're wearing on the "Judgement" cover?
Yep, sure is. I thought that since the album title was "Judgement", and that a lot of people have judged myself and the band since we started with the "Bombshell" album, that it only made sense to be viewed with the same outfit that started it all.
How much does your image play into your music?
I think this industry is a lot about image. So a big part of what we do with my image is about marketing. It really doesn't have anything to do with the music; it's just the role and persona I play on stage.
Look at any Hydrogyn album cover from "Bombshell" to "Judgement" and anyone can see that you play the role of the "rock vixen" to an extent. How much of that image is you merely expressing your own sexuality or a facet of your personality and how much is a product of women having to play that role in hard rock/metal music to be successful?
With the album covers, the pictures are supposed to represent the title of the album, not what or who Julie Westlake is. What I wear in the pictures on the covers is not always what I wear on stage. I don't think it's necessary that I have this particular image, it's just the image I choose to represent each album.
Has your image had any negative impact on how seriously people respond to your music? Is there a stereotype you have to constantly fight against?
I wouldn't say negative. Some people don't like it but you're not going to make everyone happy. I'm here to hopefully make people happy with our music, not with my clothes. If they don't like the image, then they can close their eyes because the music is still good.
How do you see your image evolving as Hydrogyn becomes more and more established?
You never know. Again, a lot of it has to do with the album title and how it influences me. Of course, fashion is always changing, so you just never know what I will do next.
You've battled in the business and media trenches for many years now. Do you have any advice for young women aspiring to a career in music?
It's really tough. You have to be willing to work long and hard for it. Don't expect things to happen fast. It's a long road and a lot of work and it's important to create thick skin because people are always going to be tough on you no matter what.
When will you be hitting the road to tour behind "Judgement"? Is the focus going to be on the United States first and then head over to Europe?
Hopefully in the spring. We're trying to focus more on the States this time around but also feel that Europe is such a strong area for us and we love our fans so much there. So, hopefully we will be able to hit both next year.
What can longtime fans expect to see in your new live show?
One thing you can always expect is a very energetic show. Our live show now consists of a variety of songs from all of our previous albums, as well as a few cover tunes along the way. And then, of course, we always take time after the show to spend time with our fans and we really enjoy meeting everyone.
(Famous) Last words?
I guess I would have to say, "Don't judge a book by its cover". In this case, an album. Let the content decide whether or not you're a fan, rather than making assumptions based on an image of someone you've never met.
Links
Label : My Funeral Records
Review by Tony Cannella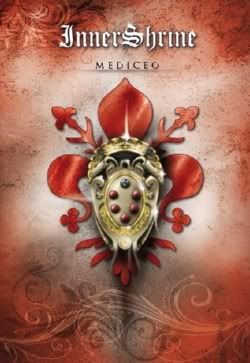 Italy's Inner Shrine have a history that begins in 1995. Even though they are in their fifteenth year of existance, information on them on the Internet is scarce. The two main members of Inner Shrine are Luca Liotti and Leonardo Moretti. For their just released fourth full-length release, "Mediceo" they have been joined by the operatic vocals of Cecilia Boninsegni. Musically, Inner Shrine play a mix of Gothic, Renaissance, Classical, Opera and Metal to create a unique blend that can be heard on "Mediceo". "Mediceo" is a concept album based on the history of the city of Florence and the power of the Mediceo family that ruled the city for centuries. All the lyrics are written in ancient Latin and the songs contain big sounding chanting and choir-like choruses. Cecilia Boninsegni's soprano vocals are quite powerful and definitely helps to bring the music and songs to life. The music veers off into different directions and avenues, as the listener is swept away into the music and story that is being told. Even though "Mediceo" features only 8-songs and 34-minutes worth of music, there is a lot to digest here. Inner Shrine are quite an interesting and adventurous band to listen to and are sure to be an acquired taste, but there is no denying the talent and ability of this Italian band. Inner Shrine are a difficult band to describe, but they are one of the more interesting band's I have encountered in quite some time.
Rating – 75/100
Tracklist
Fatum Johanni
Confutatis
L'Elettrice Palatina
Cum Gloria
The Green Room
Il Magnifico
Enea
Odissea
Line Up
Luca Liotti – Vocals, Guitar, Synth, Programming, Samples

Cecilia Boninsegni – Soprano

Leonardo Moretti- Bass
Viames Marino – Drums
Links
Label : Raging Planet Records/Ravenheart Music
Review by Tony Cannella
From Lisbon, Portugal, CineMuerte is the band featuring vocalist Sophia Vieria (who guested on the last album by Moonspell and she also toured with them as well) and Joao Vaz. They have just issued their second release titled "Aurora Core". The line-up for this CD is completed by Ricardo Amorim of Moonspell on guitars and Pedro Cardoso from Fever on drums. The band generated some positive feedback with their 2006 debut "Born from Ashes" and are now looking to expand on that with "Aurora Core". The first thing that caught my eyes is the beautiful way the CD is packaged. It comes in a nice glossy digi-pack format with some cool looking cover art. When listening to the CD I was very impressed with the big vocal style of Sophia Vieira, she really delivers an inspired performance throughout "Aurora Core" and the musicianship is top notch as well. The music on the CD veers towards Gothic/progressive metal with some elements of classic rock and metal present as well. The overall vibe to the CD is dark, but the songs are very melodic and mid-tempo. Highlights include: "A Taper Light", "Up For A Fight", "Air" and "I'm a Fool but I Love You". For me, the best track is "The Night of Every Day" which was written by Fernando Ribeiro of Moonspell. It's all pretty powerful and moody stuff and a great effort from this Portuguese band.After listening to "Aurora Core" it is quite obvious why Sophia was tapped for the Moonspell "Night Eternal" album and tour. The sound of the CD is also quite good, the band chose to produce themselves but the CD was mixed and mastered in Germany by the legendary Waldemar Sorychta. Overall, a good second effort by this excellent young band.

Rating – 85/100
Tracklist
A Taper Light

Up for a Fight


Air

I'm a Fool but I Love You

The Night of Every Day

Slightly Mad

The House of the Past

Dave

The Call
Line Up
Sophia Vieira – Vocals

Ricardo Amorim – Guitars

Joao Vaz – Bass, Samples & Keyboards

Pedro Cardoso – Drums
Links
6 color styles available:

Style switcher only on this demo version. Theme styles can be changed from Options page.