Browsing articles tagged with " cover"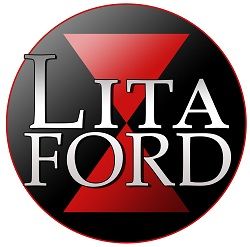 Interview by Tony Cannella
The Queen of Metal is back (again)! After her breakout LP "Living Like a Runaway", Lita comes back with a kick-ass live album called "The Bitch Is Back… Live" so we have took the occasion to get more updates about this fantastic live CD and her next projects! 
Hey Lita. I was just listening to the new live album, "The Bitch is Back… Live" and I think it's really awesome. Are you pleased with the way the live experience came through on the record?
Yeah, I am. You know, live albums are tricky. You can feel everything that goes on and hear everything that goes on, you really can't cover shit up on a live album, so it better damn well be real. This album has a lot of energy, it has true energy. We are truly happy to be playing and truly happy to be on that stage rocking and it shows. It's kind of a funny album; too, it has a little twist of humor to it. We're really happy with it.
Yeah, it definitely sounds like there is a lot of enjoyment. You left in a lot of the between song stage banter which is pretty cool. It does come across as an authentic live album.
Continue reading »

Interview by Tony Cannella
The Dutch metal band Delain recently embarked on their first extensive U.S. tour as the opener for Kamelot. The band has impressed the audiences with their high energy, powerhouse performance on each stop of the tour. I had the opportunity to see them live in Worcester and they did not disappoint. With their new EP "Interlude" available now, I had the chance to chat with lead vocalist Charlotte Wessels prior to their set in Worcester and we talked about a variety of subjects including their last album "We Are the Others". It was a nice conversation and this is what she had to say
…  
You've been on tour with Kamelot in North America for a few shows now. How has it been going so far?
It's been going well. This is our first ever U.S. tour. We've done Prog Power before, that was one show, we've done the 70,000 tons of Metal Cruise, but that was also just one gig, so this is actually the first time we are doing a full-fledged U.S. tour. It is really exciting for us to see the audience response, even though we are with a little bit of an adjusted band because we have some people who are expanding their families' right at the moment. It's going pretty well; especially yesterday in New York we had a really cool reception. It's been amazing. Continue reading »
Label: Victory Records
Review by Tony Cannella
Originally released in 2003, "Dance of the Wicked" is the debut album from the female fronted Swedish metal band Sister Sin. The album has been re-issued via the fine folks at Victory Records and it's about time too. In addition to the full album you get four bonus tracks to complete this newer version.
"Dance of the Wicked" is Sister Sin at their most raw. From the opener, "Kiss the Sky" to songs like "Fall Into My Dreams", "Love Lies", "Dirty Damn I" and a cover of The Rolling Stones classic "Paint it Black", the band provides material that is melodic, heavy and guitar driven… Not much has changed in that respect. Continue reading »

Interview by Miriam C.
After a 3-year drammatic stop due a personal loss, Edenbridge's back with the brand new masterpiece "The Bonding". "The Bonding" marks a new sound evolution for the Austrians because, despite being the first album released for SPV/Steamhammer, sees the partecipation Orchester Klanguereinigung Wien and the new bassist Wolfgang Rothbauer. In addition to this, the title-track features the great Sweden AOR maestro Erik Mårtensson. For know more,  just follow us in this interview.
"The Bonding" your eighth album will be released in Europe on the 24th June through SPV. Would you mind give us some insights about the album's genesis?
Lanvall: I started to work on the songs for "The Bonding" in 2010. But then the difficult time began as in May 2011 my father commited suicide, Sabine and I changed our places of living and other band members changed their job, so it was a constant process of change. Continue reading »
Label: Prikosnovenie
Review by Luisa Mercier
Fourth release for Riccardo Prencipe's project Corde Oblique, musician focused on reinterpreting the Mediterranean folk music. He is always joined by his usual collaborators: Edo Notalaberti playing violin, Umberto Lepore at contrabass and Alessio Sica playing drums and percussions. Prencipe writes songs that have a classical mood, even though the traditional influence is always quite present as in the opener, the title-track, that mixes piano, violin and female vocals that have a folk nuance. Completed devoted to Art are the lyrics to "Arpe di Vento", a beautiful piece of music full of light and melody.  In the following "Paestum" the composition is more immaterial: Annalisa Madonna's vocals are sweet, ethereal and acoustic guitar plus Luigi Rubino's piano create an amazing neoclassic fresco which is on of the most beautiful things I have ever heard. Continue reading »
6 color styles available:

Style switcher only on this demo version. Theme styles can be changed from Options page.