Browsing articles tagged with " covers"
Label: Premium Records/Soulfood Distribution/The End Records
Review by Luisa Mercier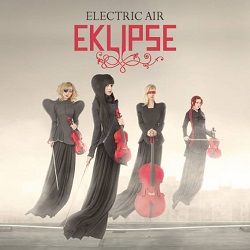 Second release for the four girls string quartet that debuted an year ago and supported Nightwish during their Euro tour. I had the chance to see them live in this occasion and really appreciated their first album, so I was really curious to hear how they evolved and what they chose to cover in this new "Electric Air". I might say that in my opinion the sound is more mature, richer and lush and the songs choice is darker, less mainstream even though the first single "Titanium" (David Guetta cover) might you think differently.
The arrangement is really baroque anyway so there is nothing of the dance original.  It is followed by a really elegant cover of Massive Attack "Teardrop" and a beautiful on of Lykke Li " I Follow Rivers". Continue reading »
Label: Mascot Records
Review by Davide Torresan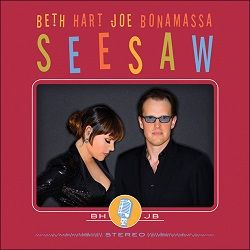 Do you know the saying "Never change a winning team"? Well, the American singer-songwriter Beth Hart and the famous blues/rock guitarist Joe Bonamassa thought the same thing. The collaboration between these two atists started in 2011 when their "Don't Explain" came out. During the tour for the promotion of Beth's last album "Bang Bang Boom Boom", she took the time to shut herself into the studio with Joe to record a new album.
This "Seesaw" is a nice work in which soul, blues and rock merge together giving birth to a cover album that pays tributes to some great artists like Etta James, Billie Holiday, Tina Turner and Aretha Franklin. Continue reading »

Interview by Andy Axworthy
After releasing four successful albums in almost five years, the band Van Canto does not really need an introduction. Their 'A Capella' metal has drawn the attention of thousands of fans worldwide over these years. This interview is with Inga Scharf, one of the singers of the band, who talks about the brand-new album "Break the Silence", her music inspirations and the future plans of the band.
Hi Inga! Thank you for your time. How are you?
Great, thank you! Continue reading »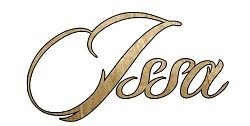 Interview by Andy Axworthy
Our dear readers I think that they already know the AOR/arena rock singer Issa (AKA Isabell Øversveen) and this time, Andy took some time for investigate about her latest release "Can't Stop", where the Norwegian singer collected and recorded some hidden gems/cover of the AOR scene. Just read this exciting interview for know more.
Hi Issa, a warm welcome back from all of us here at Femme Metal Webzine. We last spoke with you after the release of "Sign of Angels" back in 2010 and you have not taken your foot off the musical gas since, leading up to now and "Can't Stop", your latest release. How have you been and what's new in your world?
Hi there, thanks for having me back. Well I've recorded 3 albums in 3 years which has been the main priority of my time really and with each album you have an aftermath of radio and written interviews which also take up a bit of time. I also write songs with my husband James as we have a publishing deal and we have a lot of fun writing in all different styles. I've also recently added my vocals on another Frontiers Records release which is yet to have a press release so I have to keep hush hush unfortunatly on that one. But aside from the music i'm very happy in my life also. Continue reading »
Photos and report by Jesse StClair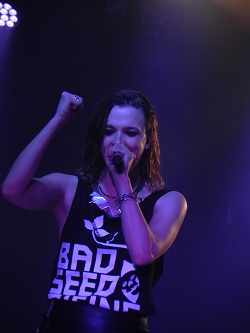 New Years Eve has long been a day of celebration and parties. Everybody knows about the massive countdown in Times Square, New York, but the true party was 3 hours south in a small club in Baltimore, Maryland. Halestorm headlined the Baltimore Soundstage on New Year's Eve to a sold out crowd of 1000 people.
The show was no ordinary concert, but rather a celebration of Halestorm's past, present and future. The night was divided up into two sections: Light and Acoustic as well as Dark and Electric. The first part of the show was the acoustic set. There was no intro music, the lights simply turns on and Lzzy Hale (vocalist, guitarist) walked onstage followed closely behind by the rest of the band. Everybody was dressed in white, and Lzzy even had on a long white gown. Almost right away, the band started playing "I'm Not an Angel" off their first album. Lzzy's powerhouse voice easy soared in the acoustic arrangements, with not a crack or flaw to be heard. Most bands soften their songs for acoustic sets, but not Halestorm. The band left after a few songs, leaving Lzzy alone onstage. Halestorm Rocked harder than most bands out there. Arjay (Lzzy's younger brother and the band's drummer) furiously pounded away on the Cajon drum box while his sister belted and screamed to a cover of Heart's "All I Want to Do Is Make Love to You". The band cleared the stage aside from Lzzy and Joe (the other guitarist). They talked about the old days of Halestorm where they would perform for hours in small bars. They launched into a favourite of theirs back then, a beautiful cover of The Bee Gee's "To Love Somebody" with just the two of them. Joe then left the stage leaving Lzzy alone. She told a humorous story about drinking an entire bottle of wine by herself and recording a song on her record label's voicemail which turned out to be "Hate It When You See Me Cry", which she performed on her own in a beautiful, stripped down arrangement. She then went over to the metal plated piano and played "A Rose in December" which is a song she wrote when she was 16 years old, and Halestorm was in its early days. That wasn't the only rarity in the acoustic set, in fact, most of this section was comprised of older songs, beautiful covers, and newer ballads which typically don't fit into Halestorm's rocking shows.
When Halestorm returned to the stage for the second segment, the Dark and Electric portion of the show, gone were the white gowns and attire and were replaced with black leather jackets, sunglasses and an overall sleek rockstar look. Once again, without any intro music, they dived straight into "Mz Hyde", which possibly is their heaviest song to date. It was quite a contrast from the acoustic set. Despite playing both guitar and singing, Lzzy found the time to run around the stage in her massive stilettos, a task no male rockstar could ever accomplish. Behind her on drums, her Brother Arjay was putting on quite the show. He kept making funny faces and sticking his tongue out at his sister. At one point, he was twirling his drumstick up in the air while using only 1 drumstick to do the part that typically both sticks were needed for. Continue reading »
6 color styles available:

Style switcher only on this demo version. Theme styles can be changed from Options page.