Browsing articles tagged with " crystal"
Label : AFM Records

Review by Tony Cannella
Originally released in 2009, "Metal Nation" is the second full-length album from Poland's Crystal Viper. In my opinion, this is also the album where the band began hit their stride and establishes themselves as one of the lead bands in the traditional metal movement. Like their debut, "Metal Nation" has been re-released by the bands current label AFM with a ton of bonus material. Let's face it, throughout their history Crystal Viper has not strayed too far from what they do best and that is one of the things we love about them, it doesn't mean however that they don't add a new twist or two along the way. "Metal Nation" opens with the intro "Breaking the Curse" and the band dives straight in with the ferocious title track. Yes indeed, classic metal is alive and well and played at a high quality by this band. "Bringer of the Light" is next and is one of my favorite songs the band has ever recorded. "1428″, "Zombie Lust" and "Legions of Truth" are more highlights. The bonus material includes: a cover of the Agent Steel song "Agents of Steel" and a cover of the Running Wild song "Libertalia" – Crystal Viper has always chosen interesting songs to cover and these are no different. Some alternate versions of Crystal Viper songs are also included here. Crystal Viper is one of those bands that have such a strong catalogue of music that everyone who is a fan of the band has a favorite. "Metal Nation" is my favorite, but in the grand scheme of things, how do you choose a favorite from a band whose body of work is this strong? AFM put a lot of care into these re-releases and fans of the band should be pleased with them.
Rating – 88/100
Tracklist
Breaking the Curse
Metal Nation
Bringer of the Light
1428
The Anvil of Hate
Zombie Lust (Flesh Eaters)
Her Crimson Tears
Legions of Truth
Gladiator: Die By the Blade (I-III)
Agents of Steel (Agent Steel Cover)
Axeman's Revenge (Live intro 2008-2011)
Metal Nation (Karaoke Version)
The Banshee (2011 Version)
The Anvil of Hate (Demo Version 2007)
Bringer of the Light (Karaoke Version)
Libertalia (Running Wild Cover)
Line Up
Marta Gabriel – Vocals, Keyboards and Piano
Andy Wave – Guitars
Tom Woryna – Bass
Golem – Drums
Links
MySpace * Facebook * Twitter * Site
Label : AFM Records

Review by Tony Cannella
Originally released in 2007, AFM Records have recently re-issued the debut album "The Curse of Crystal Viper" from Poland's classic metal heroes Crystal Viper. In addition to the full album, this new version also features five rare bonus tracks that have appeared on tribute albums and hard to find material, so while these songs may not be un-released per-se they are still rare and thus valuable to any Crystal Viper fan. What can be said about "The Curse of Crystal Viper"? I remember the first time I heard it and being blown away by its sheer power and ferocity. It also gave me a feeling of when I got into metal in the first place in the early 80s. Crystal Viper really captures that vibe, but musically they go beyond that. Lead vocalist Marta Gabriel has got a great classic metal vocal style. The somewhat Running Wild like intro "…I See Him!" starts things and segues straight into the Iron Maiden style riffs and guitar harmonies of "Night Prowler". Some of Crystal Vipers best songs appear on this album: "Shadows on the Horizon", "Island of the Silver Skull" and "Sleeping Swords" is all considered Crystal Viper classics. Among the 'bonus' tracks, you get a covers of the Manilla Road track "Flaming Metal Systems" and Warlock's "Mr. Gold" as well as alternate versions of "Demons' Dagger", "The Last Axeman" and "Sleeping Swords". This is top-notch classic metal played Crystal Viper style. In Re-visiting their debut, it is easy to see why they have become one of best bands in their genre. Crystal Viper continues to churn out classic metal, but this is where it all began and thus a will always have a special place in my heart.
Rating – 85/100
Tracklist
…I See Him! (Intro)
Night Prowler
Shadows on the Horizon
City of the Damned
The Last Axeman
Island of the Silver Skull
I Am Leather Witch
Demons' Dagger
The Fury (Undead)
Sleeping Swords
Flaming Metal Systems (Manilla Road Cover)
Demon's Dagger (2008 version)
The Last Axeman (Polish version)
Sleeping Swords (2008 version)
Mr. Gold (Warlock Cover)
Line Up
Marta Gabriel – Vocals, Guitar
Andy Wave – Guitars
Tommy Roxx – Bass
Golem – Drums
Links
MySpace * Facebook * Twitter * Site
Label : Massacre Records
Review by Tony Cannella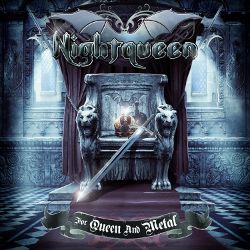 They say everything old is new again (I'm not sure who "they" are, but somebody said it), and that seems to be the case with a lot of metal bands these days– female and male fronted – adding a definite classic metal style to their sound. One of the latest to do this is Belgium's Nightqueen who has just released their debut album "For Queen and Metal". With a title like "For Queen and Metal" you pretty much know what you are going to get, just full-on classic metal. Nightqueen incorporates more keyboards than most bands that play this style of music, but the keyboards are in perfect harmony with the vocals and other musicians, and I suppose this is what sets them apart a bit. First off, the songs on "For Queen and Metal" are melodic and infectious as hell, they just soar and Nightqueen captures that classic melodic 80s sound perfectly. Vocalist Keely Larreina packs all of the power of Doro Pesch and Marta Gabriel while still coming across as different. As the opening intro "Into the Night" (I'm sure this will open their live shows) reaches its crescendo the band launches into "Nightfall", which is an incomprehensibly awesome way to begin things. "Mystical Night" became a huge favorite of mine and would make a great video track (hint, hint). This is Nightqueen at their melodic best. On this mid-tempo tune Keely sings her heart out and the song is buoyed by a memorable melody and chorus. By this point, I could not wait to see what would come next. I was not disappointed as the opening riff to the title song "For Queen and Metal" kicked in. "Lady Fantasy" is next follows the same musical direction as "Mystical Night". "Nocturnal Thoughts" is the closest thing to a ballad here; it starts off slow but the song quickly picks up the pace and settles into a nice, effortless mid-tempo groove. The 7-minute "Majesty" has an appealingly dramatic quality to it. The final track "Dark Fairy" is 8 ½ minutes long and opens with some samples of historical figures to contribute to the epic-ness of this track which brings things to a conclusion on a very high note. There is plenty to love about Nightqueen, especially if you yearn for the days of 80s metal, but even if you aren't necessarily from that era Nightqueen is a special band. "For Queen and Metal" should be able to find its niche among fans of Manowar, Crystal Viper, Accept, Warlock and bands of that style. It is always good when you hear a band like Nightqueen who flies the flag for pure heavy metal. Everything old is new again, and that is fine by me.
Rating – 94/100
Tracklist
Into the Night

Nightfall

Mystical Night

For Queen and Metal

Lady Fantasy

Nocturnal Thoughts

Secret of the Blind Man

Majesty

Rebel to Rebel

Screaming for Mercy

Dark Fairy
Line Up
Keely Larreina – Lead Vocals
Rex Zeco – Guitar

Alex Rawson – Guitar

Steven Steele – Bass

Daniel Kells – Keyboards

William Blodyn – Drums
Links
Interview by Connie Bach
Diva Suicide's flavor is a constructed system of layers. It kind of reminds me of chocolate-covered pretzels, with the hard, solid guitar at its core.The layer of synthesized elements and sweet, emotional lyrics adds the "chocolate" in the equation. I feel I'm hearing undertones that call up the alternative music of the early nineties when I listen to "Scars", Diva Suicide's debut release.
Hello, Xs.
Hey hey

The name Diva Suicide stems from a photo shoot you did. Would you tell me more about the career that led you to be the band's singer?
Singing is my passion and I have always been involved in bands and when I had the chance of joining Diva Suicide I jumped on it.
As a singer, what inspires your lyrics?
Depending on the song really. Sometimes personal situations and thoughts, sometimes just general things in life…
In the past, you mentioned you are interested in animal rights activism. Do you intend to use your musical career to promote animal rights activism and how?

Yeah absolutely – I think it's really important that bands support these causes. Music unites and makes people think. The more we are, the stronger and more able to change things. I'm delighted to see bands like London After Midnight and Undercover Slut promoting animal rights.
The song "Crystals" is being featured on Femme Metal's upcoming compilation. What is the concept behind this song?
I wrote this song thinking of those whose lives are so meaningless that they have to gossip of someone else's and who put a label on you because of your image without caring for what's inside.
Moving on, you joined the band after your photo was their cover art for a demo. How did you become connected to the band and what were your impressions?


I was a friend of the band's members and they got in contact with me when they were looking for a singer. Our manager and some of them came to one of my rehearsal's with my previous band… they liked what they saw and offered me to be the new singer for Diva Suicide.
How has working in a home studio influenced the type of music and the relationships between band members?

Working in a home studio has its good and its bad things. On one hand, soundwise you can't have 100% the final product you'd like to but of course it's more comfortable to record there as you spend lots of hours so it feels like being home and you've got more time to experiment new solutions.
Building on that, what does Diva Suicide have in mind for the near future? Is there another album in the works?


Actually, we are working on our first full length album, which we thinks it's gonna really represent the energy and the personality of the band as it is has developed during the past months.
What does it take, for you and your fellow band members to navigate your day-to-day lives around rehearsing, playing shows, etc?
Sometimes it can be really hard work but at the end of the day it's worth it cos' the band is my life and even if we have to fight against lots of problems and sometimes some idiot we always get around and do what we wanna do at the end.
What do you personally enjoy doing in your free time? Any crafts, hobbies, or other musical side projects, or other pursuits?

There's little free time outside the band and it's always about music too. Love going to gigs and checking out other bands on the scene or spend hours discovering new bands and buying new CDs. I also like enjoying time on my own reading or writing too, though.


I've visited London in the past, and the city has a relaxed atmosphere. Many noted female-fronted bands have sprung from the city's streets. Is there anything about the city that ever comes to mind while performing?
I think London can be really stressful if you live it day by day. At the moment we are really excited about our forthcoming gigs around UK and abroad and we'll take this as a chance to take a break from the city for a little while. Also we are really looking forward to play in front of the audience of other cities which we've heard are really cool.
Thanks for your time, Xs. Diva Suicide definitely brings a fresh take on the metal scene.
Thanks!
Links
MySpace * ReverbNation * Facebook * Twitter
Interview by Scott Johnson
If Battlelore and Nightwish got in a fight and Celine Dion were the referee then a big meteor fell from the sky and smashed them all together the survivor would be called Ancient Bards. Their EPIC songs and beautifully hand crafted musicianship plus the not of this world vocals of Sara Squadrani make for a combo that would fire up any battle weary warrior and help him find new energy to slay a thousand dragons. I had a chance to talk to Sara and to eneter the world of Ancient Bards.
Hello Sara, so nice of you to give me this oppritunity to talk to you today. I would like to ask you if a person were to ask you to descibe the music of Ancient Bards what would be the first thing that would pop in your head?
Hi Scott! Well Limb described us as a Symphonic Epic Power Metal band and I think this label suits our music pretty well but I would add the word "imaginary" or maybe "fictional" because every time I hear the tunes I can perfectly picture the deeds of the heroes we're talking about. This is some kind of magic Daniele does when he writes, I starts by thinking about what's happening in the story and then the music comes out naturally from his fingers playing the piano!
How long has the band been together?
We became an actual band in the summer of 2007, it seems like it was yesterday! Daniele was looking for musicians to join his project, he found me through MySpace; he wasn't really searching for a female vocalist but when he first heard me he thought that he could give it a try!
Have you been with them from the beginning?
I've been with them from the beginning. Daniele had tried before to form a band though but with no results, as he coulnd't find people who shared his same visions and had the same aims.
What is the metal scene like in Italy?
In Italy the metal scene is nothing like the ones of the other European countries. Here metal music is followed by few, it never went mainstream and good metal bands too often remain underground realities. It's just that it isn't part of our culture, here Italian pop music has a long story and people are not attracted to heavier sounds, they're not interested and I'm afraid that there can also be a little prejudice towards those who listen to metal, as ignorance can easily lead you to make the logical association metal=satan (I'm not saying Italians are ignorant, I just meant to say that whenever one doesn't have the curiosity to really get to know something he accepts the common judgment). That's too bad!
Taking a listen to the album, Who are some of your personal influences as a singer?
My personal influences are very particular for a metal singer… my first choice would be Celine Dion, ever since I heard her singing "My Heart Will Go On" I literally fell in love with her, she is a strong woman with an amazing voice she can do everything she wants with! She is also very versatile as we can see in her last album "Thaking Chances". Celine is like my beacon but I also love Whitney Houston, Aretha Franklin, the amazingly talented Jessie J, I adore Adele and Giorgia Todrani, the best Italian singer of all times I think. I obviously take inspiration from female singers, though I "steal" something from Gavin DeGraw too.
Have you ever been compared with Celine Dion before as far as singing style? I love her.

Once someone wrote a comment on an Ancient Bards YouTube video saying "Celine Dion is that you I hear?" and that made me go crazy! It was and it still is a huge compliment for me to be compared to my vocal hero. Of course I don't have her warm and lovely timbre but I grew up listening to her every song so I must have absorbed her singing style a bit.
I noticed that the musicianship of everyone in the band is very very technical and wonderfully detailed. Have you all been studying music and all of the centain instruments for a long time?
The guys started studying when they were kids and they all took lessons in academies (some of them now are teachers). In our kind of metal you need to be very prepared technically and my boys are really good, because the all have a great passion for music, which make it easier to find the strength to practise and practise and practise…
I really love all of the elements within the band. From the epic big full over all sound to the choir to all of the beautiful notes flying from the guitars and the thunderous drums and especially your voice that gives me utter goosebumps every time you open your mouth to sing. Where did the idea to tie all of these elements together come from?
Everything comes from the mind of Daniele, when he composes he can imagine all these elements together and the rest is the natural consequence of the fusion of our different personalities, our diverse musical tastes and our different musical aptitude. All these elements create our particular sound.
Can you explain the concept of the Black Crystal Sword Saga?
I honestly don't know everything about the saga, only Daniele knows the whole story, he just gave me a few hints but I don't know exactly how it's going to end. It's all about this Black Crystal Sword and all the people that happen to know about it. In the first two chapters the story is entangled enough so I suggest you to go on our website (www.ancientbards.com), in the download tab you'll find a pdf file with all you need to know about what happened so far!
Let's talk about "Soulless Child" which was released last November. What is the over all story and message with this album? Is it a continuation of the Black Crystal Sword Saga?
Yes, "Soulless Child" is the second chapter of the first part of the Saga, that was created by Daniele when he was just a kid (he was like 16 or something) and right because Daniele was so young that the story is full of that naïvety which is typical of the pureness of a young heart. The characters are virtuous, never-failing, brave and fearless but also so so human! I think the great message is this, in this world we need heroes and we look for them everywhere but the real thing is that anyone can be a hero just by being the best person one can be!
What character from the saga do you relate too the most?
I relate to Shena because she's the only female character of the story so far and I'm the only female musician among the bards! I like her because she's a tough woman, she has the responsability of her realm on her shoulders so she needs to be flawless and blameless even when it's not easy to… I wish I could be as brave as her (I'm doing my best)!
Are all of you big fans of fantasy fiction?
Not really, the ones into fantasy fiction are Daniele, Martino and Federico, they are the experts in those things. I personally was never attracted too much to these kind of things.
How many parts of the story do you think there will be?
I don't know precisely as Daniele himself is not sure of it. The only thing I know is that there will be three parts, each one divided into (I don't know how many) chapters
Will there be a tour for the "Soulless Child"?
Nothing sure yet, we will be having a few gigs around Italy and we will attend a few festivals we'll soon give news about. For an emerging bang is still very hard to play abroad, we need to wait for one of those chances that happen only once in a while and take it!
Is Daltor dead??????

It's what we are let to believe at the end of TAOTK… but at the beginning of "Soulless Child" it's clear that maybe it takes more than some dragon bites to kill a hero!
I can't wait for us to find out what is next in the story of the Black Crystal Sword Saga and in the story of Ancient Bards. I would like to thank you for your time Sara and do you have anything that you would like to add?
It's always an enormous pleasure to talk with Femme Metal, I wanna thank all of you guys who bring on this beautiful webzine! I hope to see you all from the stage soon! Cheers!
Links
MySpace * ReverbNation * Facebook * Twitter * Site
Latest Multimedia
6 color styles available:

Style switcher only on this demo version. Theme styles can be changed from Options page.