Browsing articles tagged with " dad"
Interview by Vard Aman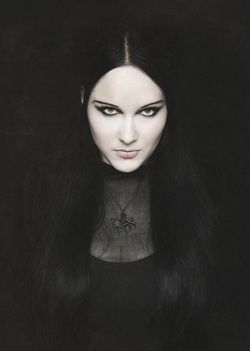 Over the years Draconian has become a household name in (Gothic) Doom Metal circles, so I'll skip any long introductory monologues here and move right on to late 2011 when vocalist and Draconian icon, Lisa Johansson left the band. It's always a difficult time, not to mention a speculative time for fans when a vocalist of Lisa's popularity leaves a band of Draconian's popularity. What would happen? Would they change their sound? (Speculation in that department driven further by the Nightwish/Tristania episodes). And most importantly; who would they replace her with (if they replaced her at all) and would she be as good? Let me just say here to all those who are understandably upset by Lisa's departure from the band that she is still there and always will be, gracing your speakers and headphones every time you listen to a Draconian album up to and including "A Rose for the Apocalypse". But most of all, I'd like to say trust Draconian, they're Doomsters who believe in the Doom they create, and trust Draconian to find the best singer for the job! And I can say with total confidence that they have done just that! How? Well, several years ago, I had the pleasure of discovering a band in my home town of Cape Town called Inferium whose vocalist, Heike Langhans (Heike van Dominic), possessed one of the most haunting and beautifully melancholic and sombre voices I'd ever heard – the kind of voice that could get all the hair on one's arms standing straight up (further confirmed when I heard her solo project, Lorelei). With so versatile and melancholic a voice, Heike's was a voice made for a good Doom Metal band, a voice that belonged in a good Doom Metal band, and any good Doom Metal band who made use of her voice would become even better (you'll see…). Cape Town, unfortunately, is not a place that is well known for such bands: sea, sun, wind, mountains, scenery, nature, shooting people – yes, Doom Metal – no… well, at least not yet. But Sweden is home to one of the best and most iconic Doom Metal bands of all time, and in late 2011 their vocalist left and…. why am I still talking? Draconian's new vocalist, Heike Langhans, will tell you the rest.
First of all, welcome to Femme Metal Webzine. If I had met you on the streets of Cape Town just over a year ago and told that within a year you would become the new vocalist of Draconian, how insane would you have thought I was?
I would have laughed and told you to stop your medication immediately. Considering how long I've been listening to Draconian and how high an opinion I have of them, I could only have dreamt of something like that happening in my lifetime.
So, how did it happen?
After hearing the news that Lisa had left, I went online and starting moaning about it like I'm sure most fans did. Some of my friends urged me to audition – should the band have been auditioning singers at all. I just assumed they'd find someone in good ol' Scandinavia – where musicians grow on trees. Some weeks later I received a link on my page (from you), sharing the update that Draconian will be accepting applications and auditioning singers to take the role of female vocalist. At that point I wasn't too excited, as I'm quite rational about such things and could see all the fan suggestions and singers throwing themselves at the opportunity. I asked if there was some deadline to it, as I was planning on moving to Europe anyway that year. I later received a message from Daniel Arvidsson, saying that I should send an application with some material. I will admit, I got a few flutters then, but still just kept it to myself and quietly sent off my application. He got back to me and said he liked it and forwarded it to the band. Not long after, Anders contacted me and asked if I could come for an audition. In February, I was off to Sweden for a week only to audition. We did some recordings of songs from the latest album and rehearsed some old songs too. Things went well on all accounts, but me being a little self-critical, I kept thinking I could have done better. I was the first to audition, so in my mind I did not know if that would've been an advantage or disadvantage. After my lovely week in Sweden, I (miserably) returned home and hoped for the best. I kept in contact with Anders very regularly to keep me from dying with anticipation. I think the wait would have killed me otherwise. At that point, I still felt like I was in a dream and kept thinking: "Wait. Did I just go to Sweden to audition for one of my favorite bands???" Eventually, I got the news that they would like me to join Draconian, but that there were obvious concerns regarding the relocation. These days it's just not easy with all the rules and borders of our world. I wasn't going to give up and set to work on the paperwork and visa applications. It was tough as hell and expensive, but I am 100% driven and given my disregard for certain authorities, I wouldn't dare let it intimidate me or get me down. I jumped through the fiery hoops, did the paperwork and in May I was off to Sweden. I'm still having my tribulations with migration boards and paperwork as it is, but I'll do it for the rest of my life if I have to. The music and the people are worth it. The doom is worth it.
What was it like meeting Draconian for the first time?
In my mind I was nervous about the idea at first – especially meeting the talented Johan Ericson. I'll admit, I've been a huge fan of Doom:vs and greatly admired his writing and creativity. I'm not really a nervous person at all, so I knew it would be fine. I was amazed at how well I got along with them and how easily I fit in. I suppose it's because of the general sense of humor and attitudes of Scandinavians. I've always related to it a lot better that that of my home country, so I felt right at home and very comfortable. The social dynamic of the band is very important in Draconian too, so I was pleased to be able to just be myself and not worry too much about those socially awkward situations a lot of us fear when meeting new people.
And Lisa?
I went with Fredrik to Lisa's flower shop before the audition. She was as pleasant and friendly as I expected her to be and just down to earth. My kind of person. We bantered a while and joked around about the big knife she was using to do the flower arrangements with. It was nice to hear that she seems content and comfortable in her life now as a mother.
How has the response from Draconian's fans been so far?
They have been absolutely sweet and amazing. I never expected such a warm welcome and such lovely responses. I was prepared for the onslaught and the angry fan mob, but I have been overwhelmed with love and good energy. It really makes all this so much more real to me and it makes everything worth fighting for. It re-installs a lot of hope in me too when it comes to people. I've dealt with a lot of attitudes from some people back home, so having the rest of the world respond so lovingly, has really brought a sense of peace to my heart.
Being a South African myself and having travelled a bit I can imagine the reaction of a lot of fans (and others) is going to be something along the lines of "What? You're from AFRICA!?" How do you react to that?
The funniest thing I get asked is why I'm white. I think the media has really put a certain idea in the minds of people in the rest of the world, so I don't blame the little bit of innocent ignorance I've encountered. I usually take the opportunity to explain how things really work and that SOUTH Africa isn't really the same as the rest of Africa. At the end of the day I'm just happy to prove that the world we live in is really smaller than we think and the only thing keeping us all apart is paperwork, money and silly governments.
Was it quite a culture shock moving from South Africa to Sweden?
For me personally – no. I knew what to expect in a way as I've been interested in Scandinavia from a young age. I could immediately sum up what was better and what was lacking. Everything is Sweden works and flows incredibly well. Generally speaking – Service is good;people are sweet, peaceful, intelligent and helpful. That being said, I won't deny that South Africans have a fiery social forwardness and I won't find anywhere else in the world. I'd definitely want to visit my hometown, but personally, I know my head and heart is in the North. Indefinitely.
Hur väl talar du Svenska?
Not too much just yet. I will be going for Swedish lessons as soon as I am part of the system, but I can understand a lot of Swedish already in reading and general talking. My Afrikaans (Dutch) and German background helps a lot in understanding Swedish. Some of the words are virtually the same, but just spelled and pronounced a little different. I'm picking it up quite fast actually.
Another question that I've no doubt some fans will ask: How do you pronounce Heike Langhans?
In the German way. That's the best answer I can give. People in South Africa have been pronouncing my name wrong all along and I've gotten used to it. It's actually pronounced something like 'hey-keh', but have mostly been pronounced 'high-kuh'. It's all the same to me really. Though I think the way Swedish/Finnish people say it is very sweet. It makes me smile. 'Langhans' is tricky. Back home English people get it terribly wrong and Afrikaans people tend to get it right, since it sounds dutch to them. It's pronounced 'lung(organ)-huns (like guns)' I suppose. That's the closest I think I can explain. Just ask your nearest German.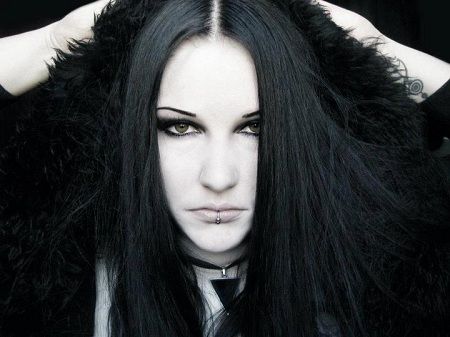 Let's go back all the way to the beginning. When and how did you first get involved with music and singing?
Singing came first. I was in school choirs since the age of 8, but got pretty sick of singing in a group, so I left that behind and started doing my own thing. I played piano occasionally, but mostly played the classical guitar. It helped a lot in my writing and I had a need for doing everything myself and not letting other people get involved. I used to sing with my dad when he played guitar at social gatherings and that's when I realized I might just have something going. I only joined my first band when I was about 15. We were all girls and good friends. It was mainly a fun holiday thing, so I kept doing music on my own until I joined a proper band when I was 19. Through it all I just kept doing my own thing on the side to stay focused and as an outlet for my frustrations with the world and my surroundings. I'm now 24 and finally feel like it's paid off.
When did you get involved with metal?
I started off soft like most young kids I'm sure. My father has excellent taste in music and I used to ninja his Pink Floyd and Meat Loaf CDs and listen to them on repeat in my room while singing along . VH1 also played good stuff like Black Sabbath back then and it just appealed to me. That was a solid foundation "rock" wise . Later, my older and way cool surfer cousin came to live with us and he introduced me to Metallica. That opened up a whole new door and I "taped" whatever metal I could find onto VHS or cassette and saved my money to buy the CDs. By the time I was 16, I had been consuming incredible amounts of metal from all sub-genres and eventually grew into what suited me best emotionally – Gothic, Symphonic & Doom metal. I only got into Black Metal a bit later when I was 20, but I was put off by all the politics and opinions. I think I enjoy Black Metal a lot more now that I've been able to make up my own mind and have spent some time researching the greats – without the input of the "elitist" forum junkies and haters.
Inferium was the first time I heard you. Tell us the Inferium story.
It was merely a case of a friend saying to me: "Hey, this guy I know has an instrumental band and I think they might want a female singer".I agreed to an audition and it just all casually came together. They were the only guys I knew doing Symphonic Metal and I liked it. We had a bit of a Nightwish/Within Temptation thing going. The band had so much potential and we were doing quite well, but we had a lot of issues with finding time and money to record and push it further. I eventually outgrew my "operatic" female vocal style and half the band were gamer nerds anyway (myself included), so we just called it quits. We were all friends, so there were no hard feelings. We were totally laid-back about the whole thing. I'll always remember and enjoy my time in Inferium and I'll forever be sad about the stellar songs that were to come, but it's a sweet memory.
How would you describe the Metal scene in Cape Town, and in South Africa in general, particularly Doom Metal?
Despite what most South Africans make themselves believe, Cape Town actually has a great metal scene and more bands than you might think. I can count on one hand the amount of friends I have there who ISN'T a musician. It's a very creative and beautiful town. Most musicians there, however, feel that the scene or industry is lacking and that support isn't high, but I could easily point the blame at our social/political structure for that. If I look at the Cape Town/Johannesburg size ratio, I can say with confidence that Cape Town has a lot more to offer. The scene there is almost removed from the rest of the country and they're totally on their own mission. Johannesburg has some stand out talent too, but I personally find that they follow more or less the same trends in terms of metal genres. Of course if you had to say that to someone living in Johannesburg, they would disagree, but I've been living in both cities and can see the bigger picture quite clearly. I also know more than a hand-full of Doom Metal fans in Cape Town. We've even made a League of Doom – an appreciation group where they have meetings and do doom covers together. Sort of like an "all-star" doom tribute show effort. It's small, but it's meaningful. Any doom fan would understand.
What attracts you to Doom Metal, both as a musician and as a fan?
Firstly, the emotional aspect. There's a certain sense of beauty in sadness that I feel is more true to one's soul than anything else. I love slow and melancholic music. It brings my inner suffering to the surface and Doom Metal makes me feel like it's okay to be an emotional being that suffers in this strange world. Secondly, I love melody. I can't listen to anything that doesn't have melody and I've found some of the most beautifully written melodies in doom. Some metal fans just don't see how much darker and heavier Doom Metal is. It certainly triggers a lot more in me personally.
Do you think that someone from South Africa singing for one of the best and biggest Doom Metal bands around will help to change the perception of Doom Metal in South Africa and perhaps inspire some good Doom Metal bands?
I certainly hope it will. I grew so tired of explaining to some people what this "slow and depressing" stuff is and why it's better than the Death Core crap they listen to. Though I mostly believe that doom is a mindset too. If they're too easily amused and think that all metal should merely be the soundtrack to drinking beer and "being hardcore and different", then I'm afraid they'll never get it. That being said, I have a great feeling we'll see some Doom Metal bands coming from SA in the future. It's a genre that has gotten little attention, but I know a decent amount of people with the skill and souls to pull it off.
Tell us more about Lorelei.
That would be my solo project – a melancholic electronic side project I've been doing on my own for years. The name Lorelei has almost acted as an alter ego in a sense. A friend once told me that my music made his mood change so much that he could easily give in to the thoughts of leaving the world entirely. It scared me, but at the same time I realized that the level of emotion it brings is something magical. The songs are raw and unpolished, but I prefer it that way. It's a "spur-of-the-moment" type project, where I just pour my heart into a song, record it and then struggle to touch it again. I've said many times that I will never be able to sing these songs live, simply because I'll be too emotional. It's hard for me to wear my heart on my sleeve sometimes, so music is the only way. Lorelei is definitely my outlet and it's quite revealing in many ways. Many people think me intimidating and secretive, but I'm more of an open book than what they care to realize.
Are there any plans and material for new Draconian album, or is it too early to talk about that yet?
We're working on new music at the moment. Throwing ideas back and forth. Anders started writing lyrics some time ago as well. At the moment, we're focused on rehearsing and getting back on stage again, everything will come together in time. It's too soon to say much about it, but a new album is definitely in the making.
And that first big show/tour?
That I can't say too much about unfortunately. There are offers for some really nice shows/tours that I'm quite excited about, but nothing can be said before contracts are signed and things are perfectly in place.
Outside of singing, what do you do/like to do?
I spend a great amount of time doing art. Mostly digital and editing, but some days I just don't want to deal with technology and I draw and do ideas for illustrations by hand. I used to paint a lot, but that hobby became a little expensive. Much the same with photography. I spend more time creating art with other people's photography than my own. I've gotten quite cocky with the sewing machine too lately. I think I'm just fed up with clothes I buy in the shops and start altering them to my taste. It's a very therapeutic hobby, I must say. I also love gaming (RPG's). I'm a total gamer-nerd chick and definitely not ashamed of it. I don't have as much time lately to play but once I'm fed up with being social again – I'll get right back into it.
Well, I think you can guess which band's next album I'll be looking forward to the most… by a country mile! Thanks for chatting with us!
It's been great and thanks for the opportunity. Luckily for you, I like to talk a lot. I did my best not to make some lame nerdy jokes!
Links
Draconian : MySpace * Facebook * Twitter * Site
Heike Langhans : Facebook * Twitter
Interview by Danny Robertson
Here we get an insight into the Dutch metal band Cardamon, their history and current album "The Primrose Path", thanks to frontwoman Floortje Donia.
How did it all get started for Cardamon? How did you form?
Thomas (our former drummer) and Koen were looking for a way to express their softer side in metal music, next to their thrash metal band Detonation. They decided they wanted a girl on vocals, they asked me. I knew them still from high school.
Who or what initially influenced you to start a band?
It wasn't really like that, I was already singing in some small projects and in a cover band when I was asked for Cardamon, so I didn't start a band. But of course there are a lot of people and musicians who inspire me to make music, which go from Jimi Hendrix to Eric Satie to Opeth..
Where does the band's name come from?
It was my dad who came up with the name. We thought it was catchy and it represents our spicy side..
What was your local music scene like when you first started? Has it changed much since then?
If you mean the local metal scene, I honestly couldn't say. I've never been an active part of this scene, then or now. I just sing stuff I love. This is a question you should ask my fellas from the band.. But in general the local scene is very active. Utrecht has a load of talent, and it shows! Financially it's becoming almost impossible though, for talent to surface.. the industry is dead..
How long did it take to put the album "The Primrose Path" together?
Quite a while. We took a long time to write all the songs, working on them a little more, and a little more, and a little more.. In the studio it was no different and with the mixing same story. But it was worth the wait, in the end we presented exaclty the album we aimed for!
Are there any concepts or main themes that run through the album?
The album has some returning themes that appear in the songs. They are about betrayal, mostly by people you trusted. About loneliness, even though you are amongst others. About the urge to find peace, in a place which is filled with noise. Contradictions, failure, desire and truth.
What inspired the album's title?
It's about being tempted to pursue happiness coming easily, knowing it's not going to happen.. You're deceiving yourself, others deceive us, be careful not to let your guard down, nothing comes easily.
Would you say your sound has changed much over the years?
We decided we wanted to become a little louder. During shows we always realise how the faster, more rocking songs give us so much energy and fun.. So yes, definitely, our second album will be different from "The Primrose Path". More of a live sound instead of a studio album.
What has been your biggest challenge thus far?
Finances and bureaucrats. We feel the people out there can really appreciate our music, but it is so damn hard to get it anywhere! Unbelieveable! But we'll keep trying… we'll keep trying…
Which current acts do you feel you share the most common ground with?
Hard to compare, also 'cause we're nowhere near their status, but Katatonia and Anathema are still heroes and we hear comparisons with The Gathering.
What's next for Cardamon?
Deliver a second album. We're working hard on it as we speak! I have no idea when or how it will come out, but we'll make sure it does. Also, we really want to keep playing live as much as we can, because that's the funnest part!
Any last messages for people?
Keep supporting the bands you like, especially the smaller ones. Let's make this happen together!
Links
Latest Multimedia
Interview by Erwin Van Dijk
Did you always want to become a singer?
No. I always wanted to become a designer (which I did by the way). I started singing because I heard the singer of the highschool band and thought: I sing better than she does! Allthough I didn't mean to actually take her place in the band, that's what happened…
Did you follow any singing lessons and what do you do to keep your voice in top condition?
My secret recipe: coffee, late nights and lots of beer! But I quit smoking though..
Is Cardamon your first band and do you have any other bands or projects besides Cardamon?
As mentioned above there was the school band. After that I sang in a cover band for a couple of years, which was a lot of fun too. Right now I really don't have time for other projects with my business AND Cardamon to run, but I would love to make electronical music! I've got some friends who are in producing and turntablism and we always make big plans for some kickass experimental electronic sounds, but we never get there thus far. I have high hopes for the future, when I'm rich and have too much time on my hands.
To what kind of music do you listen yourself and who are your favourite bands and artists?
Back in the days I was all about punkrock and hardcore, not missing a show or an album of my favourite bands, travelling across Holland and Belgium for every crappy little festival with my friends. We hated anything mainstream or commercial about music, so we stuck to our scene. Later on I discovered that mainstream wasn't all that bad and started to listen to a lot of different stuff. I think wisdom comes with age, haha. Right now, I'm a sucker for good songwriting and beautiful voices. For example, Imogen Heap is one of my favourite artists. She does everything herself, both when she's recording and live! Her songs make me laugh and cry at the same time. Another special musician is Teitur. His music is so beautiful and small, his lyrics are magical, his voice is different from anything I've heard before. I have the luck of knowing him personally and therfor I got some inside information about his music which makes it even prettier. Some other names: Ane Brun (cute girl, beautiful songs), Fink (former producer, you can hear the electronical influence in it), Elbow (fantastic songwriting). Apologies to the metal fans for my list, but I urge you to check out this wussy music anyways!
According to the bio on the Cardamon website you hate the Black Eyed Peas. Do you mean the band or the beans?
Definitely the band. Most unmusical and overrated stuff I ever heard.
How would you describe yourself with three words?
Er… Are we really doing that?
What are your favourite movies?
I'm more of a series-person. Dexter, Prison Break, Arrested development, and -believe it or not- Lost. And although usually after the 3rd season the quality hits rock bottom, I keep watching it, don't know why, really..
And books?
I tend not to finish books anymore, last ones I finished were American writers: Palahniuk, Easton Ellis, Coupland. I like the writing of that generation. Furthermore I read in my "Vraagbaak", the mechanical guide to my old Beamer (e30). I would like to understand the principle of an engine. And than be able to fix it. So that I don't need to bring it to the mechanic.
Do you have any hobbies besides singing?
As we speak I am in Switzerland. For work, but also for my biggest thrill besides music: snowboarding! Beautiful, powerful mountains, maximum freedom, speed, adrenalin… Love it!
Cardamon is a very unusual name for a band. Why did Koen Romeijn and Thomas Kalksma choose this name for their new band?
Actually, it was my dad who came up with the name. I don't see why it's unusual, is that because it isn't half a sentence? Or because it doesn't involve pain, darkness or depression? We thought it was catchy and it represents our spicy side..
How would you describe Cardamon's sound and what makes Cardamon different compared to all those other female fronted bands in the world?
If asked we call our music usually melancholic rock/metal but to be honest: we don't really know what to call it.. In reviews we end up in the gothic department, and female fronted rock in general is usually considered gothic anyway lately. But we don't really care what people call it, and whether we are so different from other bands. We make music with our hearts, the way we like to make it, and we believe that we are a worthy contribution to the Dutch scene this way.
Can you introduce us to the other members of Cardamon:
Interview them! They are way more interesting than I am… Everyone of these guys are driven, talented, funny, blunt, sensitive, true and full of crap. Thomas Kalksma – drums, acoustic guitars; Koen Romeijn – guitars; Kevin Storm – guitars, soundscapes.
The newest member of Cardamon is Luuk van Gerven, who also happens to be the bass player of After Forever. How did you get in touch with Luuk?
We were looking for a bass player and all of a sudden Luuk sent us an email! He had heard about us through a mutual friend and was looking forward to jam with us. Of course it was fantastic to play with him, I mean, he is a GREAT bass player, so we aimed to keep him.. Since than he has really become a part of the bunch, co-writing, playing gigs, making stupid jokes..
On your first promo CD you had Ben Mathot as session violin. What happened to him and would Cardamon use a violist on stage someday?
Hans Pieters helped us out with that. We wanted a violin part, he knew Ben. I think his recording was a one-taker. He's very active in the music scene! He has his own band Dis and he's in Ayreon.. We are proud to have one of his arrangements on our album.
Speaking of old Cardamon members, what happened to Patrick Velis, who used to be your bass player during the recording of "The Primrose Path"?
Yes, good ol' Patrick.. He got caught up in too much activity. He got a promotion at his job, ergo he had to work more,. Combine that with 4 bands and a girlfriend, and than you realize you gotta drop something! Job and girlfriend were no serious options, so he chose the band he entered last. And that was Cardamon. It was hard for him and for us. But we still love each other, that will never change!
Can you tell us something about the songs on "The Primrose Path"?
The album has some returning themes that appear in the songs. They are about betrayal, mostly by people you trusted. About loneliness, even though you are amongst others. About the urge to find peace, in a place which is filled with noise. Contradictions, failure, desire and truth.
And what is the idea behind the title of the album?
It's about being tempted to pursue happiness coming easily, knowing it's not going to happen.. You're deceiving yourself, others deceive us, be careful not to let your guard down, nothing comes easily.
About the song writing: is this teamwork or is there one mastermind behind Cardamon's music?
Most of the songs are eventually a product of us all, we work on it in our rehearsal room. Especially the newest songs are really written together, 'cause we found out we really like that. It keeps the spirit high. Everyone has good ideas and lesser ideas, together you can fish out the genius ones and laugh abouth the horrendous ones. On "The Primrose Path" the arrangements were mainly written by Thomas. The melodies, fills and poo-hah were done by us all. Lyrics are Thomas or mine. "Echo" is Kevin's. Cardamon's music is more or less the opposite from Detonation, Koen Romeijn's other band. Would you like to do some faster and more aggressive songs on a new Cardamon album? Definitively. The more gigs we play, the more we realize that it's gotta ROCK! So, out with the half-way acoustic stuff, in with the rythmic drums and rocking riffs. But don't worry, I won't grunt!
A lot of bands have recorded their albums at the Rotterdam Excess studios. What have you learned from your experiences during the recording of "The Primrose Path"?
We owe a lot to Hans Pieters.. He reeled us in at the time we wanted to record our promo in 2004. After some years we still didn't have a record deal, and yet he agreed on recording our full length for a friendly price. The Excess sound is awesome, to work with him is a pleasure. Because besides his super-skilled engineeringhoodism he is a very funny guy, I always laugh my ass off.. And Hans apparently believes in us! We owe it to Hans to get this album all over the world, let's work on it.
What is your favourite song on the album?
Sorry, can't say. All songs stand for different times and feelings. They are all true and therefor have their own value to me.
Speaking of favourites: what are your highlights with Cardamon?
Hopefully 2009 will be full of highlights! Lot's of shows, a record deal for "The Primrose Path" and maybe we'll go abroad for some shows too! Personally, that is my biggest wish for the band, that we can make a nice tour, the farther the better! But from a different perspective, I am already so excited that there are people who buy our album, come to our shows and support us in any other way, that will always be a highlight.. thanks guys..
And, have you already experienced some "Spinal Tap" moments with the band?
We still have the same drummer…
What are Cardamon's plans for the future?
We would like to play as much as possible to show the world what we're worth, and in the mean time we're working on our second album.
And, the last question, is there anything the reader should know that I have not asked?
More cowbell!
Links
Latest Multimedia

Interview by Tony Cannella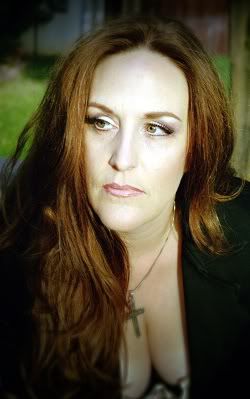 Lana Lane has long been known as the Queen of Symphonic Rock. Looking at and listening to her expansive musical catalog, it is a title that is well deserved. With her new album "El Dorado Hotel" (her first in five years), Lana returns with perhaps her strongest album yet. Recently she was kind enough to answer some questions, and here is what she had to say.
Hi Lana. I really love the new album "El Dorado Hotel". How would you describe the material on the album?
First of all, thank you for the kind words. It's nice to hear that you are enjoying the music

. I would describe the album as a musical journey through the eyes of a tired and lonely musician, but with an optimistic view of life, love and creating your own destiny.
It has been five years since your last album. Do you consider this a comeback?
Not really. Even though I haven't released a Lana Lane album in 4 years, I have still stayed busy touring and appearing on other artists productions during that time. So I never "went away", I just took some well earned "time off" from my "Lana Lane" duties

Why the gap between albums?
Well, as an artist you hope that you have something new to say with each new recording. This became harder and harder to do, especially when during some years, there were two or more new Lana Lane records released. I only want to release top-quality, sincerely crafted albums rather than release an album just to release "something". After nearly 15 years of working non-stop, it was time for a little sabbatical. I wanted a break from the pressure and time to gather some perspective on my craft. And on top of that, my father was very ill and I wanted to spend as much time as I could with him. And I am very happy that I did, because he passed away in December of 2010.
Do you feel that the time in-between albums helped you sort of re-charge your batteries?
I think so. I also went through some very personal things during the "time in-between" albums which gave me a new perspective on life in general. My father had recently died; I was coming up on a milestone birthday and feeling my own mortality. All those feelings and emotions help the creative process of writing songs and give lyrics more weight.
Are there any songs on "El Dorado Hotel" that stand out for you?
Yes. "El Dorado" was the first song I wrote after my father died, so it holds quite a lot of meaning for me. This song is the one that encompasses all the feelings and emotions that are found throughout the album.
Lyrically, what inspired you on "El Dorado Hotel"?
The inspiration comes from the many years of touring and struggling that Erik and I have done for our music. We wouldn't change our choices for the world, but that doesn't mean that following our dreams hasn't come at a cost. The life of a musician is not nearly as glamorous as people perceive. It's like any other professional career — it takes a lot of hard work and sacrifice, and even then you may never achieve your goals.
Erik Norlander has produced and played on every one of your albums. What do you like about him as a producer and musician?
Yes, Erik has been my producer since the beginning – 17 years! I think the most important thing to me is the trust that we have in each other and in each other's choices. As a producer, he immerses himself completely into the project that he is working on and develops a vision that is uniquely for that project. As a keyboard player/musician, he allows the songs to dictate the mood and enhances the vibe with his wonderful sounds and musical ability.
You have always been surrounded by some of the best musicians in rock. Who are some of the musicians that appeared on "El Dorado Hotel", and how do you feel about their contributions?
I met Freddy DeMarco and Mark Matthews during the recording of Erik's solo project "The Galactic Collective". I then had the opportunity to play with them both during some live shows in 2011 when I sang with the band. After having played with the guys and getting to know them, I knew that they should be a part of this project as well. Then for John Payne, Erik has been playing with John for about 5 years now and they tour together with Jay Schellen and Bruce Bouillet as Asia Featuring John Payne. During the years of touring, John and Jay have become dear friends of ours and now that Bruce Bouillet is the guitarist, he has become a friend as well. Guthrie Govan has also been a guitarist in Asia Featuring John Payne and I feel very honored that his unbelievable talent is featured on this record. And finally for Mark McCrite, Neil Citron and Don Schiff, all three of them have been on so many Lana Lane albums going all the way back to 1995. They are lifelong friends and it has been great to work with them through all these years. I believe that the contributions that these generous, talented and willing musicians made gave each song on "El Dorado Hotel" a unique sound and feeling that would not be present otherwise.
There are always so many musicians performing on your albums. Was this new album easy or difficult to assemble?
Erik is a very organized and focused producer and does a lot of prep work for albums. I don't recall him having much difficulty assembling everyone as they were all very gracious with their time. Technology is also a wonderful thing — if someone was out of the town, or the country in Guthrie's case, the tracks were recorded elsewhere and sent to us. This makes the recording logistics MUCH easier

When can we expect to see you on tour?
No solid plans yet for a tour — but I NEVER say never. In the music business, anything is possible and can happen in the blink of an eye.
It is hard to believe that it has been 17-years since your debut "Love Is An Illusion". What has been your biggest highlight so far?
I think my biggest highlight would have to be my first big tour in Japan and performing the song "Love Is An Illusion". All the fans were singing along with me. It was such a rush to experience that! I was honored and humbled by the beautiful country of Japan and the wonderful fans — it is a time of my life I will never forget.
Looking back, what is your opinion of that debut today?
"Love Is An Illusion" is one of my favorite albums. I find that the body of work has a charm to it that I love — it was also my first release, which holds a special place in my heart.
Which one musician has most inspired you and why?
The musician that has inspired me most is Ann Wilson from Heart. She (and Nancy) blazed a trail for women fronted rock bands in a male dominated business. We've come a long way, and I feel that Ann and Nancy endured the growing pains for all of us. The music business is still dominated by men, but we have a much bigger voice now…no pun intended

You've released two great DVDs, "Storybook" and "10th anniversary". Are there any plans to do another one in the future?
Erik and I have been talking about it, but no firm plans have been made yet.
Your music has been put in many different genres (symphonic rock, prog, etc.). Where do you think your music best fits?
I consider my music to be "Symphonic Rock" and I feel that this body of work sits squarely in that category. I'm proud to be known as the "Queen of Symphonic Rock"

Thank you very much for taking the time to answer these questions Lana. Congratulations on a fantastic new album. Is there anything you would like to add to conclude this interview? The final words are yours.
Many thanks to you Tony, and to the fans for all their support over the last 17 years — it has been a FANTASTIC ride and I wouldn't be here today if it wasn't for you! Recording and releasing records is a very vulnerable thing — and sometimes it's hard to sit back and enjoy what you've created. But "El Dorado Hotel" has been an absolute joy for Erik and I from the writing stage all the way through the recording stage. I hope the listeners will find the music inspiring and that they will take the musical journey with open minds and hearts — they may be surprised at what they find out about themselves

Links
MySpace * ReverbNation * Site
6 color styles available:

Style switcher only on this demo version. Theme styles can be changed from Options page.