Browsing articles tagged with " danny"
Label: Kscope
Review by Luisa Mercier
Last year in September, Anathema held a special event, a very special event: a concert with the Plovdiv Philarmonic Orchestra in the Roman theatre in Philippopolis, among ancient ruins. Now that event has been captured into "Universal", the DVD recently released.
Upon watching it, I feel compelled to say that was one f the most mystical experiences of my life and one of the best shows I have ever seen because of the feeling and of course, the Anathema music.
The setlist is mostly comprised of tracks from the last two masterpieces " We Are Here Because We Are Here" and "Weather Systems" plus some other songs from their recent past. Only "Fragile Dreams" is the witness of their past, coming from "Alternative 4". The set was divided into a main one with the orchestral part, while the final 30 minutes are devoted to rock only with four pieces played in the usual way. Continue reading »

Interview by Danny Robertson
We caught up with Maledia's singer Loo to discuss their background, their current album "She and Her Darkness" (released in January 2009) and future plans.
What themes/ideas inspired your lyrics on these songs?
Firstly thanks for this interview. Each song for me is a new journey, when the melody is ready usually I listen to her a lot of times thinking of where it leads for me. On this album I also wrote about some things which happened in our and my life, maybe in some hidden words, using some ideas and symbols which reminded me of some particular sensations. But, I have to say that everytime I have to write new words for a new song, it's always a new challenge and a new journey through feelings.
How would your describe your sound?
Our sound is very powerful but very, very melodic and emotional. It's full of our influences, we are five musicians very different to each other, but in love with the same thing – Music .
Which other vocalists do you admire, past and present? Would you say any of them have inspired your own style?
I love a lot of vocalists, but I can say that any of them have inspired my own style. I think that a real artist has to give their personal and own touch to their style, this is the only way to be truly appreciated, judged and loved, not only compared to someone else. However, my favourite vocalist (in the gothic metal scene) is surely Tarja Turunen, she is the biggest voice and personality I have ever seen on a stage.
Who/what are the band's main influences as a whole?
Many. As I said, our influences are various; in fact each Maledia member has got favourite bands and music background inspirations, very different from each other. But the main influences are Nightwish (Old Style), Cradle of Filth, and many songs coming from the horror dark projects of a lot of movies' soundtracks.
What normally gets written first – the music or the lyrics?
Usually we write the music first. This part is often "addictive" to the band (except me). I contribute obviously to the creation of the music, but very less in this part, because my real work is the creation of the lyrics and their melody. But this is not the only way we use. I can say that the creation of each newborn song is always different from the past one.
Tell us about the production behind the current album – how long did it take to write and record? Did you experience any difficulties in its' creation?
It was as difficult as fantastic. It took more than three months to record the complete album with voices and choirs. But unfortunately we met a lot of difficulties in the period after the creation, I mean production itself and in the coming out. It took more than one year to make "She and Her Darkness" available for all our fans. We still apologize for this to all our fans. We hope that the long wait was rewarded for each one of them, I will thank them forever.
MySpace * ReverbNation * Facebook * Site
Interview by Danny Robertson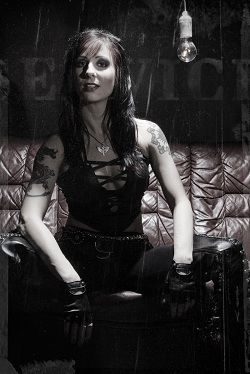 Check out Sister Sin – the Swedish rock'n' roll quartet hailing from Gothenburg, who recently supported their heroes Motorhead whilst on tour in the US. Here, singer Liv gives us an update.
How did the shows with Motorhead go? It must have been quite an experience to be supporting an act who've influenced you all for so long!
We had a blast!! It was a dream come true for all of us to support Motorhead. Both shows went very well and it was truly amazing to play in front of a full sold out show!
Did you win many new fans from the Motorhead crowd?
Absolutely! I think we got a good amount of new fans. People were standing in line waiting for photos and autographs after the show and we sold a lot of CD's, I think we did a really good job and people seemed to really enjoy our show.
Got any tour stories you'd like to share? Any strange or unusual experiences?
Hmm no not really, everything went very smooth during the shows with Motorhead. But on the tour we did before with Faster Pussycat, we had a lot of trouble! Our van broke down like 3 times during the tour and we nearly missed a show waiting at a truckstop for 7 hours for a new ride to the show that evening. When we finally got to the gig, we were 45 minutes too late and only got to play 3 songs.
Let's go back to the beginning – how did the band first get together?
Well, at the beginning we had another bass player and guitarist, and they and drummer Dave formed the band in 2002. I had put out an ad in a magazine looking for a rock band and one of them called me and told me they really wanted a male singer, but maybe I could try anyway. So I did and they didn't audition any other after that, so I guess I did make a good impression, haha! Since then, me and Dave have been looking for the right members and now it feels like we found them! Both Jimmy and Benton suit the band perfectly.
You hail from Gothenburg, a place normally associated with melodic death metal, thanks to bands like At the Gates, In Flames, etc. Given that yours is a very different sound, was it difficult for you to get shows and build a local fanbase in the early days?
Yes a little actually and still in Gothenburg that sound is dominant but the more hard rock/old school sound is beginning to come back.
You're described on your MySpace profile as being the new ambassadors of 'Street Metal' – who first came up with that term?
That is a good question, and I don't remember who first came up with that, haha. But I think it suits us very well. We are just true hardworking rock, very down to earth – very street, nothing fancy. We don't expect things to happen, we make them happen!
What would you say has been your biggest non-musical influence?
Just everyday life! From both close in our own lives and that very big, big unpredictable world.
The Motorhead shows aside, what do you feel have been the high points of your career thus far?
Well playing at Masters of Rock in the Czech Republic for 5000 people and with bands like Doro and Cradle of Filth was pretty amazing. And then playing at the Sweden Rock Festival last year was a dream come true too!
Who are your favourite current acts?
My personal favourites are Airbourne and Deathstars. We met the singer of Soilwork while in the US and they are working on a new album, and I am looking forward to that very much.
Are there any new bands back in Gothenburg that you'd recommend to people?
Maybe not Gothenburg, but I think people should check out Hysterica and Babylon Bombs, good Swedish bands!
What's next for the band? Any tours or future releases in the pipeline?
Yes hopefully both hahha! It's depending on if we are gonna do more tours this Autumn or not. We really want to tour as much as possible and we are right now working on finding new tours. But if we don't, the plan is to record a new album early next year. We are working on new songs right now and we are looking forward to giving the world some more kickass heavy metal!
Links
MySpace * Facebook * Twitter * Site
Latest Multimedia
Interview by Danny Robertson
Introducing Lateless, the metal quintet from Russia who released their second EP "Breath Again" earlier this year. Here we catch up with them to discuss a little about their history, their influences and their future plans.
How did the band first form?
Nataly: Originally the idea of collective creation was appeared in 2007, but together we were gathered only in February of 2009. On the first rehearsals our guitarist Vyacheslav has strummed a melody which other participants began to develop. During the second rehearsal we have been already working over almost ready composition, witch has been burnt so naturally. It was "Breath Again". I think, it is possible to consider that it was a start line.
Yaroslav: The idea of creation of group at us was for a long time. Only in the beginning of 2009 we managed to all to gather and try the forces. All of us for a long time each other knew and consequently already nominees of musicians have been completed. There was the most important question and who will sing? And here on one of concerts our guitarist Vyacheslav has acquainted me with Natalia and through not which time, we have broken to rehearsals.
Would you say those same influences still help to shape the new material?
Nataly: Yes, of course. However, we are not standing at the same place. Music is alive being. It varies, it adapts to new conditions, it develops and improved. Lots of our tracks are not similar against each other as sometimes happens in families – brothers and sisters are very different they have different characters and absolutely different appearance.
Yaroslav: Initially nobody influenced us and I think, as now influence of whom or is minimum. When we only started to rehearse and think out tracks, we had no special concept, as well as that we will do, all is pure intuitively. I think that that moment will come soon that we already will start to influence some groups. Though it is unconditional in the world there is a weight of talented collectives. It is necessary to think. Now there comes autumn, and this season to me always the beginning-middle of September was pleasant especially. It such sad and melancholic, moderately depressive and romantic. I like to sit one not far from the house in park before lake, on to dream, on to think. The loneliness moves me to musical progress in respect of a music and material writing. Sometimes also I am am attacked by depression and I forget about all.
What are your aims? Is there a longtime dream you'd like to fulfill?
Nataly: To subdue the Everest and to make travel around the world. As to music … I am still in that fine condition when music is a language with help of which you can express your private world, tell something that is very important for you. As a matter of fact, I think that it is the highest creativity point from which the majority of musicians are begin, as paradoxical it isn't be. But then become sad processes which put commercial success above internal freedom. I understand that it can seems very fondly, but, to my mind, the sense of creativity is consist of freedom of expression. And, of course, at is great happiness when your inwardness are understood and divided, when with the help of your imagination and your self-expression you can open something new to other people, and together you find the way to your own internal free "I".
Yaroslav: Is more whole at present not so much, but they are. To write down an album, with a good and qualitative sound, the material at us is ready also I think that in the end of autumn in the beginning of winter we will sit down in studio and we will write down it. We will search in parallel publishing label, most likely the European. At us in Russia they are not professional enough. To win back concerts in support of an album. And further it will be visible? As to my dream, of what I can dream at me there is a favourite group in which I play, people with which it is pleasant to me to work.
Some bands prefer not to be pigeon-holed – are you comfortable as a band with specific labels? What genre of music do you most feel comfortable to be associated with?
Nataly: To tell the truth, as for me the classification has not got enough value. Of course, there are a lot of rules, subtleties and cunnings in the process of record of any music direction about which professionals know. That's why the label for me an indicator of the sound's quality, at first.
Yaroslav: We against stamps and a cliche over music, same first of all art. I am imposed by many styles and directions, now they will be not listed. As to labels, a situation simply pitiable. All of them by and large are not professional, a maximum that they can make it for group to print circulation of an album and to make T-shirts. What promo actions other, concerts and rounds in I will take albums are not made. At us it is a lot of groups and the majority of them is not necessary and a penny, 80 percent of groups are not professional, have no sufficient records and other. Not on think that it because of crisis so was always. As to us that we without a label, also I wish to address to all who reads this interview. We are ready to cooperation, write to us, we will be glad to contact.
Which current acts do you admire most?
Nataly: Inspiration is rather changeable woman. There are a lot of positive in my life now, and it helps me to write. Last text has turned out very sensual. It is possible to tell that the sensuality is inspiring me now.
Yaroslav: As to inspiration it comes spontaneously and unexpectedly. I as on the author of music I am influenced by very many things, it can be both weather and the feelings, any experiences, actions. And many other things that is in human consciousness.
What were your last 3 CD purchases?
Nataly: Ho! It was Oper "Aida", Black Sabbath "Paranoid" and soundtracks from Tarantino's films.
Yaroslav: Recently I not so often buy CD. Certainly it is bad, but I download music from the Internet, so much groups are simple because for about one hour and you do not know what to expect from their material. To download and listen easier, if the material clings me, I will go and I will buy CD. That I have got last three CDs, it were Amorphis, Long Distance Calling and perhaps Endless Journey.
What's next for the band, where can we expect to see you in the coming months?
Nataly: We are planning to act in Murmansk the next month, and also we are planning to act in Saint-Petersburg, on a warming up of remarkable collective Amorphis, whose latest album was amazing. Respect!!!)
Yaroslav: Plans for the nearest some months the such. Now we prepare for several big concerts in the autumn in Russia. We will have a presentation of ours ?? "Breath Again" in the city of Murmansk in the north of Russia, its landscapes are similar to the Norwegian fjords. Then we play with Amorphis in St.Petersburg at them one concert in Russia in support of a new album. That will be further while foggy.
Any last messages you'd like to send out to people?
Nataly: Hope to see you soon!!!!
Yaroslav: First of all I wish to thank Femme Metal Webzine, and also in particular Miriam, for the shown interest to us. Listen to good and qualitative music. We hope for the further cooperation with you. Greetings from Russia.
Links

Interview by Danny Robertson

Industrial quartet Lahannya are about to unleash their new album "Defiance" upon us. We spoke to frontwoman Lahannya to discuss the new material, and the future.
What initially inspired the story behind "Defiance" and last year's release, "Welcome to The Underground" ?
Well Danny… Like the prequel told on "Welcome to the Underground", our 2008 EP, "Defiance" is set in a future distopian Britain, which has evolved into a total surveillance society as a result of severe terror attacks. The protagonist of the story is a resistance fighter who is plagued by feelings of guilt and anger for having inadvertently contributed to the rise of this brave, new Britain. The setting of "Defiance" is mostly inspired by current political and technological developments as the UK is slowly turning from one of the most liberal countries in Europe into a surveillance state par excellence. With 5 million cameras CCTV is omnipresent and DNA details pertaining to over 5 per cent of the population are held in a national database as a tool in combating terrorism. Biometric ID cards are already being introduced and more and more government databases are being centralised resulting in our private lives becoming increasingly transparent. It might not be long before we are forced to make difficult choices affecting our principles and lifestyles. The storyline of "Defiance" imagines what those choices and their consequences might be?
How long did it take to put the whole album together?
Basically, although we wrote a couple of the songs from "Defiance" while still working on "Welcome to the Underground", the real song writing work for this album only started in September last year. All in all, it took around a year to put the new album together.
Was it a conscious decision to make this album more rockier?
The majority of songs on "Defiance" deal with betrayal, hatred, the consequences of difficult decisions and revenge and, when the lyrics deal with such strong emotions then the music has to follow suit! "Defiance" has become our darkest and most aggressive release to date because of it. I must say I very much like the direction it's taken and absolutely love performing the new songs live!
Will the story of the resistance fighter be continued on future releases?
Let's see? I've really enjoyed writing songs that follow a storyline, creating the right setting and putting every song into a context. For me the story is definitely not finished yet because it ends with a terrible betrayal and declaration of war…. so I am very much looking forward to working out the next instalment and finding out myself what happens next to my heroine and her companions…
Many labels have been applied to your music in the past, but how would you describe your sound?
I've given up describing our sound because it combines influences from quite a variety of genres and therefore doesn't neatly fit an obvious description. In the press, we've quite often been compared to Evanescence and Lacuna Coil, which is very flattering but quite misleading in my opinion. The best and certainly most innovative comparison to date came from "Heavy", the third biggest metal magazine in Germany, who said our sound was "a mixture of Zeromancer, Pain and Madonna"!
What influences you the most, musically and non-musically?
Lyrically, I take a lot of my influences from what is going on around me and from my own experiences and emotions. Since our last couple of releases were set in a futuristic Britain I've also done a lot of reading up on socio-political issues and took inspiration from science-fiction literature. Musically, I was probably subconsciously influenced by everything I like and have been listening to – whether I wanted to or not. Over the last couple of years I've been listening to a lot more metal, which I am sure has left its mark on my song writing and the overall, general feel of the album.
Which current acts do you admire most, or feel you have most in common with?
There are a lot of great bands out there – I have a ton of respect for System of a Down, Rammstein and The Prodigy for being incredible live bands and entertainers…. But, there are also lesser known bands that I really like – Sacred Mother Tongue I saw by pure chance on their first London show and I'm sure they'll be going places in the metal world and The LoveCrave from Italy are definitely the most fun band out of all the bands I've ever played with recently! Meeting other artists and bands is actually one of the most enjoyable aspects of what I do. For the upcoming German and UK tours I've personally selected 90 per cent of the support bands in each city, which involved sifting through a lot of MySpace profiles before contacting the bands I liked best. Now I am looking forward very much to seeing these bands live because I really love their music and hope our fans will enjoy my selections as well.
Are there any upcoming acts or releases you'd like to recommend to people?
Yes… Although it's not really a new release and the band is no longer a newcomer, I would very much recommend that people check out Mankind Is Obsolete's album "Trapped Inside". For me it's a great industrial rock album with a perfect balance of heavy guitars and electronics, with some amazing vocals and creative lyrics. It's such a shame that the band is not better known, they definitely deserve to have international success!
What have been your personal career highlights thus far?
Playing this year's Wave Gotik Treffen in Germany and Metal Female Voices Fest in Belgium; both were absolutely amazing experiences and career highlights for me personally. The other highlight was the release of our second album "Defiance". A lot of sweat, blood and tears went into it and holding it finally in my hands was an incredible feeling!
What are your current aims for the future?
Like all bands I suppose, I'd like to start playing larger venues in the UK and Germany where we perform regularly and then, extend our tours to the rest of Europe. I'd love to play live shows in Scandinavia, the Netherlands, Belgium, France, Spain and Italy, where I know we have fans… We keep getting asked to play in their countries, so I hope to be able to do it very soon!
What's next for the band? Whereabouts will you be touring in coming months?
Having played six festivals this year, we're finishing 2009 with a 15-date German and UK tour going to great places like Sheffield, Leeds, Glasgow, Nottingham and London as well as Frankfurt, Munich and Hamburg. All the dates are on www.lahannya.com. We haven't really started making concrete plans for next year yet because the current one has been keeping us so busy, but I'd definitely like to continue touring, playing festivals and start writing new songs too….
Any last messages for people?
Thanks to everyone who has supported us so far – see you on the current tour! Check www.lahannya.com for the dates!! – Cheers!!
Links
MySpace * Facebook * Twitter * Site
6 color styles available:

Style switcher only on this demo version. Theme styles can be changed from Options page.