Browsing articles tagged with " darker"
Independent Release
Review by Luisa Mercier
After their 2005 debut "Lifestyle Product", Norwegian/English Reism are back and unleash the lethal mix of guitars, electronic, atmosphere and rhythm. The arrangements are overall very brilliant, courtesy of the multi-talented Tom Poole-Kerr, but what strikes the most are the vocals of Kirsten Jørgensen.
She is absolutely stunning, her vocal lines are dark, emotional, fragile, angry, sweet; in a few words she can be a very versatile singer and will make Reism music an unique experience. Let's take a look at the music now: there are harder moments, other softer, but what is always present is the electronic, which seems to be the most suitable and comfortable contex for Reism. Electronic music offers a lot of possibilities, so you get the opener "Give In" which explorates metal territories with some harsh male vocals in between riffs and you get "Sink In Deep (Dark Waters)", a ballad which might not match your classic idea of slow song, but it surely deserves multiple listens, believe me. Continue reading »
Interview  by Alessandra Cognetta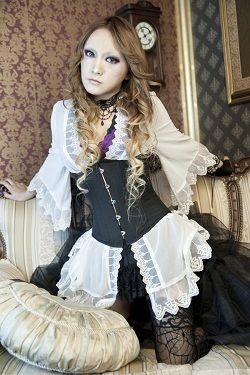 It may not seem so, but the Japanese metal scene is active and ever growing. We are thus very pleased to feature Ancient Myth here for the first time. The female-fronted band from Tōkyō has already released two full-length albums, "Astrolable in Your Heart" (2010) and "Akashic" (2012), various demos and singles and a live DVD. Michal, the lead vocalist, kindly gave us a bit of insight on the band and the current situation of female-fronted metal in Japan.
Hello and welcome, Michal! We're really glad to have you here, since you are the first Japanese artist we have the pleasure of interviewing for the Webzine. Let's start by getting to know you better: "who" is Ancient Myth and how was the band formed?
Thank you for giving me an opportunity to do an interview with you, and I'm truly glad of the fact that I'm the first Japanese artist for your Webzine. Ancient Myth was formed by Mittu, the original Drummer (as the leader) in his school days. I heard the original members of the band were all his classmates in his music college.
Your latest full-length album, "Akashic", was released on 2/24/2012. How did the production go and what has been the feedback from your fans so far?
In October 2011, Puzzy (Keyboards) joined the band, and then we soon went into the studio. We had to get the recordings finished to catch the deadline for the release, so we didn't have enough time to sleep every day and night, for a couple of months but I felt I lived a full life during that time! Some fans say "Akashic" is a crowning work but I'm sure that we can create more splendid ones in future.
What does the word "Akashic" mean and why did you choose it as your album's title?
The title "Akashic" was named after the concept of "Akashic Records", which means all the knowledge and the experienced history of human souls' activities are recorded in the cosmos. Ancient Myth is a band with a long history, but we have led a tough life, like several member changes and recessions. In the present, the past & the future, all the issues on our destiny are parts of the records of the big cosmos. We have to accept all the things in our past and future and keep making our steps forward, if anything is/has happened on us. Because the things are all decided, as "Akashic Records". Continue reading »
Label : Napalm Records
Review by Tony Cannella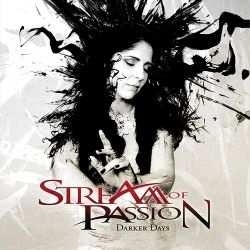 The multi-national Progressive metal band Stream of Passion first gained notoriety for featuring Arjen Anthony Lucassen in their ranks. Following his surprising departure the band has decided to soldier on. Their new album "Darker Days" is the second in the post Arjen era and fourth overall. Opening with "Lost", Stream of Passion creates an atmospheric opener, featuring vocalist Marcela Bovio's stunningly strong vocals – I mean she has long been one the best kept secrets in the Femme Metal universe and hopefully after people hear this, she will get her due. In addition to vocals she also contributes violin. The moody number "Reborn" is next is just a slickly played, classy track. The straight-forward power riffing starts off the next track "Collide", before the song turns into an ultra melodic track. "The Scarlet Mark" is next and has a cool symphonic vibe to it. Other highlights: "Spark" (a pretty ballad featuring only Marcela's vocals accompanied by piano), "Our Cause", "Darker Days", "This Moment" and "The Mirror" but trust me, there is a lot of what can be considered 'highlights' here. There is no denying that Stream of Passion is quite good at what they do and they seem to be getting better with each album. I am hesitant to proclaim "Darker Days" as their best album, but if it is not, it certainly ranks up there.
Rating – 90/100
Tracklist
Lost
Reborn
Collide
The Scarlet Mark
Spark
Our Cause
Darker Days
Broken
This Moment
Closer
The Mirror
Nadie Lo Ve
The World Is Ours
Line Up
Marcela Bovio – Vocals & Electric Violin
Eric Hazebroek – Rhythm Guitars
Stephan Schultz – Lead Guitars
Johan van Stratum – Bass
Jeffrey Revet – Keyboards
Martijn Peters – Drums
Links
Independent Release
Review by Luisa Mercier
I already knew Eilera and had appreciated their second album "Fusion". The following "Darker Chapters and Stars…" features the characteristics that made this band quite known in female fronted metal. A nice blend of prog, gothic, folk and extreme metal that you can hear since the beginning "Marching Towards Dawn". The drums are very martial as if they were really marching and spoken vocals plus synth make the atmosphere quite gloomy. "Don't Go Fight" has a powerful bass line which mixes with violin, guitars and Eilera vocals. She is quite unique in metal scene, since her voice would be more suitable for pop/electronica but once you get used to it, it is quite easy to enjoy it. In the end folk suggestions take the lead. "Fly" is a real prog track full of tempo changes and a cello can be heard in the backgoround, courtesy of Max Lilja, former Apocalyptica member. "Passport Please" is a short track but full of rhythm too: it starts gently to become much more energetic. Definetely pop/folk is "Lucie After War" and it fits perfectly Eilera vocals, while "Celtic" is indeed a celtic tinged song. It would have not sounded bad on an Enya album. Back to metal with "Slow Down Metal". The intro is very heavy and the song reveals itself as a gothic metal track with some atmospheric moments. Really creepy. "Rob My Soul" is again gothic metal with a lot of keyboards that acquires a symphonic, epic twist in the ending. "So What?!" is a song with a strong focus on vocals. Eilera is very expressive here and it is accompanied by powerful riffs and strings. The sample at the beginning of "At a +- Roads" seems coming out a Western movie and the song that follows is a mid-tempo with folk-symphonic elements. Last song is "From Pink to Black" is a power ballad with a nice solo in the middle. It gets heavier in the second half, never losing his emotional feeling. This album is definetely very, very varied. It spans from pop to celtic to gothic metal and I can say that it can be enjoyed by almost everybody out there.

Rating – 80/100
Tracklist
Marching Towards Dawn

Don't Go Fight

Fly

Passport Please

Lucie After War

Celtic

Slow Down Time

Rob My Soul

So What?!

At a +-Roads

From Pink to Black
Line Up
Eilera – Vocals

Loïc Tézénas – Guitar

Jan Sormo – Bass

Max Lilja – Cello (Additional Musician)

Laura Airola – Fiddle (Additional Musician)

Tony Canton – Fiddle (Additional Musician)

Yoann Le Gall – Drums (Additional Musician)

Jean Ferry – Drums (Additional Musician)
Links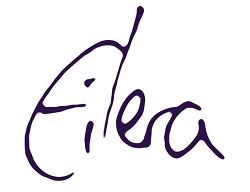 Interview by Claudio Grippi
Femme Metal Webzine got the chance to interview Eilera, a French artist who was able to draw the attention of the Finnish label Spinefarm Records, releasing under this label their first studio album called "Fusion" in 2007. Her new album "Darker Chapter… and Stars" is divided into two parts that lead you through a journey of personal discovery where different worlds coexist and interact harmoniously.
Hi Eilera, thank you for your time. How are you?
Hello dear. I'm good, thank you. I've had a much relaxed Sunday and I'm now answering your interview with HIM's "Venus Doom" playing in the background. All fine

First of all, the title of the new album is "Darker Chapter… and Stars". Why did you choose this title? Why is this chapter 'darker' if compared to your previous albums?
This title refers to the two main characteristics of this album: darker than my previous work, in its music and in its lyrics, yet filled with positive energy. I wrote and composed this album during a darker period of my life. I thought I should use this challenge that life was offering to me: use this darker energy and create something positive out of it. It was thus the perfect opportunity for me to pay a homage to the roots of rock and metal. I have always opened new doors with my songs and pushed metal music to its limits. This time the challenge was: make songs that would honour the roots of Rock and Metal, in my own style.
Why did you choose to divide the album into two parts? Is there a particular reason?
Yes there is. When I started working on this album I had decided to explore the possibilities of the digital world. I wanted eilera.com to offer an exploration game for its visitors, with photos and a story associated to each and every song.I also decided that the album would first be released digitally only. And in order not to be cut from our public for too long again, we would release one part, then tour, then release the second part, and play more shows. After that we released a special limited CD edition that can currently be bought in French shops, or via the websites of Season of Mist and Levykauppa äx.
I listened to the album and I really liked it as I found different worlds coexisting and living harmoniously. It was a real pleasure listening to this record. How long did it take you to write this album?
Nice. Your reaction is a reward in itself to a loooong working process. It took me several months, five to six I would say, to write the album. Some of it I wrote in Helsinki, some of it I wrote in France. For the first time I had decided to focus on humans instead of nature. Hence the 11 stories with this female character at the heart of each of them. This woman you can see at the back of the CD cover and on the opening page of eilera.com.
I am very curious to learn more about "Fly", "Celtic", "Passport Please", "At a +- Roads" and "From Pink to Black". What can you tell us about these songs?
My intention with "Fly" was to make a heavy song that would sound like a standard of metal music in the Metallica tradition, invite Max Lilja to play his brilliant cello-metal for me again on top of it, and add the power of the Ocean to it in a much personal way. I wanted to make a song that could sound like a classic and fill it up with the pure freedom and power of the Ocean. There is a strong anti-formatting message to it. "Celtic" belongs to the filmic tradition I've been evolving into from the start. It is a ballad, a moment of peace and beauty.When you hear it you can feel the Blue Mountains of my homeland around you, a big source of inspiration for me. Whenever I need a moment of rest, or when I need to go back to the essentials of Life and forget about the rest, the mountains are always there for me. An ocean of blue mountains, like waves of the Ocean, heart of the Celtic tradition. "Passport Please" is pure, row energy. Violent and fun at the same time. It cuts into the air like a metal blade. It is the most punk of the songs. It is meant to slap you in the face whenever prejudice might get a grip on you. I like the very modern catchy side of it. I think this song is a good combination of my early songs in "Facettes" with the "Darker Chapter… and Star" sound. I had an idea in mind for "At a +-Roads": combine what I love of a Western cowboy film soundtrack with a heavy sound. Make it groove, make it my own. Create a space of imagination for whoever might be working at his desk with headphones on his ears, fancying that he/she is riding a horse in the wildness… The song is about freedom of the earth versus religion. "From Pink to Black" is about the questions that any of us might ask oneself when our heart has been broken. This is the oldest subjects of all for a song and yet a subject that will never die. We all fall in love, we all get hurt, and we will all fall in love again. For this song I wanted a sexy groove. I wanted to fill it with "americanization". Europe and USA in one song, uniting on an international subject.
I read you started playing music when you were twelve. How did time change your way to make music?
It has not changed much really: I still compose and play in a spontaneous way. When I was in music school I used to boycott music theory because I could not stand the "organization of freedom" it represented to me. Today I have found a balance, this might be the change: I accept the extreme organization and precision that recording demands, but I have not given up on my freedom in making my songs.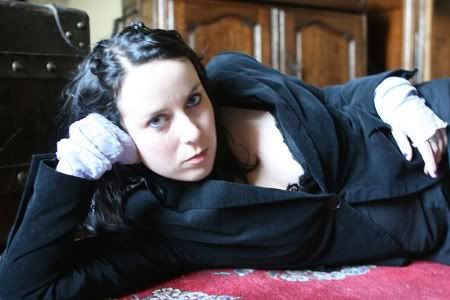 Before embarking on your current project, you were part of a melodic death metal band called Suspiria, soon after renamed Chrysalis. Do you still have some melodic death metal influences when it comes to songwriting?
I think so, yes. I dislike the obvious yet I still use and love my roots. In my own way.
If compared to melodic death metal influences, are there still any electronic influences from your side project called Bliss?
Yes, definitely. I love electronics. They are less present in "Darker Chapter… and Stars" than in my previous CDs because there was less space for them there. It was an album for more classical instruments, especially for big walls of guitars, fat bass and voice.
In your opinion, what are the main, straightforward differences between this album and the previous one?
It sounds more like a band album. It is more masculine. Less experimental; more traditional. It sounds more live. A sort of metal Lord of the Rings with muscles and magic, written by a tiny woman.
What are your plans, career goals or aspirations that you would like to achieve as a singer and as a band?
Make songs for as long as I breathe on this earth, sing them to people for as long as I have a voice. I feel like I'm only at the beginning of this adventure.
Are you already working on news songs for a new album?
Yes, I have a few on the side. I can feel the excitement of the next album already. Full of light after this darker chapter.
Do you think your future sound will go towards an heavier or more melodic direction?
More melodic. I think that after this chapter I'll be done with the heavier sound for a while. I have been through the extremes, from the lightest to the heaviest. The next album will be that of balance.
Is there a question that no-one asks you that you wish someone would?
Actually you have killed my frustration with your interview: before you I had not had an opportunity to speak about my lyrics. So, merci dear.

Well, Eilera, thank you very much for your precious time! Is there anything you would like to say to our readers?
Keep supporting music and the metal scene! Keep the passion alive. For it will keep you alive. See you!
Links
MySpace * Facebook * Twitter * Site
6 color styles available:

Style switcher only on this demo version. Theme styles can be changed from Options page.