Browsing articles tagged with " darkness"
Independent Release
Review by Vard Aman
Transliterated as Oksiderika or Oxiderika (I'm going to use the latter). Oxiderika are from Samara in Russia. They formed in 2011, and are therefore quite a young band; and also quite an inexperienced band which unfortunately shows on their debut album, "Step to Darkness". At just under 30 minutes long, and with a rather poor demo-like sound quality, it would have been better to have published this as a demo rather than as an album, because a demo is really what it is. Every band has to start out somewhere, and every band will grow with experience, and "Step to Darkness" is just the beginning for Oxiderika. Hopefully in the future, the title of the album will be looked back on as being quite apt – I guess we'll just have to wait and see. Continue reading »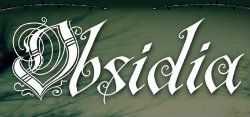 Interview by Marc "Peston" Sels
Obsidia is a five-piece metal band from Austria, with not one but two women in the group : Tajy on the keyboards and Lucrezia on vocals. They have just released a 5 track EP, "Back to Darkness". So this was a good reason to ask Lucrezia some questions.
How's the weather in Austria (February)? Can you ski over there? And do you do that?
Here in Austria the mountains are white and the weather is quite cold. Usually we have temperatures some degrees Celsius, below zero. There is enough snow on the mountains that skiing would be possible, but I go skiing seldom due to lack of time. You know, I prefer our warm cellar where I can play music.
I haven't heard your cd "Back to Darkness" yet, so can you describe it for me? (Lyrics, musicstyle…)
As the title might say we tried to go some years back in time. We aimed to merge the great atmospheric Gothic metal played at the end of the 90′s with our own style and we think that the result is quite presentable. The lyrics are considerable mixed – from the Greek Mythology via vampires to "simple" stories about life.
Is there a big Austrian Female fronted metal-scene? I only know you and Siegfried.
Oh, also very well known female fronted bands like Edenbridge and Darkwell are from Austria. Anyway, the scene in general isn't that big as in other countries. Especially in our area the metal-scene is very Death- and Thrash-dominated.
Austria has been in the worldnews lately with a few less items, Natascha Kampusch, and Hayder (extreme rightwing politician) getting killed in a car accident after leaving a gay bar. Does it has any influence on the music-scene? I can see punkbands jumping on this, but how do the metal bands react?
I have to grin 'cause for me it's quite amusing what Austria is famous for. I don't think that such happenings influence our scene. Punkbands often make their music as protest whereas Gothic Metal should be the kind of music which helps to get out of the daily routine – a way to relax – a way to forget all daily problems.
Okay, now the lighter version. Can you live of being a musician, or do you (and the other bandmembers) have jobs, like most of us (hopefully)?
At least we are not able to live from our music. We spend our freetime for our music because this is our hobby. To earn our money all of us have a profession. Beside some of us study on university.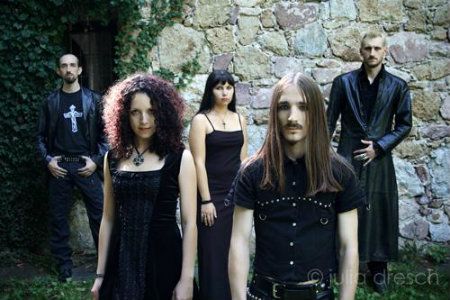 For as far as I know, this is your first CD. Have you got enough material to do a live performance?
Yes- as we're already into song-writing for an upcoming full-lenght-album, we're able to play live. We have played some headliner- and supportshows in Austria and Italy last year and will have our Germany-premiere in May this year.
Do you sing under the shower? If yes, what? What is your all time favourite cd? And what do you play on a sunday morning?
Oh, I sing more often than I know myself; like last week when I recognized that I sing while doing housework. Sometimes I sing totally unconscious – I think this is for me a way to relax. The songs I sing are totally different : sometimes songs of my favourite bands, of course Obsidia songs and sometimes ideas for new songs allthough Sir Iwain (guitar and vocals) is our creative head. All time favourite cd – difficult to say… I love gothic/symphonic metal in general, so albums from Tristania, Epica, Within Temptation, After Forever, Therion, Nightwish….change in my CD-player.
Best book, cd, comic, movie, concert of 2009? And what's your favourite pet, drink, food?
I can't say this is limited on 2009 but I can do it in general. Hopefully this is okay for you.
Best book : I love reading crime-stories like "Speak No Evil" (Rochelle Majer Krich) and I really love reading specialized books about nature, supernatural phenomenons and psychology.
Best CD : I'm really impressed by the "Live Gothic" of Therion.
Best comic : I'm not a big comic fan. Sometimes I watch The Simpsons on TV.
Best movie : Absolutely ungothic, but I love the film "Patch Adams" with Robin Williams.
Best concert : There are many concerts wich impressed me very much but I think the greatest gooseflash that I have got was the After Forever show at Wacken 2004.
Favourite pets : Cats. Because they have this mystical aura.
Favourite drink : Nonalcoholic drink : herbal tea. Alcoholic drink : white wine and gin.
Favourite food : International food from typical Austrian food to Indian cuisine. But I seldom eat fastfood like McDonalds because food has to contain a little bit of love.
What are the plans for 2010? Touring? A new cd ?
As already mentioned, we are hardly working on material for a full-lenght album but we actually aren't able to say anything about a release date. Of course we want to play live as much as possible but we don't know whether we can manage to play a full tour.
And here it is : Can you give us a short history of the band?
Obsidia was founded in the middle of the year 2006 by Sir Iwain and me. We started with writing some songs and then we searched for musicians, which is quite difficult in our area. First live concert was in May 2007, and now we released our first CD.
Especially for the fans, any "Famous last words"?
Obsidia would like to inspire their audience and we hope that we can bring all of our fans "Back to Darkness". In the meanwhile I have heard their first born, and I must say I liked it. Good heavy goth with musicians who know their instrument and a good, strong voice. I see a successful future for this young band, and I hope to be proven right.
Links
December 12, 2012 (Los Angeles, CA) - As special holiday treat for fans, Italy's LACUNA COIL has released their new music video for "End Of Time." The video was produced by K48 and directed by the Italian director Saku, who had worked with the band for previous videos such as "Spellbound" and "I Won't Tell You". He also directed the mini-movies that were featured on the bonus-DVD included on the limited editions of the band's current album DARK ADRENALINE.
For the premiere of the clip LACUNA COIL and Century Media Records has teamed up with the online outlet of the Italy's XL Magazine, the biggest monthly magazine for music and entertainment in Italy. Check out the music video for "End Of Time" by clicking here: http://videodrome-xl.blogautore.repubblica.it/2012/12/12/esclusiva-xl-lacuna-coil-end-of-time/
LACUNA COIL recently announced that they will be touring the US in February 2013 with SEVENDUST. A full list of dates can be seen below.
The band has spent the past year touring the world in support of their new album, DARK ADRENALINE. Released earlier this year via Century Media Records, the album debuted at #15 on the Billboard Top 200 Chart, selling nearly 20,000 units in its first week, and spawned the crushing first single "Trip The Darkness." The band has sold upwards of 800,000 units in the US alone and with six full-length albums, two EPs, various singles and a DVD under their belt; LACUNA COIL maintains their prominent role in the modern rock scene.
Tour Dates with Sevendust:
02/02/13 – Winston-Salem, NC @ Ziggy's
02/03/13 – Jacksonville, NC @ Hooligans
02/05/13 – Lancaster, PA @ Chameleon Club
02/06/13 – Clifton Park, NY @ Upstate Concert Hall
02/07/13 – Portland, ME @ The Asylum
02/08/13 – Allentown, PA @ Crocodile Rock
02/09/13 – Lynchburg, VA @ Phase 2
02/10/13 – Nashville, TN @ Marathon Music Works
02/12/13 – Fayetteville, AR @ George's Majestic Lounge
02/14/13 – Biloxi, MS @ Hard Rock Hotel & Casino
02/15/13 – Broussard, LA @ The Station
02/16/13 – Beaumont, TX @ Dixie Dance Hall
02/17/13 – Little Rock, AR @ Revolution! Music Room
02/19/13 – Springfield, IL @ Boondocks
02/21/13 – Bloomington, IL @ The Castle Theatre
02/22/13 – South Bend, IN @ Club Fever
02/23/13 – Cedar Falls, IA @ Pepsi Pavilion
For more information on LACUNA COIL visit:
http://www.facebook.com/lacunacoil
Label : Hypnotic Dirge Records
Review by Vard Aman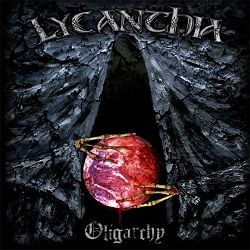 "The want to flee consumes me,
The urge to succumb eats its way,
Through a brawn weakened by seclusion"
Doom Metal is one of the most, if not the most varied and extreme forms of metal. When played badly, or is recorded badly, it can be abysmally bad (in a bad way); but when it is played well, there are few forms of music more powerful and more stirring than Doom Metal. Doom Metal is usually associated with scenarios of despair, depression, emptiness and, well, doom; but, when played well, I've always found it to be uplifting – a way to expose, revel in and release "the doom" through dramatization in a powerful extended aural climax. If you want to depress me, play me Justin Bieber, if you want to make me happy, play me some good Doom Metal. If Doom Metal conjures images of emptiness, then it's an epic; a passionate; and a dramatic emptiness, a drama that plays on, and plays out the extremes of our imaginations and our imagined (or real) fears, losses and sorrows.
Well, good Doom Metal does anyway; bad Doom Metal, it is fair to say, can often spell instant boredom. Lycanthia, fortunately, are good Doom Metal. No, they're more than that; they're VERY good Doom Metal, and that means that everything in my somewhat purple-prosy description of good Doom Metal applies to them, and in great abundance! Lycanthia are from Sydney, Australia, and formed in 1996. In 1999 they released their debut "Myriad", followed by lineup changes, an EP in 2006 called "Within the Walls", more lineup changes, and now, in 2012, their second full length, "Oligarchy". This band has staying power, and this is reflected not just in their continuing determination, but in their sound as well. Their sound is a Death Doom/Gothic Doom combo, nothing groundbreaking in that, but it's the way they play what they play that makes Lycanthia the standout band they are and "Oligarchy" the standout album it is. Take the best parts of the harsher side of My Dying Bride mixed with the best parts of "Velvet Darkness They Fear"-era Theatre of Tragedy mixed with a bit of Draconian and you have Lycanthia. Are you drooling yet? No? OK, then add not one, but two extremely talented female vocalists (Vanessa Black and Megan Tassaker – also in Avrigus) whose wistful and melodic vocals are contrasted by a male vocalist (Lee Tassaker) whose raw, plaintive growls and shrieks would make most Death/Black Doom Metal vocalists proud. Now are you drooling? Still not? OK, go and listen to some Justin Bieber then… The heaviness, the power and the emotion is almost relentless throughout "Oligarchy", further emphasized by the somber melodies. Likewise the contrast between the power of Lee's growls and the melodic vocals of Vanessa and Megan (solo and harmonizing) serve to emphasize both.
On top of that, Vanessa and Megan contrast each other vocally too, and to the music itself they add violins and keyboards respectively. Stylistically, most of the songs on "Oligarchy" are fairly similar to each other, which is a good thing when you can't get enough of this band and their musical creations. "Forgone" was the first song to be released, a single if you like. It's a good summary of what this album is about, and when you get this album you can expect much more of this. "Hair of the Beast" is somewhat different to the other tracks, and this one takes a few more listens to get into than the others, perhaps for that reason. Lyrically, Lycanthia are as good as they are musically. They have all the poetic doom, emptiness, sorrow and despair that one would expect from this kind of music, but there is an additional element: a fantasy story-telling element – most prominently highlighted by the song "Forgone" which is a tale of a young god who falls in love with a mortal, enraging the other gods who strip him of his immortality as a consequence (a Lycanthia creation that sounds like it could be based on actual mythology, and there probably are many parallels) – just when you thought it couldn't get more epic. But this is "epic" in the Doom Metal sense, so don't expect any happy stories with happy endings – expect some very powerful stuff. Highlights off the album? All of them, although "Forgone" and "Despondency in Crescendo" are particular standouts and "Time Feeds These Wounds" and "Hair of the Beast" (as I've already mentioned) take a few listens to get into. So how highly do I rate this album against the many Doom Metal albums I've heard and own? As I am writing this review, I have been listening to this album for about a week and it's still growing on me ("Forgone" since it was first released on YouTube). There have been some fantastic albums released by some fantastic bands, but if anyone breaks into my house right now (beating all my booby traps… just in case the thought crosses anyone's mind… I am a Saffer after all), holds me at gunpoint and steals my collection, Lycanthia's "Oligarchy" is the one they will have to prize out of my cold, dead hands. Or, maybe, considering that Lycanthia is not the biggest name out there they might be a bit more reluctant to fight over it and perhaps they might let me keep it… hehe, their loss if they do! But if they do take it, I'll give them these bits of advice: listen to it loud and with the lights out (seriously, try it); and if for some reason they're trying to maintain a tough-guy-who-doesn't-blub-to-music image, they might want to listen to it alone – just in case they can't handle the powerful and extended aural climax of one of best representatives and examples of one the ultimate forms of music. And then give it back, dammit!
Rating – 98/100
Tracklist
The Essential Components of Misery

Eternity…

Forgone

Ablaze the Wheel Turns

Despondency in Crescendo

Time Feeds These Wounds

Hair of the Beast

From Ancestral Lands
Line Up
Lee Tassaker – Vocals & Bass

Megan Tassaker – Vocals & Keyboards

Vanessa Black – Vocals & Violin

Stephen Mikulic – Guitars

Giovanni Gariano – Guitars

Andrew Craig – Drums
Links
MySpace * ReverbNation * Facebook * Twitter * Site

Interview by Danny Robertson
We caught up with Maledia's singer Loo to discuss their background, their current album "She and Her Darkness" (released in January 2009) and future plans.
What themes/ideas inspired your lyrics on these songs?
Firstly thanks for this interview. Each song for me is a new journey, when the melody is ready usually I listen to her a lot of times thinking of where it leads for me. On this album I also wrote about some things which happened in our and my life, maybe in some hidden words, using some ideas and symbols which reminded me of some particular sensations. But, I have to say that everytime I have to write new words for a new song, it's always a new challenge and a new journey through feelings.
How would your describe your sound?
Our sound is very powerful but very, very melodic and emotional. It's full of our influences, we are five musicians very different to each other, but in love with the same thing – Music .
Which other vocalists do you admire, past and present? Would you say any of them have inspired your own style?
I love a lot of vocalists, but I can say that any of them have inspired my own style. I think that a real artist has to give their personal and own touch to their style, this is the only way to be truly appreciated, judged and loved, not only compared to someone else. However, my favourite vocalist (in the gothic metal scene) is surely Tarja Turunen, she is the biggest voice and personality I have ever seen on a stage.
Who/what are the band's main influences as a whole?
Many. As I said, our influences are various; in fact each Maledia member has got favourite bands and music background inspirations, very different from each other. But the main influences are Nightwish (Old Style), Cradle of Filth, and many songs coming from the horror dark projects of a lot of movies' soundtracks.
What normally gets written first – the music or the lyrics?
Usually we write the music first. This part is often "addictive" to the band (except me). I contribute obviously to the creation of the music, but very less in this part, because my real work is the creation of the lyrics and their melody. But this is not the only way we use. I can say that the creation of each newborn song is always different from the past one.
Tell us about the production behind the current album – how long did it take to write and record? Did you experience any difficulties in its' creation?
It was as difficult as fantastic. It took more than three months to record the complete album with voices and choirs. But unfortunately we met a lot of difficulties in the period after the creation, I mean production itself and in the coming out. It took more than one year to make "She and Her Darkness" available for all our fans. We still apologize for this to all our fans. We hope that the long wait was rewarded for each one of them, I will thank them forever.
MySpace * ReverbNation * Facebook * Site
6 color styles available:

Style switcher only on this demo version. Theme styles can be changed from Options page.