Browsing articles tagged with " david"
Label : Season Of Mist
Review by Davide Torresan
Born in 1998, Chaostar is the side-project of Christos Antoniou, the guitarist of the symphonic death metal band Septicflesh. In this new project Christos is the driving force though he has been helped by the other members of Septicflesh. The trademark of the Greek band, which is the magniloquence of the orchestrations, is present with some various influences. In fact Christos decided to experience new music like ambient music, soundtracks, opera and a little bit of electronics. We want to call it neoclassical and operatic rock? They released albums like the self-titled debut, "Threnody", "The Scarlet Queen" and the compilation "Underworld". I can assure you that some songs with the divine voice of Natalie Rassoulis are beautiful enough to take your breath away. Continue reading »
Label : Relapse Records
Review by Matteo Bussotti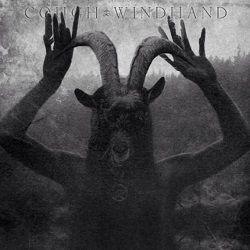 This split album divides into two 18-minute-long parts. Cough deliver a single, long song, which is more of an immersive experience rather than a simple song. Windhand give us two songs, for a most fast-paced experience, even if the second one, "Shepherd's Crook", is more slow-paced and "doomy". If you're looking for a proper doom album, you found it. This one is made by two excellent bands, too! I don't think, if you're into the genre, you'll be disappointed for one second by "Reflection of the Negative". Its slow, heavy rhythms, gloomy lyrics, heavily distorted guitars deliver sensations only well-made doom metal can.
In particular, Cough's song, "Athame", is a lot more atmospheric than Windhand's ones; you'll get trapped into it for its slow beat which makes you almost feel uncomfortable, but in a beautiful way. The guitars, with their heavy chords, deliver such power you'll feel overwhelmed by them…and I couldn't ask for more from a song like this. Continue reading »
Interview by Danny Robertson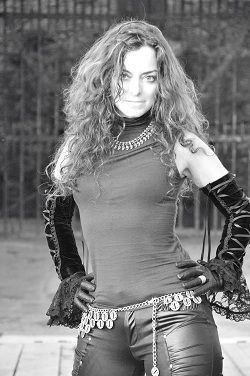 Giorgia Gueglio, singer and founder for heavy/melodic Italian metal act MasterCastle, spoke to us to discuss their debut album "The Phoenix" (released April 2009) and the band's history.
How and when did the band first get together?
I founded the MasterCastle band together with the guitar player Pier Gonella on 2008. We had many bands and collaborations in the past and we decided to put all experience and energy in something different. Pier wrote many hard rock/heavy metal songs and riffs using a particular baritone guitar, and we experimented my female voice on them. The result was an amazing mix for us. We went away composing and we called Steve Vawamas as bass player and Alessandro Bissa as guest drummer. We had known them for many years, as musicians and as people and their arriving changed the project into a real band. We finished 4 songs and we send them to the Lion Music label. They immediately proposed us a deal and we released the album "The Phoenix" on April 2009. We are grateful to all of Lion Music staff's work and promotion for us.
Who first influenced you to become a vocalist?
My musical background is based on British and American hard rock. My first influence was David Coverdale of Whitesnake. I like his voice because it's full of energy and very expressive.
Who/what are the band's main influences as a whole?
Of course Whitesnake was a great influence for me. Then many 70′s, 80′s stuff like Led Zeppelin, I like very much Robert Plant's voice also.
What inspired you to name the band MasterCastle?
We choose the MasterCastle name during travel after a gig. We were searching for something that could represent Giorgia Gueglio and Pier Gonella. Finally we found "Master" because of the great experience of Pier, as guitar hero, composer and producer and "Castle" because of my travelling passion. I visited many castles, especially in Scotland, and they've given me great emotions. So the two words are very common, but putting them together they become something different and original. You can translate them as "Main castle", or "castle of the master", and we like all those meanings.
How long did it take to write and record "The Phoenix"?
We sent a 4 tracks demo to Lion Music on August 2008. And at the end of December 2008 we sent to Lion Music all the stuff: the master of the album, three bonus tracks for the Japan release (Japan's edition was released on September 2009 for the label Spiritual Beast), all graphic and booklet files. I consider this as a record! We worked very hard, but without stress, because all the band really believed in MasterCastle's music and this has given us all the necessary energy.
What are the main themes and influences behind the tracks on the album?
I wrote all the lyrics and I get inspiration from human nature as well as forgotten tales and events. For example, the song "Greedy Blade" tells about the disaster of Vajont, a dam on the Italian alps that after a landslide, created a giant wave that destroyed towns and villages in the valley. The titletrack tells a story of human nature that needs to be as strong as the phoenix, the legendary bird which dies and is born again on his ashes. The song "Princess of Love" is a mystical tale about the magic presence of a clan of witches dancing in the forest. I really like this song and we made a videoclip that people can see on our MySpace.
How would you describe your sound? Are you comfortable with labels?
It's not easy to describe our personal style. When we sent the stuff to Lion Music, they described my voice as "very powerful" and I'm very proud of this. Thinking about female (vocalists), expecially metal heads, they always think simply about a voice that is higher than a male voice and frame this in the gothic style, with very few exceptions. I don't wanna do this. I try to be different from all female singers, putting all my energy and power in my voice, not necessarily going so high in frequences. Some months after the releasing of MasterCastle's album, I'm happy that people understood this and considered my voice as an original and particular. All MasterCastle sound was considered unique, not only because of my voice but for the original way in combining heavy metal and hard rock with classical influences.
What would you say has been your biggest non-musical influence?
Many non-musical things influence me, expecially in the lyrics. Maybe the biggest is nature. I like mountains, the sea, I like the color of nature, expecially in autumn and the sounds of nature. In the song "Cradle of Stone" I talk about this and about how man often kills nature with progress and technology. As I said before, I also like travel and visit uncontaminated places. They give me a lot of emotions and inspirations.
Who are your favourite current bands/acts? Made any recent CD purchases?
My last purchase was "The Resistance" by Muse. I like their music and their personal way of mixing rock with classical stuff.
Which other bands/acts, past or present, do you feel you share the most common ground with?
I think Whitesnake, Led Zeppelin, Kate Bush, Mike Oldfield.
What's next for the band? Any tours in the pipeline?
After the release of the album we made some gigs, expecially in Italy but we started immediately composing other songs because our plan is to release another album in April 2010. Lion Music have given us another deal, so we are currently working towards the next MasterCastle album. The album is called "Last Desire".
Any last messages for people?
First of all, thanks to you for this interview. Then I invite all listeners to MasterCastle site, where you can find our videoclips, unreleased songs and many other stuff. See you soon on stage!
Links
MySpace * ReverbNation * Facebook
Latest Multimedia
Interview by Ed MacLaren
In the last few years, female-fronted metal has turned into a revolving door for vocalists. To satisfy the bands and their fans, vocalists have to be able to do justice to the older material plus have the potential to take the band in new directions. We've seen bands conduct highly publicized searches across countries and continents trying to find that next great singer. In the case of Chile's Six Magics, they had to look no farther than their band manager. The smoldering contralto of Elizabeth Vásquez officially debuts on "Behind the Sorrow", the excellent new album from Six Magics. Femme Metal got a chance to speak to Elizabeth about "Behind the Sorrow", how saying "No" can get you the job anyway and what we can help the victims of the recent earthquake in Chile.
"Behind the Sorrow" is a re-release of your 2008 album "Animal" with a new track and new packaging. Why did you choose to re-release the material?
Well, "Animal" was just a promotional CD that we made for Chilean friends and fans. It was something very small and we did it because people were crazy asking and asking about our new material. We were looking for a good label at that time so we decided to edit a limited amount of copies here. So our real third album release is "Behind the Sorrow".
You spent years as Six Magics' manager before you became the vocalist. How did you get the gig? Was this your plan from the beginning – do the manager thing for awhile and then strike when the opportunity appeared? Were you the first choice or did you have to convince the band to give you an audition? Perhaps you didn't even give them an option.

Ha-ha! Yeah, that could be a good strategy but I was too young when I started with the band as the manager so that never was on my mind. I started with the band seven months after they decided to have a band. I did all the stuff managers do. I was very proud of them because they were very talented and the band had started to be well known here too. When they recorded the second album, "The Secrets of An Island", which contains a lot of voices on it because of the choir, Erick Avila, the composer, was crazy looking for a contralto voice. As it was so hard because most of the girls were soprano, he asked me to sing in the choir and record the lines with them. After that I was also asked to sing some female parts live because it was also needed for two songs. When Sergio Dominguez decided to leave, we were looking for singers even in Argentina and the States but it was hard to find a foreign singer who fulfilled all the requirements the band asked. So, when I was also looking for a singer, Erick had the idea to ask me if I could do it. My answer was no: I was very impressed and I thought it was an insane idea!!! So as I wanted to free myself from this, I told him I would record a song – the most difficult song. I recorded "Behind the Sorrow" and when they listened to my version it was just silence. I thought, "Cool. I did it!" but then Erick said, "It's amazing!! I love it!. Send it to (producer) David Prater to know what he thinks!". The band liked it and David Prater said he was impressed and that I was what Six Magics needed to be complete! Everything was unexpected!
Considering the band was established for many years, why did the band choose to change directions and move from a male singer to a female one? Was it considered a risky move?
Fortunately, the band was always taking risks with everything: the performances, lyrics, etc., so when Sergio quit they thought it was a good opportunity to get another singer better than him so it wasn't a traumatic situation for them. They just wanted to solve the problem soon because Sergio quit when he had already recorded four songs. They never thought about having a woman singing because they thought that having a girl among them could be a problem because of her requirements, or because she would be a soprano singer or something like that. As the band was very recognized and valued here, they thought it could be hard – not for them – but for fans to understand it. The guys did what they had done before: not to be afraid about the risk and they were very convinced that this was the best for the band.
How was it for you to step into a male singer's shoes especially in a recognized band with a large repertoire of songs?
As I am a contralto, the band's songs weren't a problem for me – the thing was to be respectful with each song and show this to the fans. I didn't change the songs for me; I still sing the old songs in the same way Sergio did it. I think fans understood that and they felt good about it too. At the beginning, we thought that when the news about my arrival to the band was published, fans would be annoyed or something but on the contrary, they were surprised but happy. It was really crazy! We thought that as they (the fans) have always trusted in the band's decisions, fans (would think) that if the band decided to have a female singer now, it was because it was the best for the band and they would respect that. People were very, very, kind with us since the very beginning. I think it was also because they knew me from when I was the manager! Personally, I have a lot of respect for all the guys in the band. It was amazing to share the stage with these monsters. All of them are well recognized here as virtuosos and all of them are music teachers. So it has been an honor for me to be with them.
Was there an adjustment period for you, the band, and the fans while you learned to make the music your own?
Just musically speaking, because we had known each other for 10 years! We had a lot of rehearsals because I knew all the songs perfectly but we needed to understand each other with my new role. I was ready after a month of rehearsal. I must say all of them were very generous and they always showed me they were happy to have me with them. The problem was then to find another manager. Ha-Ha! Erick is the main composer and our musical director. He was very, very, demanding, but it wasn't in a dramatic situation. Erick started taking advantage of having a female voice and we started to make some new melodies for the new material, etc.
Six Magics' music is very atmospheric and dark with many heavy and progressive elements. Being from Chile, is there a sound associated with South American metal that makes it distinct from the rest of the world? Have you made it a part of your music?
In the second album of Six Magics, you can find a lot Latin-American elements: the lyrics are about a Chilean island and their mythological stories, musical rhythm, and also in the instruments the guys played. At that moment, we wanted to save our roots and record an album with all these elements. It was a very well recognized album here and the band was considered as a contributor to the music and Chilean culture too. After that, we decided to record a third album with a different point of view, musically speaking. I think as Erick loves classical music, and in the band we all have different musical likes, it's easy to find different influences in our music too. I think Pablo Stagnaro, the drummer, is responsible for the Latin-American patterns we play live sometimes.
You tagged David Prater of Dream Theater fame to produce "Behind the Sorrow". How did you get him on board and what did he bring to your music?
A couple of years ago we decided to record a new album. Our main idea was getting this new album considering other sounds, rhythms, melodies and lyrics. He had recorded another band here in Chile some years before and as we knew these guys we could contact him rapidly. We wanted this third album to be different from the previous ones. We also thought it would be a good idea to reach this goal if we worked with a producer. With all of this in mind, we contacted some people to take this job and after some months we decided to produce the new material with David Prater. He wanted to work with us because he thought the band had enough potential to get good results and the idea of working with him was quite attractive to us because, talking about music, he wanted the same we wanted. I mean, we were lucky because we found a producer that didn't want to change our music as his wish and we wanted to do the same he wanted! It was a long time in which many things happened: since his arrival with the band, we had almost everything recorded and the singer quit the band. So then I took his place and David had to come to Chile again to record the vocals with me having a very serious illness etc… At the end of the process, we realized that everybody was very happy with the result and that all the sacrifices were absolutely paid with this new album. I think what he brought to our music was the idea of simplicity, the previous albums had thousands of notes sounding at the same time and the musical spirit went more for having a lot of complex arrangements working together at the same time. Fortunately we wanted to do something more simple too.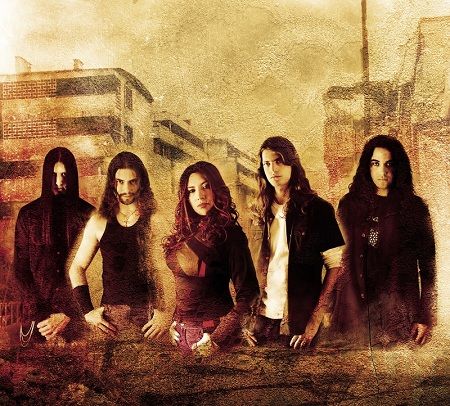 South America is crazy about metal music. What is it about metal, especially European bands that South Americans respond to?
Yes. Latin-American people love metal bands from Europe and they used to go to their concerts too. In Chile, we have the chance to see almost every band so I think people are losing their capability of being surprised: one day we have Metallica, next month Iron Maiden, then Blind Guardian, Sonata Arctica, Slayer, Dream Theater etc…so sometimes we need to save a lot of money to go to the concerts – especially because they cost a lot. Chile is one of the most expensive countries to have a concert; even small band's gigs are expensive. About language: Chile is a bit different from other Latin-American countries: people love bands that sing in English but in other places I know they prefer bands that do it in Spanish. As Chile is more influenced by the USA and Europe, that's not hard to understand. Here we have a lot of good bands but as we don't have a "metal industry", it's always difficult to make music and live from it.
Your vocals on "Behind the Sorrow" are very sultry, very low and ominous. The vocal heat really adds a level of seduction to songs like "It's Not the Way". Your voice also allows you to easily stand out from the upper-register operatic singers in so many other female-fronted metal bands. Were you always a singer or did you come to it later in life?
Thank you so much for your kind words and I'm happy to see you have listened to our music carefully. I have been listening to music since before I was born! Music was also my favorite subject at school and I was asked to sing every time I could do it. As I like jazz and rhythm & blues, I had some cover bands where I learned a lot. As I told you before, I like R&B and jazz and metal of course! My favorite singers are Aretha Franklin, Ella Fitzgerald, Peabo Bryson, Freddy Mercury, Dio and many other metal singers, so I used to sing this music too. When someone asks me to sing something from the 80s pop or rock I don't have any problem. Sometimes I sing bossanova or jazz depending on the moment and feelings. All music gives you something special but what metal is for me is part of my entire life!
"Run" implies there was more to the World Trade Center bombing than another terrorist attack. This track is a bit of a misfit lyrically among the rest of the tracks on "Behind the Sorrow". What was the inspiration to write the song? Does the band have a political edge that fans don't know about yet?
Not really. Chile was under a dictatorship for almost 20 years but we were children then. We belong to the generation that lived that but we don't have a political view of certain things. Politicians are really worried because of the lack of interest of Chilean youth. I think we are tired of politics because for many years after democracy was set in 1990 we have listened to a lot of (political) discussions in our families and also seen it on TV. And as our album is very realistic and we talk about things we really believe in, that's a song we wanted to write but we didn't know how, then the idea of making something related to this topic was very strong. What really motivated us to do this was that all of us think we shouldn't believe everything we are told. Sometimes we can lie and make other people believe we are the victims but we are not. We wanted to talk about different topics we strongly believe and we had the opportunity to record two previous albums where we didn't want to do it, but we talked about a fantastic world or mythological being from our country instead. This time, as a natural process in life, we wanted to do something different. It was also motivating because we had David Prater with us and we could share a lot of experiences about this topic, his feelings and thoughts, so it was really nice to share the ideas of an American guy with our own beliefs.
We're starting to hear of more and more bands from South America making an impact internationally. Should we prepare ourselves for the next wave of metal bands? Who are the top female-fronted metal bands we should watch out for?
I think music is a nice way to join people, countries and cultures. We have lived that! You can see how people who don't know you can have an effective approach to you just because your music could reach their heart. So I think if music is sincere it doesn't matter where it comes from. Unfortunately, I don't know too many bands from Latin-America. It can be curious, I know, but I still listen to the old ones like Angra and their derivations (ha-ha) Sepultura and Criminal from Chile.
Releasing "Behind the Sorrow" must give the band some time to work on new material. Are you working on a new album? What can we expect to hear?
The album was released just last month and, of course, we are interested in recording another album soon but now we are just concentrating on the next promotional tour and supporting our label with everything we have to get "Behind the Sorrow" the best results. We wanna enjoy this album completely first! We will see about a new record during the second semester of this year and I will let you know for sure!

A new album means a tour. Where is Six Magics performing in 2010? Are you staying close to South America this year or can we expect to see you in Europe and the U.S.?
Yes, a new album means a tour. We understand that and we love it, too! We have been working with some people to have our promotional tour in Europe next semester. We are still booking the gigs so you will hear about them soon. We want to go to the USA too and we have got some invitations so maybe we will have good news very soon.
The recent earthquake in Chile was a tragedy and we at Femme Metal send our condolences and support to the Chilean people. There are many metal bands that have a close relationship with their Chilean fans and are raising money by performing in Chile or in their own countries. Does Six Magics have any performance plans to help raise funds or to participate in relief efforts?
Thanks for that and we know many bands like Chile and its people. We really thank all the bands that are trying to help or are simply sending their support. We have got many emails from different parts of the world. Fans and other bands have sent us their valuable support. It's a so sensible situation for all of us. We had returned from our promotional trip in Germany and after nine hours the disaster began. It was really scary and we are still having news about the real consequences of this tragedy. It has been something that has affected us in different ways – mainly psychologically speaking. Feeling our houses or apartments so vulnerable and feeling hundreds of aftershocks has been very hard. Emotionally, we are still affected and I think it will take a lot of time to be totally recovered. Life has changed for all of us since that day, no matter if our house was or was not destroyed or if we have relatives missing or not. As many of us are teachers so the professional situation hasn't changed too much, but our students are also affected. It's a circle, but we are trying to stand up. We have seen a lot of tragedy in our country and you suffer when your country is suffering too. We have been collaborating with different foundations as a band and also individually. We are always available to do benefits too. It's also a way to cure our souls when you can help others and you realize you must be grateful to be alive and have all your family with you. If readers want to donate to the relief effort what is the best way they can contribute? As you can imagine, there are many ways people can support Chile. If they really want to do it they will find the best way. Fortunately, Chilean foundations are very confident. One is Hogar de Cristo (Christ Home) at and here you also have another interesting link. Thank you very much for your patience and support. God bless you all guys. With love, Elizabeth and Six Magics.
Links
Interview by Robin Stryker
Die So Fluid is a maverick three-piece band, originally hailing from the UK and made up of Grog Rox (vocals/bass), Drew Richards (guitar) and Al Fletcher (drums/backing vocals). If you follow the alternative music scene, you have undoubtedly seen Grog splashed across the cover of magazines worldwide. Lest you think she is just a pretty face propped behind a microphone, Grog is also a sought-after session musician. Femme Metal caught up with Grog to talk about Die So Fluid's third full-length album "The World Is Too Big for One Lifetime", their recent tour, and the surprising bits about moving to a new country.

Welcome to Femme Metal, Grog! How was Die So Fluid's recent headlining tour in the UK?
I had a ball thanks! My heart was warmed by the London show, especially when we filled the Scala. I got given flowers and toy pandas — really quite splendid.

For those of our readers who don't live in the UK, where "The World Is Too Big for One Lifetime" was released in June, when will the new album be available worldwide?

It has just been released (November 5) in Germany, Austria, Switzerland, Holland, Belgium, Luxembourg, France, Norway and Sweden, basically the North of Europe and we're told the rest of Europe around January 15 in 2011. We're currently negotiating who will act as the best channel for the album in America, there are a couple of exciting prospects for that so we'll see!

What was the thinking behind staggering the release dates?
It's to give everyone a chance to promote the album properly before we tour in each territory. It can get pretty complicated organising a worldwide release when you're dealing with different PR companies, agents, promoters, distributers etc., we try to do it in such a way that we can physically go and play everywhere we put it out, at a time that makes sense and is realistic. I now live in America too, so structuring has become even more important. We're currently doing a lot of press for Germany which involves quite a number of phone requests where the time difference has to be kept in mind.
You have described "The World Is Too Big for One Lifetime" as imagining different paths that life could have taken. Can you tell us about a few of the songs that you wrote with that question in mind?
Well, obviously the title track deals with that the most subjectively, but "How Vampires Kiss" talks about resisting the control of a vampiric relationship. So I'm saying that sometimes it can take great mental and physical strength to assert yourself, to fight free of an addiction or obsession that is distracting you from your true path. And even to take the tougher path, and resist the lazy one. I wrote "Mercury" with a similar thought in mind — but I was thinking about how you can't carry guilt with you when you leave something behind. It's really a song about sincerity. I believe most people enter into situations with good intentions and unions and plans that don't work out how we expected are still important experiences that you carry for the rest of your life and learn from. I've worked for celebrities who've got very upset when I moved on, I've ended relationships which have drained me because I'm on this mission where everything leads back to Die So Fluid and my role within it. To me, it's a journey where we throw out all the 'rules', we do everything our own way regardless and, not that I've ever concerned myself with it as a concept, being a woman fighting to be taken seriously in a male dominated area of music seems to be becoming an increasingly important element of this whole thing. I'm so driven, I want to do something of worth with my time on earth, and because we don't fit easily and neatly into one particular genre, we are like this band of maverick warriors, champions of the disparate and broad minded alike.

When you reflect on your own life, is there a particular crossroad where you are wildly curious about what would have happened if you had chosen the other path?
Sometimes I daydream about what life would be like if I took to the stage singing musicals! That's because I love singing and performing and have a very strong sense of fantasy, and I'm probably imagining myself as a character from Moulin Rouge or something not very realistic, hehe. Also I wonder where I'd be now if I had've done a degree in fashion rather than fine art at Chelsea, which is where I formed my first band. The thing is, I can still do all these things and in a sense I am! I dress up the whole time and bring a kind of theatrical element to DSF, designing and making a lot of what I wear on stage. And in the band, I get to write my own music and express myself 100%, so I'm very lucky.


Speaking of major crossroads, you are both a newlywed and a recent Hollywood transplant. Have being married and moving to a new country brought any interesting surprises?
Relocating to a different culture is pretty big upheaval. It's one thing visiting, and another really living somewhere new. The whole thing has felt very romantic because we wanted to be together and one of us had to make the move. The band are likely to be doing more and more work here in the US, so it made sense for me to be the one to up sticks. I'm an official resident now and I often feel quite surreal. I have two homes now! Things here can make you feel a little clumsy because they do things slightly different. It took me a while to get used to the horrific driving and the weird way you can have green lights for cars and people crossing at the same time. I like the way it gives me different perspectives on life. I thought it might throw up some difficulties with Drew and Al still being in the UK, but so far it's been ok. Drew and I have been writing material for the next album already by e mailing tracks (we both have recording set ups at home) and it's been a good excuse for a holiday in the sun for Mr Drew ha ha. What's really weird is how much more connected you feel with SkyPpe and the internet. Once upon a time, a move like this would seem so extreme, but I probably talk to my family more than I ever would normally since I moved away! We've always seen Die So Fluid as being an international band anyway, we'll play wherever we have an audience.

Getting back to "The World Is Too Big For One Lifetime", why did Die So Fluid choose "Mercury" as the first single and video?
When we listened to everything back, "Mercury" just seemed to jump out as a lead track because it's so immediate and has such a high level of energy. It's like a statement of intent, it sounds so determined and pounds away from start to finish.

Would you tell us more about the video?
The video is performance based and the director David Kenny used some spectacular lighting effects to convey the excitement you get when you see the band play live. We also accentuated our movements by filming performances sped up and slowed down, which was hilarious to do. I'm wearing one of my signature handmade sparkly catsuits in it too, like a rock superhero. I guess it's been important to show me playing bass in recent videos to help get across the fact that I'm a musician, not just a pretty face.
Did you get to road-test most of the songs during the tour? Which new track is the most fun to perform live, and which did you get the biggest response from the audience when you played it?

We've road tested a few of them but not all cos' there are so many songs fans demand to hear from "Spawn of Dysfunction" and "Not Everybody Gets a Happy Ending". Personally, I love playing "Raven" live and I reckon it's got the best overall reception in the UK and Europe too cos' we started playing that one fairly early. You'll get to hear more of the new stuff at the upcoming shows.
Comparing "The World Is Too Big for One Lifetime" with "Not Everybody Gets a Happy Ending" (2007), the new album is more eclectic, yet it also sounds more cohesive and seems to have ratcheted up the production values as well. What changed?
That might be to do with the fact that the new album was recorded in one continuous block of time. We had the funds to book the studio session as a whole this time where as NEGAHE was done in several short sessions whenever finances would allow! As far as production goes, I think that's just an ongoing process where we are learning as we go and recognising how we can improve and better capture the 'quintessential DSF sound'. I'd be pretty worried if there was no apparent development!
I was a bit surprised to read that Die So Fluid signed a two-record deal with DR2 (part of Demolition Records), since the band has taken the do-it-yourself approach with earlier albums. How did the label win you over?

Never fear, we are still the DIY gangsters! We still own the copyright to all our material and continue to play totally by our own rules. We just reached a place where we needed help with the logistics of this steadily growing operation. We had different licensing deals in place and had suffered at the hands of a couple of crooks disguised as sincere supporters of our cause, who shall remain nameless…for now, grr… But we did thankfully find ourselves in the hands of a good manager and an independent financial backer. We needed to find a label who could draw the reins together and take control of distribution, so that we could focus on writing and rock n roll. So we are still independent in that we are not financially beholden to Demolition, but we have a dependable conduit to sell our music to the world, and a much stronger support system in place. I think it's important that everyone involved with Die So Fluid believes deeply in us and is ready to be resourceful and proactive. We know better than to just take our hands off the wheel and leave things to others, we learnt that through experience. I find it hard to trust anyone and probably drive people mad by checking up on things the whole time but it would be worse if I didn't bother.
Die So Fluid has had the same line-up for all 10 years of its existence. What is the glue that holds everyone together during all the ups and downs of being in the music business?
Loving what we do. It always has been about making good music and not really giving a fuck about scenes and genres bla bla. When I think about how keen everyone is to stick you in a neatly labelled box, it really starts to depress me. I've got two boxes for you — open-minded or narrow-minded. I think we approach our band like an art form and I have never conformed to the ways that the UK mainstream press seem to like their female rockers packaged. To be honest I think I piss them off. I get the impression that if some Svengali or other claimed he had had a hand in 'discovering… i.e., manufacturing' DSF, they'd be a lot happier about the whole thing. I don't have a chip on my shoulder, I like to think that I can be an inspiration by just doing a bloody good job and demonstrating that I won't be held back.

When it comes to creating and recording an album, where does each person fit in that process? How about when the band is on the road touring? I hope you have someone who is brilliant at improvising repairs and finding food.

Mr Drew and I do most of the writing. Drew comes up with a lot of guitar ideas, riffs and passages, sometimes whole verses and choruses and I get inspired by those. I take the ball and run with it. I usually write the vocal melody and nearly all the lyrics. Mr Drew is my sounding board. Occasionally I'll suddenly write a complete song but most often I keep feeding the storage facility in my brain with lyric ideas inspired by films, stories, dreams, news items, conversations and then something will become really poignant and fit naturally into a musical idea. Al writes his drum parts as it goes along and makes arrangement suggestions. Sometimes we'll have a battle but it always ends with the best decision being made after a bit of sulking.

With you living in Hollywood, while Drew and Al are still in London, what are the logistics of preparing for tour and working on new songs?
We practise on our own a bit and I start to build up my voice to touring strength. We book pre tour rehearsals and I arrive a bit early. I like the way it becomes more focused and organised. Bands can kind of start drifting on and on when they play every week but this way our meetings are exciting and fresh because we're focusing on the tour and we get to hang out together and have an adventure! As far as writing goes, we've been e mailing our ideas back and forth and actually this move forced me into learning how to use my recording studio software properly at long last! It's opened up a whole new world for me because not only can we get a head start on the next album, I can write my own stuff and have been doing projects with other artists too.
One of the random factoids that jumped out at me was the Finnish postal stamp of Die So Fluid. During your 2007 tour in Finland, could you resist sending postcards to everyone you know with that stamp attached?
Haha, yeah it was hard to resist! We sent out a whole batch, it was so awesome! We had to headline a Helsinki Halloween festival at the time and I had an infected tooth. I was sitting round writing these crazy postcards in the dressing room with my mouth swelling up and off my tits on painkillers!

What are the band's plans for the remainder of 2010?

We're playing Hard Rock Hell in Wales December 3 and playing a handful of select shows around that to blow the cobwebs off! We have a European tour commencing in Finland January 19, 2011 which will be really fun and we'll be playing another string of UK dates in March, including a London date at Dingwalls.
Grog, thank you so much for taking the time to chat with us. Do you have any parting words for your fans at Femme Metal?
Shucks it's a pleasure! Thank you for your continued support and believing in us. You and us against fucking idiocracy-world!
Links
MySpace * Facebook * Twitter * Site
Latest Multimedia
6 color styles available:

Style switcher only on this demo version. Theme styles can be changed from Options page.