Browsing articles tagged with " death"
Label: Pitch Black Records
Review by Tony Cannella
From Denmark, Illnath is a female fronted extreme metal outfit. They were formed in 2000 and in 2011 released their third album, "Third Act in the Theatre of Madness".
In lead vocalist Mona, Illnath has a singer that is sure to give Angela Gossow a run for her money in the extreme metal field and musically the band provides enough technicality, melody and talent to make each song interesting. The bombastic opener "Third Act" sets the tempo and from there on songs like "Scarecrow" and "Lead the Way" Illnath provides plenty of heavy moments. There is no doubt about it, Illnath is certainly an aggressively relentless powerhouse force but on songs like "Tree of Life and Death" they also bring a melodic element to the table. Continue reading »
Interview by Ary R. and Miriam C.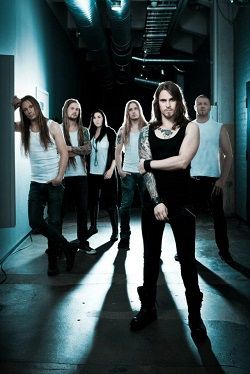 MyGRAIN is a melodic-death band from Finland. In these recent years, this 6-piece esemble gained more celebrity thanks to a few tours in Japan, Asia and especially Europe. After a long delay, the guys were able to release their 4th album via Spinefarm Records and in this exclusive interview, the singer Tuomas and the keyboard player Eve give us a few more details about the new record!
Hi Tuomas, hi Eve. Welcome to Femme Metal! First of all, I'd like to tell you that it's a great pleasure to have you here today! How are you doing there in Finland? 
Eve: Nice to have a chat with you as well! The leaves are falling to the ground here in Finland and the autumn seems to evoke a serious creativity boost… So we're working with the new songs already!
Tuomas: Hi there and thanks for having us! We're living exciting times as we're at the moment starting the Finnish shows with the new album "Planetary Breathing". And at the same time we've already made arrangements for yet newer stuff!
Label: Napalm Records
Review by Tony Cannella
With all of the talk about the 'true metal' movement, it is easy to forget that there are those bands who are making thrash metal fashionable again. One of those bands is Canada's Mortillery. They formed in 2009 and released their self-titled demo in 2010. It didn't take long for the folks at Napalm Records to come calling and hence we have their debut full-length "Murder Death Kill".
First of all with an album title like "Murder Death Kill", it pretty much says a lot what the band may be like. Suffice it to say, don't expect anything nice or cutesy. The first song "Murder Death Kill" begins the thrash fest with a potently intense opening number that sees the band firing on all cylinders led by the aggressive (somewhat high pitched) vocals of Cara McCutchen who delivers her lines in rapid fire fashion. Continue reading »

Interview by Vard Aman
Mortalium is a Gothic Doom Metal band from Kharkiv in Ukraine. However, don't let the the phrase "Gothic Doom Metal" fool you into thinking that you know more or less what they will sound like before listening to them – they are much more than that, and they are much more diverse than that. Mortalium is a band that have, in their very few years of existence, carved out a corner of the genre that belongs to them and to them alone. They have recently released their debut album, entitled "A Gap Between Birth and Death". I caught up with their vocalist and guitarist, Maria Nosyk, for a session of Q & A.
Hi and welcome to Femme Metal Webzine! So, when and how did Mortalium start up?
Hi! Good to see you finally and thank you for your invitation! Well, Mortalium started about 4 years ago in mid 2009. After 2 years of cooperation in a gothic metal band called Apparent Distinctions, Yaroslav (keys, vocals) and Maria (vocals, guitar), discovering particular points of contact in the views on musical activity, offered a new band development project to their mates. Continue reading »
Interview by Ary R
We've already had the great pleasure of talking about Izegrim a few years ago and now we have still the chance to talk about this band. Led by the blonde Marloes, this Dutch combo comes back with a new record, "Congress of the Insane" and we've got the chance to talk about this new studio album with the singer.
Hi Marloes. Welcome back on Femmemetal.net! Today we're here in order to promote and to talk about the fourth Izegrim album, "Congress of the Insane"… so would you mind to tell us something about this studio album?
Hi you all, great to be back at Femmemetal! Tell you something about the album? I guess all the questions in the interview below cover the whole story behind the album, so let's not wait and get this conversation started, haha!
This is the second record that will be released via Listenable Records. If I'm not mistaken, your previous work, "Code of Consequences" was released in 2011 for the same record company. How did your record deal come to life?
Continue reading »
6 color styles available:

Style switcher only on this demo version. Theme styles can be changed from Options page.