Browsing articles tagged with " death"
Label : Grailight Productions
Review by Vard Aman
North Diamond formed in Moscow in 2008 and play what could be described as a combination of melodic Black Metal and Death Metal. "По Ту Сторону Бытия" is their debut album; and it is just as this kind of music should be. North Diamond do not mess around: "По Ту Сторону Бытия" is a short, sharp, relentless no-prisoners-taken half hour of blackened melodic brutality that any fan of this type of music will drool over. Elena Scarlet is an expert and versatile growler, moving freely from deep Death Metal growls to Black Metal shrieks, with her own snarling growling style in between. There are some clean vocals as well – there is a guest vocalist that features on this album, Valentina Aaron, and the clean vocals could be hers (on the single that North Diamond released after "По Ту Сторону Бытия", "Fall of Man", clean vocals were provided by Evgeniya Rodnikova of Aura and Emerald Night). Continue reading »
Label : Cyclone Empire Records
Review by Luisa Mercier
Black Sun Aeon is the solo project of Tuomas Saukkonen, who is already involved in many other bands (Before The Dawn, Dawn of Solace, RoutaSielu). He used to keep this project to explore other sides of his music mixing gothic, death, doom never losing sight of melody. While the previous work "Routa" was mainly focused on instrumental music, "Blacklight Deliverance" has two guests singers that alternate in the seven tracks: Mikko Heikkilä and Janica Lönn (female singer from Lunar Path). The opener "Brothers" has powerful yet melodic riffing as only Finnish can craft, while Tuomas growls and Janica creates magical landscapes with her vocalising. Towards the end an acoustic interlude makes everything softer and sweeter. There is a real winter mood throughout the song that goes on with the following "Solitude". Continue reading »
Label : WormholeDeath/Dreamcell11
Review by Davide Torresan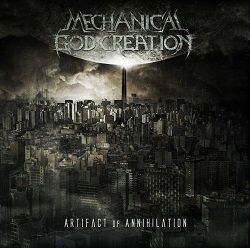 Born in 2006, the Italian band Mechanical God Creation has changed many members of its line-up, even during the months of the mastering of their first album "Cell XII". The same thing happened for their second work "Artifact of Annihilation", but after a careful research they've been able to find the missing members forming the current line-up. Furthermore, the band's live performances are really remarkable since they reached the level of some of the giants of extreme metal. "Artifact of Annihilation" continues the path taken with the debut album giving us almost an hour of furious and violent death metal. As the album artwork suggests us and from some quotes of Nietzsche, the theme of the CD focuses on the mechanization and the progressive replacement of man's work with the one of the machines. The extreme vocals of Lucy continue to attack without mercy the ears of the unaware listener. Continue reading »
Independent Release
Review by Davide Torresan
It's hard to do a little biography of this band. The main fault is their country of origin: Japan. You can understand it from the artwork of the album, "Hellmet", which I'm going to review. It has some colored drawings since there are some funny skulls. G∀LMET is a girl metal band, and I have to say that from the few pics and videos on internet they look like some characters of the anime "Nana". Unfortunately I do not know Japanese, but I wish to describe to you the feelings that this debut album caused to me. From the members' pretty faces I was expecting a sort of symphonic metal band, like there are so many in Japan (and that often try to imitate the European groups). Instead, once you have pressed the "play" button, after a short piano intro, the very first song makes its appearance: "Treason Sky". It has a overwhelming start with guitars and drums in the perfect death metal style. Continue reading »
Label : Grom Records/Tmina Records
Review by Davide Torresan
6th Awakening is a curious case of a band. This Swedish group was created in 2001 by the singer Lovisa Lundmark and the guitarist Mathias Hamerud. Over the years, they changed the line-up many times and because of this, they released only 3 demos. Until now, since the line up has settled and therefore has been able to condense the ideas of the members into the debut album. The genre that they propose is melodic death metal with different contrasts and shades, thanks to the sound and Lovisa's voice. The main feature of this singer is that she can do both clean vocals and growl. She's able to switch between the two styles with extreme ease. Just to give you an example, when she does the clean vocals she remembers me of Anna Murphy, the singer of the folk/death metal band Eluveitie. They have a similar vocal register. Now let's talk of the music. Continue reading »
6 color styles available:

Style switcher only on this demo version. Theme styles can be changed from Options page.